Green Hawaii 2019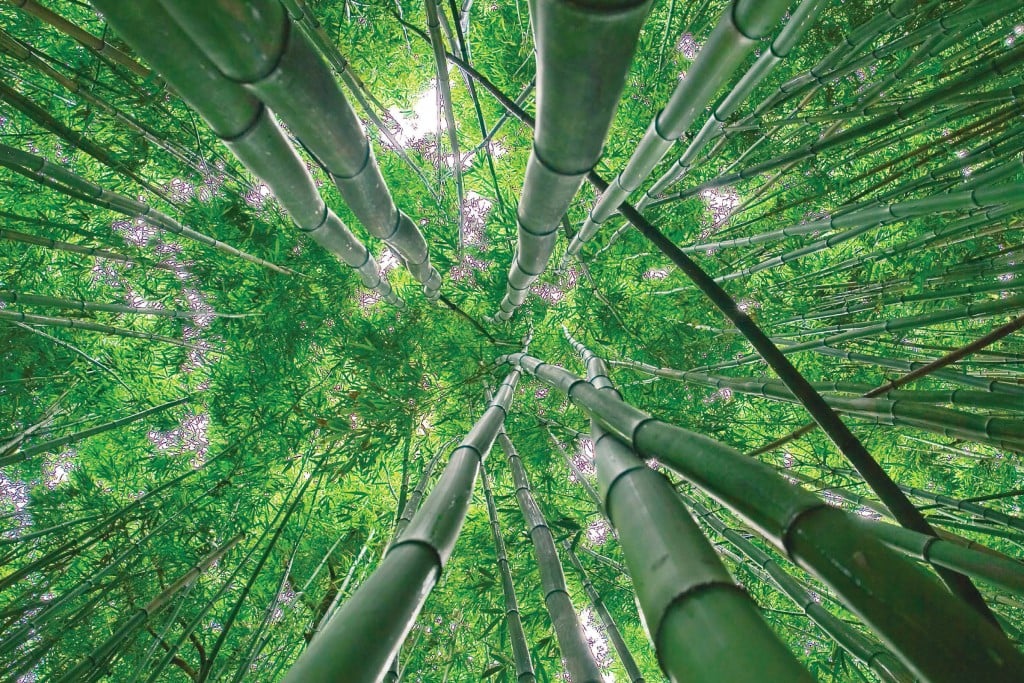 Community
Transforming Land and Lives
BY CHRISTINA O'CONNOR
Looking at KUPU even strictly by the numbers is impressive enough. The nonprofit, which provides service-learning opportunities for young adults in the green jobs sector, has worked with more than 3,600 participants. It has planted 1 million native plants and removed invasive species from more than 100,000 acres of land. And its economic impact totals a whopping $95 million over the last decade. But CEO John Leong measures the organization's success through the individuals that it's helped.
"The most exciting thing is to see the different lives that are changed because of the program," explains Leong, who founded Kupu alongside wife Julianna and chief operating officer Matthew Bauer. "Seeing so many young men and women understand their potential and their passions — that is really what gets me excited."
Kupu oŠffers a range of training opportunities for teens and young adults in the conservation, agriculture, sustainability and renewable energy fields.
Its offerings include the Hawaii Youth Conservation Corps Community Program, which connects underserved youths with service opportunities while helping them develop leadership skills and providing a broad set of social services. Its clean energy and sustainable development fellowship, Sustainability Initiatives, is designed to give field experience and technical training to young professionals. The Conservation Leadership Development Program creates entry-level positions in conservation- focused organizations. Another program, Environmental Education Leadership Development, places college grads at schools to lead hands-on projects that have included implementing recycling programs, starting school gardens and building aquaponics systems.
With its core programs going strong throughout the state, Kupu has recently expanded its reach to other Pacific islands, as well as California. And it's recruiting members for the first cohort of a forthcoming program designed for midcareer professionals from throughout the Pacific to explore innovative practices for island resiliency.
"The most exciting thing is to see the different lives that are changed because of the program."

-John Leong, Kupu
Kupu's list of partners includes more than 150 community groups, environmental nonprofits and government agencies — including The Nature Conservancy, Oahu Invasive Species Committee and various divisions of the state Department of Land and Natural Resources. Many of these organizations go on to hire Kupu alumni after their internships wrap. These days, after more than 10 years of Kupu, its alumni are everywhere; Leong says that he is constantly running into past program participants — and he loves nothing more than to see the progress they've made.
Just recently, for instance, Kupu sta†ffers were visited by a former participant who'd been struggling with a drug problem and had been living on the streets during his time there. In the intervening years, this young man had become a homeowner and a successful executive.
"He came in with his fiancée and he said, 'I need to show my fiancée the place that saved my life — because if it wasn't for this program, I would have died,'" Leong recalls. "It's those kinds of things where … you see how (Kupu) is not only transforming the physical world, but it is changing lives," he says. "And you really can't quantify that."
It's that dual purpose of transforming the land and the lives of those working on it that is truly at the crux of all of Kupu's programming.
After all, as Leong points out, the two components are intertwined: By instilling values of caring for the land into young adults, Kupu is helping to ensure that those practices are carried into the next generation. That is true sustainability.
For more information on Kupu, visit kupuhawaii.org.
Hokulea's Homecoming
BY BROOKE LAPORTE
In the course of its four-year worldwide voyage completed in 2017, the Hokulea and its crew members became symbols for a sustainable future around the globe. The historic voyage continues into 2018 as the Hokulea and its sister canoe, Hikianalia, visit Hawaii's ports to celebrate the sailing canoe's homecoming.
The Hokulea's epic journey was made possible through the efforts of the Polynesian Voyaging Society, a Honolulu- based nonprofit dedicated to perpetuating traditional Polynesian voyaging methods. The Hokulea's global sail was dedicated to the mission of malama honua, translated as, "to care for the island Earth."
"We continue to sail and learn how people turn inspiration into action to navigate our communities toward a better future."
—Nainoa Thompson, Polynesian Voyaging Society
Says Nainoa Thompson, president and master navigator for the Polynesian Voyaging Society: "The mission of the Worldwide Voyage was to share and learn about how people all around the world malama honua. What we found is that everywhere, people are working toward a better future for our collective community, and in many places this work is grounded in the traditions and values of our indigenous people and ancestors."
Sailing across the Pacific, through the Indian Ocean, around the southern tip of Africa, across the Atlantic and down the U.S. East Coast before passing through the Panama Canal, the Hokulea and its crew members exchanged traditional Hawaiian teachings with communities invested in a sustainable future. Abroad, the world was impressed to hear such impactful messages from the deck of a relatively small sailing canoe and its diverse crew of master and apprentice navigators.
"This malama honua mission remains relevant today as we continue to sail and learn how people turn inspiration into action to navigate our communities toward a better future," says Thompson. Now at home in Hawaiian waters, the Hokulea and its crew members will continue to advance the mission of malama honua in our community, visiting local harbors and educating our keiki and kupuna on the importance of sustainability.
Partnering with Community, Strengthening Roots
In celebration of Arbor Day in Hawaii, the Hawaiian Electric Companies have collaborated with local organizations to give away a variety of trees and shrubs. The effort helps to educate customers on safe tree planting, fruit picking and tree trimming practices.
"For the last 25 years, we have supported this event as it allowed us to share how trees benefi t the environment and reduce our carbon footprint," says Kanani Imai, Hawaiian Electric's director of education and consumer affairs, and lead organizer of the Arbor Day Tree Giveaway. "The Tree Giveaway was another way for us to connect with members in our community as we work toward a greener and more sustainable future."
Hawaiian Electric partnered with Hawaiian Legacy Hardwoods to plant 150 koa trees, as part of the native reforestation initiative on the Hamakua Coast of Hawaii Island.
Maui Electric partnered with Maui Nui Botanical Gardens, Kaulunani Urban and Community Forestry Program and the Maui Department of Water Supply for the annual Arbor Day tree and plant giveaway.
Hawaii Electric Light annually supports Kua O Ka La Charter School's tree giveaway. The students care for the trees and compile a newsletter to distribute with them.
At the Hawaiian Electric Industries (HEI) Charitable Foundation, a key focus area is promoting environmental sustainability. Since 2010, the foundation has donated more than $10 million to Hawaii's charities.
"We're proud to support and partner with local organizations who share our values, like Kupu, Trust for Public Lands, Hawaiian Islands Land Trust and the Hokulea," says HEI Foundation's AJ Halagao. "We hope to do our part in strengthening our communities and being a catalyst for a better Hawaii."