Hawaii Business Wins Top Statewide News Award and 12 Others
In the annual SPJ Hawaii competition open to all local media, our honors included first place in Public Service Reporting for our in-depth report on the Honolulu rail.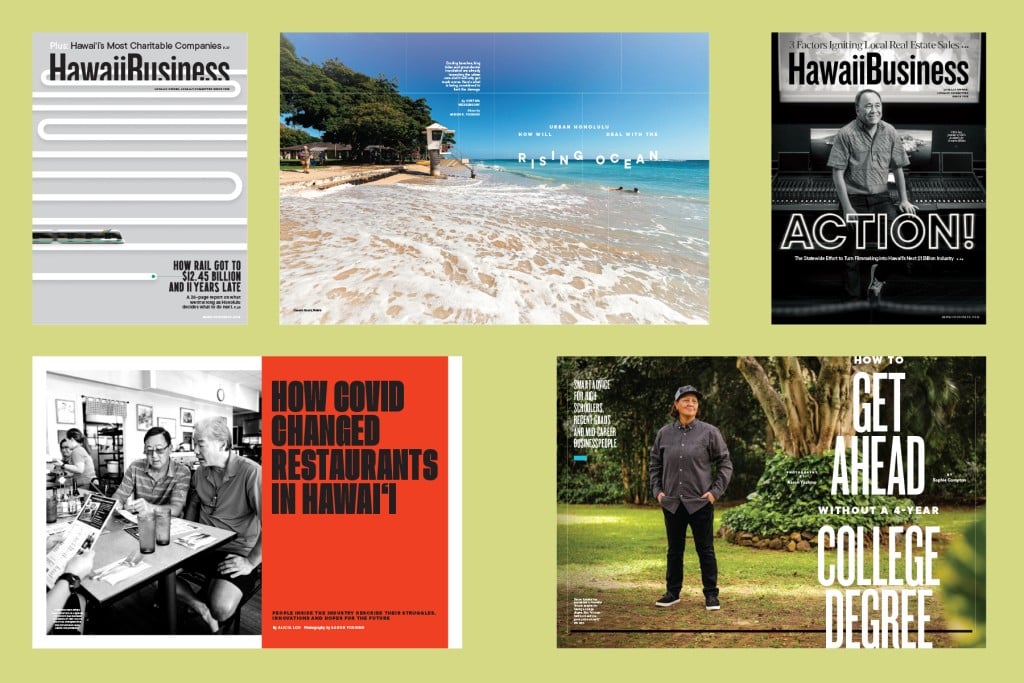 Like you, I don't do my job for the accolades that come from time to time. But I think you'll agree that accolades are certainly welcome.
The team at Hawaii Business Magazine won 13 awards recently from the Hawai'i chapter of the SPJ, or Society of Professional Journalists. That is in addition to five national awards we collected earlier this year for reports published in 2021.
Each award is worthy of celebration, but I am especially proud of Noelle Fujii-Oride's first place honor for Public Service Reporting. We have won hundreds of SPJ awards during my almost 14 years with the magazine, but this annual "grand prize" open to all media proved elusive until now, despite many worthy entries from us over the years. We have often been runner-up to bigger news media outlets with much deeper pockets – organizations with larger staffs and more resources to invest in the kind of in-depth reporting that it takes to win this award each year.
Noelle spent three months reporting and writing her November 2021 report on rail: "How Rail Got to $12.45 Billion and 11 Years Late" – and the judges recognized her careful and thorough journalism. The judges said: "This piece well displays the egregious twists and turns of a transit project swallowed in red tape and clashing personalities" and "Thorough coverage of a complex topic."
Noelle is an incredibly thorough, careful, even-handed and compassionate reporter, as you have probably noticed from her many compelling reports on housing, education, tourism, working families and other important local issues.
To make her 26-page report on rail come alive for the magazine's readers, Creative Director Kelsey Ige created a dynamic layout and engaging infographics that helped tell this complex story covering many decades and billions and billions of dollars.
That was followed by a multifaceted online presentation at hawaiibusiness.com led by Digital Marketing Director Joelle Cabasa – work that has already won first place gold as the best multimedia presentation from the national Alliance of Area Business Publishers. That too was a case of David vs. Goliath as we competed against much bigger outlets in New York, Chicago, Dallas and Florida.
The rail report also received four other SPJ Hawaii awards:
First Place for best Magazine Cover for Kelsey's November cover featuring rail.
First place for Business Reporting.
Second place for Government Reporting.
Second place for best Informational Graphic for Kelsey's detailed efforts.
I am so proud of Noelle, Kelsey, Joelle and the entire Hawaii Business team.
Many Award Winners
I am proud too of Managing Editor Cynthia Wessendorf, who also did exceptionally well at the SPJ awards. Her report, "How Will Urban Honolulu Deal with the Rising Ocean?" in the October issue won first place for Data Journalism, with an assist from then Art Director Amy Ngo.
Cynthia's report in the July issue about the local film industry – "The Next $1 Billion Industry?" – won two awards: second place in Business Reporting and third place in Trade or Industry Reporting.
I collaborated with Amy to win first place for Informational Graphics for our reports on the BOSS Survey and 808 Poll.
Kelsey and Amy won second place for Overall Page Design based on 2021's February, March and October issues. And the Hawaii Business team collaborated to win second place for headlines.
Two of our 2021 interns also won awards:
Sophia Compton won first place for Short Feature Writing for her August piece "How to Get Ahead with No Four-Year Degree." The judges said: "Fantastic data and narrative-driven story with a diverse range of sources." Congratulations to Sophia, who took a job reporting for Pacific Business News after graduating from UH Mānoa.•
Another intern from UH Mānoa, Alicia Lou, won second place in Student Feature Reporting in Any Media for her December report, "How Covid Changed Restaurants in Hawai'i." The judges said: "An excellent job at framing the impact COVID had on the hospitality industry – particularly restaurants. Reporter was able to take folks behind the story to better understand the challenges restaurants were facing."
By the time you read this story, the online version of it will be at hawaiibusiness.com, with links to the online versions of all of these award-winning stories.