How Covid Changed Restaurants in Hawai'i
People inside the industry describe their struggles, innovations and hopes for the future.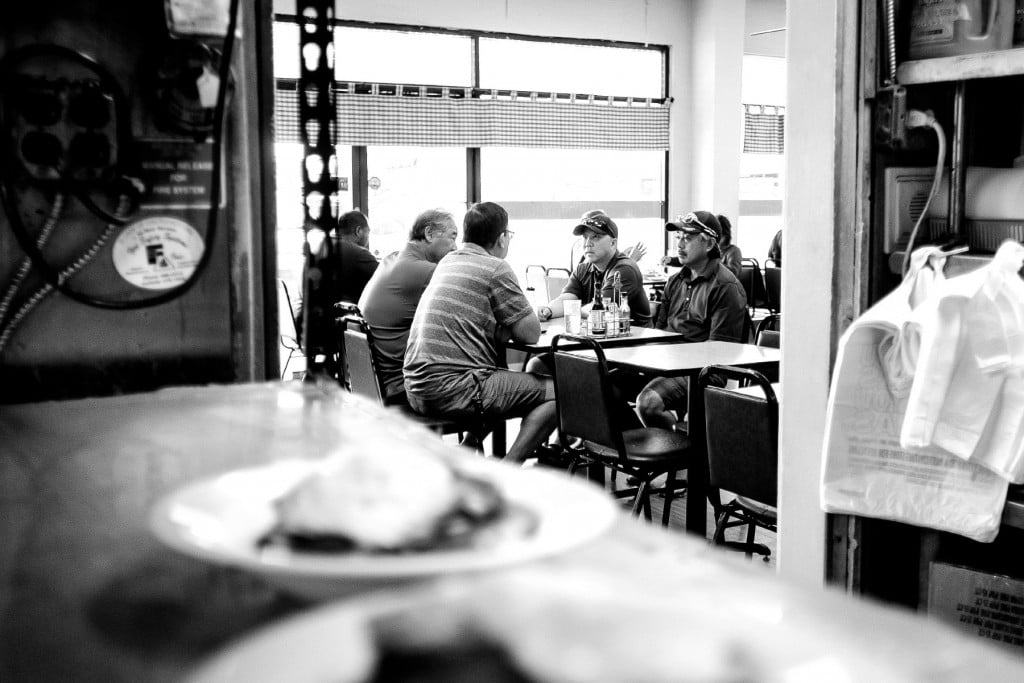 Like an ex-lover we took for granted, the restaurant industry we once knew is gone and isn't coming back. You don't have to be in the industry to know that.
But I am.
Having worked in the restaurant and service industry for over half of my life, I've racked up many connections. I reached out to some of them – current and past co-workers and supervisors plus local restaurant leaders – to find out what has changed and why.
Some Restaurants Are Cleaner Than Ever
Tom Jones, co-owner of three Gyotaku restaurants and Koromo Katsu & Bistro, chuckles as he reflects on the catastrophe that was 2020 and says: "Thank God I'm an optimist."
He and his business partner, Nobutaka "Tony" Sato, launched Koromo Katsu & Bistro in February 2020, just five weeks before Covid-19 hit O'ahu. A few weeks later, they were forced to lay off about 120 employees in one day – 75% of their overall staff at the four restaurants.
"We invested a lot of our available cash in this fourth location of our repertoire," Jones says, "so at the time, the biggest knot in my stomach was figuring out a way to pay for our employees' insurance. … Thankfully, HMSA and Kaiser both assured us we could keep everybody on the insurance rolls and basically said, 'We'll figure it out later.' "
In the early months of the pandemic, Gyotaku was operating at about 30% of pre-Covid revenue – a percentage mirrored at other eateries. However, Jones and Sato's restaurants eventually recovered, at least part way, and the owners were able to take care of their employees with the help of the federal Paycheck Protection Program.
After enough customers came back, Jones and Sato also spent some of the PPP funds on ionization systems for all their restaurants, costing them around $5,000 to $6,000 per location.
Jones got the idea while dining at Highway Inn and came away impressed with the quality of the air there. The restaurant had installed a system from Global Plasma Solutions, which says its technology reduces airborne viruses and pathogens by 98.33%. Gyotaku followed suit.
"We did it for our employees," Jones says. "For our customers, of course, but our employees were at work all day long, being exposed to multiple customers while customers are only there for an hour or so, so it was really with employee protection in mind."
Struggling For Employees
When we talked in October, Jones said almost all of the company's current TV advertising focused on attracting employees – not customers. Prior to September 2021, when federal unemployment benefits ended in Hawai'i, "Cooks and dishwashers, particularly, were making more money staying home than they were coming back to work. But we had other people that just decided to move to the Mainland, or they had three kids at home and there's no way they could come back because they were taking care of their kids — all kinds of reasons. So, we really appreciated the employees that did come back."
Monica Toguchi Ryan, owner and president of Highway Inn, says she also struggled to find employees when restaurant sales picked up during the summer. "The temporary 'recovery' that we saw this summer showed us that we couldn't staff up adequately to meet demand."
Like Jones and other restaurant owners and managers, she noted an uptick in job applications when the additional federal unemployment benefits ran out in September.
---
Recommended read: More Empty Tables is Bad News for Local Restaurants
---
Tradition Combines with Innovation
Highway Inn was founded in 1947 by Seiichi Toguchi after his return to O'ahu from the Tule Lake internment camp in California.
Highway Inn now has three locations on O'ahu, where it serves traditional Hawaiian and local foods.
Toguchi Ryan, the third generation of Toguchis to run the place, says some employees have been with Highway Inn for 35-40 years — and that keeping them was a struggle, especially early in the pandemic.
"We didn't lay off any staff or cut salaries, but we did have to reduce staff hours, and in some cases, there were periods when hours were down to zero," she says.
2021 has been full of ups and downs, Toguchi Ryan says, so managing cash flow has been key. Innovation has also been essential: For instance, Highway Inn has always had lots of takeout customers, so finding creative ways to increase that revenue was relatively easy.
"We were fortunate that we were already in the process of revamping our IT and use of tech solutions, like tablet ordering and an online ordering platform, so it was a matter of speeding up and improving, rather than building from scratch," she says.
"We made an effort to have all our menu items photographed to help customers navigate our menu and we launched next- and two-day-air shipping for interisland and Mainland frozen Hawaiian food."
Catering Challenges
Catering plummeted during the lockdowns. "It has been recovering slightly, and we see orders for first responder or staff appreciation meals," she says.
"We did an order for Lanakila to provide Hawaiian food for kūpuna, where items are individually packaged, instead of buffet-style catering-pan orders for parties. Some long-postponed events are happening, but we think it will be another six months before catering goes back to normal."
Like consumers and businesses worldwide, Highway Inn and other local restaurants have struggled to get the supplies they need.
"The pandemic has made all the weaknesses in our supply chains evident, and those challenges are going to continue to resonate, with higher food costs and more limited supply," Toguchi Ryan says.
"We have always championed local sourcing, but it does come at a price. We hope the customers agree with us that it's worthwhile to encourage a stronger, fresher supply here at home, rather than paying higher costs for less reliable outside sourced items."
If managing one of Hawai'i's biggest female-owned businesses was not enough, Toguchi Ryan also gave birth this year.
"I'm in my late 40s; it's not easy having a baby at my age. … My daughter's Hawaiian name is Kahile'aokamana'olana; it means 'one who encourages hope joyously,' because of the time, in the world and in my personal life, that she was born.
"I have a son who passed away 10 years ago. I have two daughters and a niece. I'd like my daughters and niece to recognize the power of female entrepreneurship, whether that naturally leads them to succeed me or create their own business opportunities."
More Flexibility, More Energy
The Hawai'i Kai location of Kona Brewing Co., where I work, has been open for 18 years. Simone Cole has been there for 17 of them. She is both an excellent server and a talented singer and would often perform at the restaurant in pre-Covid days. Today, she has an administrative role.
"I don't spend as much time on the floor with guests as I used to, but everything we do is ultimately to support a positive guest experience," Cole says.
Restaurant work has always required flexibility, she says, but, "The biggest prevailing change in our industry seems that we all must be more flexible with our expectations of the day … adapting quickly to change, confused guests, staff shortages. … It's not just about busting ass and working until everything is done anymore. The air is charged with extra and more intense energy, so the work requires even more patience than it used to."
---
Recommended read: Prices Inch Up as Hawai'i Restaurants Face Higher Costs and Wages
---
Fewer Seats Yet Similar Sales
Many restaurants have made a huge adaptation: reducing seats. Kona Brewing's Hawai'i Kai location cut seating in half, from 332 to 163.
However, fewer seats has not meant fewer sales, says Scott Alexander.
Alexander began his 37-year career in the industry bussing tables in his father's restaurant and became a dishwasher at 14. He has been working for Kona Brewing for eight years and is currently GM of the Hawai'i Kai location.
"In the past, old operators prior to me had the philosophy that more seats mean more money, so they crammed as many tables and chairs as they could into the little space we have, but that requires more staff on the floor," Alexander says. "And what we've found now is by implementing the two-hour limit per table, we get just as many guests with socially distanced seating, and fewer employees with the same amount of sales.
"Having said that, we are muscling through. This pandemic has made us become more efficient and there's a lot more to manage than there ever was. … But as frustrating as it can be, I just feel deep gratitude and appreciation to my crew. So many guests come up to me and tell me that this is the safest and cleanest place to dine and see that we really take all the rules and mandates seriously. That's all you guys," he says, referring to his team.
Scott Carrelli, who has been in the restaurant industry for 36 years, started working in Kona Brewing's kitchen – "the back of house" – at the beginning of 2021 after he and his wife moved back to O'ahu to be closer to his wife's family amid the pandemic.
"I was overseeing the kitchen at Phonobar in San Fran," he says. "Now, as a line cook, I make half of the hourly I was making … literally a dollar more an hour than when I first started cooking 13 years ago."
While most restaurants say they have a hard time finding workers, Carrelli says that despite his years of experience he struggled to find a job before happily landing at Kona Brewing. He says most restaurants struggle to find workers because they aren't willing or able to pay their employees a decent wage, and because many back of house workers were collecting more money on unemployment than working.
Paul Bishay, recently hired as a manager at Kona Brewing, was formerly the operations consultant at Islands Fine Burgers & Drinks at Ala Moana Center. "At Islands, we went from a 238 capacity to doing takeout only," he says.
"We furloughed all the front of house staff (servers, hosts, bussers) and we as managers ran the takeout for a couple of weeks with just two cooks," he says, before they decided to permanently close the Ala Moana location, a few months shy of its 15-year anniversary.
After taking almost a year off work, Bishay says, "My return now is definitely a new era in the industry. My honest opinion is that the plexiglass, the social distancing, the QR code menus — it's here to stay, and I'll tell you why: Even if we get through Covid, everybody's concern will be the next pandemic, so this will all be a preventative measure. … How quickly we get through this phase of the pandemic that we're in now, is going to dictate how much of this is forever, and how much of it will roll back."
---
Recommended read: Yes, We're Open: Three New Restaurants
---
The Sacrifice of Small-Business Owners
In 2016, a former coworker of mine, Tai Anada-Stout, teamed up with Mike MacLean and Nick Prioletti after all three had left their jobs at Lulu's in Waikīkī. Eventually, they combined their decades of experience in the industry and opened Liko's Tap & Table in September 2018.
The 5,200-square-foot waterfront property in Hawai'i Kai is an ideal restaurant location, and one that was difficult to acquire: The lease negotiation on the former home of The Shack took a year and the renovation took another.
"We did not have funds to do a multimillion-dollar buildout," Prioletti says. "It was a humble attempt to make the space look welcoming to our guests. Our marketing and advertising program was nonexistent."
After a year and a half of pre-pandemic business, Covid restrictions were imposed and Prioletti and his partners could no longer use their large space for special occasions such as weddings, baby showers and retirement parties. They were forced to rethink everything.
"As a business owner, you sign up for your space, you negotiate a number that you think you'll be able to pull off — but you can only pull off that number if you're allowed to operate under normal conditions. Right now, there isn't a restaurant industry, there is a shell of it."
Prioletti says revenue at Liko's Tap & Table has been down 60% to 70%. "We basically went into this war, sacrificing our business for the health of our community," he says.
"If you're a new business, your first two to three years should be recouping your investment, paying off the buildout. But I'm in hundreds of thousands of dollars of debt because the government told me I can't open my doors," he says.
"So it's almost like a lot of business owners are gonna pay the tab on a government effort to keep people healthy. As owners, we haven't taken any days off. We're in here being five different things wearing five different hats just to survive, trying not to hemorrhage more money."
Prioletti, who secured some PPP funding, says "government loans are wonderful but they're just a quarter tank of gas; they're not going to get us all the way to the end."
He says larger corporations with many locations and big budgets have had less difficulty navigating rents than small businesses like his own. "I think right now the toughest thing is there's no legal precedent set as far as what landlords can pursue or what tenants can claim or get. Even if a landlord offers you a deal where you have to pay the debt and you finance it, you're still paying a debt you didn't cause as a business."
Service in New Ways
Scott Lilly, another former co-worker of mine, with 20 years of restaurant experience under his belt, has been GM of Maui Brewing Co.'s Kailua branch since its opening in January 2019.
"The restaurant had only been open for 14 months when the pandemic hit so we were forced to step back and reevaluate our business structure," Lilly says. After assessing where changes could be made to be as efficient and cost-effective as possible, Lilly says the restaurant is now operating with an improved service model. "We're very proud to be piloting a new ordering platform where guests can sit down and order from their phone at the table."
He says this new system will not affect the current number of staff employed, and that every front-of-house position will remain in the tip pool.
"It doesn't replace having a server or bartender, it just takes the ordering aspect out of the dynamic," Lilly explains. "Guests will still have somebody checking on them and talking story, but with this new platform, guests can sit down and immediately order if they want to. They don't even have to wait to be greeted."
Like other local restaurants, Maui Brewing initially struggled to find qualified workers when reopening. But Lilly says he's now happy with his team.
"I've found some really amazing people, and I can honestly say I have the best staff out of all the places I've ever worked. Hands down."
There have been difficult days along the way: "It's been really tough," Lilly says.
"Rules are religious to me, you know that. So, when it came time to enforce the restrictions, people would become confrontational and take things personally, and that has been really taxing on me because I'm just trying to do my job.
"But I've found that my favorite part of my job is helping people with their personal problems and being a mentor, a big brother to my team. And that's what's got me through."
---
Recommended read: Restaurants' New Normal Comes with a Takeout Bag
---
Hope For The Future
Local restaurants have changed so much since the pandemic struck and the future remains uncertain.
Toguchi Ryan says she hopes that by next spring, Highway Inn will be back to where she wants it to be, but that will be an uphill climb.
"We thought September and October was going to be great," says Jones, the Gyotaku restaurants and Koromo Katsu & Bistro co-owner. Instead, they were slow months.
"I'm stunned that we're in the situation that we're in right now," Jones says. "Hopefully the community will rise to the occasion and increase the vaccination rates because that's what's mission critical to improving the economy. … Hopefully, we can heal from Covid together and let go of this division and angst that's going around right now."
Alexander, the Kona Brewing GM in Hawai'i Kai, says "it's all up to the people."
"If people can get over themselves and realize it's not just about what each individual wants, but for the greater good of our society," he says, the healing can begin.
He thinks a lot about his 5-year-old daughter. "What kind of world is she going to grow up in? Is she going to have to wear a mask every day? I grew up in an era where it was OK for people to smoke cigarettes on planes. Is she going to grow up and get on a plane and be afraid that people are too close to her?"
Prioletti, the Liko's Tap & Table co-owner, says restaurants are an essential part of our society, but that the existing business model is almost untenable. "This is one of the hardest industries to be successful in under normal circumstances, and under the circumstances we're currently in, it's practically impossible," he says.
"But it's a special industry to every area of the country. Restaurants and bars are where you go to blow off steam, where you go to celebrate, where people met their first boyfriend, their girlfriend, their husband or wife. I hope going into this next year, people understand and remember how important this industry is, and the people in power, the government, the landlords, realize there IS a reasonable way forward, but everyone's going to have to come together to do it.
"If not, all that's going to be left are restaurant chains that have 38 locations, deep pockets and expensive lawyers. The real part of this industry are just regular people like us, people that don't do what we do to become millionaires, we do it because we just love the industry and we wanted to open up something special in our community."