Bettina Mehnert on Designing with a Purpose and Planning for a Sustainable Future, S2E3
The president and CEO of architectural firm AHL is driven by the impacts her work will have on the next generation.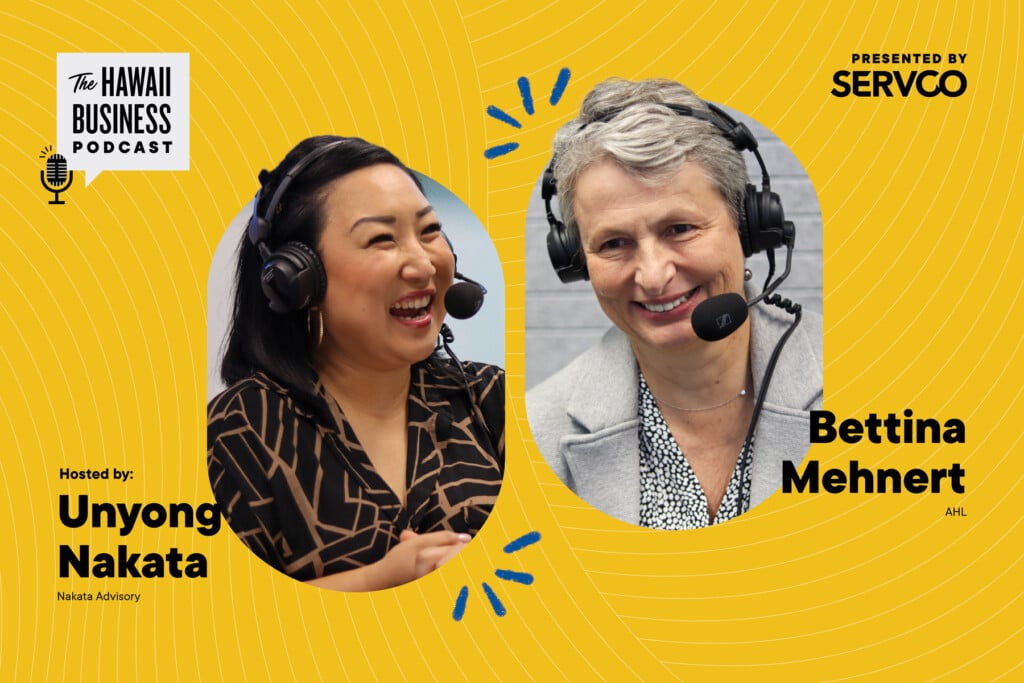 Raised in the tiny town of Grevenbroich, Germany, Bettina Mehnert originally didn't want to become an architect. She had an industrious personality and followed in her mother's footsteps and became a carpenter.
But that eventually drew her to architecture, and she became the third generation in her family to enter the field. She moved to Hawai'i in 1988 and has been with Honolulu-based architectural firm AHL ever since. She became the firm's first female CEO in 2013.
AHL is one of 1,100 companies worldwide that have pledged to become carbon neutral by 2030. In 2021, the firm reduced greenhouse gas emissions from its own project portfolio by 35%.
"I believe that interesting projects attracts talent. And we have been very fortunate to work with very visionary clients, and visionary clients make for wonderful design opportunities."
"It is important that we are talking with all of our clients about the importance of design choices," she says. "Where does the energy go? How much water do we really need? What kind of building materials do we want to pick? What is the carbon footprint of the material that we are using?"
The firm also has a 1% program in which its staff donates 1% of its work per year to a project. The first project was remodeling the aging Salvation Army Family Treatment Services facility in Mānoa. Others have included the renovation of Ho'ōla Nā Pua's Pearl Haven rehabilitation campus for sexually exploited girls, converting an old shower house at St. Andrews Priory into an art studio, and refreshing Aloha United Way's headquarters.
Mehnert says the 1% program is important because of the relatively high cost of architectural services, especially for nonprofits. "And what still gives me chicken skin after all these years is that it's not just us, it's our consultants as well" who donate their time and efforts.
Click here to listen to more episodes of The Hawaii Business Podcast!
---
This episode is presented by Subaru Hawai'i. Dedicated to making the world a better place, their goal is to be more than a car company through its Love Promises.
The Subaru Hawai'i Love Promise is a vision to show aloha and respect to all people at every interaction. To spread the Love Promise as far as possible, they work with a diverse range of organizations that fall under the cause areas of the Earth, Learning, Pets, and Caring for and Helping others.
Subaru Hawai'i believes in being a positive force in the communities where we live, work, and play, not just with donations, but with actions that set an example for others to follow.
To learn more, visit SubaruHawaii.com.