Bob Harrison Reflects on His 27-Year Career with First Hawaiian Bank, S2E9
The bank's chairman, president and CEO says clients can expect upgraded online and mobile offerings this year.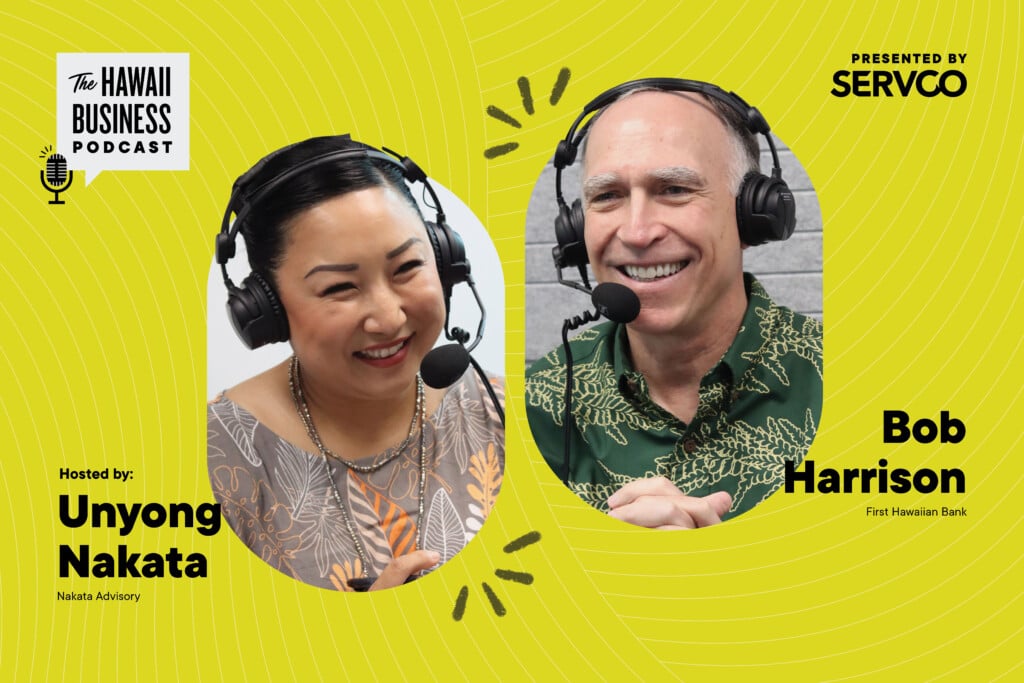 Bob Harrison has been with First Hawaiian Bank for 27 years, with stints as a commercial loan officer, Kapi'olani branch manager, chief risk officer and chief operating officer. He's spent the last 10 years as the bank's president and CEO and has been chairman since 2014.
He says his career is fulfilling thanks to his employees and colleagues, about 20 to 25 of whom celebrate their 40th, 45th or 50th work anniversaries each year.
"You just have this cadre of people who've been with the bank a long time," he says. "They love the customers, they love each other. All the work's got to get done. And you just never forget the people. It's not about the jobs I had and all that stuff."
As a leader, he's emphasized giving back to the community. The First Hawaiian Bank Distinguished Professorship of Banking Endowment at UH's Shidler College of Business was created in 2013 to invest in the next generation of bankers. And to mark its 160th anniversary, First Hawaiian donated $160,000 to Bishop Museum.
The bank plans to roll out upgraded online and mobile offerings this year, spurred by the pandemic, which taught the bank that customers want to interact with it in different ways, Harrison says.
"How do we continue to provide this really important role to facilitate growth in the economy, but at the same time, make sure we're being safe and sound forever? … Who knows how long FHB will last, but it's rooted in Hawai'i and making sure that this community can rely on us," he says.
Click here to listen to more episodes of The Hawaii Business Podcast!
---
Founded in 1919 as a two-car repair garage on the North Shore of Oʻahu, Servco Pacific Inc. is Hawaiʻi's largest private company with operations in the United States and Australia. Guided by a value-driven business model, Servco Pacific owns a diverse group of businesses in automotive distribution and retail, car sharing, musical instruments, and venture capital. As the company's journey of innovation continues, Servco Pacific is evolving to provide mobility solutions to serve the needs of its customers and communities in Hawaiʻi and beyond.
For more information, visit Servco.com.