Fairness and Justice Guide Emily Reber Porter's Work in the Community, S2E2
The chief operating officer of MacNaughton joined the real estate and investment company in 2015 after working as a litigator in Hawai'i and Washington, D.C., and as an executive at a disruptive tech company in San Francisco.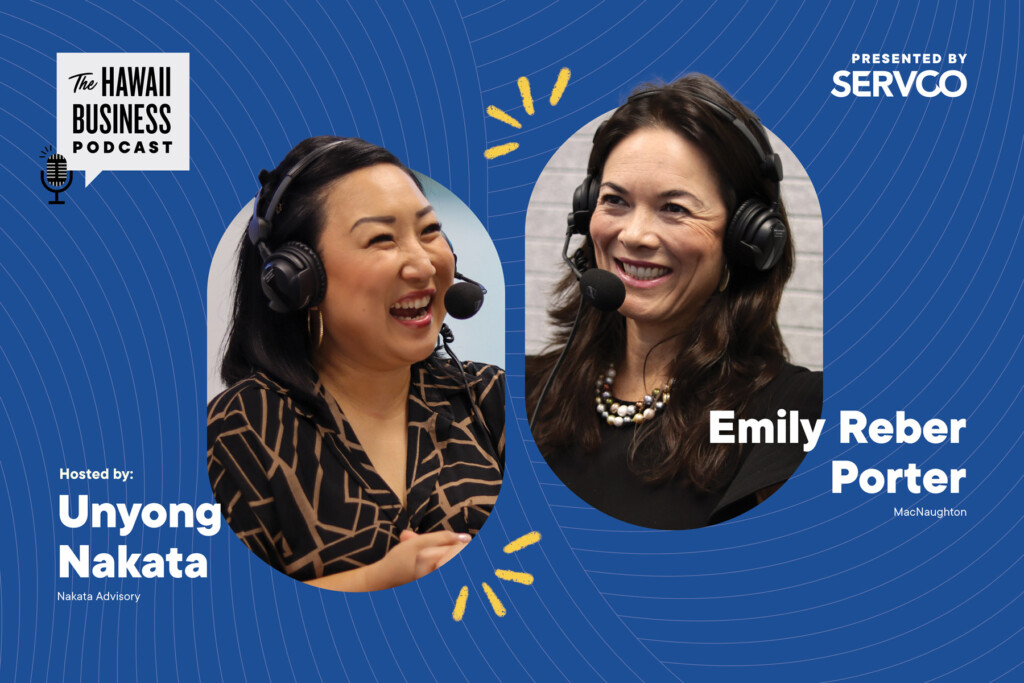 Known for her love of challenges and the community, Emily Reber Porter says she applies the phrase "kuleana awakens mana" to everything she does. She first heard the phrase when she visited the homeless community at the Wai'anae Boat Harbor.
"That whole concept that when you feel responsible for something, when you feel like there is a purpose, it really awakens your power to make a difference and to work with others to be the change and to achieve the change," says the Punahou, Princeton University and Harvard Law School alumna.
"Watching my parents, observing them as a child, I was fortunate to understand that people are capable and if you put your mind and your hard work to things, you can accomplish anything you want."
She adds that MacNaughton is committed to strengthening and diversifying the local economy and plans to get more involved in building affordable and workforce housing. The company has already worked on 51 Hawai'i-based residential, multi-family rental, retail and hospitality projects.
Porter is also vice president of the MacNaughton Foundation and serves on the board of directors for Child & Family Service, Punahou School, Oahu Transit Services and the Outrigger Canoe Club.
Her passion for issues that affect women and children led her to approach CFS six years ago to ask about serving on its board. She hopes to help educate the broader community about domestic violence and the organizations working to tackle it.
"We absolutely need to admit it's happening and take a stand and educate everybody about this so that it can happen a lot less in the future," she says.
Click here to listen to more episodes of The Hawaii Business Podcast!
---
This episode is presented by Lexus Hawai'i. Owning a Lexus goes beyond the joy of driving a luxury vehicle, it's a lifestyle. Experience Amazing as a Lexus owner. Starting with the Lexus Takumi master craftsmen, each specializes on a particular element of the production of your very own vehicle and has at least a quarter century of experience in their field. The Takumi's meticulous attention to detail, belief in excellence, and superior quality are unmatched. Lexus Hawai'i owners are also invited to join Lexus Perks by Servco. Enjoy unparalleled experiences at exclusive events and receive special offers just for being a Lexus owner.
To learn more and Experience Amazing, visit LexusHawaii.com.