How 5 Hawai'i Families Built Generational Wealth
Family businesses rarely last for three generations. Here's how the Ai, Fukunaga, Watumull, Hata and Lau families did it.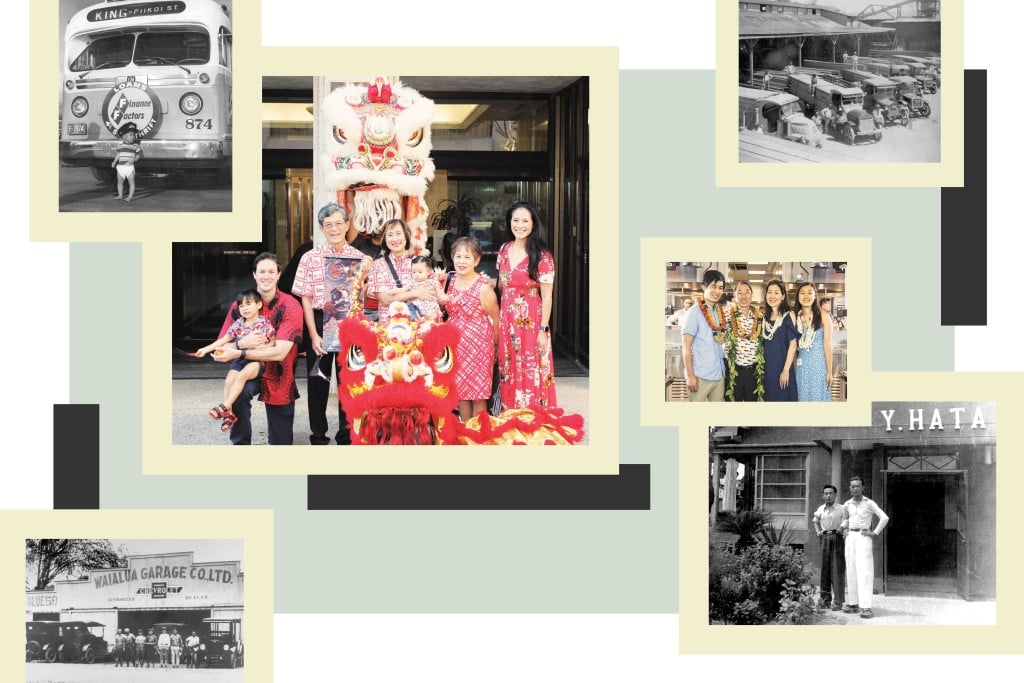 Steven C. Ai says many families start businesses but only 5% manage to build substantial wealth and successfully pass it to the third generation.
Cultures around the world have sayings that describe the other 95% of family businesses: in America, one saying is "shirtsleeves to shirtsleeves, and in China, it would be rice paddies to rice paddies," says Ai, President and CEO of City Mill.
In other words, the first generation works hard and sacrifices to accumulate wealth, the second generation witnesses those sacrifices but may not devote the time and effort needed to maintain the wealth, and it is even rarer for the third generation to perpetuate that initial success, so generational wealth is lost. The family ends up financially where it started – back to wearing working men's shirtsleeves or working the rice paddy.
The Ai family business has managed to accumulate, expand, manage and pass along family wealth to the third generation. This report follows the path of that local family and four others that have successfully built lasting generational wealth. Along the way, we will offer advice from Jean Santos on how other families can emulate their successes.
Santos, who has 41 years of experience in business and advising businesses, is president of Business Consulting Resources. "We help (companies) define what their full potential looks like and help them develop and implement the process and systems that will be required to get them there," she says.
City Mill
Steven Ai's business card is especially interesting because it does not show his title as President and CEO of City Mill. "This is one way that we treat everyone, including employees, equally, fairly and without emphasizing importance to corporate ranking."
That mindset of treating everyone fairly began with Ai's grandfather. Chung Kun Ai immigrated to Hawai'i from a village in China's southern Guangdong province that was also the birthplace of Sun Yat-sen, who founded the Chinese republic in 1911. The close friends both attended 'Iolani School and both became Christians.
Sun Yat-sen returned to China, but C.K. Ai (as he was known to his friends) stayed in Hawai'i and had 10 children, four boys and six girls, all of whom were college educated. It was rare for girls to go to college at that time, but it was one of many signs of how much Ai valued education.
Ai worked briefly as a tailor, but his goal was to work for and learn from James I. Dowsett, who in the late 1800s was a prominent businessman in Honolulu and a confidant to Hawaiian monarchs.
Ai applied for a job, but Dowsett told him to return in a few weeks, which Ai did. Again and again, his request for a job was rejected, but he kept asking. Finally, Dowsett hired Ai because of his perseverance, and the job changed Ai's life. He learned about business from Dowsett and developed a Western work ethic, says Steven Ai.
Dowsett died in 1898, but C. K. Ai and his descendants were eternally grateful for his mentorship. Ai regularly placed flowers at Dowsett's grave in O'ahu Cemetery a family tradition that Steven Ai continues to this day. And when City Mill's main building was constructed on Nimitz Highway, it was named for Dowsett.
In 1899, the year after Dowsett's death, C. K. Ai founded City Mill, starting it as a rice mill on Kekaulike Street in Chinatown, in a building that still stands today. However, Ai soon felt there wasn't enough of a future for him in rice milling.
"My grandfather had vision, and when he thought the business ought to change, the business was changed," says Steven Ai. In time, City Mill's subsidiaries included a ship and a business that grew pineapples where Hawai'i Loa Ridge is today.
In 1930, during the Great Depression when businesses all over America and the world were going bankrupt, City Mill owed a local bank $750,000, worth about $17.8 million today. C. K. Ai's attorneys and accountants advised him to declare bankruptcy, but he refused and promised the bank he would repay the loan in 10 years.
Family lore says a bank executive, who was originally from the mainland, went around town asking, "Who is this C. K. Ai?" Everyone answered, "Give Mr. Ai a chance to repay; he is an honorable man, and his word is good. Don't push him into bankruptcy. He will work hard to repay the loan." And 10 years later the full loan was repaid.
"My grandfather was an honorable man," Steven Ai says. "He repaid all loans to preserve the good name the family. If you borrowed money, your promise to repay was a bond never to be broken."
C. K. Ai was a leader in the local Chinese community all his life and established a nonprofit organization that donated to hundreds of different charities.
David Ai, the father of Steven Ai, became City Mill's GM and chief executive in 1945. He was C.K. Ai's youngest child, but C.K. Ai's wife advised the family to appoint David, first as GM and later as the president of the company. She recognized David Ai's character, work ethic and temperament and knew his leadership would serve the company well.
"Don't sell land," David Ai advised his family. "Also, when you drink water, remember its source" – meaning, always remember your customers, employees and community.
At one time there were about 500 shareholders in City Mill, but now the only shareholders are Steven Ai and his sister, Carol Ai May, the company's VP. The other shareholders were bought out over time. Today City Mill is ranked 85th on Hawaii Business Magazine's Top 250 ranking of the biggest companies and nonprofits in the Islands.
Steven Ai says that he and his sister were never spoiled. "We always worked. I wanted a car in high school, but never got one until I was in college."
"We were always told to work hard, to be thrifty, have perseverance, be willing to change and not to depend on the family for favors."
In 2014, Steven Ai and Carol Ai May were honored as Kama'āina of the Year by the Historic Hawai'i Foundation in recognition of their and their family's contributions to Hawai'i.
You Must Plan For Generational Wealth
Santos says her company works with families to establish ways to build and maintain generational wealth. "We help them develop their governance processes and systems that will help them have the difficult conversations about how the wealth will transfer from one generation to the next," she says
"When we have these discussions, we help the family list all the assets they own, working with their other advisors, especially their estate planner."
Many families avoid hard conversations, but Santos says they should do the opposite: Have the hard conversations as soon as possible, and establish the generational wealth system as soon as possible too. Not doing so, "often leads to tremendous discord among family members," Santos says.
Sometimes this discord fractures families and relationships are never mended. The old saying, " 'It's not the money, it's the principle,' forget it. When it comes to generational wealth transfer, it's always about the money," Santos says.
"That's why it's so important for families to understand that fair is not always equal. For example, if the eldest son has been the CEO and has been responsible for the tremendous growth of the company and the other two sons are not employed by the company, the CEO son ought to have more ownership stake in the company than the other two sons."
Servco Pacific
The root word for Servco is service, and that has always been the company's guiding principle, says Mark Fukunaga, chairman and CEO of Servco Pacific, ranked third on Hawaii Business Magazine's Top 250 ranking and the largest private company in Hawai'i.
Peter H. Fukunaga, who emigrated from a small village in Japan's Hiroshima prefecture in 1907, founded the company. He worked on Hawai'i Island for the sugar plantations as a dynamite man blowing up rocks and boulders to build tunnels through the mountains. The job was dangerous but paid well, says Mark Fukunaga.
With his savings, Peter Fukunaga came to Honolulu and worked as an assistant mechanic at Royal Hawaiian Motors.
As fate would have it, Fukunaga fractured both of his legs on the job and was laid up for three months, Mark Fukunaga says. During his recuperation, Peter Fukunaga learned that Waialua Garage in Hale'iwa was for sale at a price of $650. He was only able to pay $25 in 1919, but promised to pay the balance as soon as possible. And he did just that before buying three other garages in Waialua.
Automobiles were the cutting-edge business of the early 20th century, and he grew the family enterprise.
Peter Fukunaga later acquired Royal Hawaiian Sales, a car dealership in Honolulu, and in 1926 Servco became a Chevrolet dealer.
Peter Fukunaga consistently advised his family and staff that a company had to keep growing, otherwise it withers and dies. Over time, the Fukunaga family founded or acquired 40 businesses, including companies selling appliances, musical instruments, financial services, plants, office equipment, insurance, electronics and marine supplies. The family's reach extended to Guam, where it owned six businesses.
In 1957, Servco also became a Toyota dealer (Peter Fukunaga heard from Tokyo taxi drivers that the automaker's vehicles had great clutches) and to this day, Servco and Toyota have maintained an excellent business relationship, Mark Fukunaga says.
Peter Fukunaga had three sons – George, Ben and Tom, all of whom had a hand in running the company after their father's passing – and one daughter, Betty. Mark Fukunaga and his cousin, Eric Fukunaga, took the reins in 1994 after their fathers passed 11 months apart.
Servco also now owns dealerships in Australia, where it has 23 locations and 1,300 employees. In 2012, the company bought partial ownership of Fender Musical Instruments and now fully owns the iconic maker of guitars such as Stratocaster and Telecaster.
Fender's New Guitar Player Landscape Analysis found that 16 million people – about 7% of the U.S. population – learned to play the guitar, bass or ukulele during the first two years of the Covid pandemic.
"Fender is now a core business for the long term. We are looking at ourselves as custodians of this amazing legacy," says Mark Fukunaga.
The third main business of Servco is venture capital, which requires the company to observe global trends, says Mark Fukunaga, who was named Hawaii Business Magazine's CEO of the Year in 2018 for his success in taking the third-generation family business to even greater heights.
Servco's shareholders today consist mainly of Fukunaga family members, including nine cousins. On the board of directors also sit prominent local and mainland executives that provide advice to the company.
Servco has been recognized as a U.S. Best Managed Company by Deloitte Private and The Wall Street Journal for the past three years.
Mark Fukunaga explains Servco's recipe for success: "For a company to be successful, it must examine itself continuously. It must look at itself realistically, its strengths and its weaknesses. Our company always felt that we had to have a corporate culture where the officers and staff could think through collaborative method. We have set up a process of strong governance and we recruit employees with talent and vision."
Continuous Evolution
Santos of Business Consulting Resources agrees with Servco's recipe. "Ensure that the family business is ready to constantly change and evolve with respect to products and services it is delivering. Never get comfortable!" she says.
"Start by creating a strategic plan for the family business that includes a well-defined budget and profitability projections for at least two years and refresh that plan each year."
"Continue to examine what you are doing and how you are doing it, continually look at costs and profitability and be prepared to break the systems you have in place and put them back together in even better ways to support continued growth," she says. "The world around you and your company is continuously changing. You have to keep adapting."
Watumull Family
Of the five family founders profiled here, Jhamandas Watumull traveled the farthest to reach Hawai'i. According to J.D. Watumull, president of Watumull Properties Corp., Jhamandas Watumull was born in Hyderabad, then in the British colony of India and now in the Sindh province of Pakistan. He was 14 and the oldest of nine children when his life changed. An accident left his father, a bricklaying contractor, paralyzed for life.
He arrived in Hawai'i in 1914 and used his savings to start a store on Fort Street in downtown Honolulu, J.D. Watumull says. They sold goods from East and South Asia, including ivory, crafts, brassware and silk. The store was a success and they later expanded into a full lines department store on Fort Street.
Jhamandas Watumull's brother Gobindram arrived in 1917 and began operating the business in Honolulu. As the number of visitors to the Islands increased, the store focused more on them and was renamed Watumull's. Meanwhile, the family expanded the business by investing in a clothing manufacturing factory named Royal Hawaiian Manufacturing.
Jhamandas Watumull traveled often to tend to his business interests elsewhere and did not settle in Honolulu until 1955, so Gobindram and Jhamandas's son Gulab took the responsibility of expanding the family business in Hawai'i. In 1922, Gobindram brought an artist named KJ Leilani from Bombay to exhibit his paintings of life in India. He also encouraged his sister-in-law, Elsie Jensen, to paint designs on raw silk fabrics that turned into childrenswear, mu'umu'u and aloha shirts – all sold at the Watumull store. One vintage Watumull aloha shirt made in the 1940s now commands a price of $695 online while another can be had for $468.
The family's initial years in Hawai'i were difficult as its members faced discrimination and onerous immigration laws, even though Gobindram married an American woman. Nonetheless, the family persevered. By 1954 there were eight Watumull stores, and two decades later, 29 across O'ahu, including East India Stores, Aloha Fashions, Malihini Gifts, Leilani Gift Shops, and Watumull's, focused on the visitor industry, says J.D. Watumull.
The Watumull family has funded several local philanthropic and educational institutions, including the Rama Watumull Fund, the J. Watumull Fund and the Watumull Foundation. The family has also done considerable charity work in India, funding a hospital and engineering school in Mumbai, a school in Pune and a hospital in Mount Abu.
The main businesses of the Watumull family in Hawai'i today is commercial real estate under Watumull Properties Corp, plus ownership of two clothing wholesalers, American T-Shirt and Happy Shirts. The current leaders of the family businesses are J.D., Jojo, Vik and Jared Watumull.
J.D. Watumull says Jhamandas Watumull's biggest tip for building a successful business was "to work hard and be flexible."
Santos says members of a family business should always remember the generations who came before them, and to honor them by providing their communities, customers and clients with integrity, fairness and high-quality work.
There will be challenges, she says, but always take time to celebrate the wins – even the small ones. Have fun along the way, laugh at yourself, love what you do and share your passion with your team, she says.
Y. Hata & Co.
Every family business faces serious challenges along the way to building generational wealth. However, the Hata family not only came close to the brink of financial disaster, but it also had to survive the internment of its founder at the Lordsburg concentration camp in New Mexico during World War II.
Like many local Japanese families, the Hata family originated in Hiroshima prefecture. Yoichi Hata was the grandfather of Russell Hata, the current president and CEO of the family business, Y. Hata & Co.
Russell Hata says Yoichi's elder brother was Sadanosuke Hata, who established S. Hata Shoten in Hilo, selling silk, kimonos and other East Asian goods. Yoichi Hata, then an accountant in Japan, was summoned to Hilo in 1909 by Sada-nosuke to help him to expand the company and run the newly built warehouse.
Yoichi Hata had a true entrepreneurial spirit and launched his own business in 1913, starting by wholesaling foods, such as Kona coffee, dry shrimp, candies and other merchandise. "The Y. Hata business started small," says Russell Hata.
"The business was not capitalized with a bank loan."The business kept expanding with companies like Hilo Oil Products, Hamakua Coffee, Hilo Rice Mills, C & C Fish Co. and Hilo Brewery. Yoichi Hata started Angel Trading Co. in Japan to export Asian products to Hawai'i.
Yoichi Hata and his wife, Naeko Hirata Hata, had ten children, five of whom worked for Y. Hata. The eldest son, Minoru, expanded the business to Honolulu in 1937, and his sister, Yukiko, assumed management of the Hilo operation until the end of the war, says Russell Hata.
Yoichi Hata was interned at the Lordsburg camp during World War II, primarily due to his business success and leadership role in the Japanese community, says Russell Hata. Ironically, three of his sons volunteered for the U.S. Army and fought in Europe.
Russell Hata says that after the war, the company continued to diversify by expanding its tobacco and beer franchises and other products. In the 1960s and 70s, Minoru and Frank – Yoichi's youngest son and Russell Hata's father – acquired Maui Dry Goods, started a partnership with Kikkoman Shoyu called Japan Foods Hawaii, acquired Val's Supermarket, changing the name to P & P Grocery Store and launched many other ventures. Y. Hata became the dominant food distributor in the Islands by the 1970s, with seven warehouses in Honolulu, Hilo and Kahalui.
Frank Hata's rule for the family and employees was simple, "Never lie, never cheat, never steal."
In 1975, disaster struck. For four years, the Y. Hata workers were on strike, Russell Hata says. "I had to recruit outside employees. I had no other choice. Otherwise, our business would have gone bankrupt."
"I told my father, 'We need outside help to survive. We need to hire consultants to advise us what to do to keep the company alive.' My father had his own advisors whom he thought would be the men who save the company, but the situation got worse and worse."
To fund the operational losses, real estate and other assets were sold, while staff declined from 300 employees to 125. The company exited the retail grocery business and focused exclusively on food service, says Russell Hata.
In 1991, Russell Hata took control of the business, and the board of directors approved a reorganization of the company.
Then in 1992, another disaster struck. The Hawaii Community Development Authority raised the rent on Y. Hata's main warehouse at 741 Ilalo Street from $50,000 a year to $1.2 million a year. According to Russell Hata, the governor had previously offered low rent to induce food suppliers to locate in Kaka'ako, but only Y. Hata accepted. Two years after the rent was increased, HCDA condemned the site for use by the UH medical school and gave Y. Hata seven days notice to vacate.
Y. Hata is thriving today. It ranks 31st on Hawaii Business Magazine's Top 250 ranking of the biggest companies and nonprofits in the Islands. The company celebrated its 100th anniversary in 2013 and the next year, Russell Hata launched ChefZone, a cash and carry division that provides a one-stop store for restaurants, stores, families, foodies and everyone else.
Russell Hata attributes the company's success to Sam Bailin, a "super business genius" and well-respected management and leadership visionary in the national food service industry until his death in 2008.
"Extremely smart. If we had listened to him much earlier, the company would be way ahead today," Hata says. Based on Bailin's guidance, he says, the company today stresses the importance of strategic vision and mutually beneficial customer and employee partnerships.
"We gain the respect and trust of those we partner with because of our genuine concern for our partners' success and our unwavering commitment to excellence," Hata says.
Finance Enterprises
Santos, the longtime business advisor, offers this advice for family businesses: Have the new generation work elsewhere before they join the family business because there is much to learn from other companies and industries. And take risks and never stop learning.
Jennifer Lau has followed this path. She is now executive VP of Finance Enterprises Ltd., parent company of Finance Factors, Finance Insurance, Finance Realty and Waipono Investment Corp. She is the granddaughter of one of the founders, Daniel Lau, and daughter of Russell Lau, the current chairman and CEO of Finance Enterprises.
After Punahou School, Jennifer earned her undergraduate degree from Wellesley College and her MBA from MIT's Sloan School of Management. Her perseverance and leadership were evident at a young age. Wellesley did not have a track team when she was there, so she trained on the MIT track, where she impressed the coach so much she was invited to train with the men's MIT track team.
In addition to being a co-captain of the Wellesley soccer team, she also served as first female captain of the MIT Sloan MBA soccer team, where she was one of two female players on the squad.
Lau has a decade of experience in software product development, design and management. She has worked at StubHub, as senior software product manager; eBay's Global Product Strategy Group; Bank of America's online brokerage; and Merrill Lynch Online, where she helped launch the Merrill Edge online trading platform.
"Challenge never comes with a playbook, you take a swing through it – leading either to success or learning," she says. "Leadership excellence can only be fine-tuned through pursuit and practice."
Finance Factors was founded in 1952 to serve families and small businesses whose owners didn't always have access to traditional financing. It extended loans to its clients, who in turn made deposits and helped the company grow.
Co-founder Daniel Lau always said, "Work hard even if no one is looking."
The hard work paid off. The company is Hawai'i's largest locally owned depositor financial services loan company – offering residential and commercial loans, savings accounts and other financial services. It has 13 branches – nine on O'ahu, two on Hawai'i Island, plus one each on Maui and Kaua'i, and a loan production office on Guam. Finance Factors is ranked 174th on Hawaii Business Magazine's Top 250 ranking of the state's biggest companies and nonprofits.
Russell Lau's advice to his employees reflects many of the principles that all five families profiled here followed on their path to generational wealth.
There is no substitute for hard work and education.
Continue to have a vision for the future.
Always be humble.
We are where we are because of others.
It takes a team to be successful.