Ride Along with Hawaii's Longest Commuters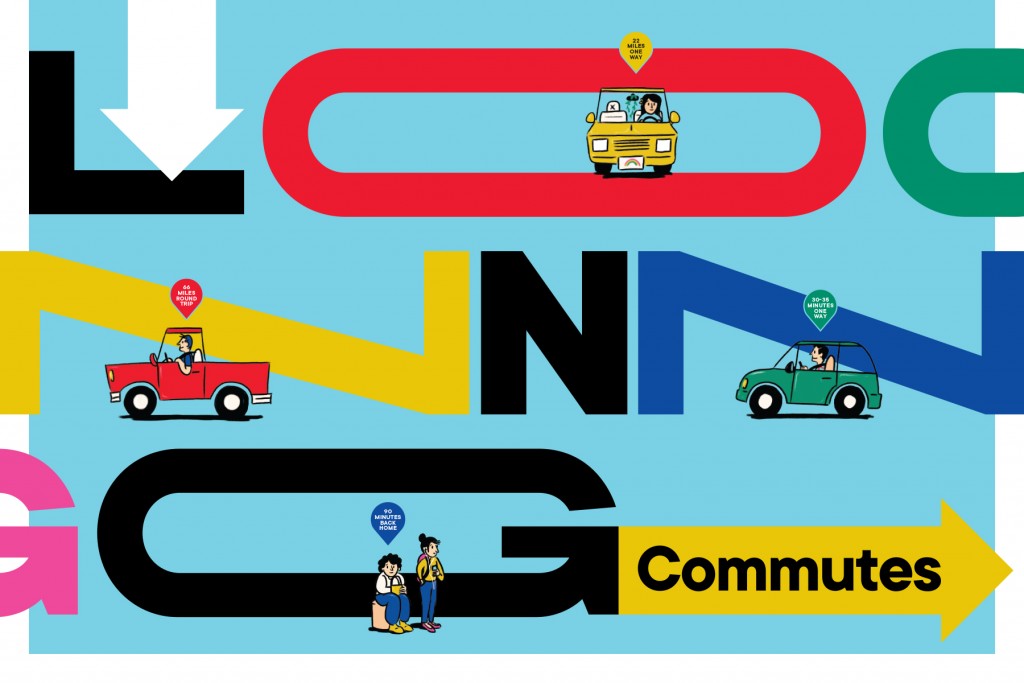 Ewa beach to Waikiki, 23 miles one way
Start: 4:50 a.m.
Good days: 45-60 minutes on the bus to work; 90 minutes coming home
Julie Gabot's job as a housekeeper in Waikiki at the Sheraton and the Courtyard by Marriott keeps her on her feet all day, so she uses her commute to nap – which she says is the best part about taking TheBus.
She carpools with her cousin when she works on weekends and on holidays, but most days she spends over two hours on the bus – something she has done for over 20 years because she doesn't drive. She says it's worth it because she enjoys her job and housing is more affordable in Ewa Beach. Moving closer to town would mean a more expensive mortgage or that she and her family would have to rent.
Her work schedule varies but on Mondays and Thursdays she's up by 4 a.m. to catch two buses – the 101 and the W1. Those days, she starts work at 7:30 a.m. and catches her first bus at 4:50 a.m.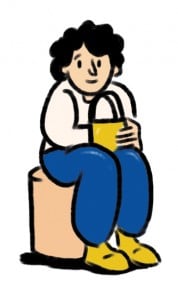 Experience has taught her that it's best to take the earliest buses, even if that means setting two alarm clocks to ensure she wakes up on time. She used to turn off her alarm on mornings when she was extra tired but she became so stressed about missing her bus: "So I am running from my house to the bus stop. I'm losing my oxygen already."
If she takes a later bus, it's more likely she'll have to stand through a 45- to 60-minute ride. When there are accidents on the freeway, the resulting traffic delays her commute by 30 minutes. "I'm thinking 'Oh my God, how long is this one? How can I eat my breakfast before work?' And I don't even know if I'm going to be late."
When things run smoothly, she'll arrive in Waikiki before 6 a.m. – which gives her time to eat the breakfast she sometimes cooks before leaving her house.
Her workday ends at 3:30 p.m., and she catches the W1 to go home 15 minutes later. This bus, she says, is typically more crowded than in the morning but she's always able to find a seat. About an hour and a half later, she arrives in Ewa Beach, tired, and is picked up at the bus stop by her son.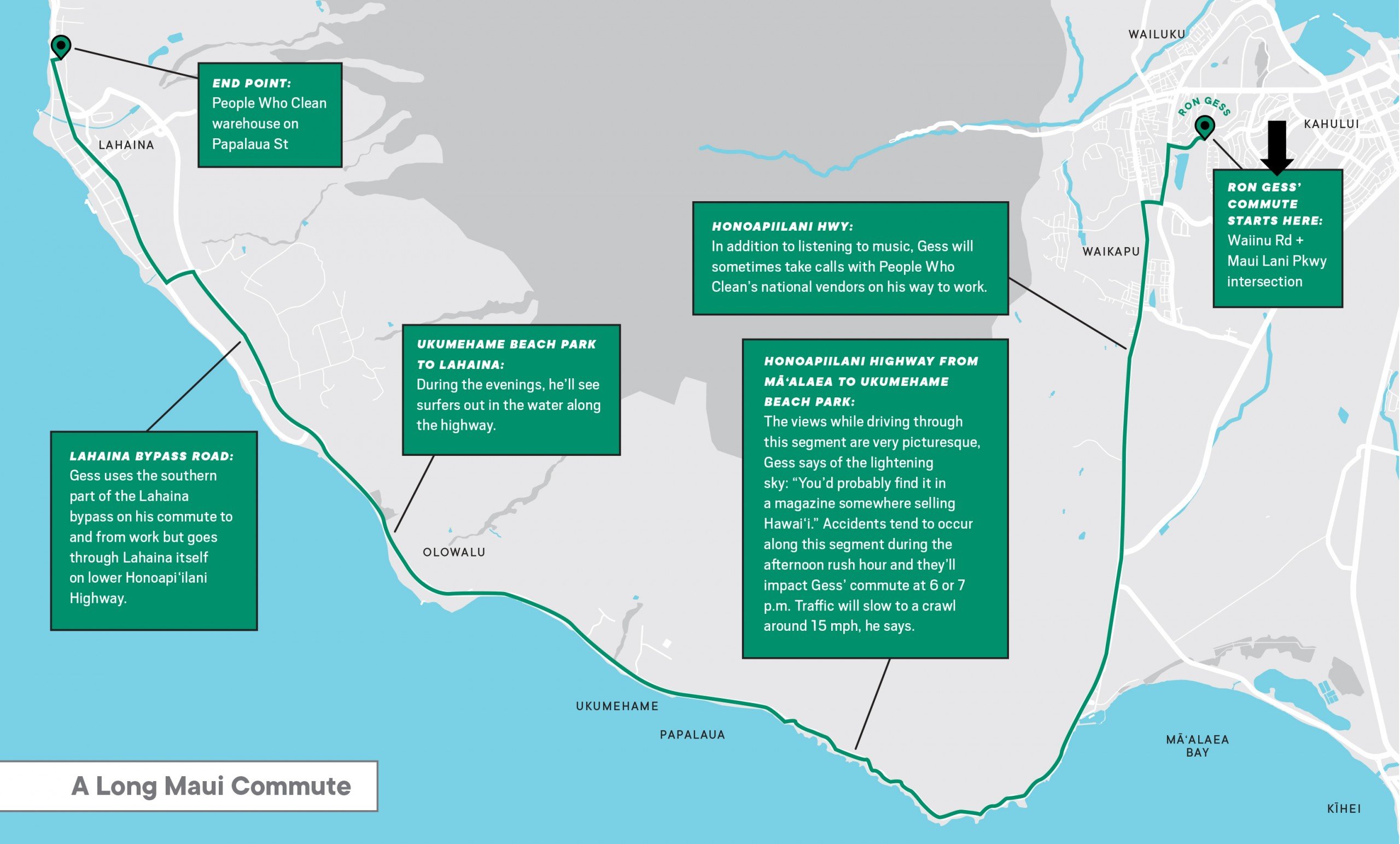 Kahului to Lahaina, 22 miles one way
Start: 4:30 a.m.
Good days: 30-35 minutes each way
It's a lonely drive from Kahului to Lahaina when Ron Gess starts at 4:30 in the morning. The roads are nearly empty then and the sky is still dark, so he listens to music – his favorites are Ed Sheeran and Israel Kamakawiwoole.
It's a great daily commute, says the GM and VP for People Who Clean Hawaii Corp., who takes pleasure in things like the beautiful sky lightening over the beaches when he hits West Maui. He can typically reach Lahaina within 30 to 35 minutes. His early start is not to avoid traffic, he says, but because he's a morning person.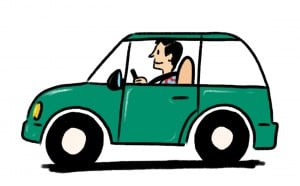 His workdays are typically long, and he goes home at 6 or 7 p.m., allowing him to avoid most of the heavy traffic and, sometimes, the afternoon accidents. If he receives a Maui County text alert about an accident that's taking awhile to clear, he'll stay at the office longer to avoid the backup. When he finally does leave, he's home in 30 to 35 minutes.
"Eventually they do clear, so if you plan it right, you can avoid it all together," he says. "Sometimes when I'm just plain tired and want to get home, I do get into the crunch, so to speak. And it's just, as you know, part of commuting."
He credits Route 3000 – also known as the Lahaina Bypass – with helping to move traffic along during his evening commute. The bypass offers several access points onto the main highway; before there was only one access point, which resulted in a bottleneck.
He drives nearly 50 miles each day to get to and from work. But People Who Clean serves the entire state, so he's often on the road a lot more – and not just in a truck. He uses an electric bike while on Molokai and Lanai – where drivers are courteous and drive slowly – and every Friday he flies the company's single engine plane to Honolulu.
---
6 Tips for Commuters
1. Smart Start:
Learn what time you have to be on the road to safely arrive on time, says Ana Jennings, a UH student who drives to Manoa from Kailua. Jennings has endured this commute for 11 years – first as a Punahou student – and says if she starts late, she will often be late for classes. Some people set their start time based on ideal traffic conditions, but commute times are unpredictable even on days when there's no rain or accidents, so build in extra time.
2. Start later:
Jennings says she tries to avoid registering for early classes. Late class times on Tuesdays and Thursdays during the spring semester cut her standard hourlong commute in half.
3. Prepare beforehand:
Bus and car-pool commuter Stacey Ko says you can sleep later if you do things the night before: lay out your work clothes, pack your bag and make your lunch.
4. Check traffic before you hit the road:
State deputy highways director Ed Sniffen says commuters can check traffic conditions on Google Maps and Go-
Akamai, which includes feeds from traffic cameras, travel times and information on accidents and delays. Nanakuli resident JoAnn Haae listens to the radio and checks the Westside Traffic Alert Facebook page.
5. Stay alert and drive with aloha:
That prevents accidents, which slow down traffic, Sniffen says.
6. Carpool:
State Rep. Cedric Gates uses the zipper lane when he carpools and says it cuts his commute by 30 minutes. The state Department of Transportation operates a car-pool and school-pool matching service. Learn more here.
---