Hawaii's Tech Industry After Act 221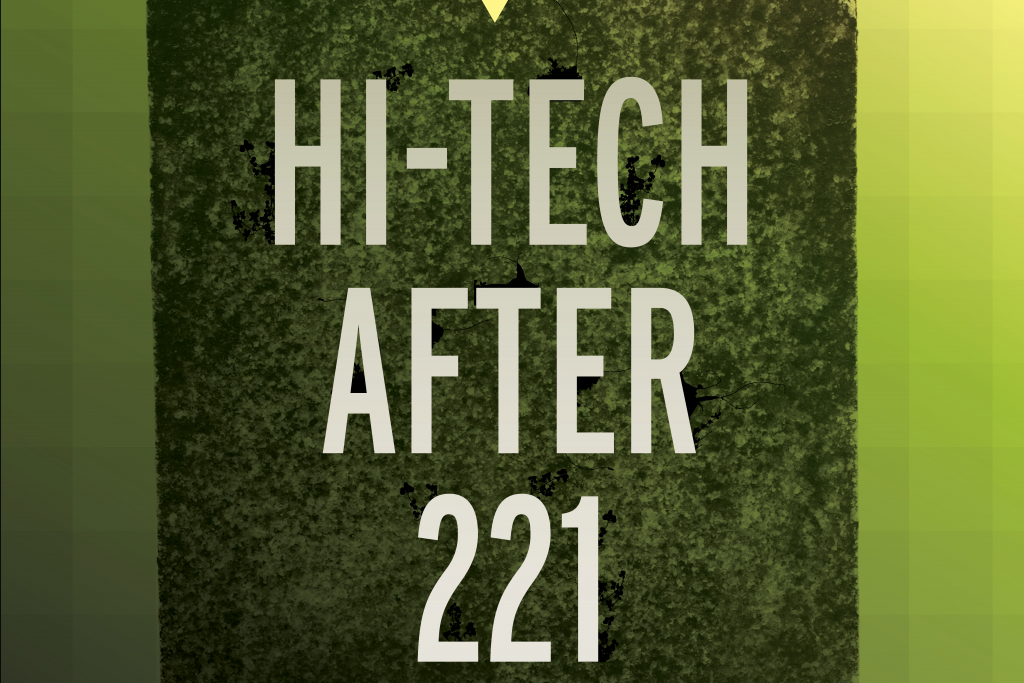 Watching the death of Act 221 was like watching the Superferry ordeal unravel all over again," says attorney Jay Fidell, president of ThinkTech Hawaii. "Why this state continues to oppose progress and kill measures that so many people and businesses will benefit from just boggles my mind!"
But not everyone in the local tech community is sad to see 221 go. Serial entrepreneur Tim Dick says Hawaii will continue to innovate just fine without subsidies. As an example, Dick points to a company he now heads, Adama Materials, a local maker of nanotechnology-based materials, which raised $4.75 million in Series A equity financing in September despite the death of 221.
So many people have strong opinions about 221 – whether it worked, failed, was too expensive or wasn't given enough time to succeed – that the controversy has generated a much-needed discussion about what Hawaii must do to create a viable tech sector. Here's a look at five ideas and the likeliest path toward a high-tech future in a post-221 world.
1. It Starts with leadership

Act 221 attracted capital for early-stage investment, but the challenge today lies in helping the hundreds of local tech companies get to the next level.
"If you ask me what's the most important thing for high-tech investment, capital formation and economic diversification that has been missing over the past decade, it's good leadership with vision and commitment," says Jeffrey Au, managing director of PacifiCap Group, a venture-capital firm with about $100 million under management. "No matter what your strategy or program, you need proper leadership for it to be successful and effective."
While most business groups supported other gubernatorial candidates, the Hawaii Venture Capital Association backed Neil Abercrombie and his calls for incentives and programs to help grow the tech industry.
"The main thing is that leadership needs to do what they say they're going to do," Au says. Former Gov. Linda Lingle "supported 221 in the beginning and then did a 180-degree turn. I am much more optimistic based on the new administration."
2. Invest locally
Hawaii continues to lead the nation in millionaires per capita, according to annual research by the marketing firm Phoenix Marketing International. Phoenix says these are not millionaires with second homes in Hawaii, but those who say Hawaii is their primary residence. Why, then, asks Bill Spencer, president of the Hawaii Venture Capital Association, aren't more of those rich people investing their wealth in Hawaii?
"As of 2007, the top 20 landowners in Hawaii had over $20 billion worth of value in their land," Spencer says. "If they invested 5 percent of that into local venture capital, that would be $400 million. Kamehameha Schools has $8 billion – they're one of the biggest trusts in the country. If they put 1 percent of that into local ventures that would be $80 million."
"Just look at the money in Silicon Valley; it stays there and keeps churning," says Spencer, a member of the Hawaii Angels, a group of about 80 individuals who have invested more than $30 million in local startups.
But, Spencer says, many of Hawaii's wealthiest people put their money into Mainland venture firms rather than the handful of active local funds. "It's important to remember that there's an added value to investing at home: It means a diversified economy and higher-paying jobs."
Fidell says when big Hawaii investors don't put money back into the community from which they made their wealth, "It's a one-way street that's ultimately unsustainable."
Of its $8 billion endowment, Kamehameha Schools spends about $300 million a year on education in Hawaii and about $2.5 billion is invested in local real estate, says Kirk Belsby, KS's VP for endowment.
"We have set aside approximately $40 million out of our venture capital and private equity portfolio for investment in Hawaii. About $12 million has already been committed to venture funds that are predominantly or significantly invested in Hawaii," Belsby says. "We continue to look at other opportunities to do more of that."
Big players such as Kamehameha Schools and the Hawaii Employees Retirement System, which invests about $10.5 billion, have to diversify their holdings and they can't just invest in Hawaii or Hawaii companies.
"It's too difficult for big institutional investors to go around investing directly in companies," says Karl Fooks, president of the Hawaii Strategic Development Corp., a state fund of funds that invests in other VC firms. "They want to invest in a smart fund manager who then picks the right companies for their business focus."
According to Dick, Kamehameha Schools is an investor in Startup Capital, which is one of the companies financing Adama Materials, and other Hawaii businesses. Similarly, the ERS is investing up to $25 million in VC funds that may include exposure to local portfolio companies through its Hawaii Targeted Investment Program (HiTIP).
"Our expectation is that approximately one-third of the total capital will have local exposure through venture-capital funds, some based in Hawaii and others based on the Mainland," says Wesley Machida, ERS administrator.
He says ERS diversifies its holdings to reduce the impact of volatility in the market. "It would be challenging from a risk-return perspective to place 100 percent of all of the HiTIP funds in local companies through venture-capital funds and still yield competitive returns."
3. UH must step up
At the heart of every bustling tech industry is a dynamic university. Silicon Valley has Stanford, Berkeley and a host of UC schools pumping out great innovations and entrepreneurs. While UH is the state's largest high-tech employer and generates about $250 million a year in research revenue, some feel it isn't doing enough to convert that research into commercial applications.
"UH really has not made the kind of contribution that you would expect for the development of a robust technology industry," Fidell says.
Susan Yamada, executive director of the UH Shidler College of Business's Pacific Asian Center for Entrepreneurship, agrees that UH's Office of Technology Transfer and Economic Development, whose mission is to help UH researchers identify, protect and commercialize intellectual property, needs to implement a faster, more efficient way to get big ideas to market.
Each year, OTTED receives 40 to 50 invention disclosures and is currently actively licensing about 60 technologies. One recent study of 2007 data from the Association of University Technology Managers calculated that a medium-size research university, like UH, should be generating about $900,000 in licensing revenue each year, given the amount of research revenue it generates. OTTED's actual performance by this measure was closer to $450,000, says Jonathan Roberts, senior licensing associate at OTTED. In the late '90s, UH brought in about $1 million annually, but that total dropped when the university's groundbreaking Human Papilloma Virus test patent expired.
In the past several years, Roberts says, OTTED has been working with more local spinoff companies and has accepted equity in lieu of upfront licensing fees to help them through the critical startup phase. "This offers UH a greater upside potential, but lowers our current revenue," he explains.
The HSDC's Fooks says while many people focus on the $400 million that UH receives each year in research grants as a benchmark to rate the amount of commercialization or licensing revenue being generated, they fail to recognize that a lot of the money goes to overhead. Also, not all research can be commercialized, says Yuka Nagashima, president and CEO of the High Technology Development Corp., which oversees the Manoa Innovation Center, an incubator for local tech startups.
Still, since almost all of the R&D at UH is being funded through various programs and grants, Yamada says the university needs to quickly identify which inventions are marketable and then capitalize on these low-hanging fruits.
"I understand that OTTED is strapped for resources," Yamada says. "That's why I'm encouraged that (UH President M.R.C.) Greenwood is pushing for innovation. I think there needs to be a culture of entrepreneurship pervasive throughout the university and a push for commercialization. We have to do better at getting all this R&D out of the lab and into the marketplace."
Although Hawaii will never be a manufacturing hub, that doesn't mean it can't specialize in R&D.
"If we can create more situations where the research team is here, the R&D is here and the ideas are generated here, then it doesn't really matter if the technology is marketed on the Mainland," Yamada says. "There's not enough capital here anyway."
With the groundbreaking for the new headquarters of the Cancer Research Center of Hawaii and Greenwood's commitment to make innovation and research a top priority, many are optimistic. Last spring, Greenwood appointed a team of local and national experts to serve on the President's Advisory Council on Hawaii Innovation and Technology Advancement, which will examine UH's innovation, research and tech capabilities. The council will also provide a roadmap for the university that will help position it to make greater contributions to the state's economy.
Yamada says what UH needs is momentum, like the kind that helped get Adama Materials recognized by Mainland VC funds. The company got its start at UH when Donavan Kealoha, a graduate of UH's Shidler College of Business, and Dr. Mehrdad Ghasemi Nejhad, graduate chair of the Department of Mechanical Engineering, won first place and the technology prize in the 2008 UH Business Plan Competition. The company was originally funded through grants from the U.S. Office of Naval Research, successfully landed Mainland capital and an experienced management team, and currently has several active contracts with companies in the aerospace and composites industries.
"The way I learned about Adama," Dick recalls, "is one day I got a call from Bill Richardson (owner of the VC fund, HMS Hawaii Management Partners), saying, 'You have to look at this company.' Then, I got a call from Susan Yamada saying the same thing, so we knew we had to give Adama a look."
Adama's technology has the potential to make everything from tanks to bicycle frames and bathtubs stronger and weigh less. "This has the potential to be a multibillion-dollar company," Dick says, smiling.
Since UH was involved with Adama's licensing, it receives royalties and owns stock in the company, so if it goes public, the university will benefit.
"I think it's a great arrangement," Dick says. "The university has an incentive to make the company successful and, for us, it's been a great experience."
4. Pool capital; provide resources
It's not uncommon for established VC firms on the Mainland or in Asia to manage funds of more than $1 billion. In comparison, Hawaii has just a handful of small, active funds; the biggest is PacifiCap, with about $100 million under management. Local VC firms on their own are not capable of providing for ongoing capital needs. Startups can often find early-stage funding here, but can rarely land meaningful series B or C funding.
On the Mainland, some VC funds pool institutional capital from investment and pension funds, endowments, and universities to leverage themselves and create broader networks of potential investors and customers.
"To be a regional, national or global company, you need to network yourself into those environments," Fooks says. "That's what a good venture-capital industry does for its companies. It has those networks, it knows how to reach those people, and it can sponsor you and give you the stamp of approval. In my opinion, that's what we need to be focused on if we want to create a sustainable infrastructure for a tech industry in Hawaii."
With Act 221, most of the tax credits were invested and claimed by individuals and did not help create any smart pools of institutional capital.
But just because a startup is able to secure capital doesn't guarantee it will succeed. To Fooks, another big issue is whether the state is providing the right resources and support to enable local tech companies to compete for capital.
Fooks refers to a state-funded program in Ohio called Jumpstart as a model that could work for Hawaii.
"With Jumpstart, they realized that just giving young companies money is not enough, so they surround them with resources and networks of successful entrepreneurs, successful management people, customers, investors and other resources so that they can be successful in attracting the next round of funding from a qualified venture-capital firm," he says.
The hope is that Dick will provide the experience and connections that Fooks describes to take Adama to the next stage of development. Additionally, John Dean, the executive chairman of Central Pacific Financial, who is also a partner in Startup Capital, and Amit Shah, of Artiman Ventures, another VC firm based in Silicon Valley that is leading Adama's financing, were named to the company's board of directors.
According to Yamada, attracting this level of experience and talent was like hitting a grand slam for Adama's original team. The HTDC's Nagashima agrees, adding, "Hawaii doesn't have enough serial entrepreneurs like Tim needed to start new businesses, develop them into successful operations and attract capital. Hawaii needs more Darren Kimuras and Henk Rogerses if we want to develop a serious tech industry. Act 221 helped birth more of these visionary entrepreneurs, but we still need more."
Nagashima commends Adama's founders for being open-minded and allowing a more experienced management team to take the reins for the benefit of the company.
"Hopefully this reflects the maturity of our entrepreneurs and our tech community," she says.
Dick expects to serve as Adama's interim CEO for the next 12 to 18 months "until the company can hire a real industry rock star," he says.
5. Lessons learned
Whether or not you supported Act 221, the tech community agrees that we need to reflect on what went wrong and be certain not to repeat the same mistakes.
Perhaps the first step is to acknowledge that there is no silver bullet. Going forward, Nagashima says, it's important to set clear expectations for what one piece of legislation can accomplish and if another tax credit is passed, lawmakers need to establish a realistic timeline so the law can do what it's intended to do.
"Everyone needs to realize that a tax credit alone is not going to create a tech industry," she says. "I think people were disappointed when that didn't happen when that was never the expectation. Secondly, we have to realize that just because Act 221 is gone, it doesn't mean the infrastructure we built up to this point goes away. Because of 221, we have a lot of companies. We should be focusing on how to get them to the next level and how to encourage and support new startups."
Proponents of 221 say the Legislature pulled the plug too early to be able to see the real benefits of the tax credits. According to the state Department of Taxation, about $562 million in state tax credits were claimed from 2000 to 2008 and about $1.3 billion was invested in high-tech businesses as a result of those credits.
"Detractors were against 221 for the wrong reasons because they couldn't measure the cross-benefit," says the HVCA's Spencer. "We're just getting to a point where some of the early 221 companies are hitting that eight-year point and they might just be hitting their stride. There's no way you can do an adequate cost-benefit analysis on Act 221 at this time because the companies who have received it haven't had enough time to reach their potential."
State Rep. Isaac Choy, a Democrat who represents Manoa, Moiliili and University – who Fidell says "helped kill 221" – says in an e-mail that it's premature to be thinking about another tax credit similar to 221 and that, although the law expired on Dec. 31, the state will continue to pay tax credits to investors through 2014.
"I believe it will take time to fully evaluate the costs, benefits and lessons learned from this type of legislation. If tax credits are the tools to be used, the state must consider how to be competitive and to insure the best use of taxpayer dollars."
PacifiCap's Au says politics and the press played a major role in how 221 was perceived by the public. Fidell says misinformation, sensationalized headlines and biased reporting made 221 the "whipping boy" early in the game. 
"Often times, the public automatically believes everything they hear in the press and their views impact the way politicians vote, so, unfortunately, a lot of people had the wrong idea about 221," Au says.
Sen. Fukunaga says it's the Legislature's and administration's job to compile good data to ensure tax incentives or any government programs can be accurately measured and reported on.
While many local leaders say the termination of Act 221 will make it even more challenging for tech companies in Hawaii to raise capital, Fidell, who fought to keep 221 alive, offers this advice for how the state should proceed post-221: "It was a good run while it lasted, but now we must say our goodbyes, mourn our losses and move on. We need to regroup and figure out other creative ways to attract venture capital. We need to educate the public on the value of developing a strong tech industry and we need to cut out all this bureaucracy and politics and just do what's right for the people and the economy. But whatever it is that we do, we have to act quickly so we don't get left behind." 
Governor's Tech Plan
In his "A New Day in Hawaii" campaign proposal, Gov. Neil Abercrombie promised to create an environment in which innovation and technology lead to more opportunities, greater efficiency and higher paying jobs. Here is what he suggested:
Create a Governor's Technology Council: Consisting of entrepreneurs, investors, businesses, researchers, government and others to implement and oversee the state's technology and innovation agenda and its integration with Hawaii's core industries.
Support science, technology and innovation in schools: High standards will be developed to ensure that Hawaii's students are the most technologically savvy in the country. Public-private partnerships will help ensure every school has the infrastructure and expertise to make this a reality, and innovation at the schools will be incentivized and replicated.
Integrate university with business: UH and the private sector must work together to form the economic driver that this state has talked about for decades. Closer collaboration will help transition millions in federally funded research and development activity into products and services that can lead to the startup and success of world-class tech companies.
New tech incentives and capital-formation supports: Abercrombie suggests constructing a new policy regime, not only with incentives to attract investment, but also with additional support to help businesses become profitable and create jobs. This regime would include a package of redesigned tax incentives for companies at all stages.
Build tech centers: Hawaii needs well-planned and resourced facilities for tech companies to incubate. Federal funding and government lands will be used in public-private partnerships to develop and improve tech parks across the Islands.
Appoint a chief information officer for the state: The state is wasting millions of tax dollars each year because of outdated and inferior information systems. A CIO will help all sectors of the economy become more infused with technology, increase cost effectiveness and competitiveness, and improve quality.
Improve government processes: The key to helping tech and innovation is a comprehensive plan to improve the business climate, which means government must get its house in order and become a better partner with the private sector. Government must improve permitting and regulatory processes, provide help in accessing federal funding, purchase from local vendors, and reform procurement processes.
From Seeds to Flowers: How Venture Capital Turns Ideas into Successful Companies
Seed stage

Low-level financing needed to prove a new concept or idea works. Often provided by the 3 Fs – family, friends
and fools – or angel investors.
"When you make investments in venture capital, it's not like in real estate where you invest once and you're done. Typically, you have to do multiple rounds of investment. It's called follow-on investing." 
– Jeffrey Au, managing director of PacifiCap Group
"If you think about what a VC does, they look around, try to find deals, listen to a lot of pitches and they invest in very few of them. We invest in maybe 1 percent of the deals we hear." 
– Tim Dick, CEO of Adama Materials and general partner for Startup Capital
Startup
Early-stage businesses need funding for expenses associated with marketing and product development. Those funds are provided by angel investors or venture capital funds. Some local companies can achieve this level of financing in Hawaii. Others will have to look outside.
"In Silicon Valley, the average success rate for companies that are invested in are one out of eight. So, only about 12 percent of all venture-based firms become homeruns." 
– Bill Spencer, president of Hawaii Venture Capital Association
"This is a numbers game. When they say almost half of all small businesses are dead in five years, I believe it. Tech probably has a higher mortality rate because it takes so much money to get your product to market." – Susan Yamada, executive director of UH's Pacific Asian Center for Entrepreneurship
First-Round or Series A
Early sales and manufacturing funds. May secure some local financing from Hawaii-based VC firms, but most companies will need to shop for investors on the Mainland or in Asia.
Second-Round or Series B
Working capital for early-stage companies that are selling product, but not yet turning a profit.
"On average, it takes about eight to 10 years for tech investors to see a return." 
– Jeffrey Au
Third-Round or Series C
Also called mezzanine financing. This is expansion money for a newly profitable company.
"VCs want at least a 20 percent return on their investments, but often get much more."
– Bill Spencer
Fourth-Round
Also called bridge financing, this round is intended to finance the "going public" process. The right connections and technology/product could result in a buyout of your company.
"From the beginning, investors want to know that the entrepreneur knows how to make money and has carefully planned their path to profitability because, if a successful exit is achieved, that's when they'll make all their money." 
– Bill Spencer