Hawaiʻi's Top Employers 2020
Employees' views about the workplace are changing rapidly – engagement, morale, life balance and community commitment now often play a bigger role in workplace satisfaction than compensation.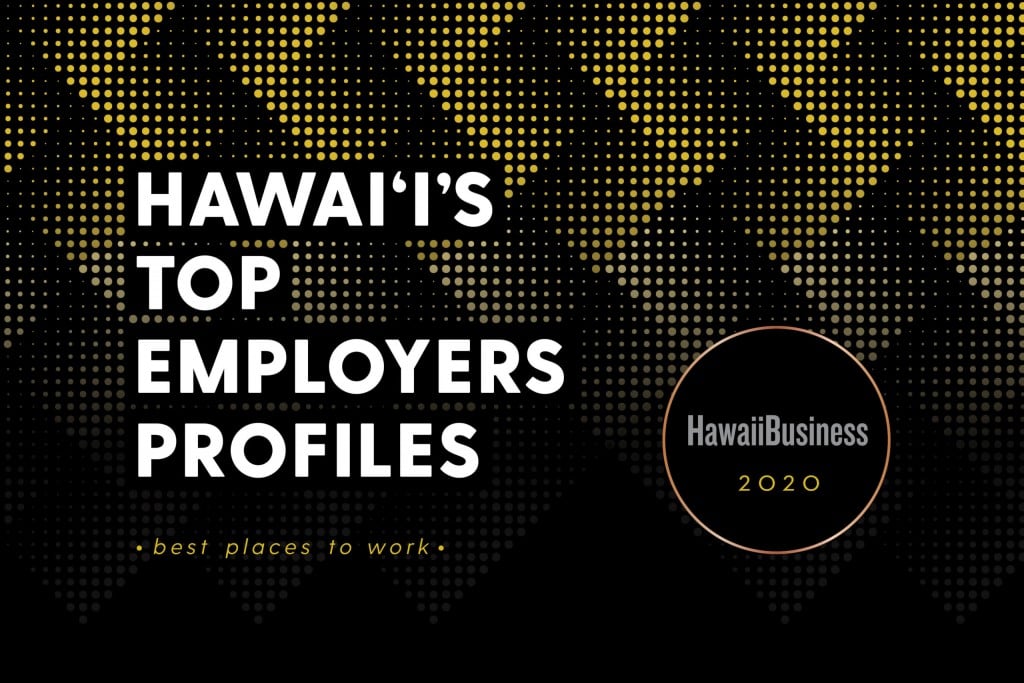 Employees have spoken in the 2020 Best Places to Work Survey. Read on to find out where they work and why they love their jobs. Platinum level winners have made the list 10+ years, Gold winners 5-9 years, Silver winners 2-4 years and Bronze winners one year.
American Savings Bank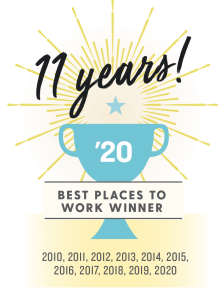 At American Savings Bank, it's not OK to just be "OK." When it comes to taking care of customers, making a difference and creating a culture people can
thrive in, ASB's admittedly a little "extra" and proud of it! The company goes above and beyond to create an excellent employee experience, which explains why teammates have recognized the bank as a Best Place to Work in Hawaii for 11 years in a row.
"We know that in order for our teammates to make dreams possible for our customers, they need to enjoy coming to work, understand how they contribute to our vision and feel valued," said Beth Whitehead, EVP and Chief Administrative Officer. "Our 1,100 team members could have chosen anywhere to work, but they chose us – so we work hard to make them proud of that decision."
Year after year, teammates say the stellar benefits and unstuffy culture are what they enjoy most about working at ASB. Perks include weekly paydays, a casual dress code, generous Paid Time Off program (which can be used from Day 1 on the job), birthday holiday, wellness holiday, keiki leave, free fitness classes and more.
The brand new ASB Campus opened in 2019 and was designed to foster collaboration, innovation and efficiency. An open floor plan, collaboration corners, coffee hui, outdoor lanai, massive breakroom and building-wide WiFi encourage mobile work. There's an entire floor dedicated to training and helping teammates reach their full potential.
But, make no mistake. When ASB teammates aren't making banking easy for customers and leveling up in their careers, one thing's for sure: This team knows how to turn up! Each year, ASB celebrates teammates for an entire month with team-building activities, friendly bank-wide challenges and an epic all-employee Mahalo Party.
ASB also provides opportunities for teammates to bring real impact to the community through its annual Kahiau workplace giving program and Seeds of Service volunteer projects. In 2019, volunteers contributed more than 15,000 service hours.
So when you think of #workgoals, ASB's commitment to providing an awesome experience for its teammates definitely fits the description.
PO Box 2300, Honolulu, HI 96804
(808) 627-6900 |

www.asbhawaii.com
First Hawaiian Bank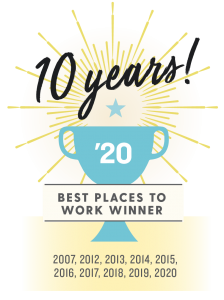 A compelling mission and vision, career development opportunities, outstanding work culture and generous benefits are reasons why First Hawaiian Bank's employees have voted it to be one of the "Best Places to Work in Hawai'i" for ten consecutive years.
"Our success as a company is a direct result of the character and talent of our employees," says Bob Harrison, Chairman, President and CEO of First Hawaiian Bank. "It is only with their dedication and commitment that we serve our customers, make lasting contributions to our communities and generate long-term value for our shareholders. In our highly competitive market for talent, our ability to recruit, develop, retain and reward a talented and diverse workforce is critical to our long-term business sustainability."

First Hawaiian Bank's company culture can best be described as 'ohana, where employees are taken care of like family and everyone works as a team to build fulfilling and long-lasting careers. Developing talent is of great importance at First Hawaiian Bank and that's done in a number of ways, including cohort-based programs, a new Transformational Leadership program, and workshops on topics such as change leadership, innovation, emotional intelligence, collaboration and critical thinking. Employees also have the option to learn from over 150 online courses.
"We prioritize continuous learning through a comprehensive leadership development strategy at multiple levels to increase employee engagement, improve efficiencies and enhance productivity in our workplace," says Sherri Okinaga, Senior Vice President and Organizational Effectiveness Manager of First Hawaiian Bank. "To develop leaders from the inside out and to ensure leadership continuity, we offer cohort- based programs designed for emerging, advanced and executive leadership levels."
For its innovative and strategic learning initiatives, First Hawaiian Bank was recognized in 2018 and 2019 by the Association for Talent Development with the industry's most coveted international BEST Award, which is a first for Hawai'i.
"Our CEO really values our employees who make delivering great service to our customers possible," says Okinaga. "At the root of it all, it's every single one of our 2,000- plus employees that make First Hawaiian Bank so special."
How First Hawaiian Bank cares for its employees and families:
Exciting leadership and career development opportunities
Competitive and comprehensive health insurance
10 paid holidays plus 3 paid float days for rest and family time
Generous company contribution of up to 7.5% to retirement plans
Tuition reimbursement for continuing education
Company subsidized meals at on-site employee lunchrooms
Stay fit at two company-owned, on-site fitness centers
100% company paid, on-site health assessment screenings and flu shots
Company contributory dependent care spending program
Company subsidized transportation benefits
Exclusive discounted banking services for employees
Human Resources Division
999 Bishop Street, Honolulu, HI 96813
(808) 525-8798 | www.fhb.com/careers
ProService Hawaii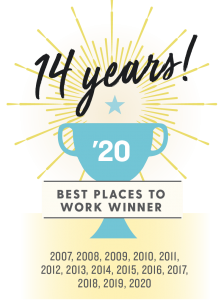 At ProService Hawaii, this couldn't be truer of the 300+ people who show up everyday fired up to play their role— big or small—in supporting Hawaii's employers. What drives this team to work with passion day after day?
A Connection to Purpose
At ProService, each and every employee believes in their opportunity to make their mark and affect change for their clients and Hawaii's business community. "Our employees know their role in making sure our clients, thousands of Hawaii's hardworking employers, have everything they need to pay their people on time, provide quality healthcare, and develop high-performing teams" says Ben Godsey, President and CEO of ProService Hawaii. "It creates an unshakeable connection to ProService's purpose and brings focus to our daily work, whether an employee is a payroll processor, HR consultant or safety trainer. It's a connection we've thoughtfully approached through culture building" says Godsey.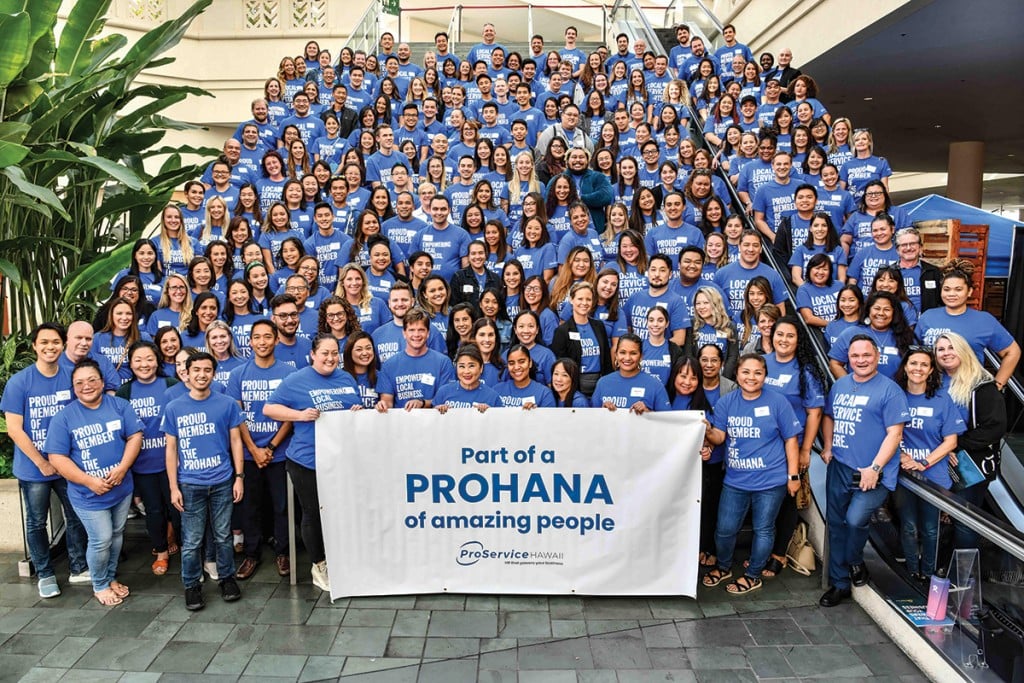 A Workplace Like Nowhere Else
In return for employees' commitment to delivering the best local service in Hawaii, ProService has proudly cultivated a work environment like nowhere else. "We listen to our employees and try new things," says Tiffany Donnelly, Director of HR for ProService. "I'm really proud of how we're continuing to raise the bar on enriching our employees' lives and finding ways to help them work better." "For example, in addition to great health bene its, our employees have access to student loan repayment plans, lexible and remote work options, expanded maternity and paternity programs, and ongoing professional development. In terms of communication, we drive transparency through programs like #askmeanything dialogue with our C-suite on Slack." Recently the company seized the opportunity to bring their entire team together to hear from a nationally recognized speaker on customer service. They closed their offices early and took that time to learn and find inspiration for serving clients better. "One of our core values at ProService is continuous learning. It's the reason our team of HR experts continues to be the experts our clients trust and count on," says Donnelly.
A Bright Future to Learn, Grow and Scale
The challenge to serve Hawaii's employers is ever-present. But with the agility of a startup, and the business foundations to execute at scale, the winning team at ProService Hawaii is excited about the work and the future they're building together.
6600 Kalanianaole Hwy., Ste. 200, Honolulu, HI 96825
(808) 725-6877 | www.proservice.com
Central Pacific Bank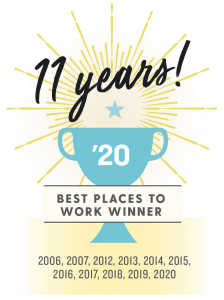 Over 65 years ago, a group of World War II veterans came together to help immigrant families build lives away from plantations. This small group of decorated WWII heroes had a burning passion to give our grassroots community the opportunity to reach their greatest potential. They found a way to create Central Pacific Bank, a bank for all the people of Hawaii.
Today, that legacy of perseverance and passion of our founders carries on at all levels of CPB. The bank has evolved to meet the needs of today's active customers with services such as digital banking, wealth management options, business online banking and much more.
CPB's commitment to making a positive difference in people's lives is embodied in the #CPBRISE2020 initiative, a $40 million investment to modernize all areas of the bank – from bank branches and ATMs to mobile options and financial wellness.
Employee benefits abound at CPB; including training and management programs, tuition reimbursement, health and wellness plans, dependent care paid time off and paid work time for community service. CPB also sponsors a corporate campaign for Aloha United Way and The Salvation Army Angel Tree program and supports dozens of other community service initiatives throughout the year.
CPB employees work and play together to create a fun and productive environment. Activities like an annual employee golf gathering and hiking club outings provide opportunities for employees to bond outside of the work environment. In addition, the company sponsors quarterly team-building activities and encourages cross-departmental extracurricular get-togethers that foster rapport and reinforce strong working relationships.
CPB's core values of Teamwork, Integrity and Exceptional Service (TIES) bind the legacy of its founders with the new wave of forward thinkers and rising stars. Going beyond for its employees year after year, CPB is absolutely one of the Best Places to Work!
220 South King Street, Honolulu, HI 96813
(808) 544-0500 | www.cpb.bank
Nordic PCL Construction, Inc.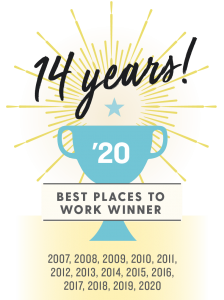 Founded in 1938, Nordic PCL Construction is one of the oldest local kamaʻaina companies in the Hawaiʻi construction industry. While providing construction services for projects on all of the major islands – with timely, customer focused, solution based results – Nordic PCL fosters a collaborative workplace environment of professionalism, learning and innovation.
At Nordic PCL the expert staff are regularly acknowledged for their accomplishments and constantly engaged in leadership opportunities. As an employee-owned company, all employees have the opportunity to be shareholders through annual stock offerings, and then participate in the profits through dividend payments. Unlimited sick leave, competitive compensation packages and incentives, as well as performance bonuses, and advancement opportunities highlight the commitment to staff by the company.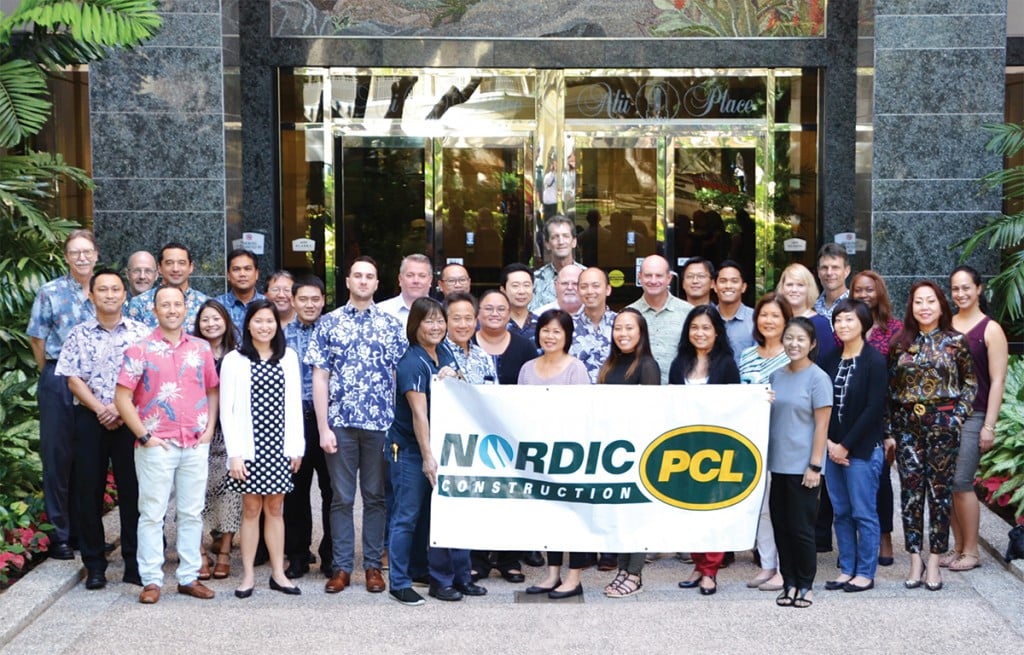 Another core strength that sets Nordic PCL apart is their work in the community. The company sets aside time to promote and encourage charitable work through fund raising or direct involvement with multiple local charities. Nordic PCL's employees support non-profit groups such as the Child and Family Service, American Heart Association, Teach for America, and Hawaii Foodbank. Giving back to the community reinforces Nordic PCLs' reputation as a valued local establishment, and as a choice employer in Hawaiʻi.
1099 Alakea St., Suite 1600, Honolulu, HI 96813
(808) 541-9101 | www.nordicpcl.com
Atlas Insurance Agency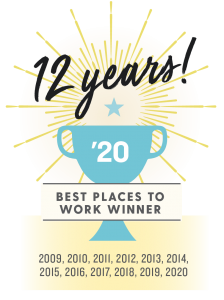 Founded in 1929, Atlas Insurance Agency, Inc. is Hawaii's largest insurance agency. They provide a one-stop solution for all insurance needs including Business Insurance, Employee Benefits, Risk Control and Claims Management, Association of Apartment Owners (AOAO) Insurance and Personal Lines.
Atlas recently moved their Honolulu headquarters to the City Financial Tower in July 2019. The brand new, state-of-the-art office occupies two full floors and was renovated from top to bottom with brand new interior finishes, ergonomically designed workstations, collaborative working spaces, and the latest computer equipment and software.
Not only does Atlas invest in their employees, but they also firmly believe in serving Hawaii's community. Guided by their core attributes and unrelenting support of their employees, they have established three employee managed committees: the Office Activities Committee (OAC); the Healthy Employees Achieve Results Together (HEART); and Encouraging Professionals, Inspiring Collaboration (EPIC) committees.
HEART is their company well-being program. Its mission is to cultivate a healthy, caring and happy workforce. The three well-being pillars that support HEART are Physical Activities, Healthy Eating, and Work-life Balance.
Physical Activities: Atlas regularly attends charitable run/walk events to keep the employees and their families active and fit.
Healthy Eating: Local Inside delivers fresh produce on site every other week and in office cooking demonstrations by local chefs that focus on creating healthy meals.
Work-life Balance: Massage therapists provide a complimentary 15-minute massage, financial planning seminars and WorkLife Hawaii provides employees and family members with resources and support to weather life's challenges.
The OAC supports group dynamics through themed office activities.
Employees are given an afternoon off to enjoy movies and snacks.
Office bowling competition brings team members together for an afternoon of food and competitive bowling.
Annual holiday celebrations for employees to come together and enjoy food, activities, prizes and live entertainment.
EPIC emphasizes a continuous education and professional development process through:
Panel discussions by local business leaders.
Networking events with fellow networking groups.
Community service events chosen by employees.
"Our culture is vital to the success of our organization. We've seen our program(s) work for our employees and much of our culture is passed onto our clients through our value added services. We believe our wellness efforts resonate strongly with our clients because we have lived and breathed it. Now we can offer this same expertise to clients who want to implement an effective wellness program that sticks," says Chason Ishii, president.
201 Merchant St., Honolulu, HI 96813
(808) 533-3222 | www.atlasinsurance.com
Servco Pacific Inc.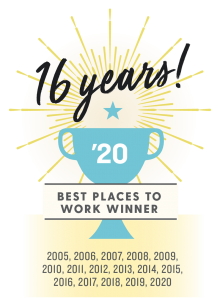 From Australia to California, and of course, Hawaii, Servco's team members (also known as Team Servco), are a collective of over 2,000 like-minded individuals. Guided by a value-driven business model, Servco is a diversified business with operations in automotive distribution and retail, car sharing, and venture & growth capital. As we drive forward into the next century, we are evolving to provide innovative solutions to serve the mobility needs of our customers and communities in Hawaii and beyond.
"Our Core Values of Respect, Service, Teamwork, and Innovation not only apply externally with our customers, but internally for our team members as well," said Mark Fukunaga, Chairman & CEO. "We believe in helping our team members advance both professionally and personally and strive to offer a variety of benefits that make them proud to be a Servco team member."
Servco's Leadership Acceleration Program provides the opportunity to lead and accelerate change in the company's global business and operations in a two-year rotational program that results in a leadership role. Spouses and children of employees are also eligible for scholarships to pursue a college degree from the Servco Foundation.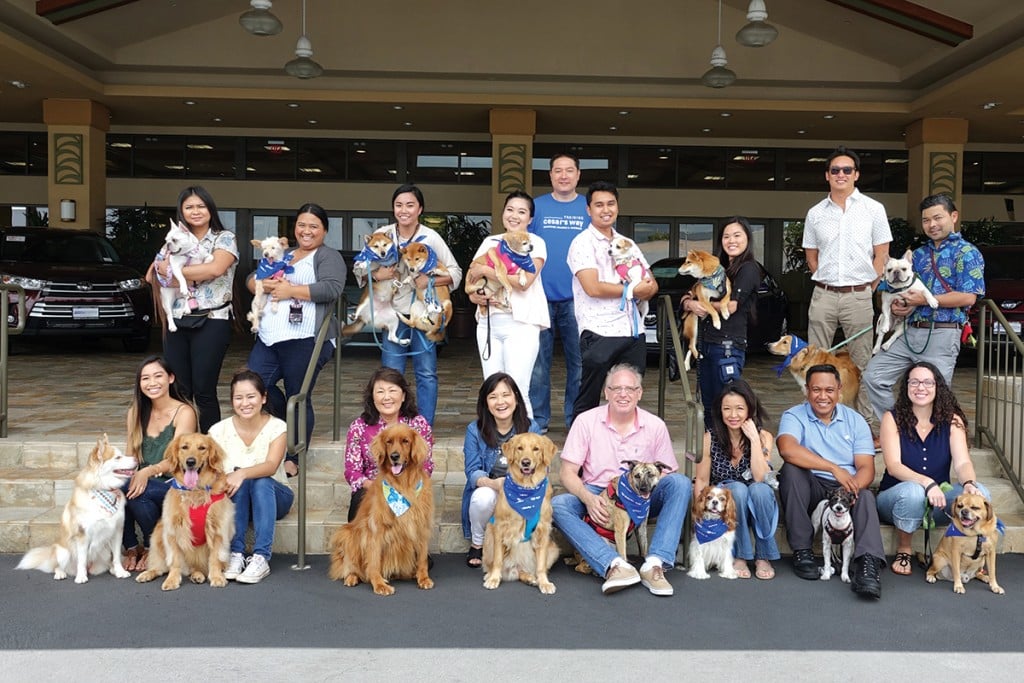 In addition to investing in professional growth, Team Servco members enjoy competitive compensation packages, generous subsidies on family medical and dental premiums, fitness classes, and discounts on Servco products and services. Servco was the first company to offer a profit-sharing program in Hawaii for its team members, and it's a benefit that continues to this day.
Team members are encouraged to lend their time to building better communities, by volunteering with local nonprofits. This year, our team members are focusing their service efforts on four areas: Youth Services, Earth, Wellness, and Social Mobility.
Servco also recognizes the hard work of its team members through company events including an annual Team Servco Dinner and a bi-annual Family Fun Day.
For more information on joining one of Hawaii's Best Places to Work for the past 16 years running, visit servco.com/careers.
2850 Pukoloa St., Ste. 300, Honolulu, HI 96819
(808) 564-1300 | www.servco.com
Island Insurance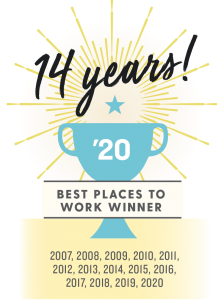 For 80 years, Island Insurance has provided creative and affordable insurance solutions to Hawaii's families and businesses. Fueled by an enduring commitment to customers and communities, Island has become the state's largest locally-owned property and casualty (P&C) insurer and partners with NFL quarterback and customer Marcus Mariota, who shares the company's local roots and values.
Reaching 14 years as one of Hawaii's Best Places to Work, Island also marked 12 years as one of the Ward Group's Top 50 P&C insurers in the nation based on financial stability. President Beverly Ament reflects upon Island's growing national recognition.
"For Island to be nationally ranked for excellence in financial strength is a testament to the valuable contributions and dedication of our talented team of employees," says Ament. "Our workforce is a cornerstone of our business and we consistently strive to cultivate a progressive and rewarding work environment."
The company's focus on empowering employees, rewarding initiative and promoting professional growth has yielded impressive results.
According to Ament, "We value individual growth by supporting employees interested in expanding their industry knowledge and skills with continuing education and professional training. In fact, Island has the highest percentage of employees with the Chartered Property Casualty Underwriter designation."
Additionally, the company looks to the future with its P&C Internship Program. "The first of its kind in Hawaii, Island's internship program encourages careers in insurance and develops future leaders in our industry," says Ament. "Our ongoing investment in employees goes beyond formal training to creating a balanced and enriching workplace."
The company regularly holds events where employees are treated to activities like costume contests, bowling, celebratory lunches and ice cream socials. Island supports community involvement by hosting and participating in events like the annual Halloween trick-or-treat festivities at Kapiolani Medical Center, and promotes healthy lifestyles by subsidizing monthly healthy lunch alternatives and offering fitness classes.
Lastly, Island encourages and recognizes employees with service awards, merits of achievement, customer service week celebrations, and leadership development opportunities. "Showing our appreciation for employees and helping them grow professionally," says Ament, "is integral in building an engaging corporate culture that will attract and retain the most talented employees."
1022 Bethel Street, Honolulu, HI 96813
(808) 564-8200 | www.islandinsurance.com
Imua Family Services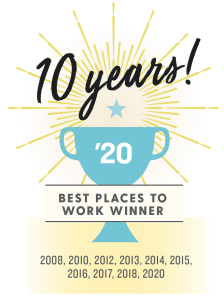 In Hawaiian, "imua" means "to move forward." Ask anyone who works at Imua Family Services and they'll tell you the nonprofit lives up to its namesake.
Imua Family Services was founded in 1947 to help children with polio and cerebral palsy, and nearly three-quarters of a century later, it is the largest single provider of early childhood intervention and development programs in Hawai'i. It now serves close to 2,000 children and their families on Maui, Moloka'i and Lana'i and offers family-centered, therapeutic services for infants, toddlers and preschool children, from birth to age eight.
The organization has covered a lot of ground over the years, but its mission to empower children and their families to reach their full potential has never changed. And there's one other constant: The nonprofit continues to foster a workplace culture that prioritizes teamwork and collaboration. "It takes a team to do what we do and we cannot fly solo on anything if we want to see results," says Executive Director Dean Wong. "We thrive when we use our greatest resource—our staff."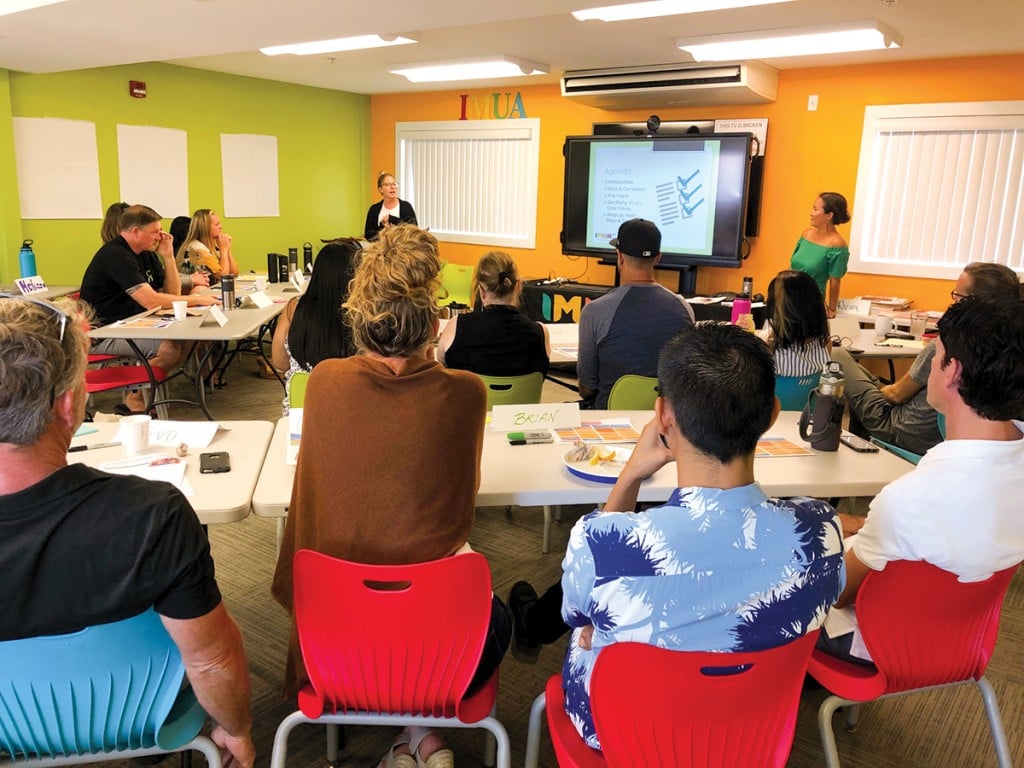 Imua Family Services encourages its staff to participate in decision making processes and help guide the strategic direction of the organization. The nonprofit celebrated its 70th anniversary in 2017 and is now gearing up for its centennial. With that milestone in mind, Imua's staff and board members carved out a five-year strategic plan and took part in a design thinking workshop that yielded a five-year operating plan, as well as a five-year business plan. Staff members also share and discuss ideas during weekly team meetings, meet individually with Wong twice a year, and participate in strategic planning at the agency's annual summer retreat.
No wonder Imua Family Services has been honored as one of Hawai'i's "Best Places to Work" for the tenth time.
"For a small nonprofit on a neighbor island, I think this shows we are meeting our team's needs," Wong says. "Ten times means we didn't just get it right once—it means our staff is an ongoing priority. It also means we have the right focus… and we have to keep moving forward." —Sarah Rupenthal
EnviroServices & Training Center
EnviroServices & Training Center, LLC (ETC) is Hawaii's largest local environmental consulting and engineering firm. Our over 25 years of success is based on our promise to take care of our clients, employees, community, and the environment. ETC dedicates our selection as one of Hawaii's BPTW for the ninth year in a row to our talented staff.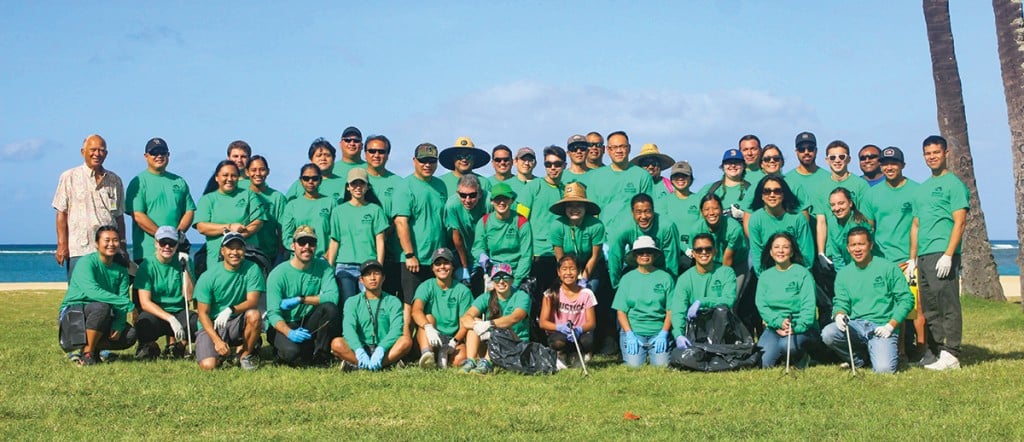 What does a typical day look like for our 50+ dedicated professionals?
7:00 AM – Go to Think Tank for morning coffee and discover what 'ono goodies were brought in to share, and pass by my co-worker who says, "Oooh, you cut your hair!"
7:05 AM – Reply to Managing Principal as he walks through Bullpen saying "Good Morning" to each individual, as he does nearly every morning.
7:10 AM – Meet in Conference Cube to collaborate on how to enhance a client's asset management system. Utilize Design Thinking to ideate potential solutions.
8:00 AM – Start drafting a Water Quality Monitoring Report for a client while using the treadmill work/walk station.
8:55 AM – Stretch on yoga mat in Zen Zone before going back to my desk.
9:00 AM – Continue working on the report. Turn to my neighbors to ask, "You think they'll like this format for the data table?"
11:30 AM – Grab lunch and help coworkers keep score for heated ping pong game in Think Tank.
12:30 PM – Drive out to conduct a "Stormwater And You" presentation to 3rd graders at local elementary school.
3:00 PM – Return to office and shout, "Can somebody help me bring up some boxes?" and wait for the familiar reply, "I can!"
3:15 PM – Participate in monthly Safety Committee meeting to discuss ETC's quarterly Safety Exemplar nominees.
4:00 PM – Join peers in Think Tank for a pau hana drink and dart game while discussing recent company community service event.
5:00 PM – Head to gym (subsidized by ETC) for my workout.
Benefits:
Full Health Coverage
Holidays & PTO
401(k) Pro it Sharing & Pension
Cafeteria and Employee Assistance Program
Wellness Initiatives
Friendly, Family- Oriented Environment

505 Ward Avenue, Suite 202, Honolulu, HI 96814
(808) 839-7222 | www.gotoetc.com
Hawaii State FCU
For Hawaii State Federal Credit Union employees, it's a way of life. It's also a promise, to treat our members fairly and like family. And to always consider what's best for them in all we do.
That's why we've made it a priority to foster an internal culture that upholds these brand values. What better way to ensure that our employees are living by our brand promise than by embracing it in all that we do – whether it's learning and development, employee engagement, or most importantly, through the actions of our leadership.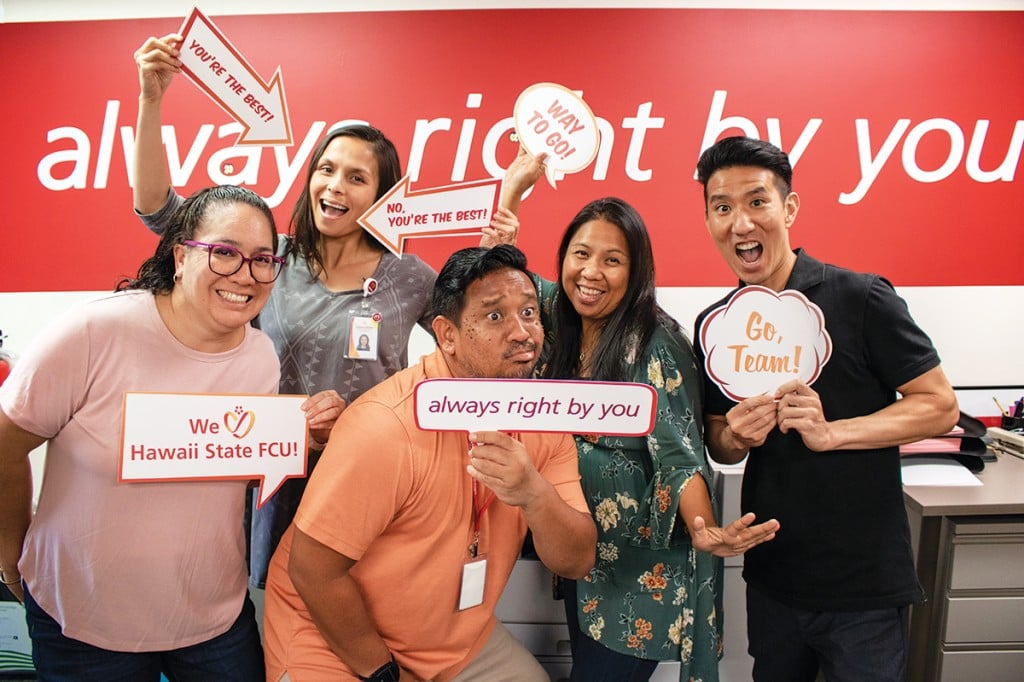 Our nearly 400 employees are the cornerstone of our organization. They are the ones who provide our members with outstanding service experiences and accompany them along their financial journeys day in and day out. They are also the reason why we place so much importance on hiring and retaining hard-working, talented individuals – providing them with the tools and resources to ensure that they can perform their jobs successfully.
One way Hawaii State FCU does this this is through our commitment to providing employees with a competitive compensation and benefits package as well as an attractive annual incentive program, which recognizes employees for their dedication and contributions throughout the year.
We are also committed to taking care of our employees' health and well-being through a wellness fair, annual flu shots, an on-site fitness center, discounted fitness club memberships, financial literacy classes, and counseling in-person, over the phone and online. We are also committed to maintaining a workplace that is fun, productive and offers opportunities for professional and lifelong learning and growth. The credit union encourages our employees to make positive impacts in our community, donating time, resources and support to organizations such as the American Heart Association and the Friends of the Library of Hawaii.
As a company, Hawaii State FCU is committed to emphasizing trust, respect and integrity in all we do, and fostering solid relationships that help strengthen our organization, our membership, and our community.

560 Halekauwila Street, #5, Honolulu, HI 96813
(808) 587-2700 | www.HawaiiStateFCU.com
Hawaii Information Service
Hawaii Information Service is celebrating its fifth year on the 'Best Places to Work' list.
"I'm as proud to hit this milestone as I was when we first made the list," says CEO Faith Geronimo.
"While having the 'Best Places to Work' plaque on the door is nice, we most value the ability to regularly gauge how well we're performing as a team," she explains. "We work hard, we play hard, and we know that everyone in the company is committed and engaged."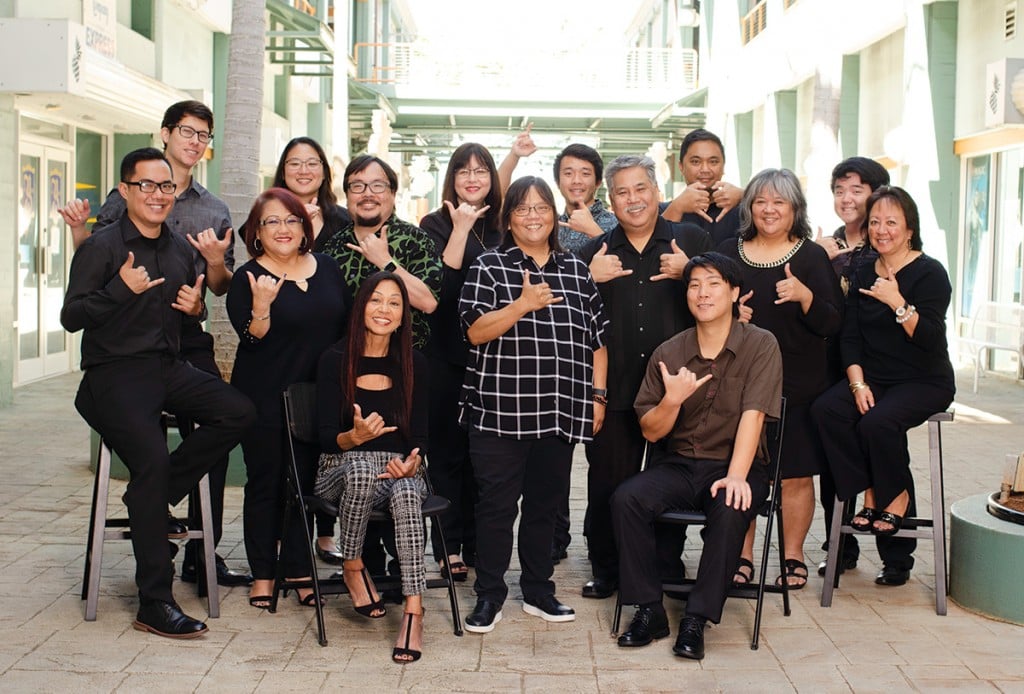 The last year has been an especially productive one for the company. While HIS has continued to improve REsearch, its MLS and public records application, Chief Operating Officer Colleen Yasuhara has been leading the effort to build the next version of its real estate software. This in the midst of tectonic shifts in the broader real estate industry, driven by everything from outside venture capital to government regulations.
"Everyone is seeing disruption across the country, but we see opportunity," Yasuhara says. And that disruption has come largely via technology, changes that the local tech firm has been tracking closely for years.
"Everyone – from the biggest players to startups to small independent firms like us – is building their next-generation platforms right now," Yasuhara adds.
"We've all had to rethink our technology, but our company has decades of experience and a tight, agile team."
Technology advances rapidly, but HIS has kept ahead of the curve from the moment it first put real estate data online in the 1980s. Now, the entire industry is hitting the reset button.
"It's exhilarating to be building something from the ground up, inspired by everything we've learned over the past 35 years and enlisting the talents of a fantastic cross-continent team," Yasuhara says.
Hawaii Information Service is eager to introduce its new system to its members on Kauai and Hawaii Island, as well as to its statewide roster of public record customers. But the team sees greater potential ahead.
"The advantage of our approach has always been its flexibility and fit for local real estate professionals and businesses," Geronimo said. "But I'm confident we have a lot to offer to others."

680 Iwilei Road, Suite 670, Honolulu, HI 96817
(808) 599-4224 | www.hawaiiinformation.com
Aloha Pacific FCU
Aloha is what Aloha Pacific Federal Credit Union is all about.
Established in 1936, the credit union has grown from its 12 charter members to nearly 63,000 members today and nearly $1 billion in assets. Much of the credit is due to a staff that's consistently dedicated to the members' financial well-being.
"Our team makes Aloha Pacific one of Hawaii's best places to work," said Vince J. Otsuka, president and CEO. "We are so fortunate to have employees who genuinely connect with the members, with each other and the community."
And while member service is a top priority at Aloha Pacific, the employees are also top of mind. These are among the benefits team members enjoy:
Paid medical, vision and drug insurance (HMSA and Kaiser plans)
Paid dental insurance (HDS)
12 paid holidays (13 in election years) and paid time off
401k plan – after one year of employment, the credit union matches 200 percent of the employee's first 5 percent contribution to the plan
Company-paid life insurance
Transportation/parking subsidies (or full reimbursement for TheBus pass)
Aloha Pacific continues to extend the aloha spirit beyond Oahu. It is the only Hawaii-based financial institution with a branch in Henderson, Las Vegas, known as the "ninth island" for many Island residents. With the addition of a new branch in Kahului's Pu'unene Shopping Center last year and a merger with Kekaha (Kauai) Federal Credit Union in 2018, APFCU is now on three major Hawaiian Islands. "We are dedicated to guiding members, wherever they live, in all stages of their financial life, beginning with a savings account, an auto loan and all the way to a mortgage and retirement planning," Otsuka said. "When you have aloha, anything is possible!"

832 South Hotel Street, Honolulu, HI 96813
(808) 531-3711 | www.alohapacific.com
Parents and Children Together
We envision Hawaii as a peaceful, safe, and vibrant community with opportunities for all to fulfill their dreams. At Parents And Children Together, we work with Hawaii's children, individuals, and families to turn that vision into reality.
What began as a single program in Kalihi more than 50 years ago has blossomed into a multifaceted social services agency with programs on Oahu, Kauai, Maui, Lanai, Molokai and the Island of Hawaii. Our 400 employees help more than 15,000 residents every year. We offer a broad range of educational programs and social services in five core areas of focus: early childhood education, domestic violence prevention and intervention, child abuse and neglect prevention, behavioral health support and community building.

Our employees are at the heart of what we do. They build positive relationships with our clients, connect with community members and are deeply engaged in fulfilling our mission.
At Parents And Children Together, we focus on ensuring our employees feel informed, supported and resilient. Our initiatives are informed by input from staff. From this input, we feel the best things we can do is to equip staff members with training and knowledge to do their job well; from comprehensive onboarding to high-quality, evidence-based training. They receive the right tools and resources to support their ongoing development. They build resilience by facing challenges with compassion and empathy. Above all, we give them the support to achieve their professional goals.
Every year, employees have the opportunity to band together to support our organization on Keiki Day. In partnership with the Honolulu Star-Advertiser, employees join volunteers in selling special-edition Keiki Day newspapers to raise funds for Parents And Children Together's programs. This year, to celebrate the 30th anniversary of Keiki Day, all 400 employees will hit the streets on May 7 to support a worthwhile cause — the children and families they work with every day.
Keiki Day is just one example of what makes our employees so special. Those who choose to work at Parents And Children Together have genuine passion for what they do. Every individual has a chance to contribute to our mission and help build our strong culture of respect, excellence and compassion for the people we serve.

Ronald N.S. Ho & Associates, Inc.
As an employee-owned company, Ronald N.S. Ho & Associates, Inc. continues to recognize that the backbone of the company is its employees. "The thing that excites me most about our business is the employees and their potential," says Sean Sugai, President. "We have great employees that are dedicated to seeing the company evolve and grow, while continuing to improve themselves personally to allow greater contributions to this effort."
Through open communication and collaboration, employees understand the importance of their role and how their individual contributions affect not only the company, but impact the community as a whole. There is also an atmosphere of pride knowing that the ongoing development and consistency of the company culture is everyone's responsibility. Additionally, employee growth and development, whether technical, educational and/or professional, has long been a commitment at this electrical engineering irm. All employees are highly encouraged to seek ways and opportunities to improve their own performance.
"Our biggest achievement last year was the increase in value of our Employee Stock Ownership Plan," Sugai adds. "Through company growth and diversity, we were able to increase our company valuation by 25%. Having our employees be able to share in this success is really what inspires me to keep going." The company believes in the philosophy that when you work hard, you play hard and celebrate those wins, as well. Each year, several employee events and activities are organized, including community service projects. In fact, the company is still recovering from all the fun they had on their Las Vegas trip this past February!
To ensure stability and growth over the long haul, Ronald N.S. Ho & Associates, Inc. will maintain its practice of creating alignment with its company core values, purpose and goals. The ability to think progressively and embrace change through acquisition and diversi ication will be paramount to their success. "In my 32 years with the company," Sugai says, "I have learned that success is achieved when a company, and its people, can work cohesively toward an understood vision and execute on initiatives set to help achieve it."

2153 N. King Street, Ste. 201, Honolulu, HI 96819
(808) 941-0577 | www.rnsha.com
Northwestern Mutual
This year, Northwestern Mutual Hawai'i celebrates 50 years of service in the Hawaiian Islands. If this milestone means anything, it's that the company has proven itself to be the go-to place for financial planning services here in Hawai'i. With about 70 financial advisors and office members, people can feel comfortable choosing Northwestern Mutual as they draft their pathway to financial independence, whether that's planning for college tuition, retirement or opening a small business.
Here in the islands, Northwestern Mutual Hawai'i had a record 2019 and finished in the Top 5 nationally for growth. To accommodate the fast-growing team, the company moved into a larger office space with state-of-the-art technology.
The internship program at Northwestern Mutual Hawai'i continues to be one of the top ranked nationally. In this popular program, college students earn invaluable real-world work experience, such as working with their own clients while being mentored by seasoned financial advisors. The company recently announced a $50,000 endowed scholarship with the Shidler College of Business at the University of Hawai'i Manoa as part of their commitment to education and retaining talent in Hawai'i.
The team strives to live out their core values as a team: integrity, growth, personal responsibility, mutual respect and stewardship. From the Jingle Rock Run to the 808 Kickball League company team to the quarterly achievement dinners that recognize outstanding individual performance, financial advisors and employees have a chance to bond and support each other beyond the office walls. To boost inclusivity and diversity, each month, the company hosts a "Women in Finance" event to encourage women to strive for leadership roles. The office hosts regularly recurring pau hanas, birthday celebrations, and monthly yoga sessions. Aside from team-bonding events, Northwestern Mutual Hawai'i is committed to the professional development of all of its financial advisors and employees, offering company-sponsored training and education. All of this strengthens the company's atmosphere and aids in ensuring its financial advisors and employees feel valued and appreciated for another 50 years.

737 Bishop Street, Suite 1700 – Mauka Tower, Honolulu, HI 96813
(808) 521-2345 | www.hawaii.nm.com
Better Homes and Gardens Real Estate Advantage Realty
Established in 2004, Better Homes and Gardens Real Estate Advantage Realty has grown from one office with eight agents and employees, to 6 locations across Oahu and Maui in Kahala, Kailua, Haleiwa, Kapolei, Wailuku and Paia with over 200 employees and licensed agents.
"Creating a clear strong corporate culture has been a key to the growth and success of our company. Many companies may say all the right things, but we try to live our values every day. Our agents and support staff are client centric and they put the clients' needs ahead of their own. Our core values of honesty, transparency, collaboration, commitment, charity, innovation and strong work ethic are communicated to the agents and employees from the initial interview and throughout every company interaction. A truly collaborative work environment is hard to attain in a sales-oriented business such as real estate, but if attained, can yield exceptional results both in productivity and happiness of the individuals in the organization. We appreciate and cherish each and every person at Better Homes and Gardens Real Estate Advantage Realty," stated CEO/Owner Myron Kiriu.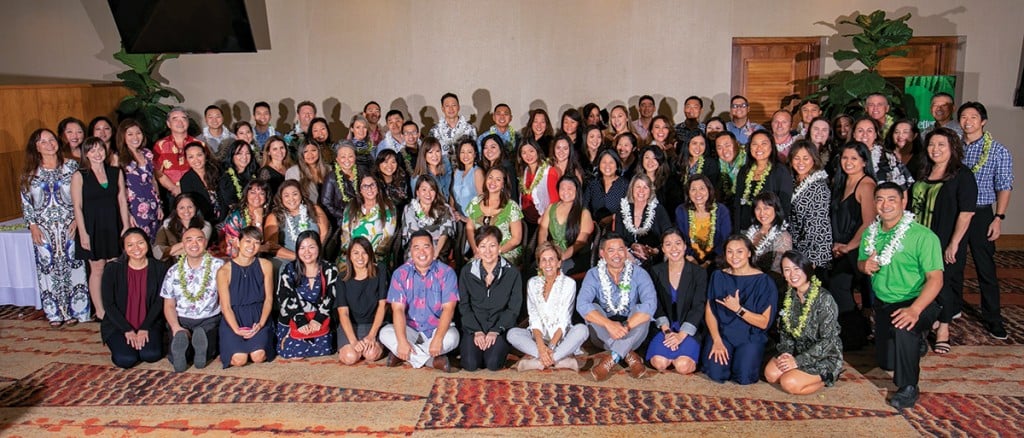 Voted Hawaii's Best Real Estate Firm the past 10 years and Best of Honolulu Real Estate Firm for 7 years, the firm has also been recognized nationally as one of the most Productive Brokerages in Better Homes and Gardens® Real Estate network 3 years in a row. This is the company's second year as one of the Best Places to Work, and it is an honor to be recognized.
The company is a second family for many of their employees and agents where they celebrate personal milestones and company goals together. Extensive training, regular company events, community service activities, and Blue Zone worksite initiatives ensure that the corporate culture is born and nurtured throughout the organization.
Giving back to the community is at the heart of the company. This is exemplified by the Advantage Kokua Scholarship created by employees and agents, which helps "bridge" the path for students in need who are transitioning from local community colleges to UH Manoa or UH West Oahu.
Employees enjoy a robust benefits program which includes an excellent medical insurance package, opportunities to earn significant bonuses, 14 paid holidays, 5 family flexible sick days, bonus paid days off, and numerous company sponsored activities which provide a chance to connect outside of the workplace.
"This award is a reflection of the superior efforts put forth by our employees and agents – my wife Ambur and I couldn't be prouder," added Kiriu.

4211 Waialae Avenue, Box 9050, Honolulu, HI 96816
(808) 738-3600 | www.betterhawaii.com
Child & Family Service
Celebrating our 121st year of serving Hawaiʻi, Child & Family Service (CFS) offers nearly 50 programs that strengthens families statewide. These programs range from a hotline or shelter in times of crisis, to support and counseling in dealing with the daily issues that families face as parents strive to nurture their children. We work with families to help them achieve their dreams, including financial independence, planning for a thriving future and caring for all generations of their 'ohana.
Nearly 500 strong, Child & Family Service's employees are helping families thrive in Hawai'i. At CFS, we believe the positive wellbeing of our employees has direct impact on our work with families and children, driving better results for those we serve.

The wellbeing of our employees starts with our organization's welcoming culture which promotes communication, information flow, and learning in a variety of ways, including internal chat channels, video messages, CEO talk stories, and training. We keep our employees apprised of our organization's celebrations, challenges, opportunities and accomplishments!
Employee wellbeing is the focus of the many benefits and programs CFS offers to its staff, including:
Volunteer paid time off: Employees are allowed time off to provide volunteer service to support CFS programs, and/or other community-based organizations.
Preventative health care paid time off: Employees are allowed time off for personal preventative health screenings.
401(k) retirement plan: We offer a 401(k) plan for qualified employees to set aside a portion of their salary automatically through payroll deduction.
Tuition reimbursement: Qualified employees are offered up to a maximum of $2000 per year of educational assistance.
Wellness committee: The Wellness Committee is comprised of employees coming together to develop health and wellness activities to improve on the quality of life, both personally and professionally.
Leadership training: Innovative speakers are brought in to share cutting-edge techniques in leadership and development, in addition to utilizing our current leaders for coaching and mentoring.

91-1841 Ft. Weaver Rd., Ewa Beach, HI 96706
(808) 681-3500 | www.childandfamilyservice.org
Ceramic Tile Plus and Exclusively Yours
Serving the Maui community since 1977, Ceramic Tile Plus and Exclusively Yours has a long legacy of caring for its employees, while being one of Hawai'i's leading suppliers of tile, stone and cabinetry.
Following the passing in 2017 of its founder, James Doran Jr., the family's second generation is now leading the business based on the same core values.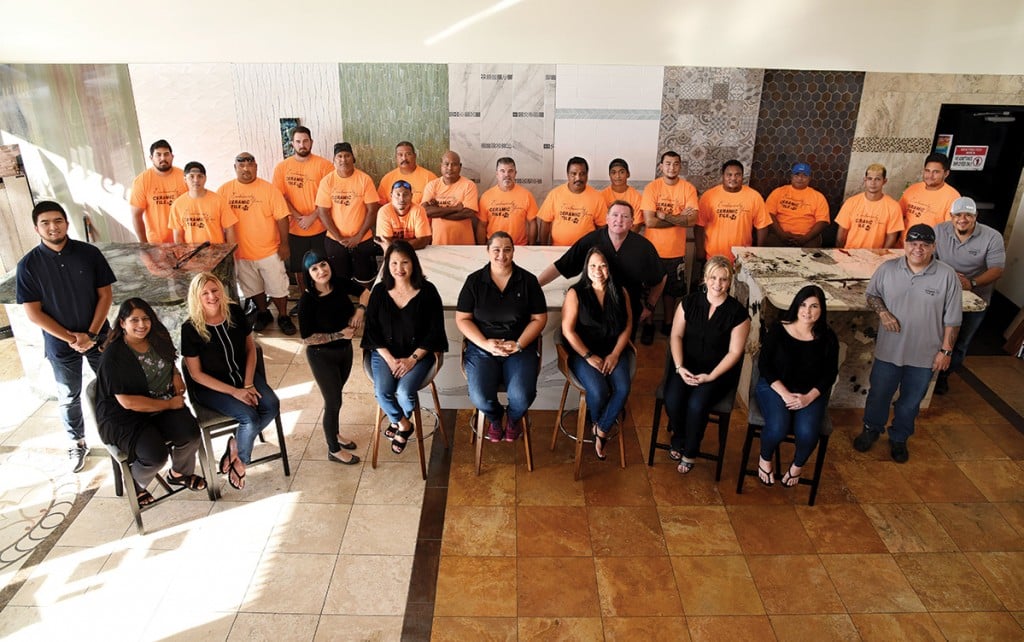 "An important part of my father's legacy is that we do our best to take care of our employees and their families," says James R. Doran III, president of Ceramic Tile Plus and Exclusively Yours, and eldest son of Doran Jr. "We're 43 years old this year, and because we want to be here for 43 more years, taking care of our employee team and their families is an important part of who we are and what we do."
Employees receive the same benefits as the company's leadership does, including a full insurance package, a gym membership, chiropractic coverage, birthday bonus pay, a 401k matching retirement program, and a $50,000 life insurance policy.
"If we hire you and you join our team, you're part of our extended family. That's just the way it is," says Doran. "We offer very competitive salaries, try to pay above market, and we offer some unique benefits like our wellness program."
The program built around the IncentFit App, is now in its fourth year, and it's helped to transform the company from a cookies and doughnut kind of place to a more health-conscious company that now stocks fresh fruit and granola bars in its break room. "We're trying to incentivize eating healthier, being healthy and doing healthy things like taking better care of yourself," says Doran. Employees earn $1 if they walk 8,000 steps in a day, $2.50 if they go to the gym, $25 if they receive a flu shot and $50 if they get an annual physical. Not only does it keep employees happier and healthier, but it also helps to keep operations running smoothly with fewer sick days. With a range of employees from fabricators to sales people and administrative staff to designers, Ceramic Tile Plus and Exclusively Yours continues to be a successful business that puts its employee 'ohana first.

25 South Kahului Beach Road, Kahului, HI 96732
(808) 871-8674
Aqua Engineers, Inc.
Award winning Aqua Engineers, Inc. is a 100% employee-owned company which owns, operates and maintains water and wastewater facilities statewide. From its humble beginnings on Kauai 39 years ago to today's largest and most experienced water and wastewater management company in Hawaii, Aqua operates 38 wastewater treatment facilities, 13 water systems and over 70 wastewater pump stations. Four are R-1 facilities, producing the highest quality effluent and conserving millions of gallons of potable water every day. Aqua's mission is to deliver excellence in operation, maintenance, management and engineering of our client's water and wastewater systems, while supporting the health and safety of the community and protecting our environment through innovative, sustainable services and solutions.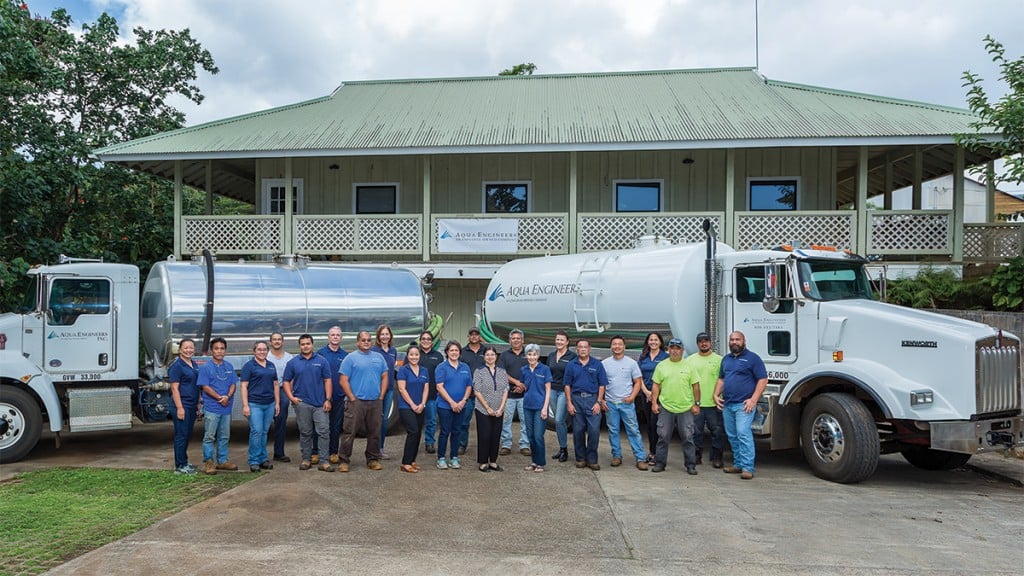 In 2003, Aqua was selected over international corporations for a 50- year contract to own and operate the Schofield Barracks Wastewater Facility on Oahu, the nation's first U.S. Army wastewater utility privatization contract. In 2008 the company was awarded a 50-year contract to take over all the Oahu Army owned sewer-systems. In 2015, Aqua expanded its portfolio by purchasing its first public wastewater utility on Kauai.
In 2006 the original owners sold the company to the employees through an Employee Stock Ownership Plan (ESOP). David Paul, President/CEO, says, "Aqua has thrived since becoming an Employee- Owned company in 2006. We'll continue to invest in our employee- owners' training to improve and expand our water and wastewater operation services across Hawaii."
As a service provider, Aqua considers its employees as its most important asset. Our benefits include a competitive compensation and a share of approximately 50% of operating income in distributions through annual cash bonuses & retirement profit sharing contributions. The other 50% goes to employee-owners as "shareholders" through stock price growth. Employee growth and development remains our number one priority.
Employee-ownership promotes greater commitment through a shared understanding of key business disciplines and a culture of greater unity. Although separated by islands, employee-owners network through company meetings, trainings, celebrations or to participate in community projects through travel, videoconferencing and webcasts. Our President's Messages and quarterly newsletters also keep the Aqua Ohana informed. We have a win-win- win for our employee-owners, our clients and our communities.
Benefits include:
Annual License & Certification Bonus Program
Annual Incentive Program
Health/Dental/Vision – Aqua pays 75-90% of premium for employee-owners & their dependents
Life Insurance & Long-Term Disability Insurance
Retirement Plan: 401k Plan with 2% match and Employee Stock Ownership Plan (ESOP)
15 Days PTO/10 Paid Holidays Per Year
Paid Training, Licensing and Certification
Leadership Development Training Opportunities
Wellness Program & Gym Membership
Employee Assistance Program (EAP)
Company Uniform/Shoe Allowance

3560 Koloa Road, Kalaheo, HI 96741
(808) 332-7381 | www.aquaengineers.com
Hawaiʻi Energy (Leidos)
When you're working toward an ambitious statewide energy goal to become 100% renewable by the year 2045, you'd better have a passionate, fun-loving group on your side. Luckily, the Leidos team administering the Hawai'i Energy program embodies that spirit every day.
This year Hawai'i Energy – best known for its rebates for energy-efficient appliances & equipment – celebrates 10 years of empowering local residents and businesses to make smart energy choices through a number of innovative programs, unique partnerships and outreach events. As a publically-funded program, Hawai'i Energy is dedicated to ensuring that everyone is aware of and able to take advantage of energy-saving options.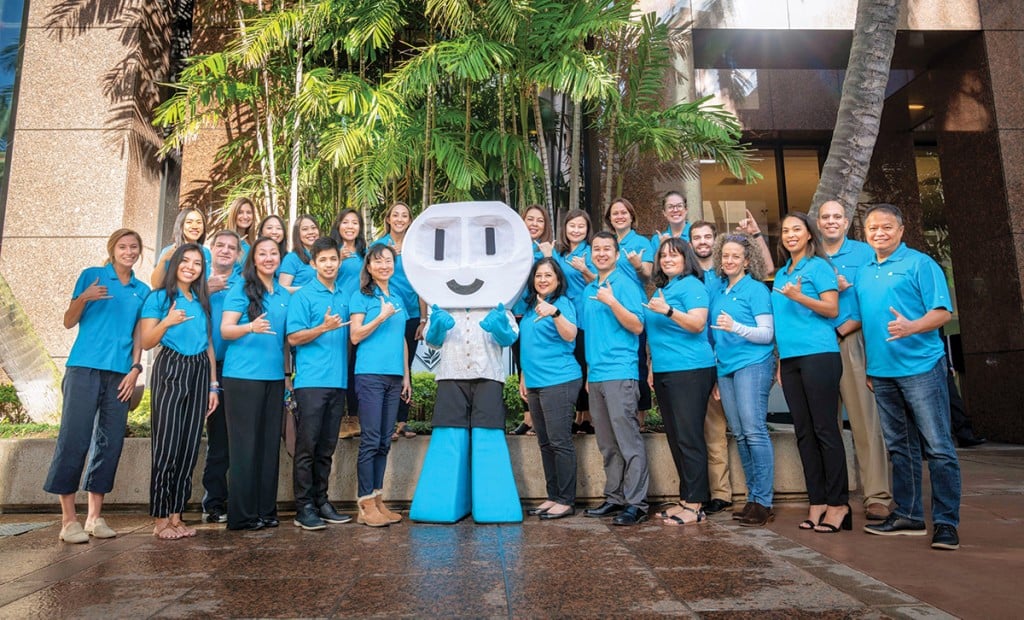 "A big motivator for us is seeing how many people struggle with high energy bills and knowing that energy efficiency and conservation are the best ways to help relieve that burden," says Executive Director Brian Kealoha, "When we think of others first, our perspective on problem- solving shifts in a way that can deliver great results."
Despite the scope of energy and climate change conversations, the team believes that rewarding projects and a great work environment make the job worth it. Leadership is committed to sustaining a close-knit culture where core values like integrity, collaboration, and a commitment to excellence are coupled with positivity and humor to be frequent contributors to success.
On any given day, you'll find teammates brainstorming on dry erase walls in their "collaboration space", participating in yoga or meditation breaks, or recognizing each other through peer-to-peer award programs at local and national levels. The program also believes in supporting employees holistically through things like flexible schedules, mentoring and other career development opportunities, and inviting family members to annual holiday celebrations.
"Having a group that is talented, mission-driven, and energetic makes my job easy," says Kealoha. "I am so proud of each one of them and the positive impact they are making for our community."

1132 Bishop Street, Suite 1800, Honolulu, HI 96813
(808) 537-5577 | www.hawaiienergy.com
HiEmployment
HiEmployment is passionate about helping job-seekers find their own "best places to work." This passion has naturally led to expertise in identifying the key components of a "best place to work" and mastery in the implementation of its own employee-focused programs.
HiEmployment has seven core values. As one of Hawai'i's Best Places to Work, the two most applicable values are 'Ohana and Community.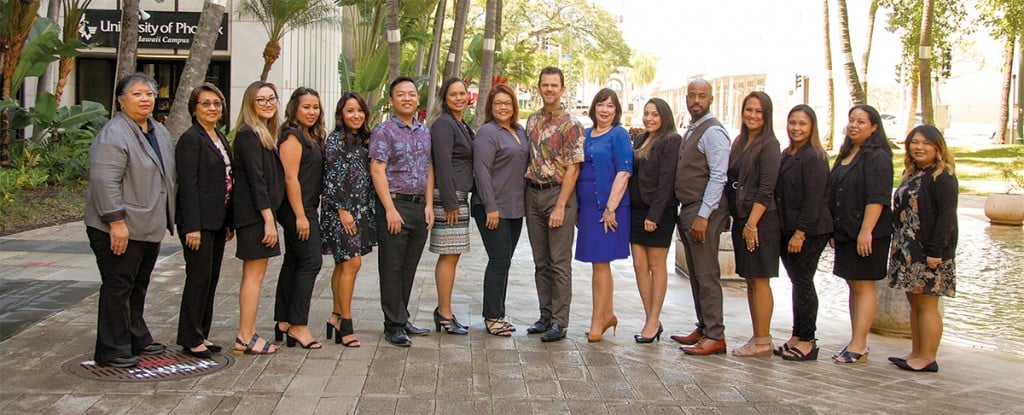 HiEmployment thrives as a family and the 'Ohana value drives how the team treats one another day-in and day-out. To reinforce the daily commitment to 'Ohana, the team will take time each day to celebrate the milestones and achievements of the employees such as work-anniversaries, birthdays, and promotions. Every Wednesday, HiEmployment provides the entire staff lunch and time to share a meal together to connect on a personal level. Annually, HiEmployment bolsters its commitment to 'Ohana by holding team-building retreats. They recently flew the Neighbor Island staff, and partially paid for their families, to come to O'ahu to participate in a "Day of Fun". That involved team building exercises and a tour with Atlantis Submarines.
Being born and raised in Hawai' i, Sean K. Knox, President & CEO felt it essential "to give back to the community that sustains us." HiEmployment sponsors two community blood drives per year as well as several school-supply and food-drives. Knox proudly notes these events "really bring our staff together for the common good of our communities. We also give staff 16 additional hours of paid-time-off to volunteer in their communities as they see fit." Employees have chosen numerous community events from beach cleanups with Surfrider Foundation on Kaua'i, to feeding victims displaced by the volcanic activity on the island of Hawai'i.
HiEmployment is a company committed to ensuring their clients' success by offering higher levels of service, integrity and transparency to the staffing industry. By taking care of the people who take care of their clients, HiEmployment is truly one of Hawai'i's best places to work.

745 Fort Street, Suite 124, Honolulu, HI 96813
(808) 695-3974 | info@hi-employment.com
Hyatt Hotels Hawaii
As a leader in the hospitality industry, Hyatt Hotels Hawaii continues to set new standards of care for its colleagues, guests and community. Hyatt Hotels Hawaii, which is made up of Hyatt Regency Waikiki Resort & Spa, Hyatt Centric Waikiki Beach, Hyatt Regency Maui Resort & Spa, Andaz Maui at Wailea Resort and Grand Hyatt Kauai Resort & Spa, remains committed to the development of its colleagues and looks for opportunities to prepare colleagues for the next level if that is something they desire. This creates an engaged workforce.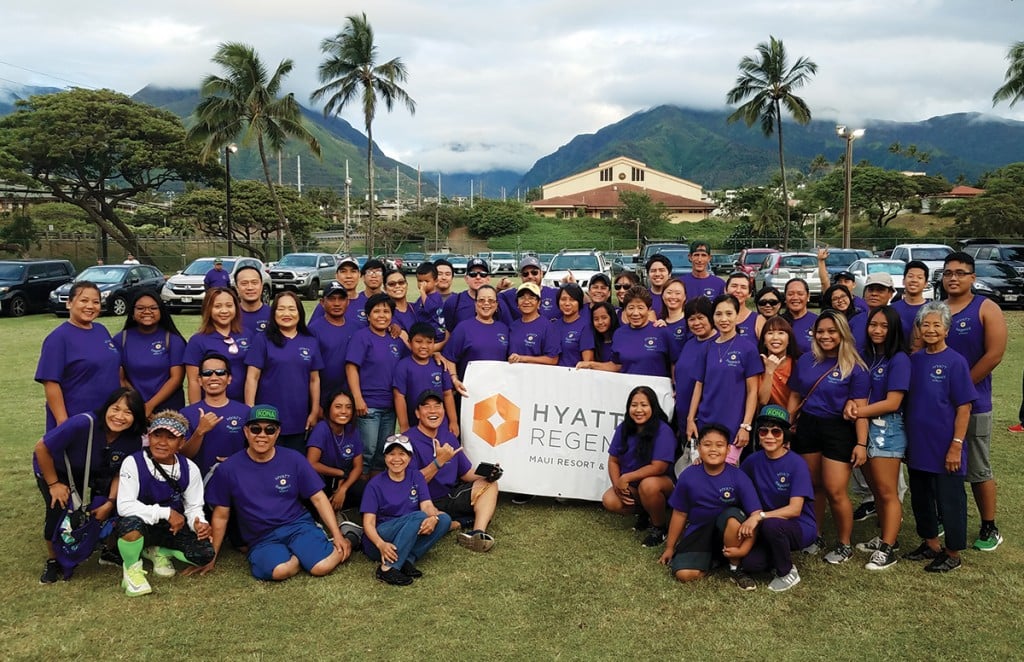 At Hyatt Hotels Hawaii, the hotels expand on the Hyatt Thrive mission of caring for people so they can be their best. "Part of our kuleana is to foster community, integrate sustainable practices and advocate for a focus on health and wellness, as well as education, explained Michael Jokovich, Area Vice President Hyatt Hotels Hawaii, Pacific NW and General Manager, Andaz Maui at Wailea Resort. Each hotel leads by example through their commitment to these pillars and creates opportunities for colleagues to participate and give back. One example is a Maui resort Green Team, which consists of colleagues from different departments. They meet regularly to implement changes around the resort such as minimizing food waste both in front and back of house.
Hyatt Hotels Hawaii also encourages and makes it possible for colleagues to donate time to food banks, beach and highway cleanups, kupuna dinners, nursing homes, cultural organizations and local schools. Between its dedication to colleague development and a strong focus on care, Hyatt Hotels Hawaii is proud to be a "best place to work."
At Hyatt Hotels Hawaii, Aloha for both guests and colleagues is at the forefront of the mission and purpose. "We believe the best way to provide memorable guest experiences is to first, deeply care for our colleagues. We celebrate their achievements, empower them with training opportunities that authentically provide exceptional service to each guest on every stay, continuing to make Hyatt one of the most sought after hospitality brands in the world and a best place to work," said Jokovich.

HEMIC
HEMIC was founded as a mutual insurance company over 20 years ago with a mission to serve Hawai'i's businesses and workers. Our core values include integrity, excellence, professionalism, and belief — belief in the importance of what we do and the people we serve each day, and belief in each other and what we can achieve together.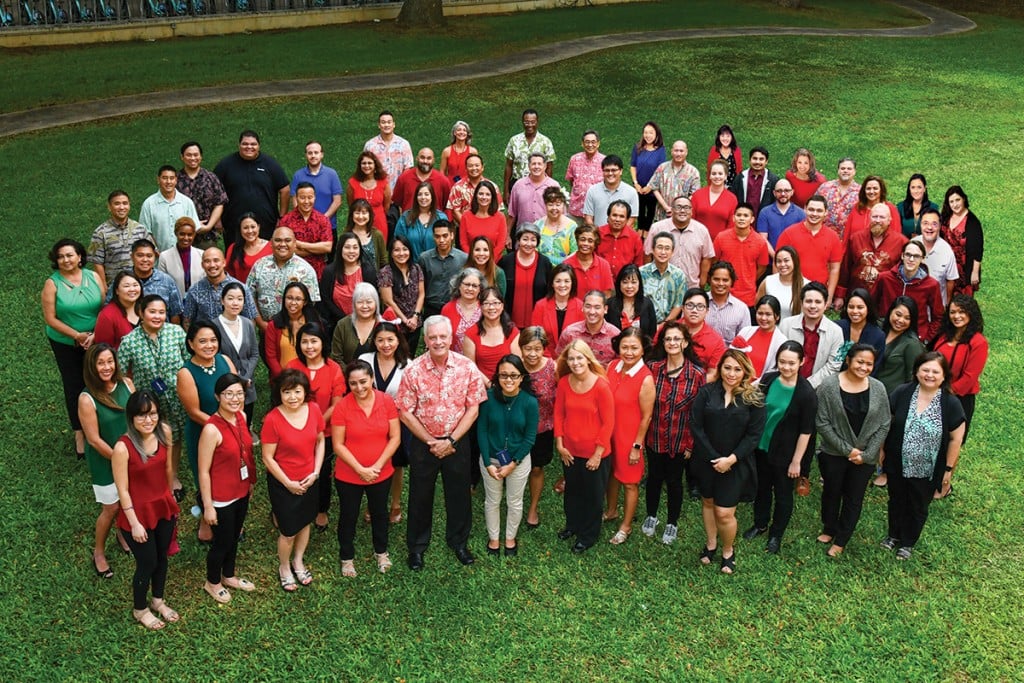 Says Sarah Guay, Vice President of Human Resources, "We strive to provide a 'best place to work' for our employees, knowing that a strong, supportive internal culture enables and inspires our staff to best serve our customers with a spirit of excellence. We want to create an incredible employee experience, one that supports professional excellence, problem-solving creativity, and personal growth."
This year, HEMIC is making a significant investment into creating a workplace that fosters employee well-being and professional excellence. We purchased a building in Downtown Honolulu and are currently designing the new offices with how people work best, and work best together, in mind.
Says Marty Welch, CEO, "The new building will bring everyone together in one location, with consecutive floors to facilitate our communication and increase collaboration, as well as more room to support our existing operations and continued growth. With the new building, we have a great opportunity to structure our workspaces to be more collaborative, efficient and effective, including modernizing the way we will work in the future, transcending the traditional office cubicle layout. We plan to have some fun with this, engaging our employees to help us make this a comfortable home."
Benefits include:
Leadership and career development opportunities
Benefit allowance for medical, dental and other insurances
Company-paid life & AD&D insurance, health reimbursement account, identity theft recovery benefit, long-term disability insurance
Pre-tax 401K with 6% company matching
Parking, bus-pass and travel allowance
Discounted fitness club memberships
Discounted phone plans
14 paid holidays – plus your birthday off!

1100 Alakea Street, Suite 1400, Honolulu, HI 96813
(808) 524-3642 | www.hemic.com
Kupu
Empowering Next Generation Leaders to Care For Island Earth
Kupu is revolutionizing the fight against climate change, ecosystem degradation, and sustainability challenges in Hawai'i by engaging the next generation as environmental stewards. Apathy has led to many of the challenges we face today and Kupu is reversing this by not only getting significant work done for the environment, but by empowering a diverse group of next generation leaders to create a resilient future. Our youth possess the capacity to be the difference for our environment and the social challenges many communities face.
By providing hands-on training opportunities in conservation, sustainability, and environmental education for young adults, Kupu supplies hundreds of service opportunities annually for youth to receive training in the growing green jobs sector.
In both individual-based and team-based opportunities, ranging from short-term to year-long positions—88% of alumni surveyed are now employed or pursuing an environmental career. By developing educational partnerships that offer high school diploma equivalency options, college credits, and providing nearly $1,000,000 in AmeriCorps funded education awards annually for higher education, Kupu is able to support young adults in their pursuit of higher education by providing transferable job skills and income. Upward mobility is tangible at Kupu and the key to developing the local next generation leaders.
Kupu is passionate about empowering its participants to create meaningful pathways to shift socio-economic challenges facing island communities and an intentional network and common voice in the Pacific to create positive change in the world.

677 Ala Moana Blvd, Suite 1200, Honolulu, HI 96813
(808) 735-1221 | www.kupuhawaii.org
Layton Construction
Layton Construction is a top 50 construction firm with a strong national network and specialized teams in various industries. The company has been building in Hawaii for 15 years and their projects span Oahu, Kauai, Maui and Hawaii Island. From residential buildings to educational institutions to hospitals, Layton's team of 55 local employees constructs the buildings where people can work, learn, play and heal. Recent projects include the Kapiolani Medical Center for Women and Children, Ae'o Ward Village, Koloa Landing Resort at Poipu, Marriott Residence Inn Kapolei Oahu, and the University of Hawaii at Manoa Warrior Recreation Center.
Layton Construction's core value is "constructing with integrity." This commitment to excellence symbolizes their philosophy of doing business and articulates their fundamental values.
"While many companies have core values that they set and forget, our core values actually guide our everyday operations and interactions," said Tyler Dillon, executive vice president. "Our team extends respect to all people, honors individuality, listens to others and fulfills their commitments. We know that this has made Layton a better place to work, because people enjoy working alongside others who value integrity, open communication, respect and transparency."
Layton's warm and friendly work environment has taken transparency to the next level; they don't just have an "open-door policy," they have an open-floor policy where everyone from project assistants to executive vice presidents have the same open workspaces. Even the conference rooms have glass walls and doors.
"At Layton, we are fortunate to have employees who go above and beyond – who exceed client expectations and produce outstanding work," said Will Summerhays, executive vice president. "At the end of every project, we make sure to celebrate with a team dinner or gathering to decompress and recognize successes."
The Layton leadership team strongly believes that taking care of the whole employee will lead to better outcomes company wide. Employees enjoy career development opportunities, leadership training, monthly employee recognition awards, team building retreats, organized community service activities and comprehensive benefit programs.

707 Richards Street, Shite PH-1A, Honolulu, HI 96813

(808) 245-8680 | www.laytonconstruction.com