Home Sales are Down, But the Drop in New Mortgages is Far Greater
Both O'ahu and national numbers show 56% declines in new residential home mortgages during the first quarter of 2023 compared to the same period last year.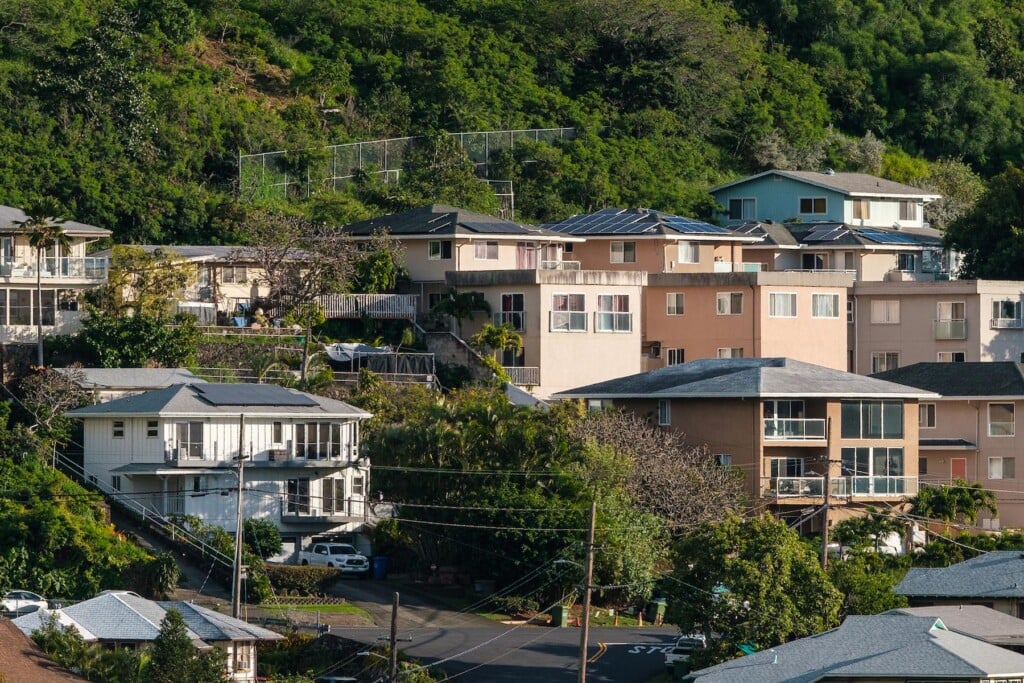 The slowdown in home sales amid rising interest rates is well documented. Now a new report puts numbers to an even more drastic decline, this one in new mortgages.
The 1.25 million residential home mortgages issued in the U.S. during the first quarter of this year marks a 56% drop from a year ago. It's also the fewest home loans issued since the fourth quarter of 2000, according to the report by ATTOM Data Solutions.
The decline in new home mortgage loans in Hawai'i mirrors the national percentage exactly.
In Hawaiʻi, 5,451 home loans were secured between Jan. 1 and March 31, a drop of 56% from 12,523 new mortgages in the first quarter of 2022, according to data from Title Guaranty Hawaii.
Combined sales of single-family homes and condos on O'ahu were down only 38% in the same period.
The dollar volume of all Hawaiʻi loans in the first quarter totaled $3.5 billion, well below the $9.2 billion in the first quarter of 2022, and $12.3 billion two years ago.
ATTOM has reported that all-cash purchases accounted for 39.3% of all single-family home and condo sales in the U.S. during the first quarter of 2023, the highest level since the first quarter of 2013. Of course, when a home is sold for cash, a mortgage is not needed.
But Refi Numbers Are Up on O'ahu
Interestingly, Honolulu ranked second among U.S. metropolitan areas where the number of refinanced loans increased quarter-over-quarter in the first quarter from the fourth quarter of 2022. The increase was 19.7%.
Several factors could be influencing the decision to refinance mortgages, says Jennifer Coutts, regional sales manager at CMG Home Loans in Honolulu.
Inflation has driven up the cost of most goods and services, and the Federal Reserve's step-by-step increases in interest rates over the last year have driven up the cost of borrowing money.
The Federal Reserve Bank of New York said last week that the amount Americans owe on credit cards rose 17% over the last year to a record $986 billion; meanwhile the average interest rate on credit cards has climbed to 20.92%, the highest point in nearly 30 years. Because of that, more borrowers are tapping in to their home equity to pay down debt.
That means borrowers are refinancing to pull out cash rather than to lower their monthly mortgage payments with lower interest rates.
"Typically when somebody is refinancing right now, they're doing it to pull cash out, because everybody has a lot of equity right now," says Coutts. "Because property values increased so much, they might use it to either pay some debts off or so that they have funds to do that next purchase."
Some borrowers have experienced a life change, such as a divorce, and must refinance to buy out an ex-spouse and take their name off the mortgage.
Yet another factor that may be impacting refinancing activity: Lenders are tightening qualifications for home equity lines of credit, or HELOCs, which allow a borrower to pull money out of a home's equity.
"HELOCs can be a little harder to qualify for, so sometimes people don't have a choice, they have to refinance the whole thing," says Coutts, meaning the borrower must refinance the first mortgage to access the equity cash. "We have noticed certain options are drying up a little bit, and guidelines are getting a little tougher."