Success Story: Blue Pacific Window Cleaning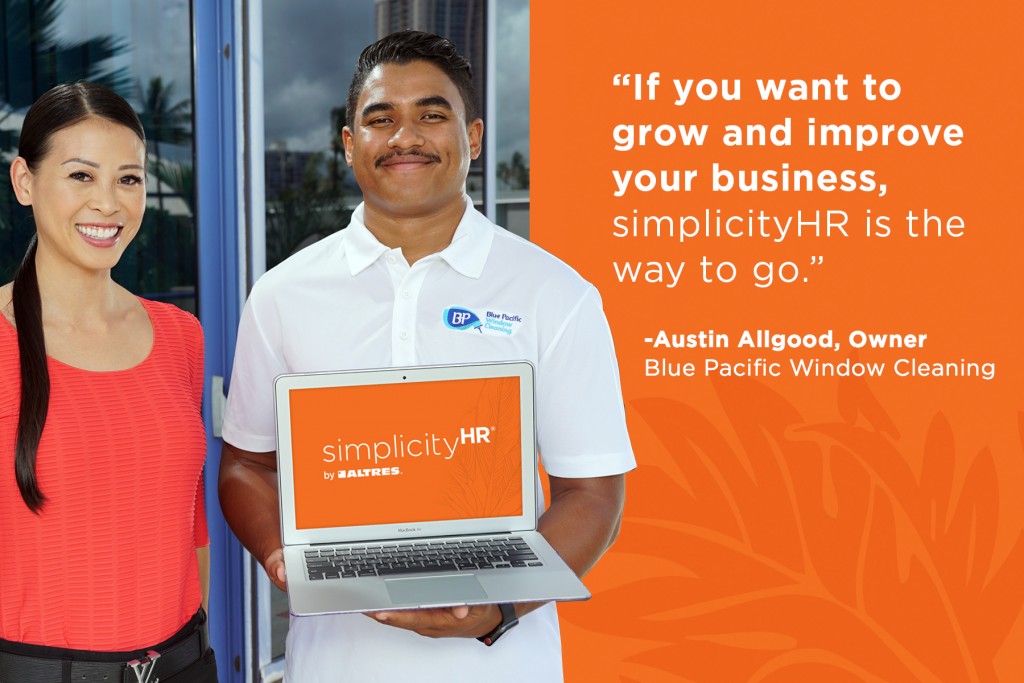 The 2020 forecast is

clear and glassy for Blue Pacific Window Cleaning.

Located on the North Shore of Oahu, the small-but-growing company specializes in window cleaning, power washing, and water spot restoration done by skilled professionals.

Owner Austin Allgood is driving growth with a dedicated, customer-first approach. Recently, the young entrepreneur also tackled some very daunting employment-related challenges:
Converted his team of contract workers to full-time employees
Provided them robust healthcare coverage and a full suite of benefits
Automated the company's payroll processing
What's more, he unlocked the dream of every business owner: he reclaimed time out of his busy day.
His power move? Hiring simplicityHR by ALTRES.
"We have a lot of momentum and I want to keep that moving," he says of his 2020 goals.
"Being stuck in paperwork and filling out forms during tax season, and all throughout the year, is not how I want to spend my time."
Before outsourcing his payroll processing, Allgood was tallying employee hours and writing (and delivering) checks by hand.
Automated payroll has significantly eased the burden, allowing him to complete payroll in a matter of minutes, from anywhere. Cloud-based technology and a mobile app make employment administration tasks a snap.
"I've already brought on another guy, because it's made [being an employer] that simple and that easy," says Allgood.
Allgood, an avid surfer, now enjoys more time in the water, more time with his family, and more time building his business, thanks to his partnership with simplicityHR.

(808) 791-4900
www.simplicityhr.com
---
The Future of HR
It's 2020 and time to update your People plan!
3 HR considerations for the

next 3 years:
Automation is the norm.
This means digital personnel files, cloud-based new hire paperwork, and e-workflows instead of manual routing; and all done on your phone.
Next Gen. Millennials now make up 50% of the workforce and Gen Z 24%, with both generations changing positions every 18 months.

What programs are in place at your company to embrace the Next Gen?
Technology.

Hilton Grand Vacations utilizes artificial intelligence to screen applicants and Verizon uses virtual reality

to train managers on protocols in case of a store robbery.
Is your company poised to take advantage of these developments in Human Resources?
To learn more about the role of human resource management professionals and how to improve HR competency, go to www.shrmhawaii.org.