Innovation: EggUp and GoEggIt stops movie piracy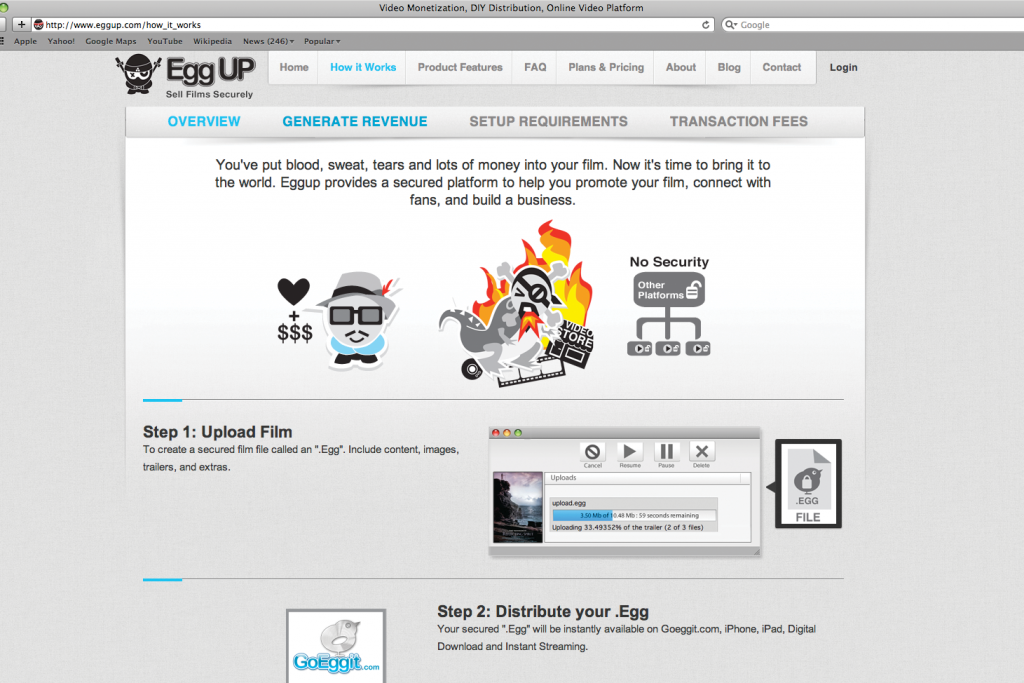 Problem: Piracy costs the U.S. movie industry more than $20 billion annually, according to industry experts, who say illegal downloads and bootleg copies prevent many independent filmmakers from turning their passion into a livelihood.
Solution: EggUp.com is a platform created in Hawaii by Key Asylum Corp., which allows filmmakers to securely upload movies, self-help videos, educational content and more, and sell them online. The new site features about 50 titles, ranging from raunchy humor to film-festival flicks from around the world, with new videos added regularly. Movie prices range from free to several dollars.
How It Works:
STEP 1: Filmmakers go to EggUp.com to upload their videos free of charge into Fried Rice, the site's secure distribution application.
STEP 2: The film automatically loads onto the system's consumer site, GoEggit.com.
STEP 3: The content is formatted into a self-encrypted digital video called an egg. All eggs are high-definition and do not require special hardware to view. Unlike Hulu and Netflix, a video is downloaded, not streamed, to the viewer's computer, which can then be connected to an HDTV without compromising quality.
STEP 4: Filmmakers can set prices and adjust them later, track and analyze revenue, and pull the plug on a movie at any time. Each time a film is purchased, the site takes 30 percent and the rest is instantly deposited into the filmmaker's PayPal account. Filmmakers keep all rights to their movies.
What's next?
The Eggup team – local boys Jon Yamashita, Chris Lucero and J. Garrett Karr – say they are focused on launching the technology in Asia and Africa, where piracy has corrupted Nigeria's "Nollywood," the third-largest film industry in the world after Hollywood and India's Bollywood.
Award-winning Hawaii filmmaker Edgy Lee has several films on GoEggit.com and plans to offer dozens more. "I think this technology is going to give Netflix a run for its money," Lee says. "With this, we've automatically saved thousands of dollars, which is what it would cost to create DVDs and ship them."