Investment & Succession Planning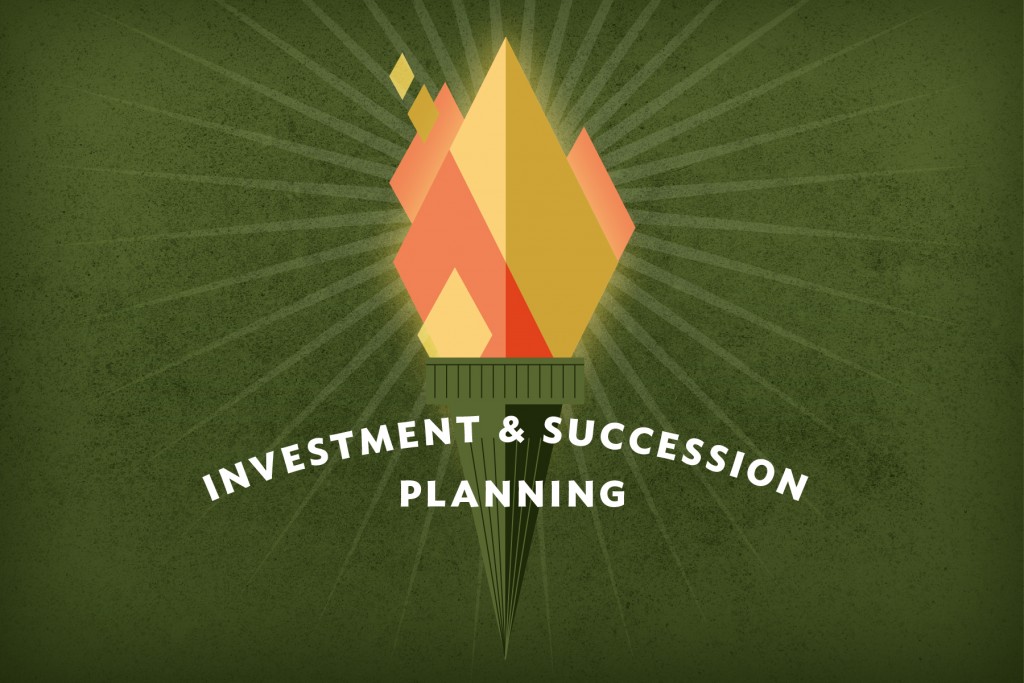 You worked hard for your money. Succession planning is of vital importance, usually requires a complex planning process, and is too often left until too late.
These professionals have the expertise to guide you through a process critical to protecting your assets, your business, and all your hard work.
What is Exit Planning?
Exit Planning is the holistic approach to designing a business-exit strategy that provides maximum value for your life's work. It encompasses setting Exit Objectives, creating an Advisor Team comprised of trusted professionals, and writing down each aspect of the transition sequence.
With your input, the Exit Planning Advisor gathers information, assembles the Exit Planning Advisor Team, and offers recommendations. The Exit Planning Advisor oversees how your Exit Plan is built, much like a general contractor would coordinate the construction of an office building.
An integral part of the process is the creation of a Business Owner Road Map:

A written document that can be reviewed and modified as your circumstances change.

A comprehensive list of recommendations that is personalized to your unique situation.

A template that your Advisor Team can use to build a plan centered on your needs.


The Business Owner Road Map is a comprehensive document listing specific steps you should take to exit your business in the most efficient and risk-free manner possible. This map is the culmination of an intensive discovery process, which includes learning your goals and objectives, thoroughly valuating your business, increasing the value of your business, and performing an in-depth review or redesign of any existing estate plans.
The Business Owner Road Map will help you in several ways, including:
Positioning your business for transfer, even in a poor market.

Sheltering from risks involved in a business sale.

Keeping complete control over your ownership until you are satisfied that all aspects have been addressed.
To learn more visit: www.BusinessExitPlanningHawaii.com
Hawaii (Wealth Strategy Partners)
(808) 695-2100
www.westpacwealthpartners.com/hawaii
677 Ala Moana Boulevard, Suite 720
Honolulu, HI 96813
Registered Representative and Financial Advisor of Park Avenue Securities LLC (PAS). OSJ: 677 Ala Moana Blvd., Suite 720, Honolulu, HI 96813 808.695.2100. Securities products and advisory services offered through PAS, member FINRA, SIPC. Financial Representative of The Guardian Life Insurance Company of America® (Guardian), New York, NY. PAS is an indirect, wholly-owned subsidiary of Guardian. Wealth Strategy Partners, LLC is not an affiliate or subsidiary of PAS or Guardian. Guardian, its subsidiaries, agents, and employees do not provide tax, legal, or accounting advice. Consult your tax, legal, or accounting professional regarding your individual situation | 2018-62350 Exp. 06/20
---
Planning the Future & Guiding Success
There is one rule leading the hearts and work culture of the people at Pacific Capital Investments:
Treat others as you would like to be treated. It is a mantra that is lived and breathed daily. Honoring the Golden Rule guides their professional and personal decisions and allows this team of financial advisors to navigate through any obstacles faced in pursuit of a client's financial security.
"Clients want to know three things," explains Owen Yamamura, CEO and President of Pacific Capital Investments (PCI). "Can I trust you? Are you competent? And do you care about me? Everything we do revolves around these important core values—whether it's transparency of costs or client recommendations, to regular involvement in increasing our knowledge-base and leveraging technology, or simply taking the time to listen to a client share their personal highs and lows of the past several weeks. It matters to us and it matters to clients."
With a disciplined investment strategy and a comprehensive planning-based approach, the PCI team helps clients to understand where they are today and what are the next steps needed to realize their financial goals. Always going above and beyond, the PCI team facilitates meaningful collaboration with their clients' attorneys, CPAs and other trusted advisors to ensure all strategies are coordinated and up-to-date. Yamamura and his team's industry knowledge, keen insight into today's evolving markets, and acquisition of advanced professional certifications allows them to initiate best practices while affording true peace-of-mind for their clients.
He attributes the company's 19 years of longevity and success to his unyielding faith in Jesus Christ and the amazing people who surround him—the support of his loving wife and the leadership of his PCI team.
Committed to helping people outside of the office as well, Yamamura and the PCI team use their own knowledge and experience to empower others in the community. Recently, PCI launched a college scholarship fund and mentorship program, in partnership with a local high school, that provides guidance and opportunity to at-risk students to help them overcome personal and academic challenges. "Just as we have been blessed as a company we believe it is our responsibility to be a blessing to others," he says. "Just as others have poured into us with their time and advice, we enjoy investing into the next generation and teaching them the skills and principles that have helped us."
Pacific Capital Investments
(808) 545-2225
www.PacificCapitalInvestments.com
oyamamura@rr.firstallied.com
Owen Yamamura is a Financial Advisor offering securities through First Allied Securities, Inc. a Registered Broker/Dealer Member FINRA/SIPC and advisory services through First Allied Advisory Services, Inc., a Registered Investment Adviser