KTA Super Stores CEO Barry Taniguchi Dies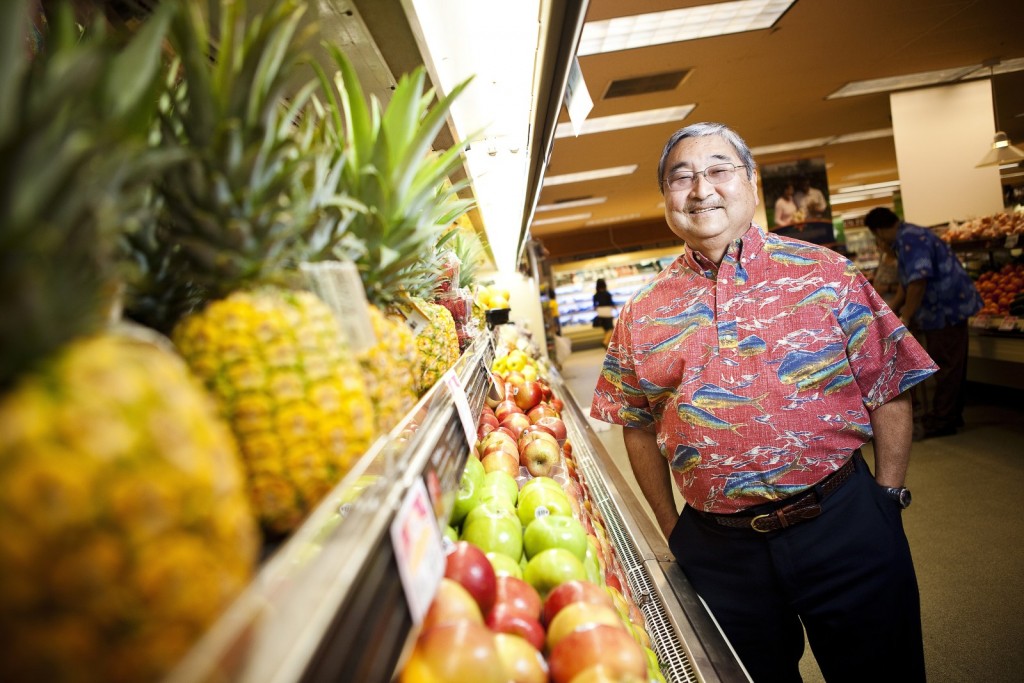 Barry Taniguchi, chairman and CEO of KTA Super Stores, a Hawaii Island grocery store chain, died on Sept. 20 from medical complications.
Taniguchi was a well-respected business leader and known for his involvement in numerous professional, civic and community organizations, including the Public Schools of Hawai'i Foundation, the Mauna Kea Management Board, the Hawaiian Electric Industries board, the Hilo High School Foundation and the Hawai'i Employers Council.
His son, Toby Taniguchi, said Taniguchi took an interest in health and wellbeing in the last few years and created Community First, a nonprofit that aims to improve the health and wellbeing of Hawai'i. Derek Kurisu, executive VP at KTA, recalls one of the nonprofit's efforts: UH nursing students taught elementary school students how to test their blood pressure. The younger students were then encouraged to share that knowledge with their families and encourage family members with high blood pressure to visit a doctor.
"I think he was a very generous person with his time, treasure and talent, and he always was looking for ways to help better our communities, especially here on Hawai'i Island," Toby Taniguchi said.
In a statement, UH said that Taniguchi was a strong supporter of the university: He established the Taniguchi Memorial Fund and endowed UH Hilo's first faculty endowments. KTA also launched a scholarship program this year to benefit student athletes.
"Our deepest condolences to his family, friends and to all who were touched by his wisdom, his service, his generosity and his kind heart," UH president David Lassner said in a statement. "He always looked forward and the entire UH ʻohana will be forever grateful for the leadership, vision and steadfast support he invested in making a better Hawaiʻi for all. Barry Taniguchi truly exemplified what community means and will be sorely missed."
In a statement, state Sen. Kaiali'i Kahele said Taniguchi's passion to give back to the community was immeasurable. "As someone who had the honor of being his friend, Barry taught me what it meant to live the value of: 'You are someone special every day at KTA,' " he said in a statement. "He made everyone around him, including his friends and customers, feel special. He was a true embodiment of aloha."
Taniguchi was born on March 21, 1947. The Hilo High School grad attended UH Hilo and UH Mānoa and earned a Bachelor of Business Administration degree with a major in accounting. He became a certified public accountant in 1971 while at Haskins & Sells, CPA (predecessor to Deloitte & Touche) before joining The Realty Investment Co. as controller. He returned to KTA Super Stores in 1983 and became president and CEO in 1989.
Kurisu, who has worked at KTA for 51 years, said the first project Taniguchi was in charge of was the construction of KTA's Keauhou store. He said Taniguchi was a great leader who inspires others to follow him, and he'll think of Taniguchi whenever he walks through that store.
"It's such a sad thing that we lost a great leader and for me, he was a friend who treated me like a brother, and the amazing thing is when I really think about it, he didn't just leave us, but he left our island – in fact the state of Hawai'I – in a better place. So I'll always think about that," Kurisu said. "He just left the state of Hawai'i in a better place and he made it better. And that's what he wanted to probably accomplish in life – and he did."
Taniguchi is survived by his wife, five children, seven grandchildren, one great-grandchild and numerous nieces and nephews. Toby Taniguchi said his family is grateful for the support from the community during this difficult time.
The family intends to hold a public memorial service, details of which will be announced later.
Read more about Taniguchi:
Talk Story with Barry Taniguchi
KTA Super Stores – 100 Years Young
Best Advice I Ever Got
Black Book 2018 – 364 Executives to Know
Talk Story with Three Hilo-Born Entrepreneurs