Local Architects Talk About Repurposing Existing Buildings in Post-Pandemic Hawai'i
In some cases, it will make more sense to repurpose underused buildings than to tear them down and start from scratch. Recent examples include the office-to-residential conversion of 1132 Bishop Street and the transformation of the former Macy's in Kailua into Lau Hala Shops.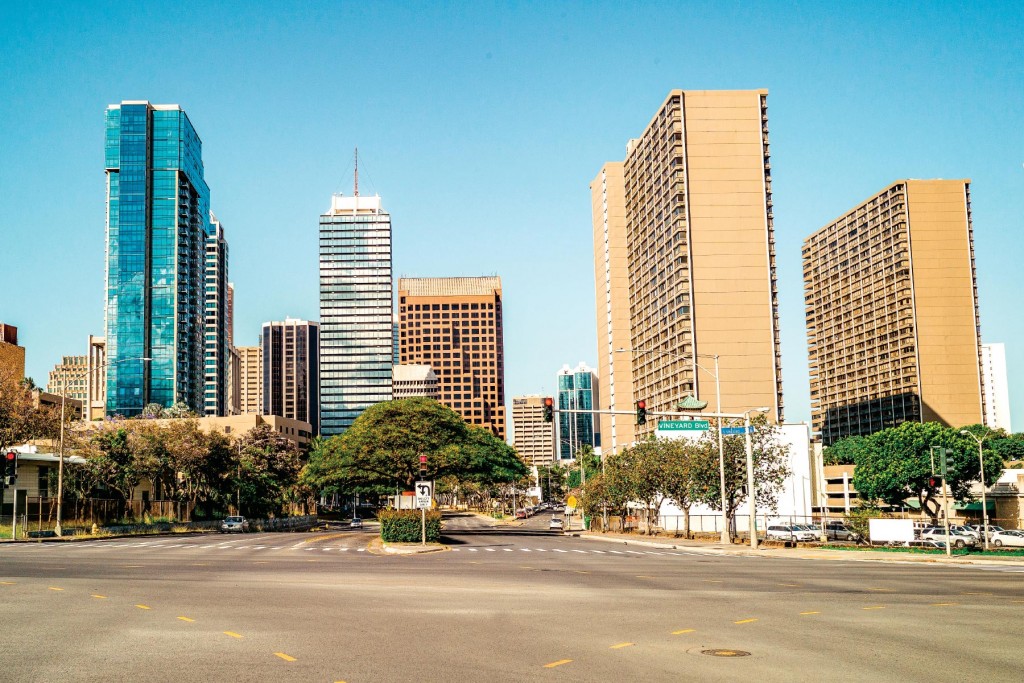 Adaptive reuse means repurposing an existing building – for instance, turning a high-rise tower filled with offices into an apartment building. That's what's happening at 1132 Bishop St., where new apartments are now available for rent.
Similar conversions are likely in the near future, says Grant Chang, director of architecture for the Hawai'i office of Lowney Architecture. The COVID-19 pandemic forced many office workers to work from home, and many will continue to work remotely after the pandemic. That alone has reduced demand for office space, Chang says.
"Office-to-residential conversions were already being done pre-COVID, but the pandemic spurred more vacancies and led us to rethink the way we live. The way in which we prioritize office spaces coupled with the long-standing need for housing have made conversions more attractive for addressing new urban needs and lifestyles," Chang says.
A contrary but smaller trend is that some employers are increasing office space to allow more social distancing between employees, Chang continues. That often requires renovating an office's interior space and purchasing new furniture.
"The bones of the building are already there. So, financially, it makes sense." – Linda C. Miki, Vice Chair, G70
3 Good Reasons to Reuse
Katie Stephens, Senior Associate for AHL, one of Hawai'i's largest architecture firms, says there are three reasons why adaptive reuse projects are becoming more popular.
Lower Costs: The developer does not have to pay to demolish the existing building or rebuild the main walls, says Stephens and Linda C. Miki, vice chair of G70, another large local architectural firm."The infrastructure is there, the utilities are already there … and most of what I call the bones of the building are already there. So, financially, it makes sense," Miki says.A reuse project can often be done in less time than starting from scratch, which saves the developer money on financing and means units can be sold or leased sooner.Chang says the savings can total up to 50% of the cost of a wholly new structure.


Greater Sustainability: Reusing existing things is one of the fundamentals of sustainability and that certainly applies to construction. Though some materials from demolished buildings can be reused or recycled, most of it ends up in landfills.The EPA added up the nationwide waste from construction and demolition in a report called "Advancing Sustainable Materials Management: 2018 Fact Sheet."



The report says "600 million tons of C&D debris were generated in the United States in 2018, which is more than twice the amount of generated municipal solid waste."Demolition represents more than 90% of total C&D debris generation, while construction represents less than 10%."


Preserving Meaningful Architecture: Many older buildings have historic value or hold special meaning for local people, Stephens says. If the design team can repurpose it, people can create new memories with that same building.
"You're able to revitalize communities, streets, neighborhoods." – Nathan Saint Clare, Principal, AHL
From One Into Many
AHL helped transform the former Macy's store in Kailua into Lau Hala Shops, which was finished in 2019, says Nathan Saint Clare, principal for AHL.
"Instead of being one big-box tenant that was very focused on the inside experience, we were able to develop a multitenant kind of lifestyle development for the community," says Saint Clare.
Current tenants are a Down to Earth vegetarian grocery store, Maui Brewing Co., a UFC gym and other restaurants and shops.
"That really activated the pedestrian experience," he says. "That's one of the other major benefits of adaptive reuse. You're able to revitalize communities, streets, neighborhoods because typically the spaces that were taken over were less activating and so in that case, we were able to really open it up to the street, reactivate the pedestrian experience around it and in a lot of ways, make it safer and more convenient for the community."
Adaptive reuse projects come with challenges, of course. For one, there are different zoning and code requirements for commercial office and apartment buildings, Chang says.
Floor plates – the amount of leasable square footage on an individual floor of a building – are another challenge, he adds. Commercial buildings tend to have "deeper floor plates" – for instance, they can be 40 feet wide. He says traditional apartment floor plates range from 25 to 30 feet wide, which allows the living and dining rooms and bedrooms to be up against windowed walls with lots of light, air and views.
"For hotel conversions, deep floor plates play a factor. The number of units on each floor depends on the size of each unit. More units per floor generally facilitate more efficiency, but plates that are too large can lead to an imbalance. Hotel projects also necessitate space for programming, such as ballrooms, spas and back of house operations," Chang says.
That means the reuse project's team of architects, contractors and engineers often need to create innovative solutions to make best use of the space, Chang says.
Plumbing and HVAC
Retrofitting a building's engineering systems is another challenge in adaptive reuse projects. Office buildings have bathrooms and HVAC shafts located near their core, Chang says, while residential and hotel units use decentralized systems for their bathroom and kitchen plumbing.
Miki says another challenge is that a residential building requires more natural ventilation than an office building. That could include windows that open, which could increase the cost of the project.
Keep in mind that the older and more historic a building, the more restrictions there are on what can and can't be done, Saint Clare says. And the older the building, the less current it may be with building codes covering structural, seismic and lateral regulations. Upgrades may be necessary, he says.
Stephens says an historic architect would evaluate any project involving a structure on the state or national historic register and work with the state's Historic Preservation Division to keep the historic features. Any plans must also comply with set standards in Hawai'i's special districts, Stephens says.
And those special districts are many, says the Historic Hawaiʻi Foundation. They include areas of Lahaina, Lāna'i, Honolulu's Chinatown, Haleʻiwa, Kaka'ako and 'Ewa Villages.
Miki says the scheduling and planning of reuse projects are crucial. "For example, if you have an occupied building, there is lease expiration. There are tenants already in there and sometimes you have to schedule your construction. Are you going to keep the parking open for people? Are you still going to have access? So, there's a lot of logistical factors that need to be thought through," she says.
Saint Clare says the mechanical systems at the Kailua Macy's store were old and needed to be replaced for the new Lau Hala Shops tenants.
AHL is currently working on another reuse project that's still in the design phase: an expansion of the emergency department at The Queen's Medical Center, Saint Clare says. The ER will expand into what were offices, but the offices' configurations and mechanical systems must be redone to meet clinical requirements.
How does a team determine if a building is suitable for reuse? Stephens calls it a physical condition analysis: The structural engineer, mechanical engineer, electrical engineer and architect would each examine different components of the structure.
When the infrastructure of a building is damaged, repairs must be made in any reuse project, Miki says. And, of course, some older buildings are so damaged that it makes more sense to build from scratch. When looking at a building from the outside, it may look fine, but the inside may be a whole different story, she says.
Miki says G70's adaptive reuse projects include repurposing the second and ground floors of Aloha Tower Marketplace into dormitories, retail shops and multipurpose venues for Hawaiʻi Pacific University (completed in 2015) and turning the net shed at Kewalo Basin into the Ho'okupu Center for the nonprofit Kupu, which uses it as a gathering place and to provide job training and life skills for youth. It was completed in 2019.