Hawaiʻi's Local Youtube Stars
Young celebrities (and some older ones) understand the path to successful careers in show business, fashion or music looks a lot different than it did a generation ago. They start with video and social media, then branch out in all directions.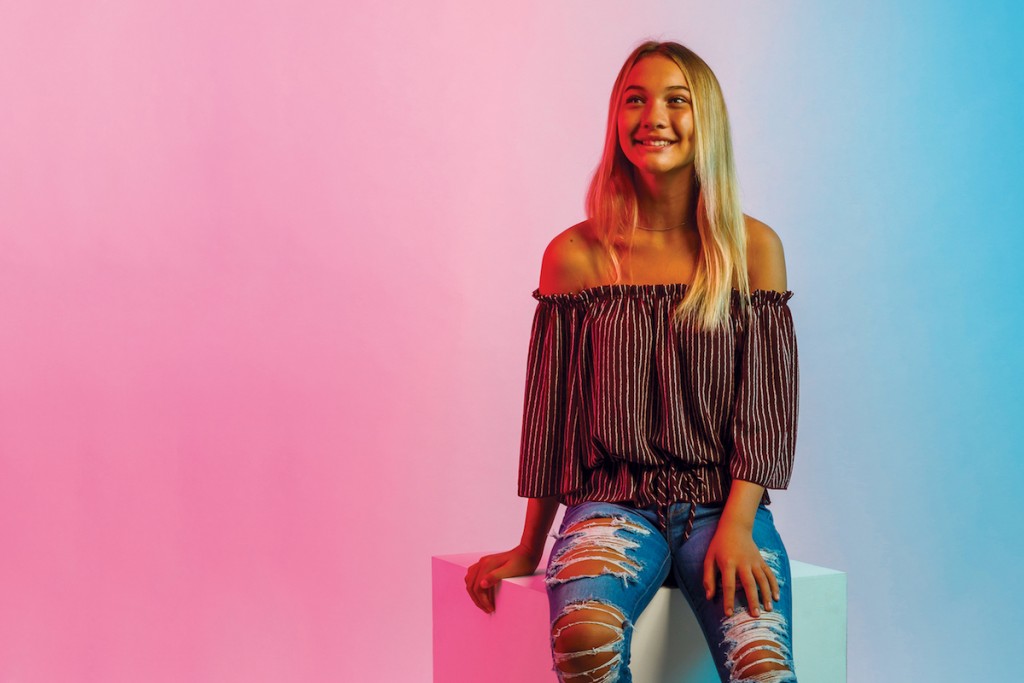 Bretman Sacayanan, better known as Bretman Rock, has over 18 million followers on Youtube, Twitter, Instagram and Facebook combined.
This number ticks upward by the minute and does not include his subscribers on the time-sensitive video-sharing app Snapchat, where fans first took notice of Bretman's fast-paced, hilarious and charming on-screen persona.
He had been privately posting videos to friends for years before sharing them on Snapchat during the summer of 2015, between his freshman and sophomore years at Campbell High School. Nothing about Rock's personality has changed since: Off camera, he remains Bret, a chill young adult; on camera he is Bretman Rock, the loud, confident, flamboyant version of himself – who claims to have a "fatter ass" on camera.
The recent high school graduate is now 20 and instead of going to college or finding a full-time job like others his age, Rock earns a living by leveraging his social media following through brand partnerships, sponsorships, meet-and-greets and creative content. He was named this year as one of the Forbes 30 under 30 in Asia for media marketing and advertising.
"I make content when I feel like it, or when I'm broke and I need a new laptop," Rock jokes.
Rock and other Hawaii residents as diverse as former local radio star Grant "Lanai" Tabura and 13-year-old Hali'a Beamer are using YouTube to build followings, sell products or establish personal brands. Some make money on YouTube and others simply leverage their videos to make money by other means.
Most of Rock's revenue comes from ads that appear on his videos – about $700 a day, based on YouTube's standard ad revenue per view – with help from Google Preferred, a program that allows companies to place their ads only on the most popular YouTube videos, and thereby reach the highly coveted 18- to 34-year-old audience.
Google owns YouTube and in its promotional material, Google says, "Brands using Google Preferred choose from 12 line-ups – or packages of channels – across categories such as Beauty & Fashion, Entertainment & Pop Culture, or Foods & Recipes and share their messages alongside some of the most engaging and brand safe content on YouTube." Rock also promotes products through sponsored posts on his Instagram feed, featuring various beauty and fashion brands, including Calvin Klein. You can also purchase his makeup palette and custom fan brush, a collaboration with beauty brand Morphe, with color tones all his own, including Behbeh Gurl, Mahu, Get Lei'd and Cheehoo.
"Sometimes it feels like I sold my childhood to the internet, and it's a scary thought." – Bretman Rock
Bretman Rock, the video personality, is a young man who has never been afraid to be himself. Rock goes so far as to say that he's been that same person since the first grade and that his friends and mother will agree.
"Every social media personality should be scared that this is temporary," Rock says. "A career, to me, is a job forever. I don't see myself making videos or showing my ass to the internet when I'm 30. YouTubers and little kids need to realize that this is temporary. I see myself using the platform to build something greater. I'm destined for something greater."
Rock says YouTube stars he would watch in sixth grade are no longer popular or have disappeared from the video-sharing platform completely. One advantage he says he has is being one of the only beauty gurus in Hawaii. He's hoping that everything he does now as Bretman Rock builds the foundation for a long-term career as Bret. He says that includes building a beauty, fitness and fashion empire which he hopes will sustain him far beyond the makeup tutorials and challenge videos that currently keep his brand relevant.
Although he enjoys making a living sharing his life through vlogs or intimate videos with his family, he also reflects back on how overwhelming his star status has become. "It's so cringey," Rock says. "Sometimes it feels like I sold my childhood to the internet, and it's a scary thought."
Halia Beamer, a 13-year-old living on Oahu, has attracted more than 6 million followers on her social media channels in little more than two years. She says she started doing lip-syncing music videos at the age of 11 on the Musical.ly app (it has since merged with TikTok) because it was fun. There were no ambitions behind it, but today she and her mother are advised by a management company, get promotional products and take trips to meet other "musers." She says she'd rather be doing this than working at McDonald's like other teens and that she's just a normal girl who likes the beach and hanging out with friends.
Halia and her mother are advised by a management company, get packages of promotional products and take trips to meet other "musers" just like her.
During our interview, immediately after she got out of school, the young star seemed a lot like a typical teenager – tired and restless to go shopping right afterward for new school clothes. Most of Hali'a's followers are younger than her and she sounds annoyed as she describes how sixth-graders follow her around at school because of her online fame.
━━
Watch Lanai Tabura and Halia Beamer take on the
"What's in Da Box?" Challenge
━━
She must post content daily, a requirement from her Mainland-based management team. If she doesn't on her own, her mother, Beth Beamer, steps in to make sure Hali'a does it, like homework, before she can be a normal teenager again.
Halia is also shy, something you'd never guess from watching her videos. "She also doesn't like when I talk about her videos around her friends," Beth says.
Halia, related to Keola and Kapono Beamer, the brothers who sang "Honolulu City Lights," is launching a career as a singer like other Musical.ly stars. Social media has created a plethora of opportunities for her and her peers to launch tangible careers.
Castle High School career counselor Ashley Kaonohi says she wrestles with the difficulty of advising students whose aspirations are to become social media stars instead of pursuing traditional jobs like doctor, plumber or teacher. "It's great to follow your passion but have a backup plan like getting your degree and merge the two businesses."
Although Halia aspires to be a lawyer, describing her "fireball" personality as perfect for the job, the path she's stumbled upon as a model/Musical.ly idol/YouTuber/singer is hard to understand for people who did not grow up with social media.
Grant "Lanai" Tabura understands this cultural shift in the entertainment industry. The former radio personality keeps reinventing his career: Now a TV host, among many other roles, he recently won a California regional Emmy award for his show, "Ramen Yokocho."
He moved from Lanai to Oahu as a young man after high school to attend HPU but fell in love with the entertainment industry, leading him to drop out of college. He had a successful career in radio with partner Augie T., another local comedian, on Island 98.5. "Back in that day that was social media. Everyone listened to the radio," Tabura says.
"I'm starting over, reinventing myself as an entertainer. To reinvent yourself is hard but you have no fear the second time because you know how to do it." – Lanai Tabura
He once owned multiple homes and enjoyed wealth and success until the digital age took over and only those who adapted survived, he says. "The way my life has gone, I have no regrets. Even fi ling for bankruptcy, losing all of my homes, how my radio career went out – that was school for me. That was my lesson. Some people go to college and pay $20,000 a year to go to school. I went bankrupt to go to school."
The popularity of digital music streaming services and other changes in technology have disrupted the radio business. Tabura says he foresaw the future of digitization and understood early that he needed to have an exit plan out of the radio industry before it was too late.
"In radio, when I was younger, I didn't care. When you're older, you're going to find yourself caring a lot more," Tabura says. Today, he diversifies his career and investments through his own line of wine, food tours, pop-up dinners, a travel club and an award-winning food truck with his brother, Adam Tabura, and friend Shawn Felipe. All of these businesses are far different and more sustainable than his previous work in the radio and entertainment business, where one day you're hot, and the next you're not.
Tabura today channels his show business and comedy experience into creating video content. He says he has four shows, including "Cooking Hawaiian Style," now in its ninth season, which is shown on the Lifestyle Network and in six countries. He is also working with agencies to put his video content on airplanes and cruise ships, as opposed to monetizing them through YouTube or Instagram like Hali'a and Rock.
"I'm starting over, reinventing myself as an entertainer," Tabura says. "I had to convince people that I don't do radio, I'm on TV. To reinvent yourself is hard but you have no fear the second time because you know how to do it."