Loving Liliha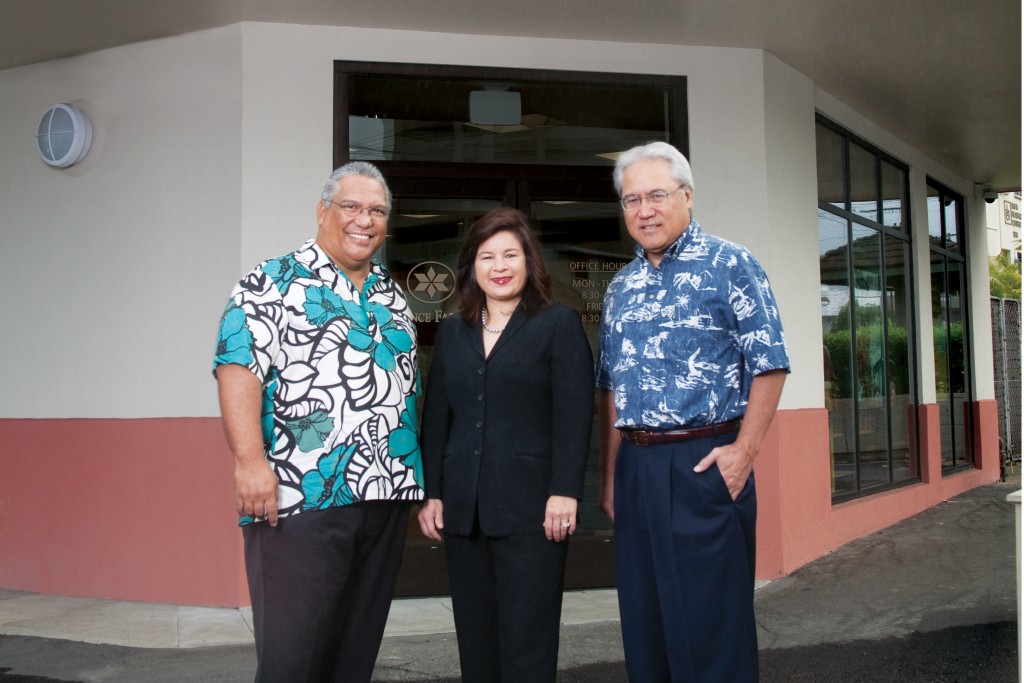 It's late afternoon in Liliha and minutes are ticking by on the new town clock high above Finance Factors at the crossroads of North Kuakini and Liliha streets. Schoolchildren and early diners squeeze onto stools at Liliha Bakery for $4 hamburgers, hot cakes and saimin.
A few doors away, wobbly orange crinkle fencing shelters new shrubbery and a modest fountain outside the new Longs/CVS Pharmacy. "Look," exclaims Rep. Corinne Ching, pointing as an older gentleman in rubber slippers rounds the corner, tugged along by a puppy on a leash. "It's a sign."
The man walking his dog is just one more sign of a revitalized neighborhood, which happened because a handful of business and community leaders began taking important steps a few years ago. They organized cleanups, created safe activities for families, fostered new pride – and, in the process, created a blueprint for other Hawaii communities that want to revitalize and reinvent themselves.
"We want to make it hip enough for the young people," says Ching. "It 's a perfect place for cafes. So we're cleaning up the community to keep our old businesses thriving and bring in the new. … Business is the life-blood and key to revitalization."
Drive mauka from downtown Honolulu, turn left in the middle of Nuuanu and you'll end up in Liliha, maybe on a meandering street where cottages crowd each other two and three to a lot, and a whole new generation of kids is growing up back in Liliha with their parents, and grandma and grandpa, too.
Here are eight steps that Liliha took, and continues to take, that point the way for other neighborhoods:
1 Create a vision and find a leader
Ching, a Republican, is the firebrand behind Liliha's revitalization. It's the neighborhood where she grew up and the place she represents in the state Legislature. She dreams of new businesses, and knows that cleaning up the neighborhood is the first step to attracting those businesses. So she organizes volunteers to pull weeds and pick up trash.
"What do successful communities have?" Ching asked herself. "They're clean. They have plants. And they have vibrant places to go that provide a sense of identity."
She helped rebuild community pride by emphasizing the area's rich cultural history. Liliha includes sacred Hawaiian lands and historic burial places, including the Royal Mausoleum. Ancient battles raged here and Liliha herself, a fiery Hawaiian chiefess, stood between the churches she protected and the wrath of her queen. This is also where the menehune are said to have made their home.
To build pride, Ching dug into her own pocket to produce a free calendar of Liliha scenes taken by a friend, National Geographic photographer Paul Chesley.
2 Build a core group
New businesses, including Finance Factors and Longs/CVS Pharmacy, and a refurbished Liliha Bakery have helped the rejuvenation. Longs installed a small, tasteful fountain in front of its new store (designer and area retailer Mary Philpotts offered free advice) and Finance Factors added its large town clock across the street.
Steven Teruya, president and COO of Finance Factors, says reaching out to the community, and then keeping the community in the loop on plans, is important for any business entering a neighborhood.
"I met with the neighborhood board early in the process and showed them all the renderings of the building," says Teruya. "Anyone going into an area that's trying to revitalize should meet with the district's representative. For us, Rep. Ching was instrumental in providing input about the vision for that whole area. Because we had delays, we kept her up-to-date and also followed up with the neighborhood board, so they felt like part of the process."
Finance Factors remains involved; for instance, it is a principal sponsor of the annual "I Love Liliha Town Festival."
Teruya suggests that any area hoping to revitalize should start by creating or strengthening the local business association. He points to the strength of the Kaimuki Business and Professional Association, which coordinates efforts and helps create a small town atmosphere there.
"The people volunteering for projects are going to be the owners, family and friends – people with a stake in the community," Teruya says.
3 Build Partnerships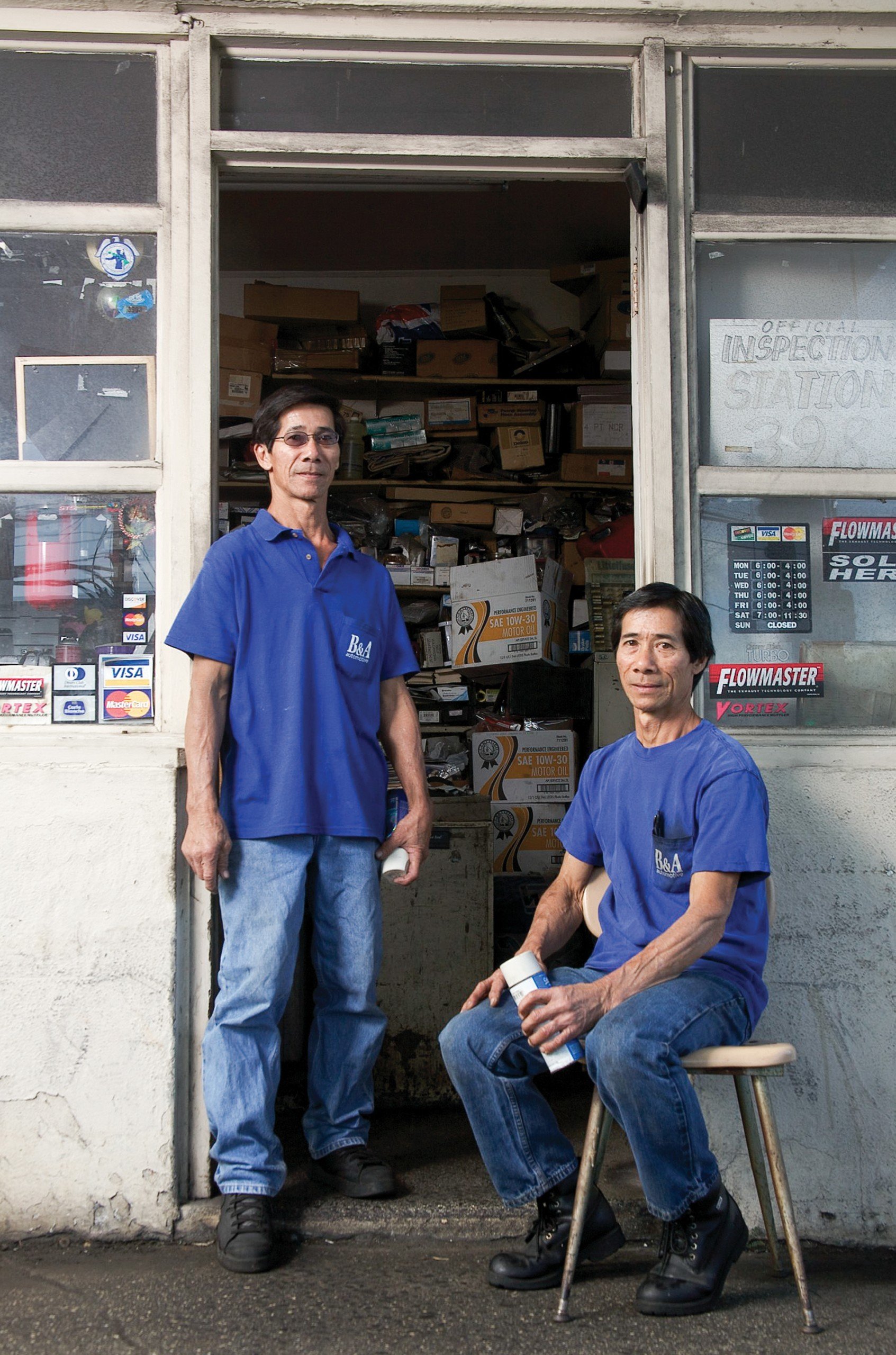 Neighborhood businesses can work effectively with government agencies, the county councils and legislative representatives to make improvements.
Cyrus Tamashiro, who runs Tamashiro Market and has been active in helping organize the Liliha-Palama Business Association Santa Claus Parade, says community cleanups bring together students from schools and Honolulu Community College, public housing residents, business leaders, police officers and city employees to pick up trash, cut weeds and paint over graffiti. Participants know they're making a difference.
Partnerships can even come from unusual quarters, says Tamashiro. Bank branch managers formerly assigned to Liliha, like Glenn Goya of First Hawaiian and Kanoi Lam, who used to be with American Savings (formerly Bank of America) and is now with UBS Financial Services, still help out though they no longer work in the district.
4 Get local businesses to care for their surroundings
Brian and Alan Lum of B&A Automotive never wait for someone else to do the work: If there's new graffiti on a nearby wall or their neighbors are hit, they act quickly. In fact, they buy half a dozen cans of beige spray paint at a time so they don't run out.
"If they (graffiti vandals) know it's going to be cleaned up right away, they don't hit it as much," says Brian Lum. He and his brother have painted out graffiti 20 or 25 times since they moved their business to Liliha in 1977. "We come to work at 5:30 and, if we notice it, we paint it out right away."
When they first moved to the neighborhood, their neighbor, a contractor, let them park on his property, says Lum. Now they're happy to help the contractor's widow by covering graffiti when it appears on her fences.
5 Create safe spaces and events
Pastor George I has built a compassionate and responsive congregation for his Ka Huakai Church, which uses the city park at 2555 Puunui Ave. for its work. It has meant getting permits and working closely with the park director, but now hundreds of families come to the park for movie nights and other events. The Halloween party alone drew 800 people.
"A community is based on the people who live there," says Pastor I. "Because ours is an older community, it's a challenge. But we're discovering that the kids and grandkids are moving back in to take care of Mom and Dad. Now that we know that there are a lot of young families again, we're trying to develop programs and services for them."
Pastor I has used his own funding to buy a projector and large screen for the community movies. He's happy to help other communities do the same thing, even to the point of lending and setting up the equipment.
"If other communities really have a desire to do something, then we can offer help with training and passing on what we did."
6 Create a nonprofit vehicle
Attorney Michael J. O'Malley, of Goodsill Anderson Quinn & Stifel, provides pro bono help in creating a 501(c)3 tax-exempt nonprofit corporation for Liliha. The process takes from three to six months, but allows private donations and grants that pay for revitalization.
"The first thing is setting up the organization, a nonprofit corporation," says O'Malley. "That's the easy piece. It means you don't have an owner; there is an independent board or members, and no one owns the assets.
"The second step is to get your tax-exempt determination letter from the IRS. You file form 1023 and that can take several months. But without that letter, you're not tax-exempt."
The second step includes knowing what kind of information to provide, which includes what you are trying to do, where the money is coming from and where it will be spent. Generally, says O'Malley, at least one-third of any money raised should come from donations from the general public.
He says organizations need a tax adviser for this process, but many attorneys will do it for free. Contact him at momalley@goodsill.com, he says; if he's not available, he can refer another attorney.
7 Plan community events
Amy Hammond, who founded Special Events Hawaii and the highly successful "I Love Kailua" festival, says community events help a neighborhood develop an identity by bringing people together and showcasing local talent. Events don't need to be large; they can start small like the Liliha Gingerbread Festival, held at Christmastime in a school auditorium.
"It's all part of instilling pride," says Hammond. "We tried to showcase the best of Liliha and how it was special and that a lot of that was the people. We did some awards as well to recognize special citizens." Ching helped bring talented people from the community together – an ukulele player, storytellers, lei-makers and cultural dancers.
"There's amazing talent in Liliha," says Hammond. "Bringing them together you get to know the people in your neighborhood. It also gives people a day when they can come together and talk about different community goals and learn about community services.
"It's very real, nothing fancy and polished, just special community things. But the kids can say, 'Wow, I live in a great community.' It makes them feel special."
An event planner like Hammond can speed the process of getting permits for things like closing down a street. There are many event planners, she says, and probably someone in every neighborhood. "It's always best to have someone who comes from the community because then they're really invested."
Don't be afraid to start small, says Hammond, noting that the now huge "I Love Kailua" festival was launched in a bank parking lot. "It can always grow," she says. It has in Liliha. The gingerbread festival has been joined by the "I Love Liliha Town Festival" in August and the Liliha Nuuanu Candlelight Tours in January, featuring historic sites.
8 Develop a community center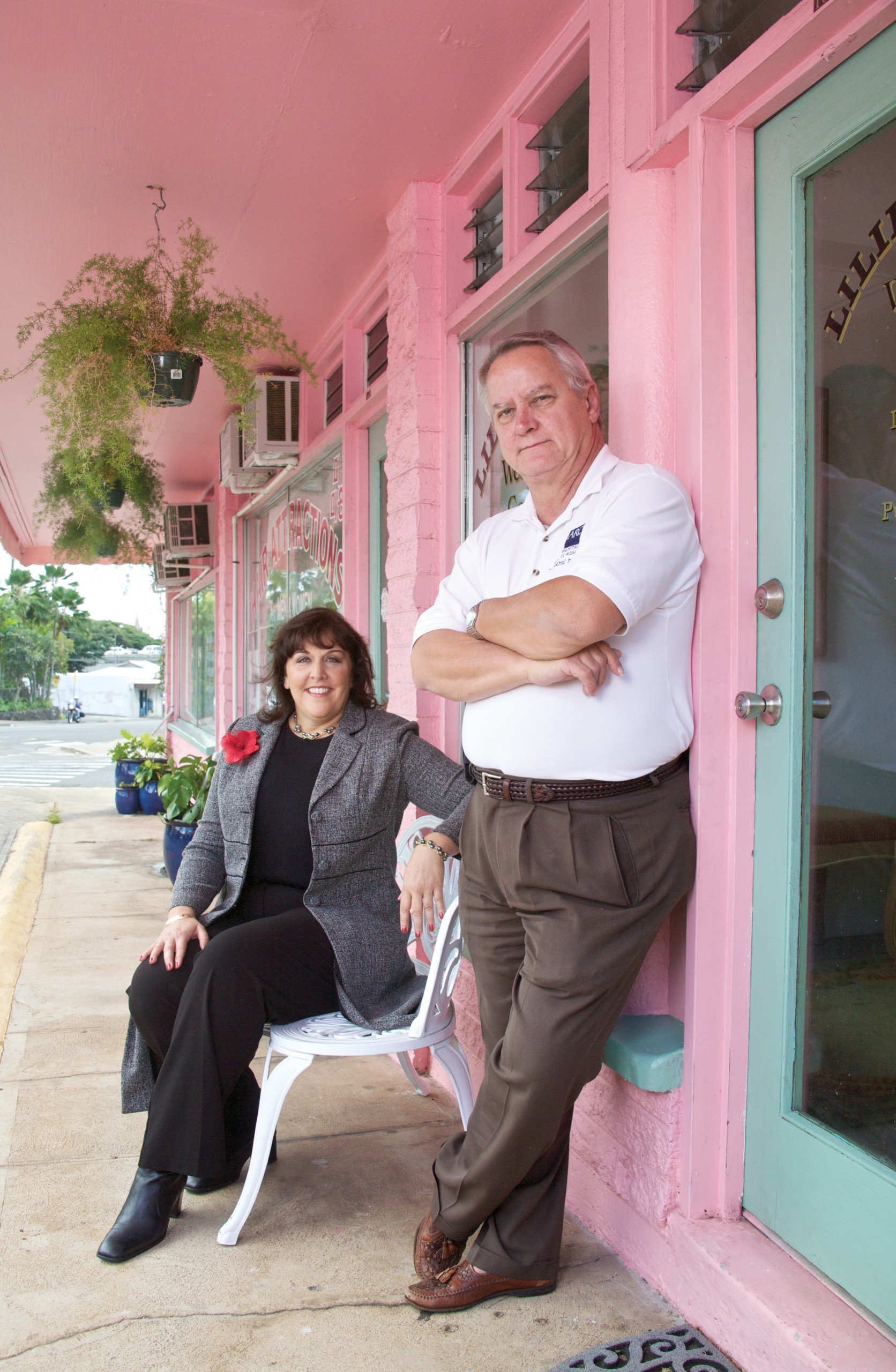 The Henry M.H. Ho Building at 1630 Palama St. was spotted with graffiti when Arc Painting's Bill Powell went to work. Offering free advice on colors and approaches, including an attractive, new awning, Powell turned the historic building into the bright pink Liliha Town Center. It has attracted some new tenants and serves as a community center with local information.
"The building looked terrible," Powell remembers. "It kept getting tagged. I suggested they really try hard to bring it back. You can't leave graffiti on your building because it attracts more graffiti artists. This (makeover) shows you have pride, and respect your property and says, 'We'd appreciate it if you'd do the same.' "
The results
It was hard work, and more work remains, but Liliha now has strolling residents and visitors, a new clock and fountain, streets that feel safer and a town center. Someone even claims to have spotted actress Tia Carrere.
"This is the new 'in' place,'" declares Ching. "I believe we're sitting on a gold mine. It's close to downtown, close to the airport and 15 minutes from Kailua. We're local. We're funky. We're authentic.
"When you believe you're fantastic, you are."