Mana Up's 8th Cohort: 11 Companies Founded in Hawai'i and Aiming for the World
Hawaii Business Magazine is publishing profiles of each company this week on our website.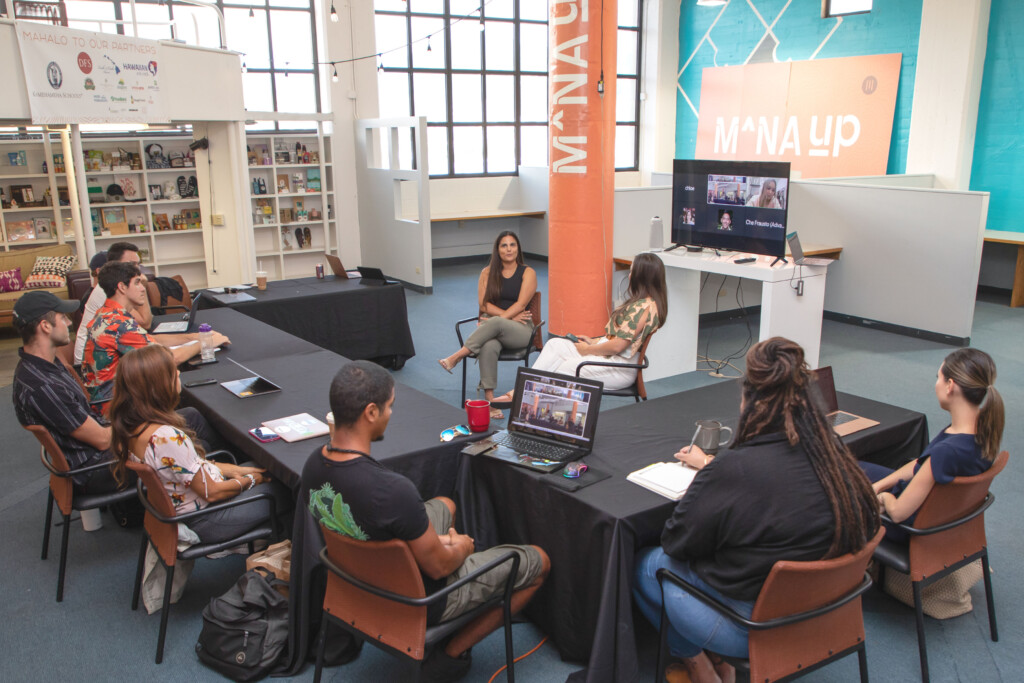 If you want to be amazed by the range of products Hawai'i startups are offering to the world, just look at the latest cohort of companies in the Mana Up accelerator.
Products from the 11 companies include tea, footwear, sodas, bed, bath and bodycare products, fashion, chili oil, jewelry and juices, plus foods made from goat milk and ube.
Mana Up's requirement for entry into the six-month program: at least $100,000 in annual revenue and consumer products that can be sold in Hawai'i or exported to the nation and the world.
Meli James, co-founder of the economic development initiative, describe some of this group's characteristics: "All of the companies in Cohort 8 have at least one female founder, with seven of the eleven companies being family-run businesses. Two of the companies are run by mother-daughter teams," she says.
"This represents the next evolution of leadership that can carry on for multiple generations."
This week, Hawaii Business Magazine will publish profiles of each of the 11 locally owned and operated companies at hawaiibusiness.com, a few each day, along with photos and videos.
The cohort was chosen from 141 applicants, James says.
Mana Up was founded in 2017. This eighth cohort will make a total of 85 companies that have participated in the program that teaches about marketing, expansion, e-commerce, raising capital, innovation, connecting with retail companies and more.
Seventy-three percent of the goods from past cohort companies have been manufactured locally and almost 50% of the businesses are owned by Native Hawaiians.
"We love working with companies that are engaging regenerative agriculture and sourcing local goods to support the agriculture initiatives here," James says.
She adds that locally grown goods create more value and offer a uniqueness that can command higher prices than similar non-Hawai'i products.
James and Mana Up's other co-founder, Brittany Heyd, were both established entrepreneurs before meeting at a pau hana in 2016, where they discovered their mutual interest in exploring what innovation, economic development and economic diversification could do for Hawaiʻi.
" 'Mana Up' is to level up," James says. "To us, 'Mana Up' is a key value in our mission to helping people and companies from Hawaiʻi, and helping our economy get to the next level."
One of the owners in the eighth cohort, Puna Tripp, co-founder of Liquid Life Hawaiʻi with her husband, says she's eager to learn how the program can help grow their business.
Her cold-pressed juices are made fresh at the Liquid Life Hawaiʻi store in Waimea on Hawai'i Island. She notes that they're not pasteurized, which limits their shelf life.
"We have customers from all over that come to Hawaiʻi and they say, 'I love your stuff but I live in the mainland; how can I order it?' We are hoping Mana Up can help us find a way to expand out of our brick-and-mortar."
Kit Furukawa, co-founder of Maui Chili Chili Oil, another business in the cohort, says she and her husband are most excited about the program's networking opportunities. The couple own two businesses together.
Furukawa says they're pondering whether they want to stay a small business, or if they want to expand so their products can be sold at stores like Costco, here and on the mainland.
"It feels like having a community of like-minded individuals would really give us some guidance and inspire us," Furukawa says, "like a third vote" that would resolve their different opinions.
"Another perspective could really help us."
The accelerator program begins May 30 on Oʻahu, and all flights for Neighbor Island company owners are supported by a partnership with Hawaiian Airlines.