20 for the Next 20: Mathieu Williams, Kealakehe Intermediate School
This digital media teacher and assistant principal helps bring out the best in his students and connects them to the world beyond the classroom.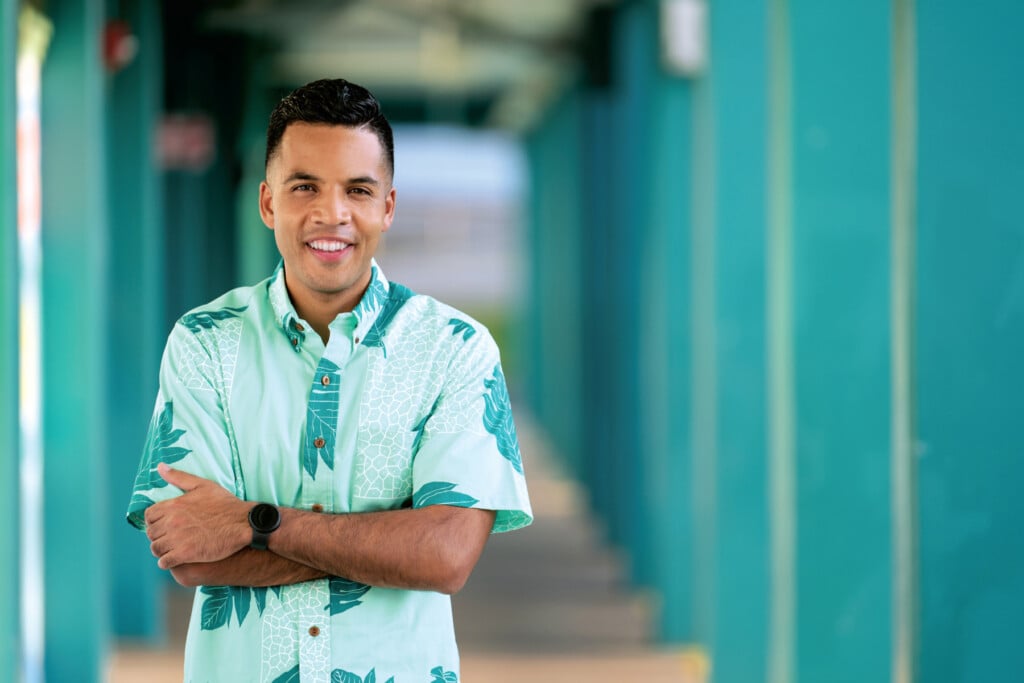 Mathieu Williams

Assistant Principal, Kealakehe Intermediate School
At Kealakehe Intermediate School in Kailua-Kona, many students face challenges: 73% qualify for free or reduced-priced lunches and a quarter are English-language learners.
It's a school where a gifted educator like Mathieu Williams, named Hawai'i Teacher of the Year in 2019, can have a lasting impact.
Williams has spent the past 11 years there – as a Teach For America special education teacher, a technology and digital media instructor, and now assistant principal – helping to make it inclusive and enriching for students.
Trystne Nozaki, now a high school graduate, says her eighth grade digital media class with Williams gave her the skills and confidence to pursue creative work, and the encouragement that she didn't find at home.
"He knew I had potential and he pushed me until I reached a point where I would give my best," she says. He reminded her that "I had the creativity and the motivation and the ambition to do what I like to do." Her photos were recently exhibited on Hawai'i Island and she's heading to UH Mānoa in the fall.
While Williams is rooted in the school community, he also sees it as a springboard to the wider world. In 2018, for example, he brought Nozaki and others to Nashville for a national competition, where they won awards for their spot feature and movie trailer.
During the 2021-22 year online, his students paired with those at Chiefess Kamakahelei Middle School in Līhu'e to make the film "Alone Together," which was included in HIFF's virtual programming in 2022.
"People think being a teacher is just teaching kids with a grade book, but it's much more than that," says Williams. "You have a responsibility to connect them with people in different industries and to make sure they have quality resources to create, learn and do things that matter."
That responsibility drives him to cultivate "strong partnerships and be an active learner." He has worked with Hope Street Group, Fulbright Teachers for Global Classrooms Program, Council of Chief State School Officers and others to develop his craft and his network.
With co-founder Bill Chen, he received a 2019-20 Tiny Fellowship from 4.0 Schools to start the educational nonprofit Be Curious.
"At the end of every school year, I ask myself: Am I happy? Am I able to make a difference? Am I challenged? I can answer yes to all three questions."