Here's What It Takes to Help Kids Thrive at Kealakehe Intermediate School
Mathieu Williams, assistant principal and a 20 for the Next 20 honoree, walks us through his day in words and photos.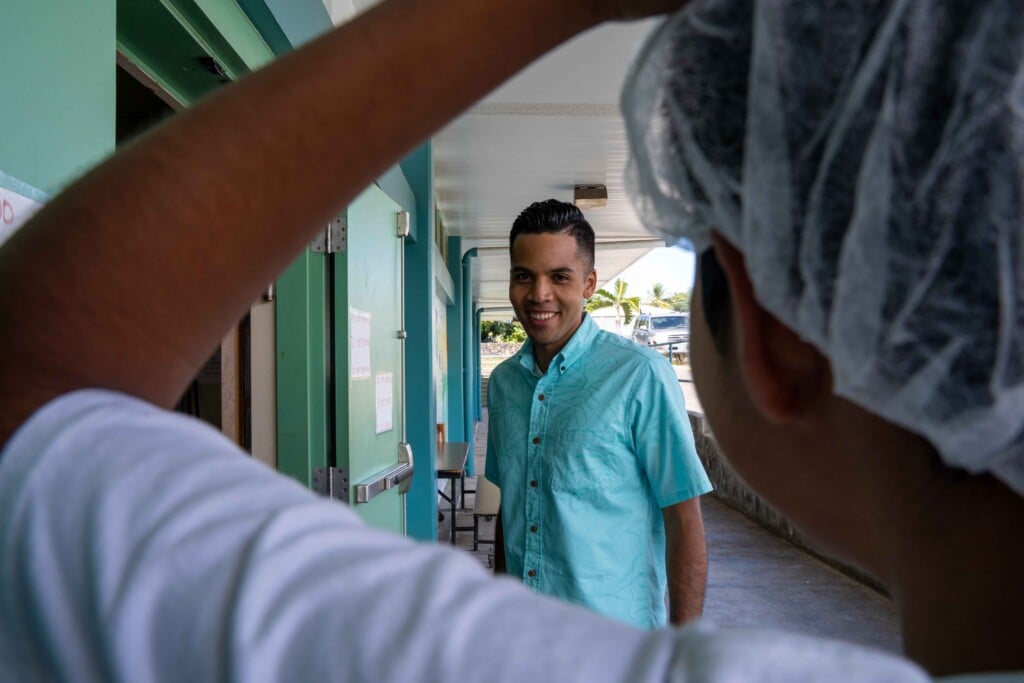 Mathieu Williams started at Kealakehe Intermediate School 11 years ago as a recent college graduate from Washington state and a Teach For America special education teacher.
He moved into the role of technology and digital media instructor, where he was named Hawai'i Teacher of the Year in 2019. In fall 2022, he became assistant principal, turning his skills at creating an inclusive and enriching classroom into a school-wide mission.
When he's not traversing the campus on foot, Williams often works in a portable building that is designated for counseling. Here, he talks with a 6th-grade student about how to bring up his grades, and learns about an older brother who transitioned to high school in the fall.
"Since I'm always on the move, students normally check in during their class transitions, or I come and visit them in class," says Williams.
Beyond academic support, peer drama and vaping are the most prevalent issues that middle-school teenagers face, he says. He leans on the counselors, grade-level leads and health center staff to develop interventions for de-escalating conflicts and steering kids to a healthier path.  
Counselor Deborah Richard and Williams share a cluttered yet colorful and highly organized space. Richard has been instrumental in helping the sixth-graders navigate the challenges of intermediate school, says Williams.
"Whether it's monitoring transitions, getting students what they need to come to school or engaging parents with concerns, she's always there for the students, families and teachers," he explains.  
For incoming sixth-graders, one of the biggest transitions is learning to navigate their different classes each period, and on a bigger campus with older kids. They also have to learn how best to advocate for themselves with multiple teachers, explains Williams.
Here, Williams accompanies students to their classrooms, walking along a fire lane between buildings. "I certainly get over 20,000 steps every day," he says.
The walkway is decorated with images of flags from different countries, which "represent and celebrate the diversity of our campus."
Williams, flanked by school custodian Brian Hall, inspects an injury on Gio's leg to see if it needs medical attention. The walkie-talkie "definitely goes with me everywhere I go," says Williams.
"That combination of being always on and solving problems in the moment for the students is probably my favorite part of the job," he says. "It's a task that all of the admin team strive to do, and thankfully we have other staff who help us along the way."  
Williams is responsible for supporting the cafeteria operations, where each day a different advisory class takes on serving duties.
Here, Williams works with a sixth-grade class on cafeteria duty, which, he says, is designed to encourage them to become "a community contributor and to learn responsibility and teamwork."
After 30-plus years of service, Lillian Mori, the beloved café manager, plans to retire in the summer. "She's a woman full of absolute love and commitment to our students and our school community," says Williams.
Despite her departure, he'll still be able to enjoy his favorite lunch next year: turkey and gravy.
Williams and sixth-grader Kanale often see each other during lunch and advisory, and Williams makes a point of greeting him and all the kids.
"Rapport building with students always starts with knowing their names," says Williams. "It goes a long way for them to know I see and care for them."
He also builds trust with students by finding things to compliment or recognize. "And just taking time to listen without rushing to respond with a solution" is helpful, he says.
At lunch break, the lawn by the F Building is abuzz with eigth-graders playing tag and throwing footballs. But kids have other options during free time as well.
"Students love just sitting and talking, running around, playing on the courts or hanging in the different classrooms that are open during break," says Williams.
Later in the day, the school's registrar, Kawai Tupou, and Williams switch gears to run the UPLINK After-School Program, which includes clubs, tutoring, sewing, journalism, basketball and volleyball.
On three afternoons each week, Williams leads Ignite, a tutoring program spearheaded by Teach For America and housed in the building above.
Through the semester, a cohort of students are paired online with college students, who help them strengthen their literacy skills and sense of belonging.
"The students know this time is reserved for them," says Williams. "There's another adult to talk to about whatever is on their mind, and then coach them through how best to respond or think in order to see a positive outcome."
At a coworking space in Kona, Williams joins students Marlon and Mei, as well as Be Curious co-founder Bill Chen, right. The team is up late to brainstorm the April 29 launch of a youth meet-up space at KōLab.
"We've been working hard around how to increase youth agency to feel connected and capable and to be contributors within their community through a physical space," says Williams.
Using a micro grant from 4.0 Schools, Be Curious launched with a pop-up STEM and digital-media event at an affordable housing complex in West Hawai'i. The next iteration will be to bring young people together to meet and create in the co-working space.
---
To read Williams' 20 for the Next 20 profile, click here.