Ted's Bakery Is Much More Than Just Pies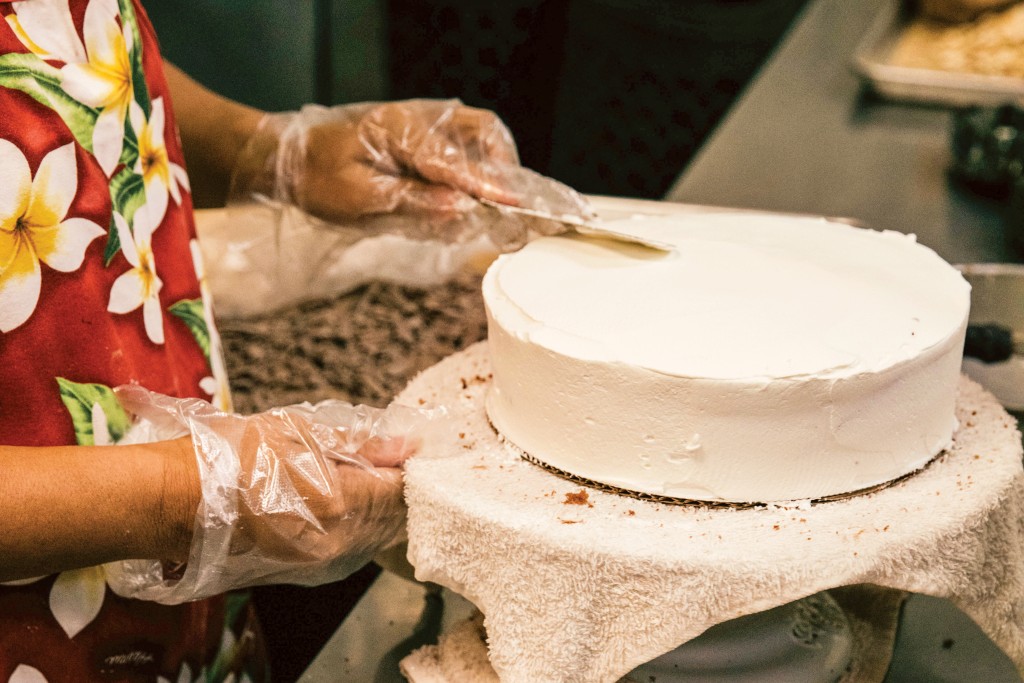 Ted's Bakery in Sunset Beach evolved from the Nakamura family's grocery store. Ted's daughter Torey is now training to take the reins from Dad.
"This year makes our 30th anniversary," says a proud and somewhat surprised Ted Nakamura, 57, president of Ted's Bakery.
The longtime Sunset Beach eatery celebrated the milestone in June by giving out free drinks, hamburgers, chili and cakes to its loyal customers and workers. "We're just thankful our customers and workers have been with us so long, and that our location continues to attract both locals and tourists," says Ted's daughter and the bakery's GM, Torey Nakamura, 23.
In 1956, Ted's father, Takemitsu Nakamura, purchased about 3 acres where the bakery now stands and opened a small grocery store with a gas station: Sunset Beach Store. At first, Takemitsu and his wife, Eva, ran the store themselves. Later, Takemitsu convinced his older son, Glenn (who was a science and math teacher at McKinley High School) and Ted (who was a baker at the Kahala Hotel) to help with the store full time.
"When I came back in 1987," Ted recalls, "I opened up a bakery inside the store and called it Ted's Bakery. At first we just sold pastries, but as time went on we started to sell plate lunches, and then pies. Gradually, the bakery and food operations became our main business.
"Back then, it was just my mom, my dad, my brother, myself and a few employees running the store."
Today, Ted's has grown to become a wholesaler of cakes and pies – as well as a retail bakery and a hot food operation – with about 65 employees, most of them full time.
"More than half of our employees have been with us at least 10 to 20 years," notes Torey, "so they could keep the bakery running if my dad decided to retire. But my younger sister, Caylen, graduated from culinary school at Kap'olani Community College, so the plan is to have her take over the bakery portion of the business."
Torey came back to help her father run the administrative end of things in 2015, after graduating from UH Mānoa with a B.A. in communications. She's currently working on her MBA at Chaminade University.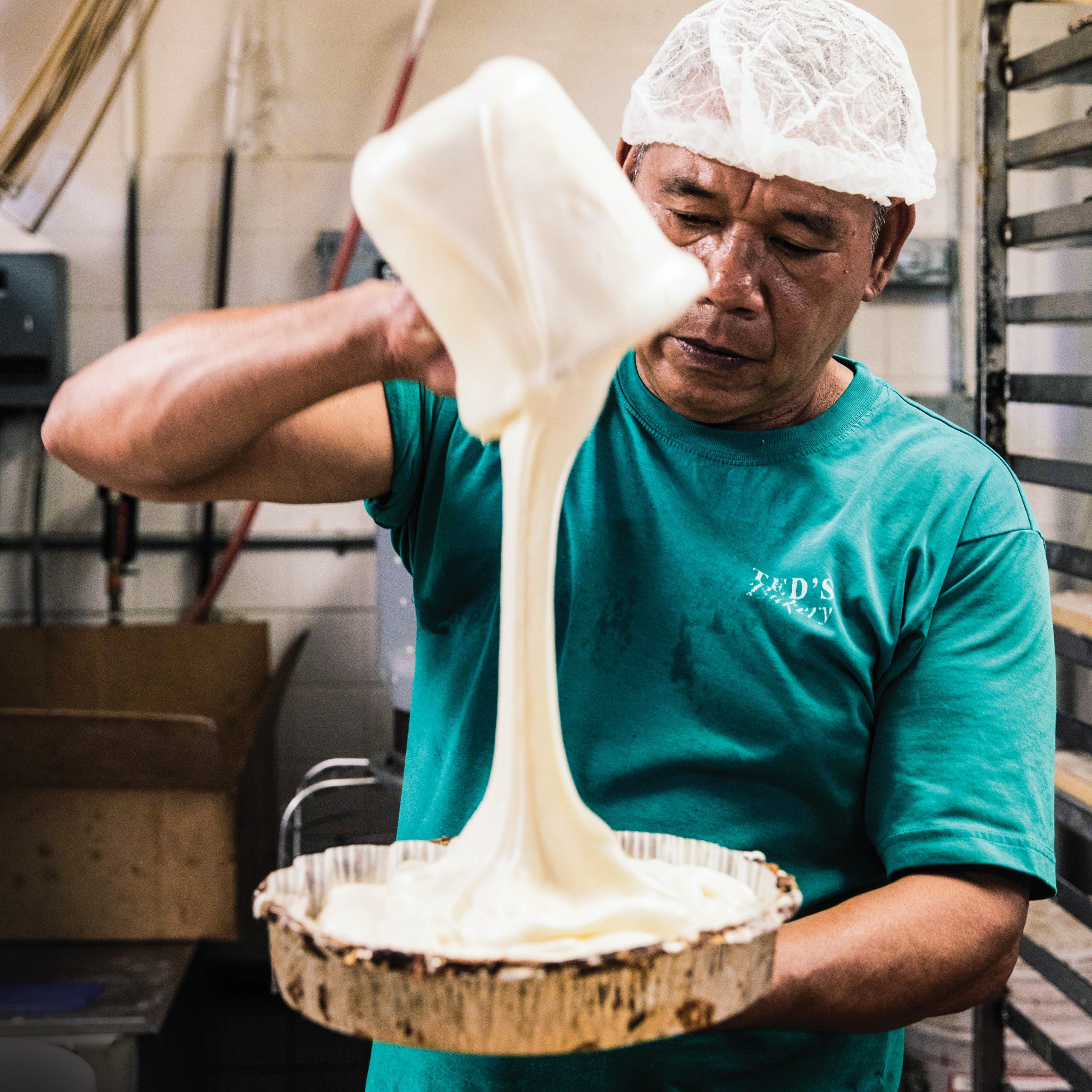 "All of us kids grew up around the bakery," Torey recalls. "My uncle was already training me in the accounting and bookkeeping, but in 2015 I started to do it on my own."
The business keeps adding employees and space, Ted says, but a big spurt occurred around 1996 when it branched into wholesaling. "Just by word-of-mouth, people would call us, asking if we'd deliver: schools, doctors' offices, florists. Then Times Supermarkets called. Then Foodland and Star Markets."
"Now wholesaling cakes and pies makes up about half of our sales." Torey notes. "On our retail side, we do really well throughout the day with our plate lunches."
Ted's also sells its cakes to Big Save Markets on Kauai and to Tamura's on Maui.
In 2007, Ted went to Chiba, Japan to train bakers to make his pies and cakes for Plaza Style stores throughout Japan. The company receives a percentage of sales. "That's why a lot of Japanese tourists come here, to check out our selection," explains Torey.
Ted's began in 2013 to wholesale to military commissaries at Joint Base Pearl Harbor-Hickam, Schofield Barracks and Wheeler Army Airfield.
The North Shore store was recently renovated to include an area for making coffee and smoothies, a new bakery showcase and new flooring and walls. "I think I'd like to move more into panini sandwiches, soups and healthy juices," Torey says. "I feel that's trending now, and you have to move with the times. There's a lot of opportunity to expand, and it's exciting."
But Ted confesses, "It's a very demanding job. It's a seven-day deal. We're basically a 24-hour operation. We pay a lot of overtime and bonuses.
"Our pies are made fresh, so they have to be made overnight for delivery the next day."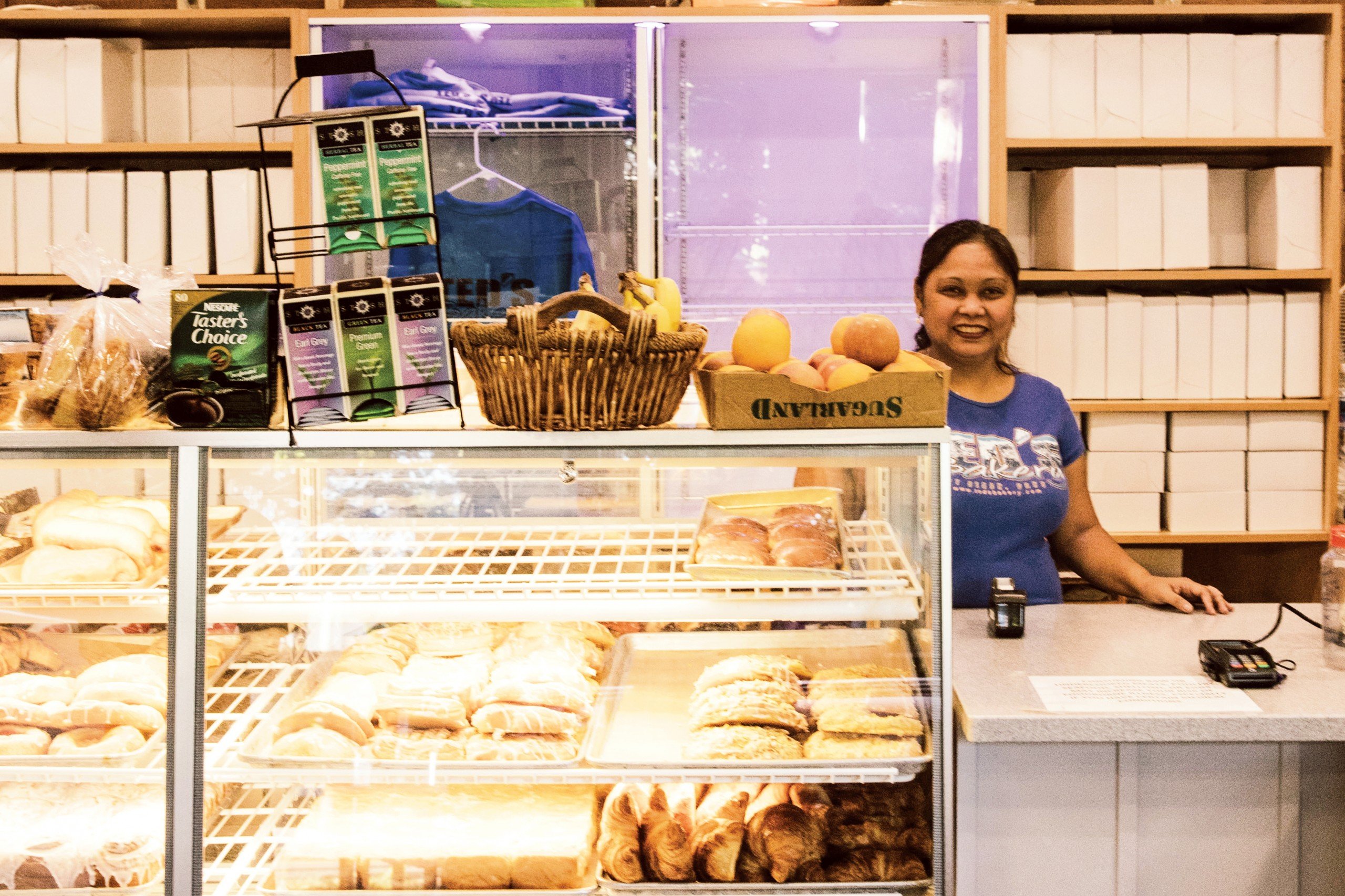 But both father and daughter agree the production facility that used to be great for making 10 pies a day is no longer adequate for the 1,500 or so they now produce. "We need a larger area, maybe in Mililani," Torey muses.
"I think we're also headed towards more automation, to be more effective time-wise," Ted says. "We're still using a manual method, with some simple automation."
In fact, equipment plus maintenance and repairs eat up about 20 to 40 percent of the bakery's operating budget, according to Ted. "If you've been in business long enough, the rule of thumb is to always have two of anything as a backup."
The busiest times for the eatery, which serves breakfast, lunch and dinner, are summers, weekends and holidays. "I'd say our customer base is about 60 percent tourists and 40 percent locals," observes Ted.
And "business always seems to be going up," Torey adds.
Alison Nishihara supplies flour, rice and icings from H&W Foodservice for the bakery and restaurant. She's also a regular customer. "I've enjoyed their pies for a long time and contacted Ted and Torey about six years ago to see if we could build a working partnership. We have a great relationship.
"Ted's has consistently evolved and continues to produce new items. Ted cares about the quality of the ingredients used to make his pies, which I supply. His first ingredient is love."
---
Best of Ted's Bakery
"Glazer": "I personally like the glazed doughnut because it's not too heavy," says GM Torey Nakamura.
Garlic shrimp plate lunch: "For the majority of plate lunches, we use our own special recipes. The dipping sauces are all my dad's recipes as well."
Mahimahi sandwich: "Of our hot sandwiches, the mahimahi is our top seller. Our hot food items are popular because they are made to order."
---
Ted's Bakery
59-024 Kamehameha Highway
Haleiwa
638-8207
tedsbakery.com