Should I Invite My Boss to My Wedding?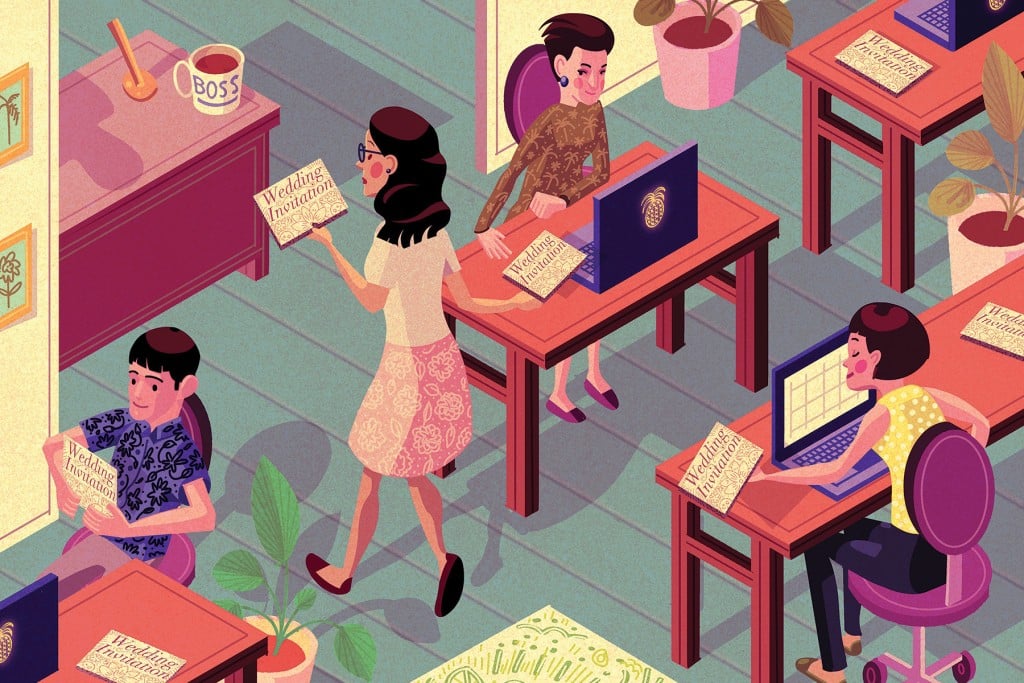 The bride-to-be wonders if she should invite her supervisor to the big event.
Q: My fiancé and I are getting married this fall. Is it weird to invite my boss to the wedding?
A: Congratulations on your upcoming marriage! Unlike the violet-eyed Elizabeth Taylor, who tied the knot eight times, I've only had one wedding in my life, but if there's one thing I learned during the planning process, it's to drop any "shoulds" and "have tos." Do you want to invite your boss? Then it's not weird. If you have a close professional relationship – this is someone whom you respect and like – by all means, send an invite. Make sure the boss also gets a plus-one for a spouse or significant other.
Consider, though, the vision of your wedding and reception that has been forming in your dreams. Is this an elegant soiree? Or do you plan to kick back after the ceremony with a gaggle of old college friends (cue the Bacardi shots and songs like "Buy U a Drank" by T Pain). Nothing wrong with the latter if that's your style but remember that your boss would be witnessing it – or egad, start krumping with you. If you decide not to invite a boss or co-workers, they will likely not be offended, as you're entitled to have a personal life separate from the office. Just be sure not to talk about wedding details ad nauseum at the water cooler. 
Q: If a company is doing inclusivity training, should LGBTQ issues be part of a larger overall program or is it better to separate each topic and have specific sessions, such as access and equality for disabled customers, women, older workers, etc.?   
A: Good to consider! Somewhere from 3.5 percent to 10 percent of the U.S. population is LGBTQ, and total buying power for LGBTQ customers is estimated at $917 billion, according to Witeck Communications, which has tracked the market for 17 years. I took your question to Winston Welch, co-founder and president of the Hawaii Rainbow Chamber of Commerce, for his take on inclusivity training: Should you divide it up by subject or lump it all together?
"Both!" he suggests. "LGBTQ is the last to enter the race here, but it should be part and parcel of a company's entire training procedures and policies. Organizations want to make clear, 'We don't discriminate on any of these bases, and have a zero-tolerance policy on bullying or harassment.' "
Some employers have a robust enough HR department to handle this training, but Welch suggests that for many, hosting a workshop with external trainers may be better. State laws in Hawai'i protect employees from discrimination based on sexual orientation, gender identity and gender expression, according to Lambda Legal.
"But that doesn't mean an HR person knows the laws or understands them," says Welch. "A member of the community or an expert can lend more credibility, authenticity and factual information." Find resources at the Hawaii Rainbow Chamber of Commerce (hirainbowchamber.org), the Society of Human Resource Managers (shrm.org) and Out and Equal Workplace Advocates (outandequal.org).
Before any training initiatives, Welch says, "Have a hard look inside the company." He advises employers and managers to ask themselves: How comfortable would my employee feel putting a picture of a loved one on his or her desk? Are LGBTQ in management? Are LGBTQ employees included in the company newsletter? Do your contractors have anti-discrimination policies in place? What's the language like on your company's website and social media?
"You want public statements that these are our values: We are inclusive and diverse," says Welch, and this is not only important with customers but also for recruiting and retention of employees. "It's not just the right thing to do, which it is, but it's the right thing to do for business. The Millennials and any generation under them have no patience for discrimination; they're almost past gay rights, which is old hat to them. It's transgender rights, it's gender nonconforming, it's people using preferred pronouns. We're seeing this across the board."
Inclusivity training is worth the effort, Welch says: "The more we learn to respect and honor each other for our paths and who we are, the stronger we will be as companies, as a people and as a nation. Honoring and respecting each other, especially in the workplace, allows us to bring our full selves to work every day.
Q: I oversee our company's wellness initiatives. We have a huge conference room, so we've tried offering yoga classes there. We also did a step challenge one month where people could win new sneakers, and we've offered free sessions with a nutritionist. But I can't seem to get people to sign up, or, sometimes a handful of people sign up, but they slowly peel off as a challenge goes on. What gives?
A: Maybe you're not dangling the right carrot. Recent research out of Brigham Young University suggests that gift cards are an effective enticement to get employees to lace up their walking shoes and put down the ham hock. In the study, workers were offered a six-week wellness challenge and allowed to choose which reward they wanted upon completion: a cash bonus that would arrive in their paycheck, a gift card or a tangible reward, like a blender. As expected, the majority jumped at the idea of hard, cold cash, with 60 percent of participants choosing it. Thirty percent voted for a gift card and 10 percent desired a material gift. Turns out, the employees who picked gift cards as their reward were the most likely to complete the wellness challenge; in fact, they were 25 percent more likely to last the whole six weeks. 
What's so magic about a piece of plastic? The researchers posit that gift cards hit the sweet spot between indulgence and frugality. They didn't say businesses should never offer cash, or extra vacation time, or whatever other rewards you might have going. But try gift cards and see what happens. The full report is available in the journal Management Accounting Research at  tinyurl.com/y2r2st3m.
One warning: Health initiatives promote employee satisfaction, productivity and teamwork, but if you're looking for a dramatic decrease in health insurance premiums as an ROI, you may be disappointed. Most research has not supported the idea that they are money savers.
Ask the careerist
Have a question about work, life and that place in the middle where it all gets tangled up?
Ask me at: feedback@hawaiibusiness.com