Not Always Easy Riding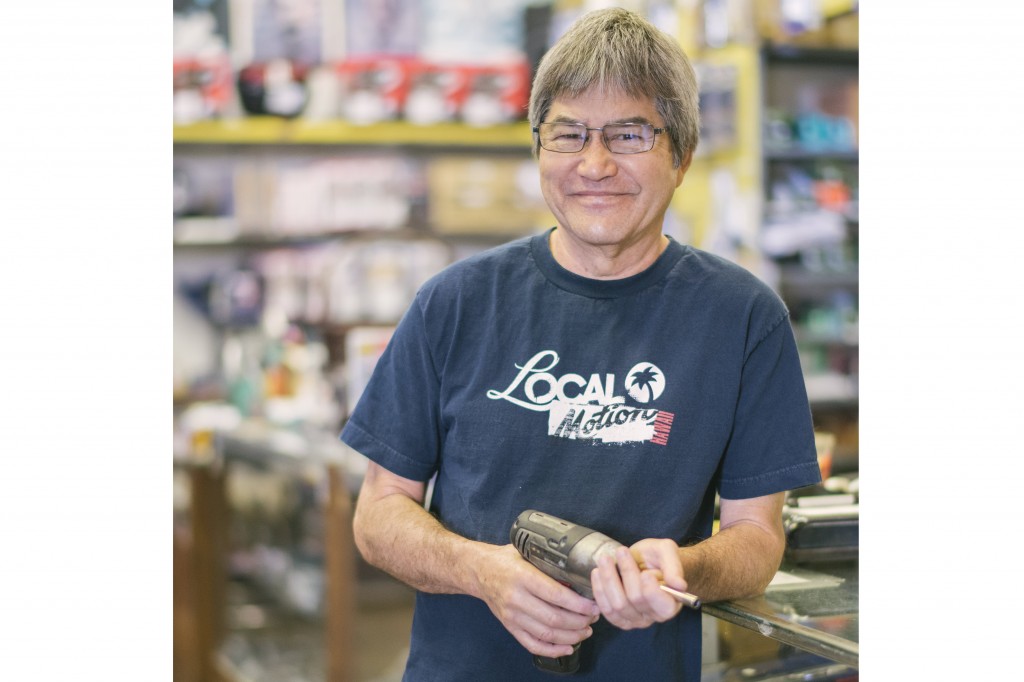 For frugal folks, riding a motorcycle or moped is the way to go, says Glenn Koishigawa.
"People's jaws drop when I tell them they can get up to 60 miles to a gallon on a moped," says Koishigawa, owner of Glenn's Cycle Supply in Kaimuki. "They're very popular, not just among students, but among retirees as well. Sometimes folks just want to take a quick spin down to the store or to meet their friends and they don't want the hassle of a car. Mopeds are easy to park and there's no need for insurance."
Glenn's, the motorcycle and mopeds parts and repair store known for its friendliness and honesty, has been a fixture in the Peerless Market Building on Waialae Avenue for 33 years. Frequently you can see "Glenn's Groupies" gathered outside, and there's usually a line inside the store as well.
Despite the store's success, Koishigawa's start came by accident after he graduated from UH in the early 1970s and was followed by bumps along the way.
"I always loved motorcycles and wanted to become a motorcycle mechanic, but I had hurt my back doing odd jobs in construction, so I didn't think I could be a mechanic full time. Then, in 1974, I heard through a friend that Hisaji Yoshida, the owner of Yoshi's Hawaii Cycle Supply, was looking for a part-time motorcycle parts salesperson. I got the job and worked for Yoshi until he passed away from cancer in 1978."
Yoshida's family trusted Koishigawa and originally wanted him to take over the business on Cooke Street, he says, but instead sold the inventory and master lease to the car repair shop next door.
In 1979, Koishigawa bought the motorcycle parts inventory from the car repair shop owner, subleased the store and Glenn's Cycle Supply was born. Three years later, when a tripling of the rent loomed, Koishigawa moved his business from Cooke Street to Waialae Avenue.
"When I first started the business, we were doing quite well selling motorcycle and dirt-bike apparel, accessories and parts, though not yet doing repairs," he says, but starting around 2000 to 2002, he suffered a 40 to 50 percent decline in business, which he attributed to 9/11 and a lot of younger people moving out of that part of Honolulu.
Coincidental with this slowdown, Koishigawa made a bad business decision by taking a five-year lease on a second store in Mapunapuna. "I thought I could make a go of it," he remembers painfully, "but 9/11 happened, business took a dive and, at the same time, I had lost two workers, so I didn't have enough staff to run two locations."
He paid for a lease he never used for five years, while running up credit -card debt to pay off his home mortgages and business expenses. "Those times were the doldrums," he says.
But, through sheer determination and the help of others (his landlord dropped his rent by half to keep him at the Peerless Building), Koishigawa made a complete recovery, and is now doing "about three times the business than during the doldrums."
The key to Koishigawa's success seems to be listening to his customers and responding to market trends. "We had started to sell moped parts in 1995, and we gradually started to build up inventory until 2003, when we started to also sell the mopeds themselves and to do repairs. … 2014 was our best year so far."
Glenn's Cycle Supply still carries basic motorcycle inventory and places special orders, but it mainly sells moped parts and services mopeds now.
Derrick Hyun, 61, a former state unemployment claims examiner, passed by Glenn's for many years, so he went there when he bought a moped in 2013. "I have tried other moped dealers, but they wanted to overcharge me or wouldn't give me good service," Hyun says. "… Since I bought my moped at Glenn's, I'm extremely happy with their service and they're very honest and reasonable. They back up their work, they're very fair with everyone and they give free advice."
Indeed, Koishigawa says his business philosophy is to follow the Golden Rule: "We treat people the way we'd want them to treat us. We explain everything about a repair, why they're being charged what they're being charged."
Unfortunately for his customers, Koishigawa is looking forward to retirement in a few years – "So I can do simple things like eat lunch without being interrupted." He says a few buyers have expressed interest in carrying on the business, but "only time will tell."
Glenn's Cycle Supply
3703 Waialae Ave.
732-5547