Nurturing Keiki in Shelters Through Art: Monthly Art Kits Support the Mental Health of Children
In a gallon-sized ziploc bag were a white tube sock, uncooked grains of rice, black buttons, a strip of fabric glue, strong and instructions on how to transform these items into a snowman.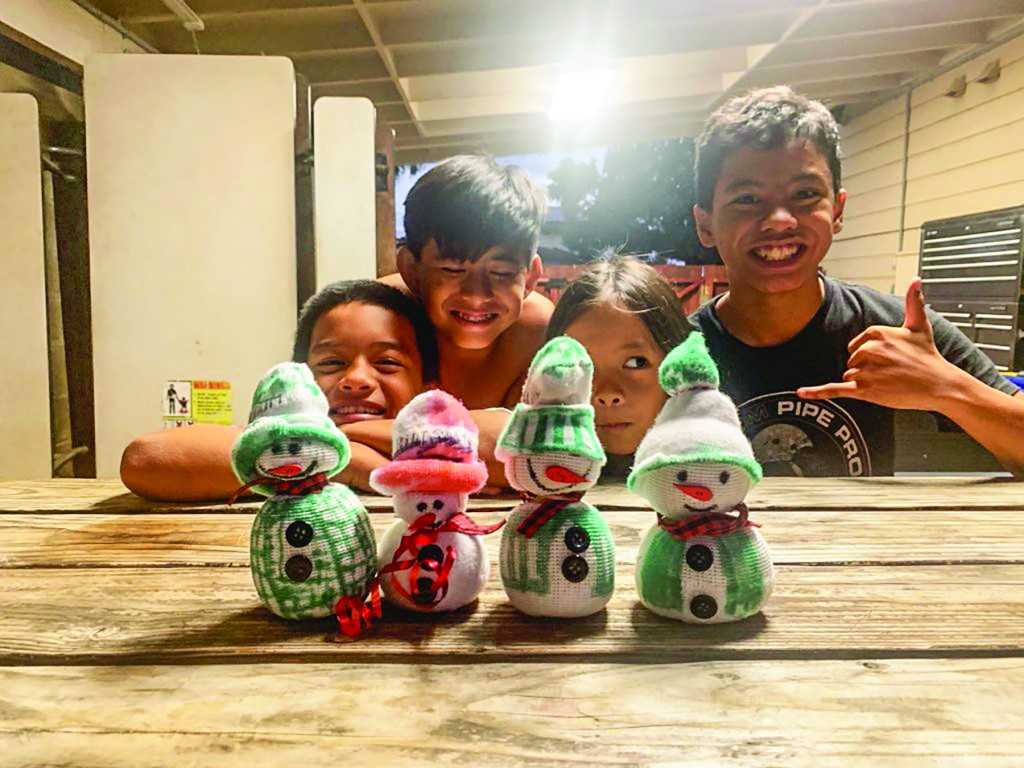 This was the December art kit, assembled by teaching artists from Hui No'eau Visual Arts Center in Makawao, Maui.
About 100 art kits were delivered to the Ka Hale A Ke Ola Homeless Resource Centers, which have around 40 children at the Lahaina shelter and 60 at the Wailuku shelter at any given time.
Last holiday season was the first time one 7-year-old boy spent with his dad's girlfriend and her children, and he was having trouble opening up to his new family. But this art project tapped into something, says the girlfriend, who added that his face lit up for the rest of the day.
Over the past century, studies have shown how therapeutic and healing art can be; making art decreases stress and releases endorphins. It can also help people express strong emotions when words aren't enough, and—as for that young boy—feel more connected to ourselves and others.
When Hawai'i schools closed in spring 2020 due to the pandemic, Hui No'eau, which mostly ran in-person afterschool programs, packaged supplies into art projects for participating families to complete at home. When figuring out what to do with the remaining kits, Deputy Director Lana Coryell reached out to Ka Hale A Ke Ola. Because art is the most requested activity among kids at the shelters, Ka Hale A Ke Ola happily accepted the kits.
Misty Bannister, the children's services coordinator for Ka Hale A Ke Ola, has seen how the pandemic has affected kids—some of whom are staying in the shelter for the first time—as schools close and parents lose jobs and homes. When Bannister works on the art kits with the children, she says, they start talking about the project, then their families and eventually their feelings.
"People don't realize how big of an impact these art projects have on the kids. They're going to remember the special time they spent making the art, even during such a traumatic time…"
The first art kits were delivered in October 2020 and have continued into 2021 in part through donor advised funds and other support at Hawai'i Community Foundation. Each kit has a different theme and often aligns with holidays, so kids can still do something festive as usual celebrations are put on hold. In October, they decorated pumpkins donated from a local farm. In November, they created a gratitude tree. December was that snowman. January was an octopus clay sculpture with a science lesson from a marine biologist. In February, black cut-out hearts revealed colors underneath when a design was scratched onto them.
Seeing how popular the art kits have been, Hui No'eau is expanding the program to other islands, now sending about 50 kits to the Lāna'i Public Library every few months.
"Sometimes it's hard for kids to talk about some of the things going on in their little hearts and minds," says Coryell. "Art gives them a way to express their emotions in a positive way."
To learn more about donating to Hawai'i Community Foundation's Community Arts and Culture fund click here.