O'ahu Artist Lauren Hana Chai Explores Her Korean Heritage
Elements of Korean folk art, Buddhist temple architecture, and Northern Renaissance painting style converge in her first museum solo exhibition at the Honolulu Museum of Art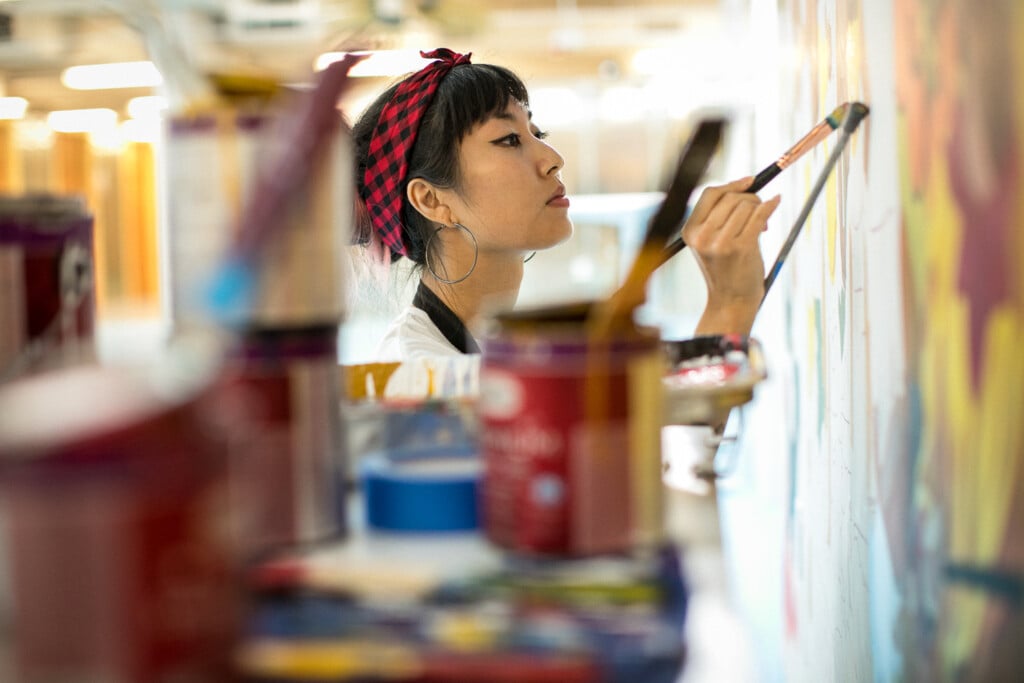 Artist Lauren Hana Chai is the first member of her family to be born in the US, and like many people with a cross-cultural background, she often feels that she lives in an "in-between world"—both Korean and American, and never fully one or the other.
Through her work she explores her heritage, as well as the trauma of losing her mother, who went missing when Chai was 11 years old. Her recent electric-hued, dynamic paintings are on view in Lauren Hana Chai: The Five Senses, her debut museum exhibition at the Honolulu Museum of Art, Aug. 10, 2023, to Jan. 14, 2024.
"I first encountered Lauren's work in Honolulu and was immediately drawn to it," says Halona Norton-Westbrook, who co-curated the exhibition. "Her paintings are an invitation into another world and flow with an energy that is welcoming and unapologetic, inviting reflection on the intersection between the multitude of traditions that shape individual identity and perception."
Chai says the exhibition centers around the theme of healing. Post pandemic she says she found herself drawn to activating all her senses, and wanted to make that a part of her show. In the center of the gallery is a multimedia installation where visitors can touch ceramic sculptures by Chai and pick up a ticket they can take to the Museum Shop to receive a piece of peach candy, among other things.
Viewers will find in Chai's work references to Korean folk art, Korean Buddhist temple architecture and Northern Renaissance painting—they all converge to tell very personal stories. In the process, she has found empowerment and a way to visually reclaim "han"—the abstract Korean concept that "speaks to a collective sense of sadness, anger, and helplessness that's embedded in native Koreans who have endured years of oppression," explains Chai. "I feel a deep and personal resonance with this powerful concept."
For more information and to see related programming, visit honolulumuseum.org


The Honolulu Museum of Art
honolulumuseum.org
808-532-8700