O'ahu's Top Performers in Real Estate 2019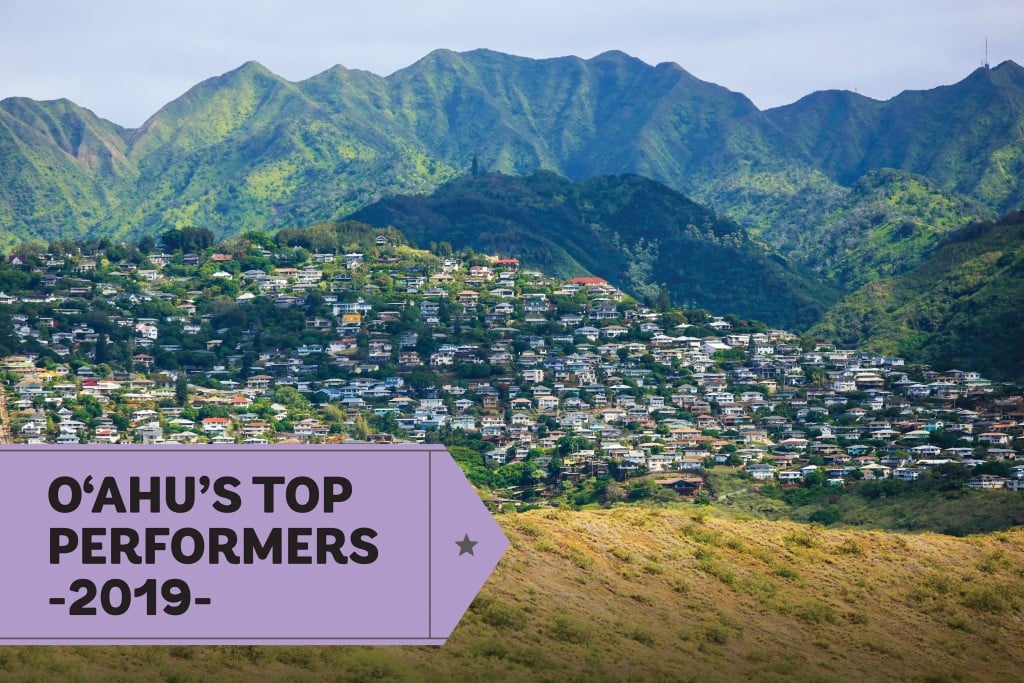 Alesia Barnes
Realtor-Broker, RB-22312
When no one could sell them for 4+ plus years, Alesia and the Barnes Hawaii Group sold the 2 Lanikai homes in just a few months. Results matter and that is why Alesia is the #1 Agent at Elite Pacific Properties, 3 years running. Alesia Barnes is often referred to as the real estate industry's "Ms. Aloha." Rocketing to the Top 100 in her second year of sales Alesia is an industry innovator and a local real estate investor and entrepreneur. Her passion for real estate has powered her business to grow successfully, thanks to loyal clientele and just plain hard work.
Alesia's personal dedication to excellence has produced a team of hand selected and privately trained real estate agents which together form a real estate powerhouse – known as the Barnes Hawaii Group. The Barnes Hawaii Group delivers top results, with 100+ units sold and $94+ million dollars in recorded sales for 2018 For absolute results either to buy or sell, contact the The Barnes Hawaii Group.
We are ready to go to work for you today!
Elite Pacific Properties Barnes Hawaii
4211 Waialae Ave. #106
Honolulu, HI 96816
Office: (808) 589-8896
Mobile: (808) 397-7928
barneshawaii.com
Paul Chu
Realtor Associate, Elite Pacific Properties
My approach is simple-"Treat each client as I would a friend and each property and transaction as I would my own." Paul spent over 20 years in Asia doing high technology Sales and Marketing before pursuing his real estate dream in Oahu. With a bias for action, client first attitude, extensive Asian experience, proven skills in consultative selling and negotiation, Paul is able to earn the trust of both local and international clientele, to expand through personal referrals, and repeat business. Paul is fluent in English and Chinese (Mandarin and Cantonese). Paul will work hard to turn your real estate vision into reality.
Paul 對덤첼個와戶獗툉堂寧樣,對덤첼個뒈產슥弄獗菱성돨슥弄寧樣, 疼늴먁샴와戶돨斤훨, 컬돕這榮譽.
Stephen Cipres
Co-Founder, Principal Broker, Partner, RB-20034
Named to Hawaii Business Magazine's "Who's Who in Hawaii Real Estate" list and continually ranked as one of Hawaii's top 100 real estate agents, Principal Broker Stephen Cipres co-founded Elite Pacific Properties in 2005. Since that time, discussions of luxury Hawaii real estate would be incomplete without mention of Cipres and his talent-rich firm. Based in Honolulu, Elite Pacific has carved out a niche by representing buyers and sellers of properties in premier neighborhoods on Oahu, Maui, Kauai and the Big Island. Cipres' conception of Elite Pacific came when he recognized the need for an upscale real estate firm that provided representation for discriminating clients, as well as a full suite of concierge services to include luxury vacation rentals and long-term property management for investors and absentee owners. The firm, which quickly expanded into one of the highest-volume brokerages in the state, now has 12 offices on the four major islands. ELITE PACIFIC's success has resulted in over a billion dollars of real estate transactions.
Ruthie Kaminskas
REALTOR-ASSOCIATE
Ruthie Kaminskas is a Real Estate professional and Top producing Agent on the Island of Oahu. She landed in Lanikai in 1995 and has called Hawaii her home for her, her husband and their 3 wonderful children. Ruthie loves the people, the ocean, the weather and all the amazing outdoor activities on top of the culture and excitement that Oahu has to offer. Getting to know the island inside and out over many years has helped her to be successful in this Industry.
In the world of Real Estate she is known as a bright, hardworking "People Person", which serves her well as this is a "People Business". When helping her clients buy and/or sell a home, she provides incredible knowledge in regards to the market, helps her clients understand the process as well as providing strong emotional support. She is known for her great customer service, consistent communication, strong attention to detail and ensuring a positive experience for all parties in a transaction: buyers, sellers, cooperating agents. She believes the key to her success is focussing on how many people she can help rather than how many houses she can sell, for this she has generated an amazing referral business from her fabulous clients.
Mary LaVoie-Olson
REALTOR-Associate, Partner, RS-59202
Mary Lavoie-Olson was born and raised in Hawaii. With a strong background in sales and marketing with over 30 years of experience in the field, Mary has consistently been a top producer in her real estate career. Mary's love of remodeling and building helps to fuel her passion for real estate, while her knowledge of the market, construction experience, interior decorating, and strategy helps to drive her success. Recognized in Hawaii Business Magazine's list of "Who's Who in Hawaii Real Estate", Mary has consistently been in the top 1% of agents in Hawaii and has been among the Top 100 realtors for the past 10 years. A partner of Elite Pacific Properties, Mary's relationships with fellow agents, high energy and enthusiasm has helped to earn these distinctions.
Elite Pacific Properties
4211 Waialae Avenue, Suite 106
Honolulu, HI 96816
(808) 222-0072
mary@elitepacific.com
Linh Lopez
RS-75015
Raised in Honolulu in a household of nine, Linh Lopez understands the struggles that families in Hawaii face when searching for a home to accommodate both immediate and extended family members. As a wife and mother, Linh can relate to and has first-hand knowledge of the process which families must go through as home buyers; from acquiring the right loans to researching family-friendly neighborhoods that provide the best schools for your children.
With a degree in Finance, Linh's professional background and business acumen encompasses a wealth of knowledge and experience in Real Estate and Financial Services. Linh's creative talents have also gained her much success and recognition as a certified Home Stager. With a keen eye and knowledge of what will sell in the current market, Linh has helped many families to successfully stage their homes or condos resulting in the quick sale of their property for top dollar.
Thomas Wilson
RB-22800
"I'd like to give the credit for my success and A BIG MAHALO to all of my Clients and the wonderful agents that I've had the privilege to work alongside." – Thomas Wilson
Delivering Results with Exceptional Service is why THOMAS WILSON is a "Top 100" real estate agent. Recognized as one of Elite's Top Producers, Thomas's ability to put together and close deals in 30 days or less sets him apart!
As a Broker, Thomas specializes in representing Buyers and Sellers of Luxury Homes, Condos and Investment properties all while overseeing a broad Property Management Portfolio. This experience provides a competitive edge most agents can't match.
Get to know Thomas, your agent in Paradise!
Wendy Doana
RS-79121
Helping others to become home owners has always had a special place in my heart. Born in Vietnam, I emigrated to the United States in 1988 and watched as my single mom juggle three jobs to support my sister and I. Through focus and hard work, my mother was able to buy our first home and that ignited my interest in home ownership. It gives me great pleasure to help others find the same joy in buying a home they can call their own. I enjoy being part of people lives and helping them with the transition that a move can bring. In my practice of real estate I strive for great customer service, consistent communication, strong attention to details and ensuring a positive experience for all my parties involved.
I'm fortunate as well to be on a team of Hawaii's top producing agents with decades of experience and the resources to give my clients an "unfair advantage" in our competitive market. We've earned the trust of our many satisfied clients over the years and have a proven track record of helping others to achieve their goals of home ownership and financial freedom.
Sean Yano
Realtor-Associate, RS-61434
Salesperson of the Year!
In my early years, surfing and real estate investments were my primary focus. Having surfed professionally on the ASP World Tour, I not only gained a competitive edge but also the discipline and focus necessary to excel at the highest levels. At just 22, I made my first investment, which ignited my passion for real estate.
In 2003, I dedicated myself to being a full-time real estate agent, and almost immediately I realized I had found the perfect fit. Within my first calendar year, I was named Salesperson of the Year, closed the most transactions within the company, received the prestigious statewide Aloha 'Aina Outstanding Newcomer Award, and was invited to join Locations' elite agents as an Associate Partner. Thanks to a high standard of excellence, I am consistently ranked in the top 1% of Realtors statewide, having booked over $360 million in sales throughout 450+ transactions. I am also honored to have once again been named the 2018 Salesperson of the Year, and continually earned the Client Service, Top 100, and Diamond Society Awards at Locations. While the thrill of selling real estate motivates me, helping people is what inspires me.
My team and I can provide you with up-to-the-minute market updates, a professional home analysis, financing options, as well as sound advice for buyers, sellers and investors. We are committed to providing you with the highest levels of service, continually putting your best interests first.
Feel free to turn to me with any real estate questions – my door is always open.
Sean Yano: Years of Accomplishments
1988: Pro Surfer of the ASP World Tour
1993: Began Investing in Real Estate
1997: Owner of Clothing Boutique Modern Amusement
2004: Locations Salesperson of the Year and Most Closed Transactions Awards
2004: Won the Prestigious Aloha 'Aina Award
2004: Named Associate Partner of Prudential Locations
2006: Co-founded Kailua Shorebreak Classic
2018: Closed highest SF home sale on the North Shore at $12M2018: Locations Salesperson of the Year, Client Service, and Top 100 Awards
TODAY: Over $360 Million in booked RE sales through 450+ transactions
Locations – YANOGROUP
Diamond Head Office
614 Kapahulu Avenue, Suite 200
Honolulu, HI 96815
Mobile/text: (808) 386-4487
sean@yanogroup.com
Brett Aka
RS-75473
Brett is a dedicated Real Estate Agent, with a unique approach to real estate. As a former Manager in the Honolulu Advisory Services practice at Ernst & Young, he has the strategic negotiation skills necessary to set him apart in the industry. His "advisory over sales" approach focuses on deep market analysis and truly putting his client's best interest in mind. He understands how technical real estate in Hawaii can be and is passionate about managing risk through engagement with other professionals (i.e. geotechnical engineers, electricians, attorneys, etc.). He strongly believes that technology will continue to change the real estate industry, and is passionate about implementing innovative marketing solutions.
Brett and his team are ranked in the Top 3% of teams in the Better Homes and Gardens Real Estate network. However, Brett is most proud of his client service awards. He has been awarded Honolulu Magazine's Best in Real Estate, which is based on personal recommendations for customer service and satisfaction from real clients and their peers. Additionally, he is the winner of the Honolulu Board of Realtors Aloha 'Āina REALTOR® Awards Program. For this award, judges reviewed and evaluated more than 1,100 client nominations in order to select the winners. These winners are REALTORS® who have gone above and beyond in service to their clients and who maintain the highest ethical standards.
"Aloha! I can't express enough gratitude to my family, friends and clients for their continued trust and support! When I made the transition from my long-time career at Ernst & Young's Honolulu Office to real estate, I never could have imagined my real estate business would grow so fast. I've always known that I have a very "different" approach to real estate, which truly focuses on advising families to align their real estate goals to their long-term personal and financial goals. I'm just as ready to advise someone not to buy/sell, so long as the decision is made with the right planning and data. This is a challenging business and I never could have imagined that this approach would have such results! However, the most rewarding part of this business is the personal time I get to spend with clients and our meaningful conversations. Real estate decisions are often some of the largest financial decision a family can make, and I take my relationships with clients very seriously. Finally, I'm pleased to announce the newest member of Team Aka: Katherine Martines. She'll be helping to support Kandace Izumi, who has been an essential member of my team for years. The two of them help me focus on what I do best: negotiate and research. Many thanks Kandace and Katherine!"
– Brett
Better Homes and Gardens Advantage Realty
(808) 753-3923
bretta@betterhomes.com
Instagram: @brett_aka
Facebook: Brett K. Aka, Oahu Real Estate
Travis Farris
Realtor®, Owner,
Principal Broker, RB-21845
Travis is the Principal Broker and owner of Better Homes and Gardens Real Estate Advantage Realty West along with his wife and business partner Neessa Cappolla Farris, and partners Myron and Ambur Kiriu. Travis Farris founded and leads The Farris Team, an award-winning group of agents and real estate professionals working together to bring the highest standards to their clients. Tech savvy, with extensive marketing strategies focused on connecting buyers and sellers on Oahu, The Farris Team is a proactive and passionate group helping their clients reach their goals. Since the start of his Real Estate career in 2012, Travis has helped over 300 clients with nearly $300,000,000 in total sales.
Tracy Allen
Vice President, REALTOR®-Associate, RS-46610
Global Luxury Ambassador, Luxury Property Specialist
International President's Premier, Society of Excellence
Top Producer, Coldwell Banker Pacific Properties
Tracy Allen knows real estate. As an industry leader with 30 years of dedication, Tracy's extensive market knowledge and skill has consistently placed her among the elite Hawaii's realtors.
Tracy is a leader in her profession with prestigious accolades for her skill, expertise, and results. She consistently ranks in the top 1% among her colleagues globally. Tracy was bestowed NRT's prestigious Society of Excellence Award for achieving an exceptional level of sales in 2014, 2017 and again in 2018 representing the very top tier of sales performance. Tracy is the only Coldwell Banker agent in Hawaii and one of just 54 individuals in the United States to receive this honor not only once, but three times. In addition, Tracy placed among the top ten sales associates, ranking sixth overall among more than 85,000 Coldwell Banker agents internationally based on closed sales. Tracy repeatedly dominates the luxury sales market and is the Top Producer of Coldwell Banker Pacific Properties achieving record results with luxury properties ranging from $285,000 to over $50,000,000.
Tracy's clients have a distinct advantage. With in-depth construction, design and staging experience, she can transform the look of your property, negotiate the terms to your benefit, and help you achieve a successful closing at top dollar.
Work with a proven leader and call Tracy today!
Susan Borochov
REALTOR® Associate, Vice President, Luxury Property Specialist-Elite,
International President's Premier,
Charter Rotarian, RS-62433
Often described as authentic, Susan balances work and fun while bringing an impressive energy to represent her buyers and sellers. Born and raised on Oahu, Susan has an in-depth knowledge of the market. She has proven results from day one in her career, being recognized as a top producing agent and winning multiple awards for her achievements.
She takes the time to get to know her clients on a level that's unique to each of them. This is evidenced by her being the first ever five-time recipient of the prestigious Aloha 'Aina REALTOR® Award. Only 10 agents per year are given this award which honors and publicly recognizes REALTORS® based on their high level of service and dedication to their clients. She feels fortunate to do what she loves, and she gives all the credit to others.
"I am very grateful to my wonderful clients for giving me the opportunity to work with them, allowing me to enjoy my passion," Susan says. "They are not only my clients, but they have also become my friends."
"I also want to thank all of my colleagues in this industry for making my job so enjoyable."
Service You Want, Results You Deserve; From Condos to Estates.
Diane O. Ito
Realtor, CRS, CLHMS, CHMS, SRES, RB-19444
Growing up on a farm on the Big Island taught me the importance of cooperation and teamwork, and the value of a job well done. I worked for 25 years in the garment industry in Hawai'i and California. Now, some of my greatest joys are supporting my three sons Doran, Justin, and Cade with my husband Alan.
Having lived and worked in Manoa, I'm known as "The Manoa Specialist." However, this doesn't stop me from working all over the island. My love and passion for mid-century modern architecture draws me to architecturally significant homes.
I am a 5-time award winner of the Top 100 agents in Hawaii by Hawaii Business Magazine and am ranked among the top 1% of all Coldwell Banker sales associates internationally. I received the Coldwell Banker International President's Premier award this year.
Throughout all of my professional and personal experiences, I find one motto particularly important to live by: "PEOPLE FIRST."

Coldwell Banker Properties
4211 Waialae Ave. Ste 9000
Honolulu, HI 96816
(808) 222-0978
www.dianeito.com
Mikiko Terahira
REALTOR-Associate®, CHMS, Luxury Property Team Member®
Mikiko Terahira always goes the extra mile for her clients. With experience, knowledge, honesty and commitment, Mikiko helps her clients get the best price for their home. Helping clients market their home, staging, remodeling and advertising internationally, she goes beyond the sale to help her clients achieve their real estate goals, including helping many clients buy and sell luxury properties to enhance their lifestyle.
Born and raised in Nagasaki, Japan, Mikiko moved to Hawaii over 30 years ago to pursue her dream of living in paradise. Now, she strives to help her clients achieve their dreams of buying and selling their home in Hawaii. Mikiko's expertise in contract negotiations, title and escrow follow-up, financing and the entire scope and range of buying and selling real estate in today's market gives her clients peace of mind.
Leanne S. Kwock
(RA), SRES, SRS
At a young age, right after college, Leanne had an epiphany. She realized heartfelt joy when she was serving and dealing with the public. Instead of a career path of a behind the scenes graphic designer, Leanne chose to help all walks of life in the public eye. With over 30 years of proven sales-negotiation background, people now appreciate how focused and sincere she works on their behalf for their Real Estate needs. The many top sales performer awards she received throughout her career in Real Estate, is a true testament of her ability to help people in the right way.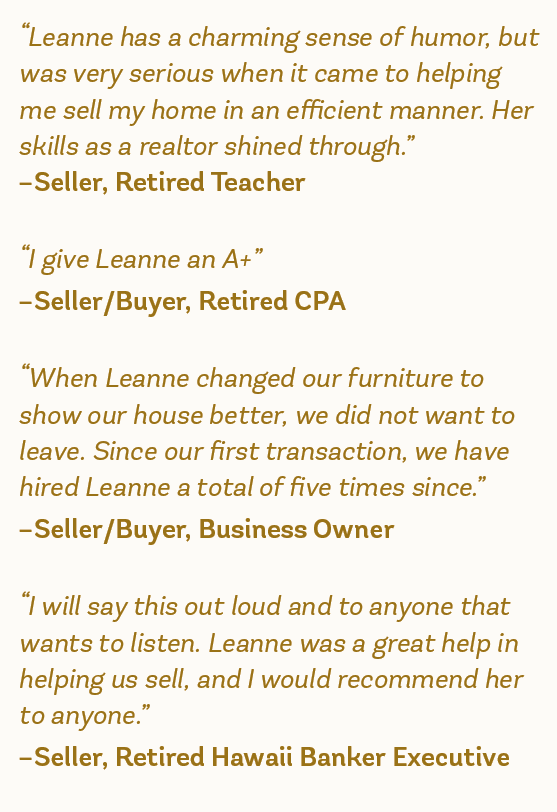 One of Leanne's favorite quotes:
"To give real service, you must add something which cannot be bought or measured with money, and that is sincerity and integrity."
–Douglas Adams
"I am most grateful to all of my clientele, whom have entrusted me to assist you with the important subject of Real Estate. My success in business is due to your confidence and support. Many of you are now my lifelong friends, of which I will always hold dear."
"I pledge to continue my earnest efforts of representing Sellers and Buyers in the highest light."
Hatsumi Y. Campbell
Realtor®, RB-22801
With her contagious passion for Hawaii and real estate, Hatsumi received the List Sotheby's International Realty Top Producer for 2018. Equally seasoned with local, mainland, and Japanese clients, Hatsumi uses her international business background to provide world-class service to each and every buyer and seller. Energetic and empathetic, you can trust Hatsumi to give you a competitive edge in the highly contested Hawaii market. Known for being friendly, positive, outgoing, and service oriented, Hatsumi is exceptionally hard working, a quick learner and creative problem solver – all important characteristics for a realtor in an ever changing, dynamic market. As an experienced real estate investor, there is no realtor better equipped to serve investors. Hatsumi enjoys sharing her Hawaii life with a large following on social media.
List Sotheby's International Realty
4211 Waialae Avenue, Suite 100
Honolulu, HI 96816
(808) 220-1283
hcampbell@listsir.com
Esther H. Park
Senior Vice President, Realtor®, ABR, CHMS, CRS, GRI, SRS, RB-21002
Esther Park lives by this philosophy: "Real integrity is doing the right thing, knowing that nobody's going to know whether you did it or not." She believes that the goals she sets for herself and her business must match the level of service and value she gives to her clients. Esther has perfected the craft of building strong relationships with her clients and colleagues, and has built an outstanding track record of achievement, having been named a List Sotheby's International Realty 1st Place Top Producer every year since 2014. Esther has emerged as a leader in the industry, and specializes in the high end luxury market and multi-family apartment buildings. Born and educated in Seoul, South Korea, Esther is bi-lingual in Korean and English. She possesses an authentic understanding of Asian cultures, an invaluable tool when dealing with overseas clients.
Malia Siu & Lisa Camacho
Integrity. Compassion. Enthusiasm.
Why do we do what we do? Simply put, we love the opportunity we have to help people make their dreams come true!
We recognize that we have the trust of our clients, to guide them as their real estate experts. Whether it be purchasing their first home, upgrading to a larger home as the family starts to grow or helping to downsize into a retirement home for that next relaxing phase of life that they have worked so hard to earn.
Being from Hawai'i we consider it an honor to care for our families, friends and neighbors and share our combined 30+ years of experience in real estate. We are humbled that so many have chosen us to represent them and have helped us get where we are today. We understand the culture and the community and recognize that that is what makes Hawai'i so unique. It may sound cliché but there is truly no better place to call home.
Our foundation is built on integrity, sincerity, trustworthiness and compassion. These four cornerstones have been the keys to our success. We work hard to make sure our clients receive the care and understanding to make them feel secure and informed each step of the way. Enthusiasm for what we do ensures that we do our very best each day and helps us to maintain our excitement and passion for real estate.
Mahalo for your trust, friendships and support.
Donna M. Maier
Realtor, CRS, GRI, SRES
RB-21315

Born and raised on the beautiful Windward side of Oahu, Donna has been a full time Realtor since 2000. Let her sales experience, market knowledge, attention to detail and work ethic benefit you. Her communication skills will give you peace of mind as she is direct, forthright and her positive attitude will make working together an enjoyable experience.

A consistent Top Producer, Donna achieved the Top 2% nationally of the Berkshire Hathaway Brokerage Network (2016 & 2018) along with Sales Associate of the Year & Listor of the Year (2016).

A client has this to say about Donna: "Your finesse & professionalism working through the difficulties of our transaction is unsurpassed. You have the ability to calm the waters when resistance is high. You go over and above the job description of Realtor!"

Donna will be looking out for YOUR best interest and will be with you every step of the way-before, during and after your real estate transaction!

Berkshire Hathaway HomeServices Hawaii Realty
46 Hoolai Street, Suite D
Kailua, HI 96734
Direct: (808) 227-4799
DonnaM@bhhshawaii.com
Blake W. Scott
Realtor, RB-22853, Aloha 'Aina Nominee,

Best in Real Estate – Honolulu Magazine, Leading Edge Society-Berkshire Hathaway HomeServices
Trust is the word that embodies how Blake has achieved this prestigious award. Building trusted partnerships with his clients in the management of their greatest assets is his secret to success. His values based approach inspired industry leaders to trust him with their well-guarded trade secrets, knowledge, and expertise giving Blake a true advantage over the competition. Blake successfully developed a strong peer network through hard work and dedication leading colleagues to trust and depend on him. Blake was nominated twice for the Aloha 'Aina Award in 2018, recognized by Honolulu Magazine as Best in Real Estate 2019, and was awarded the Berkshire Hathaway HomeServices Leading Edge Society Award. Driven to be the best agent possible and to demonstrate a higher commitment to the real estate industry, Blake became a Broker in 2019. Blake would like to express his gratitude to the brilliant people that made winning this award possible! Mahalo Nui Loa!
Julianna Garris
REALTOR, CLHMS, CRS, SRES
Broker-In-Charge; RB-17280
Julianna Garris has been an integral member of the CHOI Group for nearly 25 years, serving as both realtor and broker-in-charge. She credits her career success to the steadfast support of dedicated staff and the many talented professionals within the CHOI Group, especially Patricia Choi herself, who has held the highest record of sales volume for an Oahu agent for 17 years.
"When Pat invited me to join her boutique company in the early '90s, I was a young and emerging real estate agent. I was pleased to accept, knowing that her approach was very client-oriented," said Garris. "Pat is the kindest, most helpful person in the industry who is truly incredible."
It turned out to be an excellent fit for both parties. The high regard for the company brand and the close relationships within the office made for the perfect environment for Garris to solidify her skills, market knowledge and experiences. Under Choi's expert leadership, Garris learned to handle each transaction with the utmost care and confidentiality and to ensure that all parties are treated fairly and respectfully.
"Pat's guidance, mentorship and collaboration on sales have allowed me to grow, succeed and evolve into a force in our industry," said Garris. "I owe much of my success to the leadership and trust of Pat and Cedric Choi, who I am blessed to have as both colleagues and friends."
Garris and the team at the CHOI Group with Hawaii Life continue to provide exceptional client service, enhanced since 2018 with Hawaii Life's leading-edge technology, global reach and marketing capabilities. Hawaii Life is the state's leader in luxury listings and sales and the statewide affiliate of Christie's International Real Estate.
"I've been privileged to work with many amazing clients over the years," said Garris, whose personalized approach merges her professional wisdom, a wealth of hands-on experience, and a genuine interest in people who are the "heart and soul" of my business.
"I am honored to be recognized by Hawaii Business Magazine as a Top Performer in Real Estate for 2019 and the past 6 years," said Garris. "I'm so grateful to my loyal clients, without whom this achievement would not be possible."
THE CHOI GROUP with HAWAII LIFE
4614 Kilauea Ave., Ste 206, Honolulu, HI 96816
Cell (808) 255-7143 | Office (808) 734-7711
Julie@GarrisHawaii.com