O'ahu's Buses Are Crowded Again and Riders Worry
TheBus never shut down during the early months of the pandemic, and back then its few riders often had plenty of room to social distance – and faster commutes, too.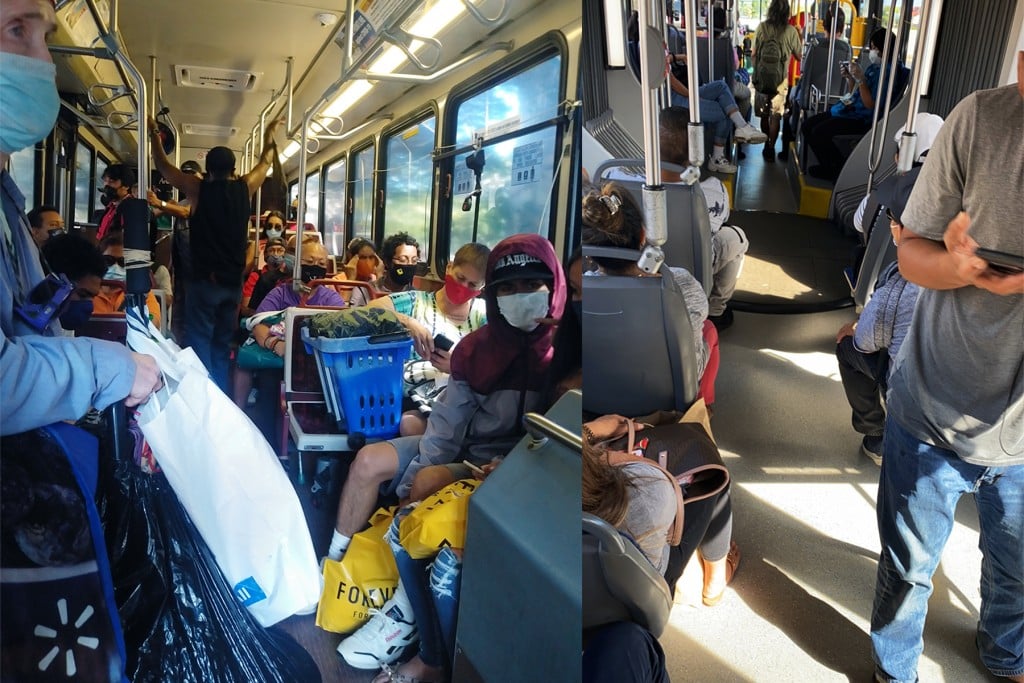 But now as the economy slowly reopens, many buses are crowded again – just as Hawai'i's COVID-19 case count sets daily records. Many bus riders sit side by side in row after row of seats, while others stand in the aisles, on journeys that can take a few minutes for some or more than an hour for others.
"When people started coming back, it got crowded again, and then it seemed like people were more on edge," says Teneshia Howard, a Waipahu resident and daily bus rider.
Howard says tension on the buses can be high and described an incident she witnessed in which one man said his mask broke. The man said he had no replacement mask – and was angrily confronted by another passenger. The argument escalated and the driver pulled off the freeway to calm the situation.
Riders are required to wear masks on TheBus – but occasionally, someone doesn't. One reader sent Hawaii Business Magazine a picture of another maskless rider; the man said he wasn't wearing a mask because he has asthma.
The Asthma and Allergy Foundation of America's website says, "Some people with asthma may experience discomfort or have trouble breathing while wearing a face covering." However, the foundation also quotes Dr. David Stukus, a member of its Medical Scientific Council, as saying, "For people with very mild asthma or well-controlled asthma, it's probably not going to be an issue."
According to Oahu Transit Services, the company that operates TheBus and HandiVan for the City and County of Honolulu, drivers are not allowed to deny passengers service if they claim to have a medical condition and can't wear a mask.
Social Distancing is Difficult
People on the bus are encouraged to practice social distancing. Keeping 6 feet apart is barely possible when there are fewer than 10 people onboard a conventional 40-foot bus but impossible when 15 or more pile on. Riders told Hawaii Business Magazine that they frequently ride conventional buses with 15 to 20 people or more.
During rush hours, I and other riders have been joined by an estimated 30 to 45 people on the longer, 60-foot "accordion-style" buses that are used on the busiest routes. On both types of buses, many riders sit side by side while others stand nearby in the aisles.
Average weekday ridership on TheBus in January, before the pandemic, was 183,364, according to OTS. In the beginning of February, ridership averaged 193,000 and dropped to 188,000 by the end of the month.
After the government's stay-at-home orders were imposed, though, average weekday ridership bottomed out at 57,000 in April. That's when TheBus started running on a reduced schedule with longer times between buses than before the pandemic.
Ridership eventually increased to 81,000 per weekday in July as the state allowed more businesses to open.
OTS says it monitors ridership daily and adds extra buses when needed to spread out passengers on popular routes. For instance, in an email, OTS Deputy GM Jenny Lemaota, said buses had been added to six routes to address the challenge of physical distancing: Route 1: Kalihi – Hawaii Kai; 2: Waikiki – School – Middle Street; 13: Liliha – Waikiki – University; 40: Honolulu – Makaha; 3: Kaimuki – Salt Lake and A: Waipahu – University.
The COVID-19-related decline in riders is intensifying a long-term trend: TheBus had roughly 76.14 million riders in 1993; in 2018, there were 64.12 million.
To keep bus drivers safe from COVID-19, all passengers are now supposed to stay on the other side of a red line placed 6 feet behind the operator. On older buses, the first row of seats are blocked off; on all buses, a clear plastic barrier, like a shower curtain, is set up to protect the drivers.
Not many drivers use the plastic curtain; bus driver Cindy Kolone says she doesn't because it's hard to see through to the interior of the bus. Since early July, I have ridden on TheBus three days a week, taking multiple buses each way and noticed only a couple of drivers using the curtain.
Considering Alternatives
Brandon Zakahi, who works at UH Mānoa and rides routes 51 and 52 from Mililani into the city three days a week, says the buses are filling up again, making social distancing difficult.
"I believe most passengers know even if we all wear masks it would be so difficult to not give each other something," says Zakahi.
He never before considered driving to work because of cost, but says if the pandemic gets worse, he might ask his mother to "foot the cost" for him to drive.
Once on June 28 and again on August 3, OTS reported that working drivers had tested positive for COVID-19. In the first case, the driver was feeling sick on a Monday and drove five different routes until Friday, OTS President Roger Morton said at a press conference. In the second case, OTS said the operator did not have any COVID-19 symptoms while working and was put on leave as soon he tested positive.
Kolone is worried about drivers getting the virus, but says OTS has added policies to protect against the virus. Every day, all drivers get their temperatures checked and masks are required at all bus facilities, she says. OTS says all buses are now cleaned and sanitized daily.
If a driver feels sick, the standard protocol is to notify human resources immediately.
Before the pandemic, Howard, the daily bus rider, had been commuting from Waipahu to school in Kāne'ohe on the bus, which took around two hours each way. But during the pandemic – and before her school switched to online – her commute time was cut in half because of less traffic.
Howard also works as a caregiver and has clients around the island. Sometimes she rides the bus as far as Hawai'i Kai and Hale'iwa.
She says most of her clients are elderly and immunocompromised, so she asks her clients to check their temperatures daily and monitor themselves for any signs of illness. However, she says that aside from wearing a mask, her routine has changed little during the pandemic because she was already practicing sanitary habits.
Back-to-School Worries
UH Mānoa student Sequoia Riley is concerned about riding TheBus once the fall semester starts because the buses will get even fuller.
Although UH Mānoa is offering a mix of hybrid and online classes in the fall, Riley expressed concern for the students who have to commute to campus. Riley, a Ph.D. student, is one of those students who has an in-person class in the fall.
On a normal pre-pandemic school day, buses heading toward UH Mānoa are often packed during the morning rush hour – 7 a.m. to 10 a.m. At the Sinclair Circle stop on campus, buses are often jammed students when they arrive and leave campus.
Riley questions if UH has a plan to keep those commuter students safe.
"I'm just baffled and trying to understand: What is it that they think will happen?" she says. "Not all students coming here are going to have cars."
UH says there were 14,489 Mānoa commuter students during the 2018-2019 school year.
Before the pandemic, Riley took TheBus frequently or used Hui, a carshare service. Although she still takes TheBus, during the pandemic it has only been in her community – in Hawai'i Kai.
"I haven't really taken any initiative to take it further than Hawai'i Kai because honestly I am nervous," Riley says.
On her bus rides, she observed some riders not wearing their masks properly – some exposing their noses, and even taking off their masks as soon as they sit down. In one instance, she saw a man without a mask; she alerted the driver as she exited TheBus, and noticed the driver and man getting into an argument.
She called TheBus customer service to ask if there were plans about limiting the number of riders on individual buses so social distancing was possible. Riley was not satisfied with the response she received.
"You are traveling at your own risk," she says she was told, and that if she feels uncomfortable being on a bus that is crowded, "you can get off that one and wait for the next one."
I did that once, but the next bus was even fuller than the bus I got off. I was on Route 42 (Ewa Beach/Arizona Memorial/Aloha Stadium) going westbound around 4 p.m. I managed to find an open seat with nobody next to me, but at the next stop more people boarded and someone sat next to me.
I got off at the Kalihi Transit Center and took the A bus, which seemed even more crowded, but at least it got me home faster.
Gabriel Sisneros, another UH Mānoa student, rides TheBus every day since he does not have a driver's license. He relies on it to get to work, school and stores.
"Now it's become a breeding ground for COVID-19," he says. "Not looking forward to riding more frequently, but I have no real reliable form of transportation."
OTS says drivers are instructed to call their supervisors if the buses become too crowded. But rider Kaylee Rafol says there are frequently 30 to 45 people when she rides on the 60-foot buses.
She says it is impossible to do social distancing without limiting the number of people on the bus and leaving empty seats.
Riders also have concerns about catching the virus while touching commonly used safety poles and handles that help passengers stay on their feet, the cords and buttons that signal the driver to stop, and the push-to-open doors.
Zakahi believes people fear riding the bus but says they have to adapt.
"We all must breathe the air," says the Mililani commuter. "We all have to go to work sooner or later. You cannot stay at home all of the time."
Neighbor Island Buses

Hawaii Business Magazine reached out to the bus operators on Maui, Kaua'i and Hawai'i Island, but only Kaua'i responded.

Kaua'i Bus has seen a 60% to 75% decline in ridership from the previous year, according to Transportation Agency executive Celia Mahikoha.

At one point, the Kaua'i buses stopped charging fares to decrease boarding time exposure for its drivers. But fares were reinstated in May because officials discovered many people used the free service for nonessential trips.

Kaua'i Bus also offers paratransit services for seniors and those with disabilities, similar to O'ahu's HandiVan. The service went from about 300 weekday trips to less than 80 trips on most days, Mahikoha says.

Kaua'i Bus requires people to wears masks and vehicles are cleaned and disinfected daily.
Not Always Busy
Occasionally, though, buses are uncrowded and the traffic's a breeze. Kolone says she sometimes drives an empty bus along streets that she never imagined would be so free of traffic.
Kolone has only been driving TheBus for less than a year, so she does not have a regular route. Instead, she drives many different routes, including popular ones such as routes 1, 2, 42 and C.
I rode along with Kolone on July 22 on Route 6, which goes through Pauoa, downtown and Kakaʻako to Ala Moana Center, then through Mōʻiliʻili to UH Mānoa, and up into Mānoa Valley.
There were only six to eight people on TheBus going up toward Mānoa Valley. Eventually, I was the only one on TheBus as it made its way back toward UH Mānoa.
"I never thought I'd see Hawai'i, you know, so deserted," says Kolone. "The roads were empty, the bus was empty. I never thought I'd see that."