Necessity & Invention: Waimea Canyon Middle School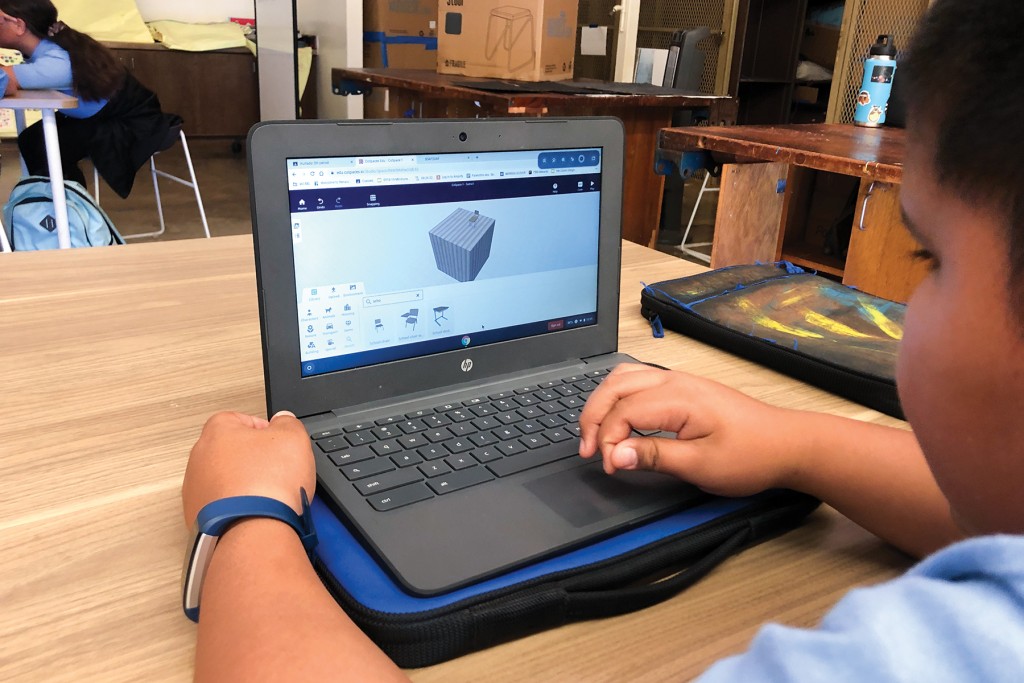 In response to the pandemic, educators across the state are adapting and innovating to serve their students.
Teachers are leveraging technology to provide online instruction. Students are solving real-world problems through independent, project-based learning. And educators are drawing on the culture and values of Hawai'i to develop new approaches to leadership training and social and emotional learning. Here are four profiles of educational innovation in the Islands.
Part 1 in a series of four profiles.
20% Time at Waimea Canyon Middle School
How do you tend to a school garden when you can't attend school?
This was the question facing teachers at Waimea Canyon Middle School on Kaua'i when the Hawai'i Department of Education shut down on-campus school operations after spring break.
As the culminating project of their 20% Time Class, a group of students had planned to plant a dozen lemon trees on campus.
The shutdown delayed planting of the trees until fall, so students and teachers used CoSpaces Edu – an augmented and virtual reality program – to design the garden, simulating the planting and calculating how much carbon the trees would sequester.
The creative pivot was an unexpected end to the 20% Time Class, a project-based learning class in which students spend one-fifth of their weekly instructional time working to solve real-world problems.
At the start of each semester, students at Waimea Canyon choose from the 17 United Nations Sustainable Development Goals, and work with faculty on interdisciplinary semester-long projects to target that goal. At the end of the semester, students present their work, which is evaluated and critiqued by their coaches and members of the public.
Serena Cox was a science teacher working with the lemon tree group last school year; she now works with the district office. Cox says project-based learning promotes student choice and allows students to connect educational standards to real-world problems.
Last semester, most students chose to work on Goal 14: Life Below Water, "to conserve and sustainably use the world's oceans, seas and marine resources." Others, including the students that planned to plant lemon trees, were working on Goal 15: Life on Land, "to sustainably manage forests, combat desertification, halt and reverse land degradation, and halt biodiversity loss."
The pandemic complicated the project-based learning for both groups. Online chats in Zoom and WebEx helped students continue their discussions of the issues, but physical collaboration was impossible.
Before spring break, students focusing on Goal 14 partnered with the Surfrider Foundation and NOAA to coordinate beach cleanups. For their culminating project, they had scheduled a beach cleanup challenge with other middle schools, but that was put off. However, the students were able to observe the decrease in traffic at beaches and to consider the human impact of that on the ecosystem.
Melissa Speetjens is the principal at Waimea Canyon Middle School. Her project-based learning journey started when she met Bob Lenz, CEO of PBLWorks, a national nonprofit that promotes project-based learning. At his invitation, Speetjens joined the Hawaii Innovative Leaders Network, an association of public, private and charter school leaders who support project-based learning.
Speetjens says the network provided her with invaluable support as she embraced project-based learning, which was a far cry from her own experience as a teacher. "I was a traditional, old-fashioned math teacher," she says. "Drill and kill."
Waimea Canyon Middle School started its 20% Time Class two school years ago, and teachers have iterated each semester to improve the class.
As a principal, supporting innovative teaching requires a different approach, she says. "If you have a teacher who has an idea and is excited about it, part of being an administrator is supporting it and seeing where it goes."
Just as her teachers support student choice, Speetjens views her role as supporting teachers in their work, no matter where that work takes place. "Does everyone have reliable connectivity? Does everyone have a reliable device? How do we give teachers the time and support to adapt from in-class to online?"
Speetjens says the school leaders and teachers in her professional network are all struggling with the same question: "How do we engage students and capture their passion through distance learning?" This question is especially pressing as schools welcome new students.
Incoming students usually take a field trip to tour Waimea Canyon Middle School before the summer starts. Because the school was closed, the faculty used CoSpaces to create a virtual reality tour complete with icons students could click to access information.
Now, teachers and students need to learn how to take project-based learning online. "Teachers need time to collaborate, to create better lessons than we were able to during the emergency situation," says Speetjens. To provide this time, teachers started the year with three days of professional development focused on virtual project-based learning.
Speetjens is sure that, despite challenges, her team will figure it out.
"You have to have a growth mindset and value failure as growth," she says. "Science is a lot of failure that erupts into amazing discoveries."
Hawaiʻi Business Magazine's CHANGE Event on education, held Thursday, September 17th from 3:00-4:30PM, is available here.
---
Read the other parts to this series:
Ma Ka Hana Ka 'Ike
Higher Skills Academy
Foundations of ALOHA