Necessity & Invention: Ma Ka Hana Ka 'Ike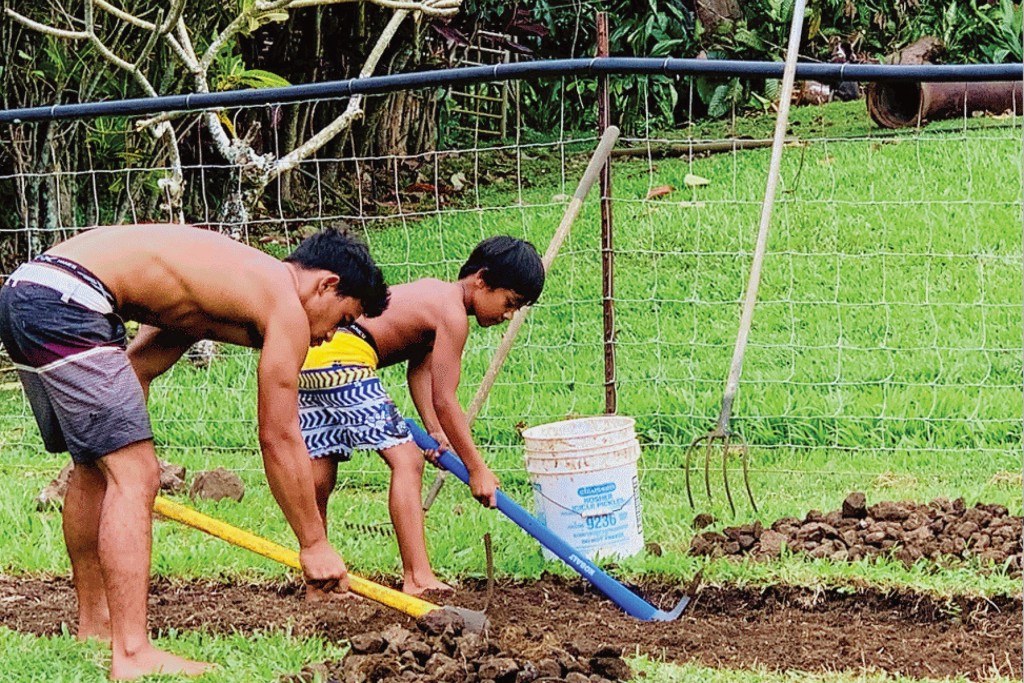 In response to the pandemic, educators across the state are adapting and innovating to serve their students.
Teachers are leveraging technology to provide online instruction. Students are solving real-world problems through independent, project-based learning. And educators are drawing on the culture and values of Hawai'i to develop new approaches to leadership training and social and emotional learning. Here are four profiles of educational innovation in the Islands.
Part 2 in a series of four profiles.
Ma Ka Hana Ka 'Ike
Ma Ka Hana Ka 'Ike is a hands-on vocational training program for at-risk youth in Hāna, Maui. Its flagship building program provides hands-on learning that meets community housing and improvement needs.
Ma Ka Hana Ka 'Ike's building program was founded by Rick Rutiz in 2000. Since then, students have completed more than 200 projects, including on-campus facilities at Hāna High and Elementary School and off-campus cottages, photovoltaic systems, solar water heaters and handicap-access improvements for kūpuna.
After graduating from high school, students can continue in the program as graduate apprentices until they're 24. These graduate apprentices receive pay and skills training. When they age out of the program, they're provided with job opportunities or ways to continue in the program as staff or graduate teachers.
When the pandemic arrived, Ma Ka Hana Ka 'Ike suspended all of its building projects. Many of them were for kūpuna, so when the projects resumed, the program implemented safety protocols. Indoor work wasn't safe, but workers were able to complete an open-air garage and two stairways while using masks and practicing social distancing.
On March 18, Hāna Highway closed except for local traffic. Hāna High and Elementary School suspended regular operations and shifted education online at the end of March, after spring break.
Lipoa Kahaleuahi is executive director of Ma Ka Hana Ka 'Ike. As the school closed and Hāna locked down, Kahaleuahi looked for a way to serve students while also helping the community.
She saw the school closure as an opportunity to focus attention on the graduate apprentices. "We knew it was important to continue providing them with work and skills training, so they could receive pay and continue to learn," she says.
Meanwhile, program staff and teachers worked to design independent project-based learning tasks with their 14 high school students. Students asked, "How can I help to sustain my family?" and then identified projects they could complete at home. Many students wanted to supplement their family food supplies, so they chose to build garden beds and nurseries.
Kahaleuahi says students received additional guidance from the staff of Ma Ka Hana Ka 'Ike's Mahele Farm program, which runs a 10-acre community farm and distributes food at the Hāna Farmers Market and through kūpuna deliveries.
She says that virtual communication was challenging because of the spotty internet service in Hāna, but all the student projects were successful.
"Our work evolved and intensified during this time," she says. "We were able to utilize expertise across our building and farm programs to help students sustain their community."
Moving forward, Ma Ka Hana Ka 'Ike plans close collaboration among its building program, Mahele Farm program and Mālama Hāloa program, which is designed to revitalize the community's connection to Hāloanakalaukapalili, the kalo plant. In Hawaiian mythology, Hāloanakalaukapalili is believed to be the elder brother of Hāloa, the ancestor of the Hawaiian people. Mālama Hāloa fosters this connection through making traditional boards and stones for poi pounding (ku'i 'ai), hosting weekly ku'i 'ai sessions, distributing kalo and restoring ancient lo'i.
Kahaleuahi believes youths must be involved in building a better Hāna and a better Hawai'i.
"We are founded on the premise that our youth have a place in our community, that everyone has a place in our community," she says. "It's important to give youth the opportunity to be part of the solution."
Hawaiʻi Business Magazine's CHANGE Event on education, held Thursday, September 17th from 3:00-4:30PM, is available here.
---
Read the other parts to this series:
Waimea Canyon Middle School
Higher Skills Academy
Foundations of ALOHA