Necessity & Invention: Foundations of ALOHA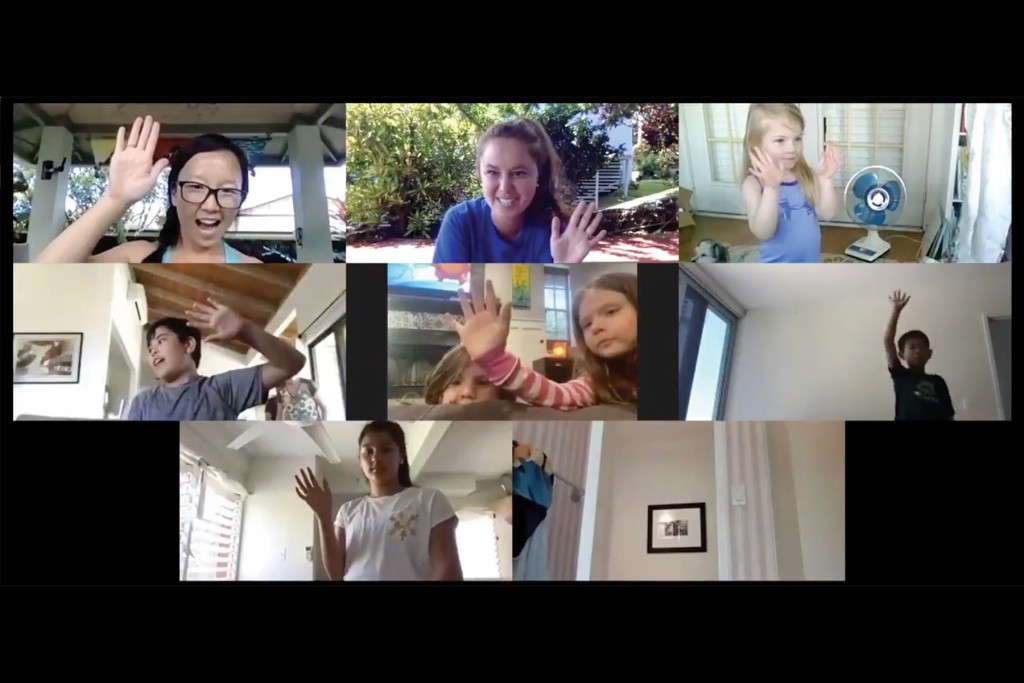 In response to the pandemic, educators across the state are adapting and innovating to serve their students.
Teachers are leveraging technology to provide online instruction. Students are solving real-world problems through independent, project-based learning. And educators are drawing on the culture and values of Hawai'i to develop new approaches to leadership training and social and emotional learning. Here are four profiles of educational innovation in the Islands.
Final part in a series of four profiles.
Foundations of ALOHA
Miki Tomita and Hye Jung Tano were part of a Higher Skills Academy cohort two years ago. Tomita and Tano are the team behind Education Incubator, a nonprofit that wants to position students at the center of designing their own learning environments.
In May, Education Incubator hosted its first Foundations of ALOHA cohort, adapting the Higher Skills Academy curriculum for a new audience. They invited children and their families to participate in the training together and invited educators, so they could adapt the practice for their students.
The format of the program differed from the Higher Skills Academy in two ways. First, the exercises were designed to be practiced by families, with an emphasis on building relationships. Second, participating families received supply kits, including informational posters and materials for building projects and designing their own journals.
Thirty families and teachers participated each week in the first cohort. Some teachers in the group reported the program was like a homegrown social and emotional learning curriculum, grounded in Native Hawaiian values and culture.
According to the Collaborative for Academic, Social, and Emotional Learning, a nonprofit based in Chicago, social and emotional learning is "the process through which children and adults understand and manage emotions, set and achieve positive goals, feel and show empathy for others, establish and maintain positive relationships, and make responsible decisions."
Social and emotional learning is already included in the Hawai'i DOE's Comprehensive Student Support System. Tomita and Tano believe that aloha-based education may be useful as local schools work to further integrate social and emotional learning in their curricula. Transformational change has to be place-based and responsive to culture, says Tomita.
"Most of our socio-emotional curriculum is imported," says Tomita. "But aloha is a value that we live and breathe. If we can articulate it, it's the socio-emotional learning curriculum we need."
Tomita and Tano say they took feedback from the first Foundations of ALOHA cohort: Some participants wanted morning sessions to start later and evening sessions to start earlier, while others wanted to find a structure to continue to practice after the five-week course. They refined the program for their second cohort, which started on July 6.
"In everything we do at Education Incubator, the feedback is really important to us," says Tano. "We appreciate the people who are on the journey with us."
Tano views their work as a continuation of those who have come before, including Auntie Pilahi Paki and Pono Shim. "We are here because of those before us and those who chose to share with us," she says.
Shim is inspired by Tomita and Tano's work, and he's excited about the potential of aloha-based education not only for local students, but also for students around the world.
"Maybe we can export expertise and import money instead of exporting money and importing experts," he says.
Tomita sees the program as just one among many ways to build capacity for aloha. "We assume that we understand aloha because it's around us all the time," Tomita says, "but we don't necessarily practice it and focus our intention on building our ability to practice aloha in all situations."
"There are so many different ways to practice aloha and build aloha, from professional practice to personal life to leisure activities. This is one way, but there are thousands and thousands of different ways."
Hawaiʻi Business Magazine's CHANGE Event on education, held Thursday, September 17th from 3:00-4:30PM, is available here.
---
Read the other parts to this series:
Waimea Canyon Middle School
Ma Ka Hana Ka 'Ike
Higher Skills Academy