Rescue By Land and By Sea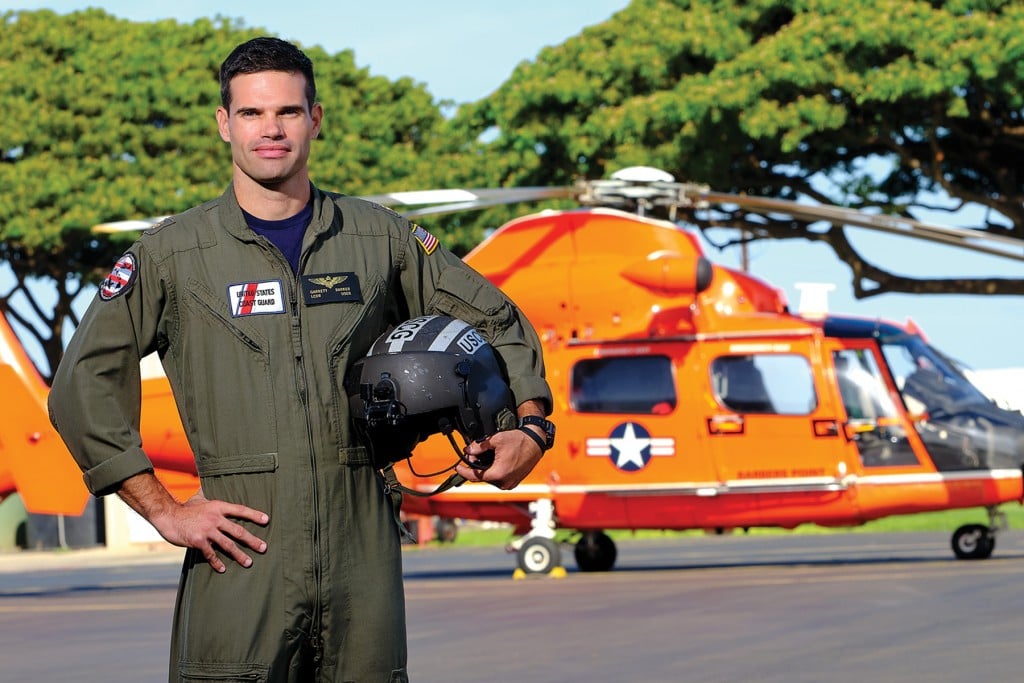 Name: Garrett Barker
Age: 35
Job: Lieutenant Commander,
MH-65 Dolphin helicopter pilot, U.S. Coast Guard
Beginnings: Barker was born in Dallas and grew up nearby. "My house was located along a military flight training route and I regularly saw fighter jets, helicopters and other military aircraft fly over my house," he recalls. "From a young age, I developed a desire to fly and serve my country."
He graduated from the U.S. Coast Guard Academy in 2006 with an officer's commission and a B.S. in government, and later underwent two years of helicopter flight training in Florida. In 2014, he became a Coast Guard instructor pilot and flight examiner.
"My wife has family on O'ahu and the Big Island, so I requested new orders to Air Station Barbers Point. I've spent the last two years here conducting search and rescue and other Coast Guard missions."
What it takes: "A large percentage of our rescues occur at night and/or during inclement weather that can range from poor visibility to high winds and heavy surf. These can often create great risk to the crew. The pilot in command has the responsibility of safely completing the mission or determining it is beyond the crew's capability."
Harrowing rescue: "One evening around midnight in October 2017, the fishing vessel Pacific Paradise ran aground off Waikīkī with 20 crew aboard. The Honolulu Fire Department and a Coast Guard response boat were already shuttling crew members one at a time on a Jet Ski to the response boat by the time we arrived. Suddenly, a large swell hit the stern of the fishing vessel and rapidly spun it 180 degrees, flinging the men onboard across the deck.
"We immediately pulled into a hover over the vessel and lowered our rescue swimmer. The high mast and heavy surf resulted in our crew performing a difficult 90-foot hoist of our rescue swimmer near jagged deck equipment and complex rigging. Fearing the vessel was about to break apart, we hoisted down a rescue basket, and the rescue swimmer and HFD loaded two crew members in the basket. We sent the basket down one more time to recover our rescue swimmer and the final crew member.
"All 20 crew members were safely rescued. We frequently work with HFD and Ocean Safety to protect the public."
Challenges: "We have a diverse mission set. A routine training flight can quickly turn into a search and rescue case, marine environmental protection or a law enforcement incident."  
Misconceptions: "Unlike the other military branches, the Coast Guard serves under the Department of Homeland Security instead of the Department of Defense. This allows the Coast Guard to conduct federal law enforcement missions.
"Another misconception is that the Coast Guard only conducts coastal and at-sea search and rescues. We also conduct inland rescues in mountainous terrain and urban rescues."
Pay range: "The base pay begins around $50,000, plus a housing allowance that varies on your geographical location. An experienced pilot can make around $100,000 plus a housing allowance."
This interview has been edited for clarity and conciseness.