O'ahu's Mobility Hubs Will Make Ditching the Car More Attractive
Planned hubs near Pearlridge Center and Ala Moana Center will help people transfer between rail, buses, bikes and car services.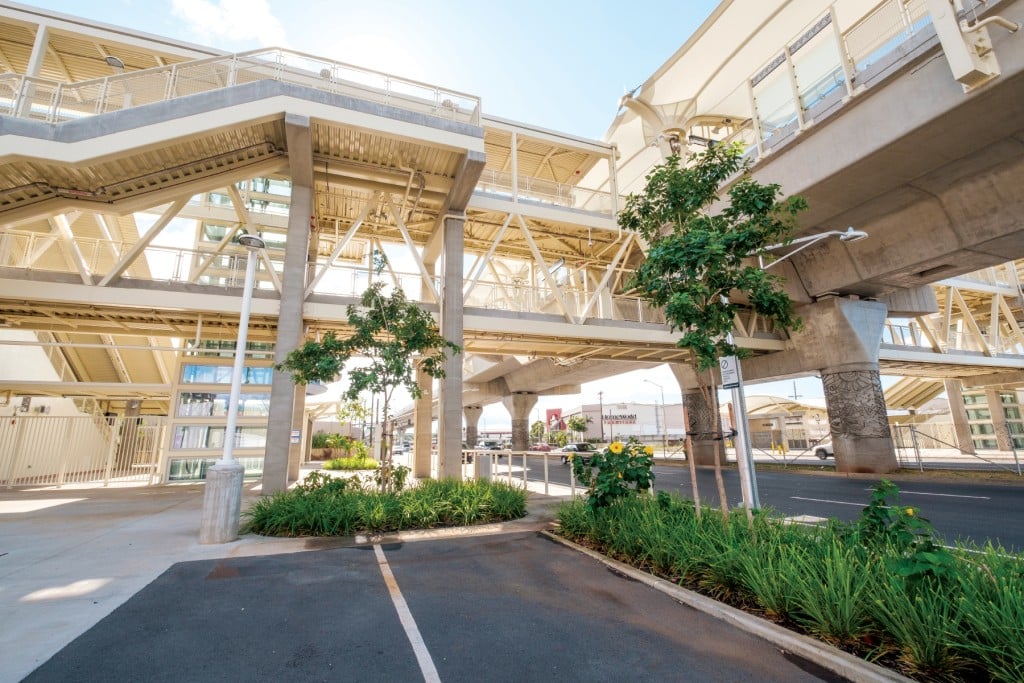 'Ewa Beach resident Niza Valenzuela takes TheBus home from UH Mānoa three days a week. Her classes end at 5 p.m., but it takes her almost two hours to return home.
When she gets off her last bus, there's still a 15-minute walk home in the dark.
"The bus is really crowded, and it really gets scary" because of the pandemic, she says, especially when the only open seats are next to other people. Her parents also worry and often call when it's dark and she's not home yet.
She wishes there were better options, but she doesn't have a car, or even a driver's license. And since she lives in 'Ewa Beach, the only buses she can take are the 42, E or 91.
To provide bus riders with more options, the city is planning "mobility hubs" at the Kalauao Pearlridge rail station in 'Aiea and the Kālia rail station near Ala Moana Center. From the mobility hubs, people would transfer between rail, buses, bikes, cars or ride-hailing and ride-sharing services.
"The concept of a mobility hub is exciting for us because it melds and merges all of the different pieces of mobility together in one site," says Jon Nouchi, deputy director of the city's Department of Transportation Services. "So it really is an evolved transit center."
Both hubs are in the design and planning process, with construction scheduled to start in 2024. Funding would come from the city and federal money would be leveraged when possible, Nouchi says.
The goal is to "bring people from mauka and make them connect at the mobility hub so they can get a bus, rail, transfer onto a bike," says Nouchi.
Central Hub For Activity
Marc Bilen of Waipahu, who works in downtown Honolulu, says he stopped taking TheBus because of the inconvenience, even though downtown driving can be a hassle and he has to pay for parking.
Bilen began to drive again when Covid cases spiked and he "wanted more control over what time I get to leave the house."
When he took the bus, he had to be at the stop early just in case it came earlier than scheduled. Bilen says driving to and from work is not that bad but wishes there were more transportation options.
Nouchi agrees that "we don't have a lot of choice out there."
"Mobility hubs give the whole menu of choices to commuters or anybody going anywhere, and it lets them choose how they want to do their journey," he says.
When the rail station opens at the 'Aiea hub, 14 bus routes will pass through. The Ala Moana hub will be even busier, with 21 bus routes. There are also plans to restructure bus routes when rail starts operating.
The city is exploring other opportunities at the hubs such as farmers markets and food trucks.
---
Related Stories: How Rail Got to $12.45 Billion and 11 Years Late, Parting Shot: TheBus Combats COVID, TheBus Takes A Bath, O'ahu's Buses Are Crowded Again and Riders Worry, The Resilient City Emerging
---
More Sustainable
The 'Aiea hub will incorporate charging infrastructure, Nouchi says. TheBus drivers using electric buses could charge during layovers, which means the buses will be able to operate all day with fewer batteries.
Aki Marceau, director of electrification of transportation at Hawaiian Electric Co., says switching to electric buses will reduce diesel use and tailpipe emissions, which benefits the community.
TheBus currently has 17 electric buses in its fleet.
Nouchi hopes the hubs will encourage more people to vary how they get around the island.
"Our transportation future here in Honolulu is pretty bright," he says. "We need to make sure that all of our residents and all of our visitors have the most options available to them."