Simple Projects Need Not Apply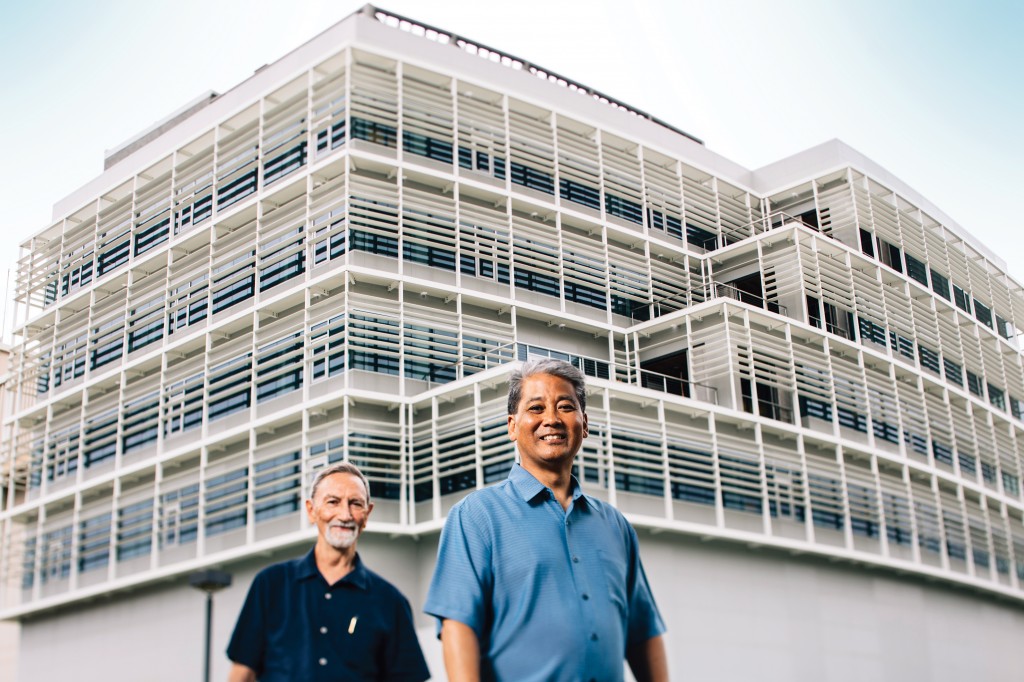 The architects at Ferraro Choi have always been drawn to innovative projects, whether in Hawaii or as far away as the South Pole
"We strive to go after really complex design projects – the more complex the better," says Joseph Ferraro, co-founder and board chair of the innovative architectural firm Ferraro Choi And Associates Ltd.
"We look for clients that have challenging, complex projects that need design solutions," adds president Troy Miyasato. "We're not the firm if you want to put up a simple warehouse."
"Basically we don't do residential, very seldom do we do retail and we do a little bit of hospitality, but what we really thrive on is institutional work," Ferraro explains.
The business known as a pioneer in designing energy-efficient and environmentally friendly buildings celebrated its 30th anniversary this year. Ferraro and retired co-founder Gerald Choi were the first LEED-accredited professionals in the state, Miyasato says. The Leadership in Energy and Environmental Design rating system was created by the U.S. Green Building Council in 1993.   
"At first, all federal buildings had to pass this LEED standard. But it was a hard-sell for private clients, especially developers," Ferraro recalls. "We kept having to prove the savings over time and the benefits of the staff not becoming sick due to a healthier environment. But as it started to catch on around 2010, everybody wanted LEED."
Ferraro joined CJS Group Architects in 1982, where he worked closely with Choi. "Gerald and I thought we could do something better and have more fun," says Ferraro, so they formed their own firm in 1988.
The new company specialized in interior design, though it now does both interiors and exteriors. "We thought if we focused on specific types of clients, it would be a better business plan," Ferraro says. "Gerald was more of the numbers person. I was the marketing person."
In the beginning, it was just the pair of them. "But after about a week, four from our old firm joined us, then the bookkeeper joined. It kept growing!" Ferraro laughs. "We had about 15 or 16 employees when Troy joined in 1997. Now we're at our ideal number: 25."
Miyasato received his bachelor of science, bachelor of architecture and MBA from UH Mānoa. He'll likely become chair when Ferraro retires in 2019. Choi has worked part time since 2003.
"When I heard of an opportunity at Ferraro Choi, I snatched it up" Miyasato says. "By far it's the most progressive and innovative firm I've ever worked at.
"When you hear about Ferraro Choi doing work at the South Pole and elsewhere, you go, 'Hey, I'd like to be a part of that.' "
The South Pole project began with a single science lab Ferraro designed on the coast of Antarctica for the National Science Foundation while still working at CJS. "Then they gave me a contract to finalize the lab's construction after I had opened Ferraro Choi," he recounts.
"Then a new $200-million NSF project at the very center of the South Pole came  up in '92, and Ferraro Choi was awarded that contract. The Amundsen-Scott South Pole Station is like a city. It has laboratories, dormitories, a power plant, a biochamber – everything. It opened in 2008.
"Recently, we've been awarded the complete renovation and redesign of those buildings as part of the South Pole master plan. It'll be beyond LEED because it's in a pristine environment where you can't pollute. It's a hub for science."
The local firm has been contacted by clients from as far away as India, Brazil, Japan and Switzerland, "but our focus is doing architecture well in Hawai'i and the Pacific," Miyasato points out.
Ferraro Choi is also known for its team approach – both with staff and clients. The principals meet weekly, there are office retreats five times a year, and the company promotes community giving and health and wellness programs for all employees, according to Ferraro. "We work to live, not live to work," he quips.
"We involve our clients in our projects to a higher degree than most," Miyasato adds. "We use a collaborative approach that leads to a higher success rate. The principal doesn't disappear once they get the project."
There have been occasional challenges during three decades of business. "The 2008 recession didn't affect us until 2010, but that had the biggest impact – that kept me up at night," Ferraro says. "I had to lay off about 40 percent of our staff. It was horrible."
The company's source of clients has evolved. "When I came in '97, it was about 80 percent private sector- and 20 percent government-funded projects," says Miyasato. "But now it's about 30 percent private and 70 percent government."
Steve Colon, president of development for Hunt Cos., Hawai'i Region, has been a client of Ferraro Choi's for about 10 years.
"They are the most forward-thinking architects in incorporating sustainable design features into their projects.
"They designed the Ohana Medical Clinic for us, which is the U.S. Army's West O'ahu medical service center at Kalaeloa. They're also doing a new 90,000-square-foot medical building design for us.
"They are very collaborative, responsive and intense problem solvers."
Ferraro Choi

Portfolio Picks
Queen Lil'uokalani Trust: Completed in 2016, the trust's new offices – 4,800 square feet on the eighth floor of the Alakea Corporate Tower at 1100 Alakea St. –  feature a playful, open and highly flexible design, according to Ferraro Choi's design summary. The space includes opportunities to work in groups or individually, with 24 workstations, a conference room and small meeting rooms.
Waimānalo Health Center Expanded Facility: Currently under construction, the expanded clinic will reflect the area's rural character. The 15,200-square-foot two-story structure will include admissions areas, a pharmacy, a vision clinic, pediatrics clinic and medical clinic.
Wailuku Civic Hub: The firm is designing a 175,000-square-foot master plan for parking and a unified business, commercial and social hub in downtown Wailuku for the County of Maui.