Talk Story with the Neighbor Island Mayors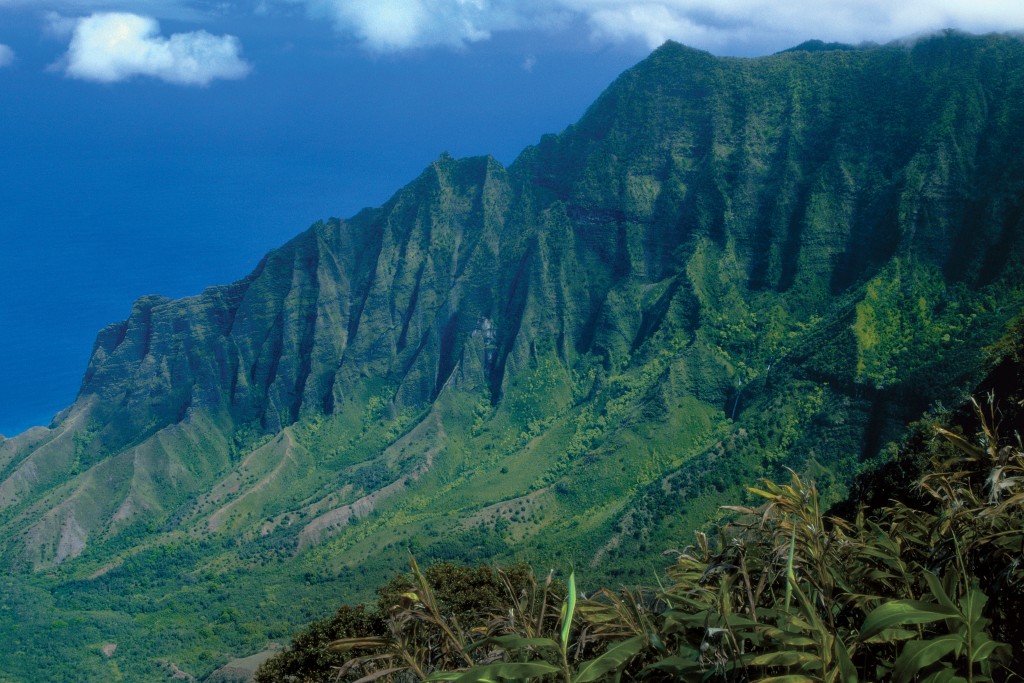 2014 appears to be a crucial year for the Neighbor Islands. The future of agriculture is being passionately debated, tourism is at a crossroads, and the sources of county revenue are up in the air. Hawaii Business interviewed the three Neighbor Island mayors separately and arranged their answers by topic.
GMOs and Agriculture
Is there a role for GMO agriculture on your islands?
Kauai's Carvalho: I believe that to be successful in creating a viable and robust agricultural economy, we must have a diverse portfolio of types of ag: seed agriculture, organic agriculture, agricultural parks, tropical flowers, community gardens, energy crops and many other types of ag. This will take a careful balancing and management of resources, but I believe it can be done and must be done.
A lawsuit has been filed against Kauai County challenging the legality of Ordinance 960, which sought to require greater disclosure of pesticide use and create buffer zones around certain agricultural operations, which boiled down to the four seed companies and Kauai Coffee lands. We are unsure if the court will issue an injunction against the ordinance while the suit is in progress. In the meantime, we are drafting administrative rules to implement the ordinance. The good news is that the state's voluntary Good Neighbor Program is in place, providing additional disclosure and buffer zones. There are still strong feelings on both sides and I'm sure it will continue to evolve.
The third component of Ordinance 960 is an environmental public health impact study, which has been funded by the County Council. We are awaiting passage of a Council resolution that will provide direction on how the study will be completed. We are ready to begin work on the study as soon as the resolution is passed.
Maui's Arakawa: Our County Council is reviewing the Kauai bill. Everyone is waiting to see what happens. But almost all of the fruits and vegetables we have in Hawaii have been genetically modified. I've been a farmer most of my life, and grew up on a farm, and have done a lot of crossing of different kinds of plants because it was so expensive to buy seedlings. With fruit trees, I've grafted, for instance, the Hawaiian lemon root stock with other citrus. Almost all the Haden mangoes are grafted. We marry the things we want in a crop using GMO by putting two different kinds of genes together to create what you want.
Sometimes you do multiple grafts on the same tree to modify the original to create disease resistance, or a sweeter fruit. Fighting papaya ring rot and stem rot in cabbage, creating Hawaiian Supersweet corn, all were done with pollination and cross-breeding. This has been going on for thousands of years.
Historically, tomatoes were probably the first. Today in the catalogues there are dozens of different varieties.
GMO is an issue brought up both nationally and internationally, I think, because people hate the idea of big companies having the seeds and the control of an industry. It started as an anti-big-conglomerates movement rather than a science-is-bad movement. After all, every research group researching agricultural products is doing some type of genetic modifying. And look at what else we're doing: We're putting animal parts into humans. For instance, human heart valves are being replaced with pig valves. Is that bad?
Hawaii's Kenoi: GMO has been very important and beneficial to our cut-flower, orchid, anthurium and nursery industry. The science research has been cutting-edge and we've seen a lot of innovation and creativity, and certainly in our papaya industry, the importance of research is well-known for maintaining, growing and protecting its viability.
I still don't believe GMO is the issue facing agriculture – it's water and access to land and how we can grow our next generation of farmers. GMO has taken a lot of energy and emphasis away from more important issues like these. Another important issue is access to markets, making it easier for farmers to overcome regulatory hurdles, reducing our dependence on imported food and providing real food security.
My message to the Council and the community is: "Let's look at where our farmers are farming and how we can support them." The bill (Hawaii County Bill 113) talks about registering those doing GMO, but in the next year we want everyone to register with the idea of, "Hey, let's take a deep breath and talk about facts, data and accurate statistics. Who is doing exactly what and where," and then we can provide necessary support.
Everybody is grandfathered in. Whatever they farm, they can continue to farm. Is there any farm that will close or lay off workers? The answer is no. We don't have the big multinational corporations. None of them are here. So instead of getting into hypothetical arguments about large agri-business, let's focus on our community-based businesses and our businesses on-island. I want to protect them and not be involved in a debate.
The GMO issue is very divisive and has been pitting farmer against farmer and dividing our community. Let's put aside what we disagree about and work together on what we agree about.
The pesticide issue has been mixed with GMO. Should it be?
Maui's Arakawa: No. Pesticides are a completely different issue. They are acknowledged as potentially hazardous, but their use is geared around how to make it safe to apply so it's useful. The state Department of Agriculture has strict rules about how they can be applied. For each pesticide approved for use, several thousand are rejected, so it's very regulated. More information needs to be given to the public about both these issues because there's confusion.
The Department of Agriculture, the Health Department, and UH's College of Tropical Agriculture and Human Resources all have drafted positions cautioning about anti-GMO and anti-pesticide bills. Their staff are concerned about the lack of facts in much of the discussion.
Tourism
What initiatives are you taking to sustain and improve the visitor industry on your islands?
Maui's Arakawa: When the APEC conference was held, Maui was assigned Korea as the country to create sister-city relationships with and we have. But we've also created those relationships with cities in China, Japan, Taiwan, Okinawa, the Philippines. With Korea, we've had on-going relationships with the mayors of our sister cities and the governors of those areas. For instance, in Goyang last year, we were headliners at the international flower festival. We will be again this year. One impact: In the past year, we've seen the number of tourists from Korea to Maui double. We've seen this change occur through the development of personal relationships.
We're promoting ourselves a lot stronger than the state promotes us to make sure we're in the game. We've put more than $3 million this past year into advertising – primarily on the continental U.S. but also in Asia.
The reality in tourism is that Oahu and Waikiki are built out. Their carrying capacity is maxed out. But the outer islands are young counties and all are about 10 percent built out. So the expansion capabilities are all on the outer islands. Hawaii Tourism Authority is recognizing that diversification is needed to spread the tourist roots around.
Hawaii's Kenoi: Recently I had the privilege of meeting secretary of Homeland Security Jeh Johnson in D.C. to talk about the expansion of the international airport in Kona that was lost when Customs reduced its footprint after we lost the daily flight from Japan in October 2010. He has been to Kona and understands our needs and assigned an assistant secretary to work with us on that. The airport design is inadequate for security reasons, so the governor has set aside $35 million for needed changes. If we can provide that secondary international destination, it would be a tremendous economic boost to the island of Hawaii. We're optimistic it could happen in 12 to 18 months.
Hawaii Island is advantageously positioned to take advantage of the emerging Asian market. You can talk about the World Billfish Championship in Kona, and our premiere international triathlon, and our renewable energy, which offers the best array of renewable energy resources in the country. Hawaii Island is the future breadbasket of the state. If you have those international flights coming in, you still have the bottom of the plane available for cargo for our products: Kona coffee, grass-fed Hawaiian beef, Kau Coffee. It's not just tourism for the future, but those daily flights allow us to take products and commodities around the world without additional costs.
Kauai's Carvalho: Tourism marketing is always important, but, for the county, we have been focusing on getting our parks and public facilities back up to par. Once the visitor gets here, he or she must have a positive experience. Having clean, safe facilities is one of the most important things we can do. And this benefits residents, too. We want our parks to be a source of pride and places our residents can enjoy.
Taxes and Revenue
First some background: Under the law governing the Transient Accommodations Tax, the counties are supposed to receive 44.8 percent of the TAT, with that chunk divided 22.8 percent for Maui County, 18.6 percent for Hawaii County, 14.5 percent for Kauai County and 44.1 percent for Honolulu. That was in recognition that visitors were served by many county services: police, fire protection, traffic management and much more.
But the state Legislature has capped the TAT distribution to the counties at 2010 levels, a total of $93 million. As the number of tourists coming to Hawaii grows each year, TAT revenue has been growing, but the cap funnels all the extra millions of dollars in revenue to the state.
Mr. Mayor, what percentage of the TAT should go to county governments?
Kauai's Carvalho: We feel the TAT legislation as originally passed provided a fair distribution of these dollars to the state and the counties. We understand the reasons a cap was implemented in 2011, and it is in all of our best interests for the state to stabilize its finances. We hope the cap will eventually be lifted and the original distribution restored. A bill has been introduced to do just that, and all the mayors support that bill.
Maui's Arakawa: The Legislature keeps the counties' share of the TAT capped, but, if it was to uncap it, it would over double the revenue for the counties.
The TAT was intended for the counties to be able to petition (for extra funding when needed), but, for the last several years, the Legislature has been talking of taking the entire TAT for the state's general fund. If the Legislature does take the TAT, we're asking it to give us back a portion of the GET so we can balance the difference. None of the mayors want to raise the GET, unless our TAT revenues are cut even further. What Maui gets is about $20 million, but that would go way up, maybe to around $80 million without a cap.
Because the state has limited the TAT revenue to the counties, the county mayors have asked the Legislature for the right to impose their own "add on" to the state general excise tax. If granted that authority, how would you recommend spending the additional revenue?
Hawaii's Kenoi: We would use it for the reason it was granted – for infrastructure. Hawaii Island is 4,028 square miles – twice as large as all other islands combined – and we're confronting the absence of our beloved senior senator, Daniel K. Inouye. The road we built in Kona initially had $35 million for construction for 1.8 miles. With in-house savings we were able to pave an additional 1.1 miles for a total of 2.9 miles.
One of our biggest projects is the Puna Highway. That's our fastest growing area, with over 70,000 residential lots that are the most affordable in the state.
You can purchase an acre of land for $20,000. But because of our challenging topography, our major highways are two-lane roads, so we need expansion of the bus system as well. We already have over 1 million passengers a year on our buses.
But, rather than raising the GET, we want flexibility. That would include changes to the transit accommodations tax. There's been a cap on what the counties get, and if the cap was raised so the counties could receive their fair share of the revenue, we'd be OK in not getting the extra GET. The counties need more flexibility and greater autonomy.
Kauai's Carvalho: Ultimately the County Council would decide what to do with extra revenue, but my thought is to fund large projects such as the construction of our new landfill/resource-recovery park site, expansion of the public transportation system or to build more affordable housing. We want to make sure this money is used to address pressing needs and that it benefits all taxpayers on Kauai – especially the working people and those most in need.
The counties already have the property tax. Wouldn't it be less regressive to increase property taxes rather than add to the excise tax?
Kauai's Carvalho: We don't believe so. We have already raised property taxes substantially in all categories except in the class that represents owner-occupants. Furthermore, property taxes impact only our residents. We estimate that 40 percent of the GET revenues would come from visitors, which would help spread the burden beyond those who live here.
Hawaii's Kenoi: All of the mayors raised property taxes during the economic downturn. And bus fares. We had to balance our revenue with expenditures. We all had declining property values for four consecutive years; at the same time we saw healthcare cost increases for four years and an increase in population and demand for services and programs. The counties were all challenged.
Land Use and Gambling
Given the increased capacity and sophistication of county governments, is there still a need for the state Land Use Commission?
Hawaii's Kenoi: I would say no. There was a time when the LUC played an important role in managing a state separated by water but connected through family, business and shared interests. Our counties have developed the expertise to manage their own affairs. And direct accountability leads to better decision-making.
Maui's Arakawa: I believe the LUC has outlived its usefulness. I'd like to see it dissolved. Our County Council and planning commission can handle the needs of Maui County and have better information on what's happening on our island. The LUC just adds another layer of bureaucracy and expense.
Kauai's Carvalho: There is a need for planning or land management on the state level, because we're all interconnected and depend on each other as one island state. However, many of the boundaries identified decades ago need to be revisited in a comprehensive way.
Should the counties be allowed to permit gambling?
Hawaii's Kenoi: There are a lot of questions about social impact and cost. I want us to be more innovative when we talk about expanding our economy. Gambling is low-hanging fruit. It's an easy income-generator, but there are so many other opportunities to expand our economy without turning to gambling. Gambling raises more questions than answers.
Kauai's Carvalho: This is a difficult one. I lean toward not going there because of the social problems it could cause. We have other options to consider. I also believe a much larger statewide discussion would need to take place before we permitted gambling in Hawaii.
Maui's Arakawa: Maui has been voted one of the best destinations in the world for umpteen years. When you've got a winning formula, you're tempting fate when you change. Gambling would change the complexion of what we have. If you're going to mess with that, you need clear evidence of a benefit and no one has that clear evidence.
Transportation Subsidies
In some other states, transportation services are subsidized to provide service and economic integration around the state. Should Hawaii subsidize air and freight services to the Neighbor Islands?
Kauai's Carvalho: The four county mayors recently discussed whether an interisland ferry should be pursued again. We all agreed that if the proper environmental due diligence was completed, a ferry would be highly beneficial. Instead of government subsidies, I think a better solution is incentivizing more transportation alternatives from the private sector.
Maui's Arakawa: In reality the state probably should be (subsidizing interisland freight service.) What's coming from the Neighbor Islands to Oahu as products should be subsidized, and maybe coming from Oahu to the Neighbor Islands should not be.
Final Thoughts
What other big issues are on your radar?
Maui's Arakawa: One is the introduction of alien species such as the fire ant that we're seeing now on Maui. We have very poor screening, with a state staff that's much too small. There's only one inspector per county. The governor is asking for money for one more for each county but I think we need two more per county. The fire ant came from the Big Island in shipments of hapu ferns, but they could come in on anything. So we must have inspectors to do the job thoroughly. It's a huge problem, but on Maui we've almost eliminated the coqui frog. We created the Maui Invasive Species Committee with county funds and we're making everyone aware of the problem. Even hotel staffs are out at night hunting the frogs. We created a map of problem areas and went after them one by one.
Kauai's Carvalho: So often what makes the news are things that divide us. However, there are still many, many things that bring us together as a community and as a state. It's important for us to take a step back – back a generation or two or even more – when the way we dealt with difficult issues was based on aloha and mutual respect. My team and I have tried very hard to deal with the emotional side of any issue or project first. Meaning: get all our feelings on the table and talk about them first. Then we can get to a place of understanding and general agreement before moving forward. This has worked well. Of course, there will almost always be some who are not satisfied. But we've found this method has helped us look at other opportunities and approaches that have actually improved projects and addressed many of the concerns of our people. It's all about relationships. If we put people and relationships first, collaboration and good, shared decisions will follow.
Hawaii's Kenoi: It's about putting the pieces in place that will help you strategically grow Hawaii's economy. Tourism. Military. Agriculture. We have to understand there's going to be a transformative shift to higher education, science, astronomy. The 30-Meter Telescope will add construction jobs in the next decade, but the data coming off the mountain through technology and software is a whole new sector in our economy. The kids of tomorrow don't have to live on Wall Street or Bishop Street, they can live on Kinaole Street and engage in the 21st-century economy. And people who have the knowledge, experience and expertise, we want to encourage them not just to visit Hawaii as a second home, but to invest in Hawaii Island's future.
(The interviews were edited for conciseness and clarity.)