The Apprentice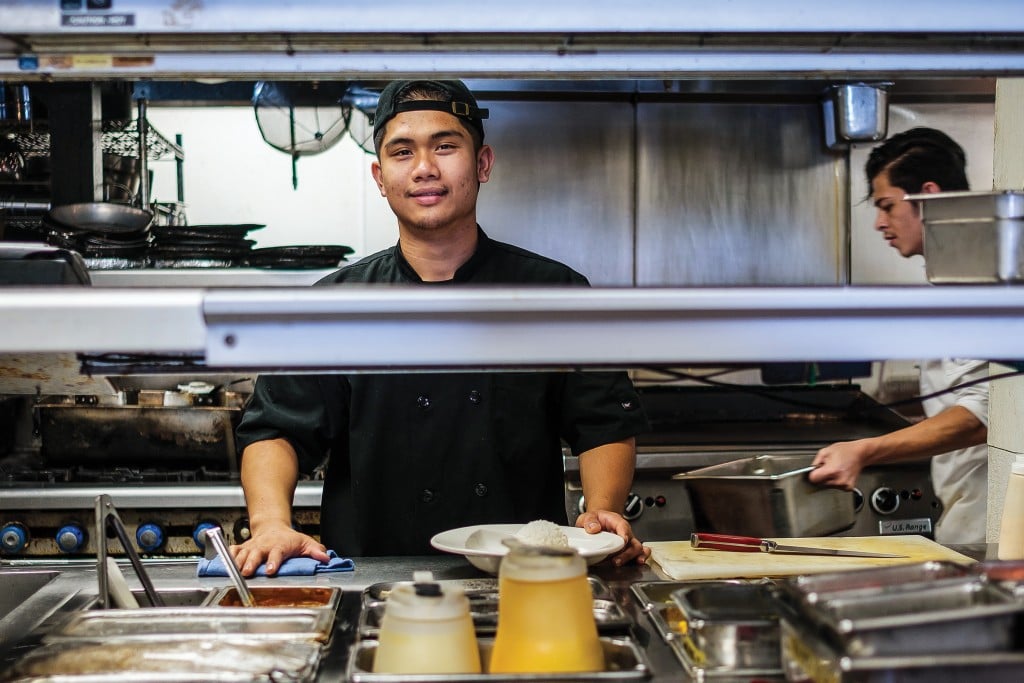 One major hurdle is that businesses must invest a lot of time in paperwork to outline how a new apprenticeship program will function and what the goals will be for participants.
Sally Pestana and her office help with that voluminous paperwork. She is the program director in Kapiolani Community College's health department, which has three new apprenticeship programs with 30 participants. They are paid by their employers while they work, train on-the-job and take classes to ramp up their technical skills. The programs are for community health workers, pharmacy technicians and optometry assistants.
"We spent from July of 2017 priming the pump, building the infrastructure, educating the employers and getting our first set of standards approved by the state. It's been quite a journey in rapid speed," says Pestana. "There is a bit of a learning curve on how you prepare documents."
She says KCC's outreach to employers about apprenticeships has been overwhelmingly positive. "With every person I meet, the lightbulb goes off, and they say 'How quickly can we get in the sandbox?' "
Pestana says this new initiative is critical to the future of the health care industry.
"Apprenticeships could be the magic bullet for transforming – and improving – health education in the U.S. in a great number of different career training programs," says Pestana. Classroom simulation alone is "never as good as on-the-job training," she says
She also says unpaid internships are not as successful as apprenticeships. With apprenticeships, the employee is hired and receives on-the-job training and mentorship, along with classroom training. The employee earns a paycheck and federal grants pay most or all of the tuition costs.
"For instance, for the optometrist assistant, the grant provides $2,000 of the $2,300 tuition for the 145 hours of classroom training. That's about 10 months of three to six hours a week" of classes in addition to the workweek.
KCC's other apprenticeship advocates include Stanford Fichtman, a program manager who oversees both the health care and the culinary arts programs and budgeting.
Fichtman says the new federal initiative has enabled KCC to launch two cohorts of 100 workers each in the culinary arts program since last fall. The federal grant pays the full tuition – between $3,000 and $4,000 for the one day a week of classes over 20 weeks – and employers pay employees' salaries.
"A program like this really helps the employers to start the process of standardizing their employees to a certain level of expertise and providing them the necessary training," says Fichtman.
"We have employers who are basically dragging people in off the street and saying 'Anyone who needs a job, come on in,' " he says. "This program gives people who may have dropped out of high school or maybe had some problems in their lives, and want to get back on their feet, a chance to do that."
Apprentices who pass the program receive a "Certificate of Completion of Apprenticeship" issued by the state Department of Labor and Industrial Relations.
DevLeague's Cheng and the Pacific Center for Advanced Technology and Training at Honolulu Community College were asked to help bring apprenticeships into the IT world.
"This goes back to the old days where companies made an investment in their employees," says Cheng. "We want to build capacity in the technology sector and that's an investment in your people, and the people of Hawaii, and that's important. Everyone wants a better salary, job, career."
DevLeague has become an approved provider of classroom training for software developers and big data analysis. It has also created templates that streamline the process for other tech companies that want to create apprenticeships.
"It's a 26-page process," says Cheng. "We simplified it by narrowing it down and streamlining the initiative with the two key sections that employers need to be aware of. We created a template and open-sourced it. We've tried to make it as easy as possible for employers to sign up."
DevLeague is also reaching out to employers to explain the program and process. "When I speak in front of a crowd we do it from an employer's point of view," says Cheng.
"What's really important is skills development. I've never met an employer who says we have enough skilled employees. So let's make everybody better, and help people get those technical skills. Everyone is saying 'go to college,' but we know college isn't for everyone."
Ricky Zheng launched his own IT company, ZR Systems, in 2006 to provide full service IT support and management for other Hawaii businesses. He now has 19 employees and says the new apprenticeship program is an ideal way to help small businesses like his to compete.