The Apprentice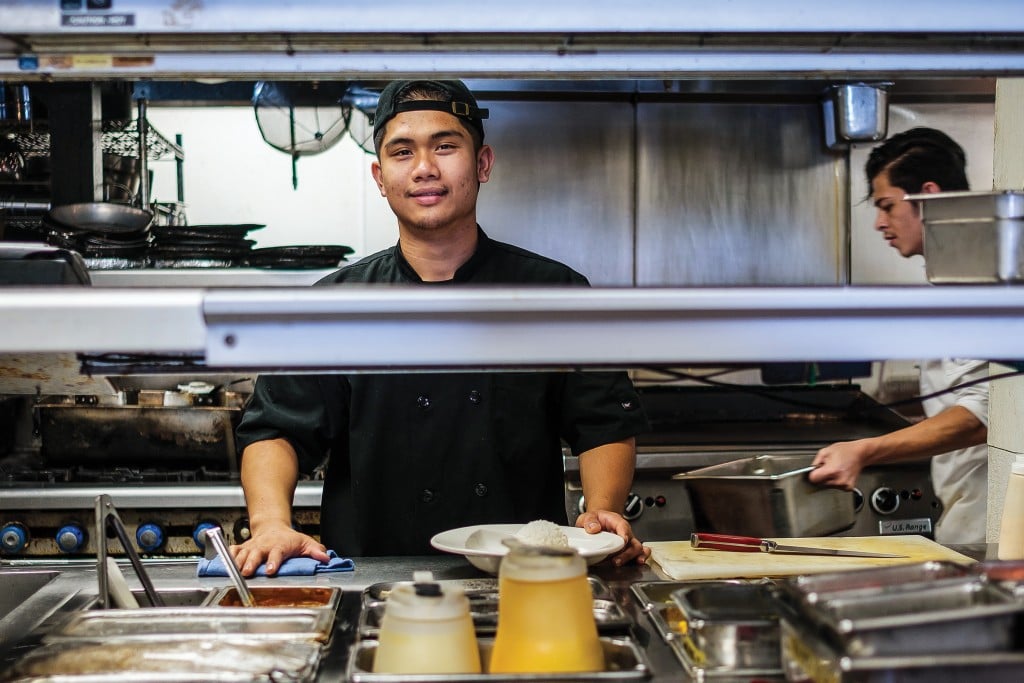 New apprenticeships in tech, healthcare, cooking and business are attracting local applicants with a tried-and-true mix: a paid job plus classes to improve your skills. And tuition is almost entirely covered by federal grants.
Guy Shibayama says an apprenticeship saved his life. Now he's working to give others the same opportunity while helping local businesses find trained candidates for hard-to-fill jobs.
Shibayama says he struggled to graduate from Farrington High School, but felt he was heading nowhere until his sister got him a job at the small air conditioning shop where she worked in Kalihi.
"You better show up at 6:45 Monday morning," she told him. "You're not going to be a bum."
He showed up and it changed his future. After spending a year as a janitor, he became a sheet metal apprentice, joined the union and learned the trade over four years of on-the-job training and classroom instruction. He earned a paycheck by working during the day and attending classes at night, gradually learning skills that lasted a lifetime, enabling him to raise a family and then retire a few years ago with a pension and annuity worth just under a million dollars.
"Apprenticeship did that for me," says Shibayama, who now works as a professor at Honolulu Community College and as the school's apprenticeship coordinator. "I tell young people, 'Get into something like sheet metal and if you can stick in the industry a number of years, you'll retire as a millionaire.' "
Construction trade unions in Hawaii operate 52 apprenticeship programs in plumbing, carpentry, masonry, welding, electrical and other areas; some programs have been around since the 1950s. Today, a flood of new state and business-sponsored apprenticeships are focusing on other careers.
Beginning in 2016, 27 new apprenticeship programs in IT, healthcare, business analysis and culinary arts were added to state rosters under the American Apprentice Initiative of the U.S. Department of Labor. They're funded by $4.4 million in federal grants administered through the state Department of Labor and Industrial Relations, with local college and business partners.
"This is amazing, it's a real opportunity and everyone wins," says Russel Cheng of DevLeague, an employer that has embraced new tech apprenticeships and streamlined the extensive paperwork for other tech companies that want apprentices.
"This says to the employee, 'We value you,' and at the end of the training they have skilled up as a fully trained journeyperson," says Cheng. "And the employer wins because the people want to stay because there's been an investment in them, and they've created a bond."
Currently, about 7,000 apprentices are part of existing state-approved and registered programs. The goal for the new programs is 700 more apprentices through 2020, says Carol Kanayama, program officer in the Workforce Development Division of the state Department of Labor and Industrial Relations and a key player in advancing apprenticeships in Hawaii. Already, several hundred apprentices have been admitted to the new programs.
"Our challenge is to get businesses in Hawaii to get familiar with and accept the idea of having apprenticeship programs to create the new workers they'll need in the end."

– Carol Kanayama, Program Officer, Workforce Development Division in the state Department of Labor and Industrial Relations
"The federal government and the Obama administration made a promise that we'd double the number of apprenticeships to upscale the workforce and learn from the European model and our past experience," says Kanayama. "They'd become more aware of how apprenticeship programs develop a skilled workforce.
"The classroom component really complements on-the-job training," she adds. "That's how you end up with a skilled worker the employer wants. We learn best by doing. We learn in the classroom, but when it's combined with hands-on training, we learn the best."
Executive chef Ronnie Nasuti of Tiki's Grill & Bar on Kalakaua Avenue agrees. He has recommended one employee for the culinary apprenticeship program and is going to send another.
"Not everyone is trying to go to college," Nasuti says. "I appreciate this because I took culinary arts in high school for four years and then I apprenticed after that. To me that was everything, the beginning of my career. I had to touch things to learn it."