The Pandemic is Not Gender Neutral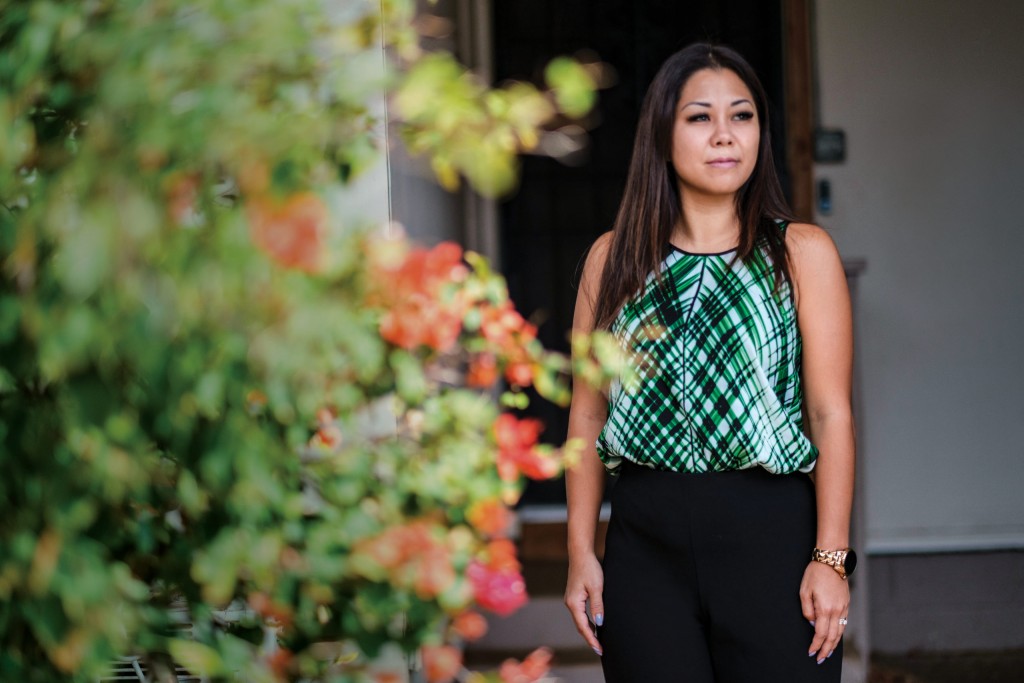 Working women suffer disproportionately from the recession in their finances, careers and health
Nikki Nakamura and her husband still sit at each end of the dining room table, just as they did before the COVID-19 pandemic. But so much else about their lives has changed. And though both work full time, it is her work that has been disrupted the most.
That is common in Hawai'i, across America and around the world: On average, the lives of working women have been more upended by the pandemic than the lives of working men, according to two published reports and local experts in the field.
Now when they sit at opposite ends of the dining table, the Nakamura's work on dueling computers, while their children learn, play and occasionally skateboard through the house.
They schedule Zoom meetings so they don't coincide, so that each has privacy and a semblance of quiet. They stagger their business meetings or move a laptop into another room so their work conversations don't overlap. They have turned the living room into both a gym to stay fit and a movie theater to entertain the kids. And both of their mothers are helping with the children's online schooling.
On top of that it was Nikki Nakamura, not her husband, who had to find a new job when she was furloughed from Hilton, where she had worked for 10 years and was a highly skilled marketing manager.
"During the whole pandemic I was stressed out by the fact that I had kids, and I was filing for unemployment and I didn't know how the tourist industry was going to be," says Nakamura. "It was scary having kids, and a mortgage to pay, and not knowing when we'd be called back or how long it would be."
She loved her career at Hilton, but large-scale tourism and her job both had an uncertain return date, so she revamped her professional identity and switched careers – a nerve-wracking process in the midst of everything else.
Nakamura is not alone. Across the nation and around the world, the jobs, stress, personal responsibilities and futures of women are being more disrupted by the pandemic on average than the careers and lives of men.
"Hawai'i's economy has been devastated by the pandemic and women have been especially susceptible," says Prof. Sonia Ghumman of UH Mānoa's Shidler College of Business, whose research evaluates gender disparities in the labor force. "Couples are having to calculate who makes more and whose job may be worth sacrificing to keep the family afloat.
"What you find is that breadwinners, who statistically are more likely to be males, are seen as essential to the family cash flow while the non breadwinners are being asked to sacrifice their jobs or hold off on their careers."
A report by the United Nations Population Fund says: "Pandemics make existing gender inequalities for women and girls worse, and can impact how they receive treatment and care.
"In general, the outbreak experience means that women's domestic burden becomes exacerbated as well, making their share of household responsibilities even heavier, and for many while they also work full time."
Another report, the U.N. secretary-general's policy brief on "The Impact of COVID-19 on Women," published in April, offered more discouraging news: "Emerging evidence in the impact of COVID-19 suggests that women's economic and productive lives will be affected disproportionately and differently from men."
Women nationwide had been making economic gains in the workplace for many years, but social scientists say the pandemic has reversed that trend.
"For women in the paid workforce, 2020 began with great optimism due to strong employment numbers, especially in health care and education," Colette Browne, professor emerita at UH's Myron B. Thompson School of Social Work, writes in an email. "But COVID-19 has wiped out nearly all of women's gains in the workforce over the last decade.
"Emerging data is finding that even in jobs traditionally held by men such as transportation and warehousing, women make up about one-quarter of all the jobs – but represent 39% of job losses in those sectors."
And, Browne adds, "Young workers and women of color face consistently high unemployment rates because they are more likely to work in leisure, service and retail industries – work sites impacted early due to closures enacted to prevent the spread of new coronavirus cases."
Professor Nathanial Hartmann, who teaches at UH Mānoa's Shidler College of Business and researches employment trends, says changes in the work environment caused by the pandemic may be long-lasting.
"More jobs are converting permanently to this remote work situation, or there are discussions of that happening," he says. With fewer jobs available, often it's women who are left out.
We seem to be moving to what is being called "a no-touch world," meaning consumers will increasingly use technology to order food both from grocery stores and restaurants, which could lead to permanent cuts in the food service labor force. About 53% of entry-level positions in the food industry are held by women, according to the 2018 "Women in the Workplace" report by McKinsey & Co. Entry-level workers are often the first jobs to be cut.
Nikki Nakamura lost her job in tourism, but found a new one with American Carpet One.
"After receiving an offer for a new position, I felt blessed," Nakamura says. "But I was starting a whole relationship in an industry I had no clue about. I'm excited that something fell onto me, but stressed about something brand-new."
Her new job with American Carpet One means she will be going into the office, which requires her to set up child care on alternate days with her mother and her mother-in-law, because her husband's job in construction technology has also picked up.
While she was furloughed, Nikki took on most of the children's schooling, including online speech therapy for their younger child. Both her and her husband's mothers also pitched in, though one had to learn the required computer technology.
"That was a little bump in the road," says Nakamura. "My husband had to teach her how to do that."
Many women did not lose their jobs, but they gained another layer of complexity and stress. Kimberly Canepa Morris, COO of the Girl Scouts of Hawai'i, had to juggle working from home with a new baby while "cookie season" – the Girl Scouts biggest annual fundraiser – was in full stride.
"The most challenging part is you feel, as a woman, you have to do everything on both ends of the spectrum," says Morris. "You want to be the stay-at-home mom, but also the executive. That was challenging as I was working, and watching my daughter. You have to make sure she's not eating the power cords, but you're having to work and make sure your organization stays afloat.
"I'm falling asleep at 8:30 because I'm just so exhausted."
Diane S. L. Paloma, CEO of King Lunalilo Trust and Home, has 32 elderly residents under her care – and under lockdown. It has meant 10- and 12-hour workdays at the care home since March, plus Saturdays, often spent on kitchen duty helping to prepare meals.
"Being in charge of a nursing care home during the COVID crisis was probably one of the highest stressors, right behind the first responders," says Paloma.
Pre-pandemic, she says, "Our operations relied heavily on volunteers coming in practically every day, with about 300 daily providing entertainment, assistance with activities, in the garden, in the kitchen, and in almost every aspect of the operation. All of that had to stop because of COVID, so it's our employees doing the bulk of all of those activities. It has totally changed the way we've had to operate."
It also meant her three children often handled their own schooling, although the family tried to make sure one adult was home at all times.
Going forward there are new challenges as her husband, Jason Paloma, who is the office manager for the Hawai'i Lodging and Tourism Association, will soon be back at work.
"When my husband has to physically go in the office every day we're trying to figure out what to do with the older kids. We sent the youngest one to grandma's."
Paloma has a long career in health care – for instance, she helped create the Department of Native Hawaiian Health at the John A. Burns School of Medicine. She has seen how even less devastating events than COVID-19 have impacted women.
"The burden on women is much higher than on men. Society expects women to be the first to quit their jobs and take care of the kids," she says. "When there's no one else to care for a kupuna and a family can't afford a care facility, it's more cost-effective for them to quit their jobs and care for the family member themselves. That happens quite a lot."
The U.N. policy brief on COVID-19 and its impact on women agrees that the burden usually falls on women. "In many countries, the first round of layoffs has been particularly acute in the services sector, including retail, hospitality and tourism, where women are overrepresented," it says.
"Across the globe, women earn less, save less, hold less secure jobs, are more likely to be employed in the informal sector. They have less access to social protections, and are the majority of single-parent households. Their capacity to absorb economic shocks is therefore less than that of men. As women take on greater care demands at home, their jobs will also be disproportionately affected by cuts and layoffs. Such impacts risk rolling back the already fragile gains made in female labor force participation, limiting women's ability to support themselves and their families, especially for female-headed households."
Marisa Guerrero, who shares custody of her son with her ex-husband, knows firsthand the challenges of combining work and parenting. In her position as senior content manager of brand marketing with Outrigger Hospitality Group, she typically worked eight to 10 hours a day before COVID-19. Working from home the last few months has put it closer to 15 hours a day, but with more breaks to care for her 4-year-old.
"I purposely wake up early to get a few hours on my computer before the kiddo wakes up," writes Guerrero in an email. "And I also put in a few hours at night. I'm eternally grateful that my employer is allowing me to work from home. But working from home with a bored kid is a whole other topic. I try to set him up with little projects throughout the day, but inevitably he wants to play – with me."
Makana McClellan is the director of marketing and communications, as well as director of business development and community relations for Shriners Hospitals for Children – Honolulu. For her, the pandemic has meant a major increase in workload.
"From the date of the initial statewide stay-at-home order through May 4, I worked exclusively from home," she says. "Like many of us, this actually results in working more than ever."
She had worked in corporate communications at The Queen's Health Systems for 10 years, so her work has always come with long hours, but the pandemic "kicked things into overdrive, and we're still operating that way without a definitive end to this in sight."
McClellan describes working from home with three children, ages 7, 6 and 2, as "hyper-drive," but also rewarding and productive. It helped to clearly communicate with family and work colleagues.
Plus, she and her husband work well together. "Kekoa has clients all over the world, so there were days that he had conference calls in six time zones while he and I tag-teamed the kids and the never-ending household chores."
She was the main teacher while he cooked and cleaned. By the third week, they were both exhausted – surviving only by depending on the calendar they established as well as "hundreds of alarms we set up to help us navigate the day."
Ghumman of the Shidler College of Business says this situation is common.
"Work-life balance has always been tricky to navigate, but COVID underscores this struggle – and has made work-life balance exponentially unmanageable," she says. "Both genders are juggling careers and families while trying to maintain their health and sanity. Women tend to carry the heavier load so their struggles have become even more amplified with the pandemic.
"With the recent school closures where external childcare resources have been dropped from the equation, the added burden of caretaking/homeschooling has fallen onto parents, with women being hit harder."
UH's Browne says the disproportionate impacts of such crises hurts women in both the short and long terms.
"Each year lived under economic duress from gender inequality diminishes the chance that girls and women will be able to enjoy economic security later in life," she says.
In a recent study on the economic security of people 65 and older in Hawai'i that Browne conducted with the Institute for Women's Policy Research, she says, "We identified that older women were more likely to live in poverty and less likely to have sufficient income and assets compared to men.
"Women's poverty rate was 9.1% compared to a rate of 5.8% for men. Many of the economic challenges that older women experience stem from inequality they face earlier in life, including a persistent wage gap, the high cost of child care, inflexible work sites, and a shortage of affordable housing. Over one's lifetime, and as these challenges build, it becomes more difficult to lay the foundation for economic security in retirement especially for the many older single women."
Guerrero of Outrigger says her office is open again, and many of her colleagues are back there. But without childcare, until kindergarten starts in mid-August, she'll still be working from home.
What has helped tremendously is being in touch with other working women struggling with the same issues.
"Just being able to connect with other working moms via text – because realistically that's all we have time for – is helpful," says Guerrero. "We're all struggling, but we're in it together."