Top 100 in Real Estate 2018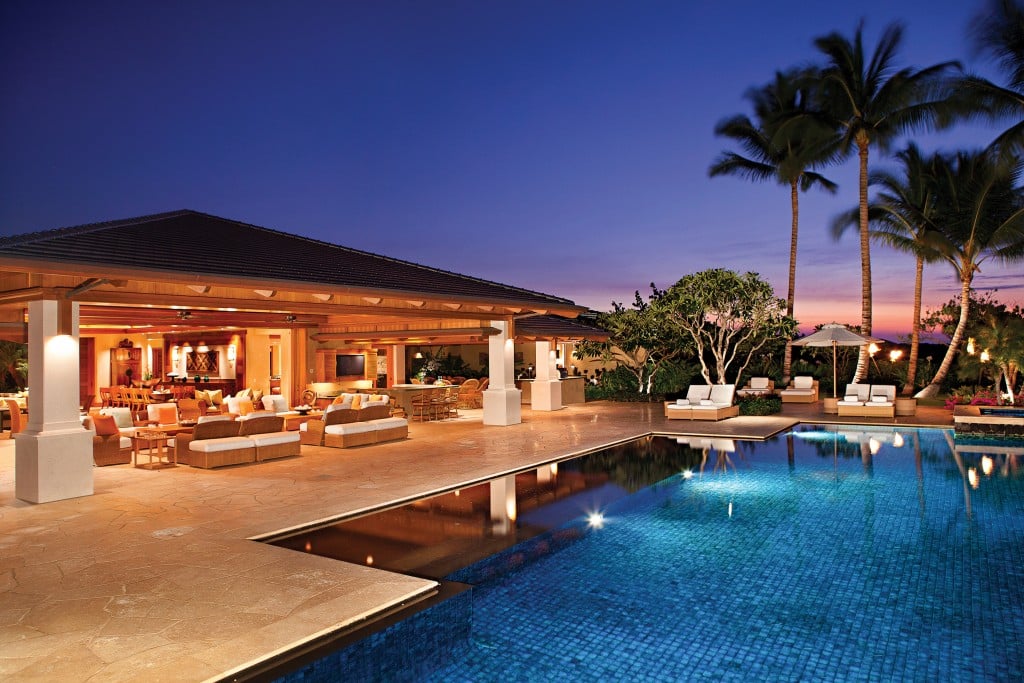 Top 100 Real Estate Agents
No. 1 James A. Schneider
The state's top real estate agent based on 2017 sales works exclusively within Kukio, the private residential club along the coast, about 8 miles north of Kona airport. James Schneider attributes his success to a mixture of "a tremendous support staff, backing of Kukio and the support of loyal club members."
Kukio Properties has three agents and four support staff to cover the real estate needs of its members.
"There is no internal competition (for sales), we all work together," says Schneider, who is now in his 12th year with Kukio. Word-of-mouth from members is their most effective source of marketing, he says, with most members coming from the U.S. West Coast.
He had 28 transactions totaling $133.5 million last year; 15 of those transactions were of vacant residential land. This is the first year the Top 100 sales totals include residential vacant land; in previous years, Hawaii Business counted vacant land sales on a separate list.
Hawaii Island
| | | | | | | |
| --- | --- | --- | --- | --- | --- | --- |
| ISLAND RANK | STATE RANK | AGENT | FIRM | TOTAL SALES | TRANSACTIONS | ISLAND |
| 1 | 1 | James A Schneider | Kukio Properties | 133,500,000 | 28 | Hawaii Island |
| 2 | 2 | Yvonne J. Khouri-Morgan | Mauna Lani Realty, Inc. | 133,454,000 | 46 | Hawaii Island |
| 3 | 9 | Harold Clarke | Luxury Big Island By Harold Clarke | 72,689,000 | 28 | Hawaii Island |
| 4 | 12 | Nicole L.K. Vincent | Kohanaiki Realty LLC | 67,010,000 | 11 | Hawaii Island |
| 5 | 16 | Stephen T. L. Hurwitz | Mauna Kea Realty | 60,123,000 | 23 | Hawaii Island |
| 6 | 20 | Thomas Loratta | Elite Pacific Properties LLC – Waikōloa | 54,150,000 | 9 | Hawaii Island |
| 7 | 23 | Eileen F. Lacerte | Hawaii Beach and Golf Properties | 48,370,000 | 15 | Hawaii Island |
| 8 | 24 | Robert Kildow | Hualalai Realty | 47,261,000 | 11 | Hawaii Island |
| 9 | 30 | Tony L. Pinkert | Elite Pacific Properties LLC – Waikōloa | 41,090,000 | 11 | Hawaii Island |
| 10 | 54 | H. Scott Rotheiser | Owners.com | 31,913,903 | 107 | Hawaii Island |
| 11 | 55 | Molly Harris | MacArthur Sotheby's International Realty – Kamuela | 31,540,300 | 20 | Hawaii Island |
| 12 | 59 | Tomoko Matsumoto | Hapuna Realty | 30,268,500 | 26 | Hawaii Island |
| 13 | 66 | Carrie Nicholson | Hawaii Life | 29,124,000 | 15 | Hawaii Island |
| 14 | 73 | Sue Brown | Sue Brown Realty and Associates | 27,580,500 | 41 | Hawaii Island |
| 15 | 90 | Donna A. Duryea | Elite Pacific Properties LLC – Waikoloa | 24,619,650 | 49 | Hawaii Island |
| 16 | 91 | Rebecca J. Hirsch-Keliihoomalu | MacArthur Sotheby's International Realty – Kamuela | 24,589,654 | 29 | Hawaii Island |
| 17 | 95 | Ben Garner | Kūki'o Properties | 24,300,000 | 4 | Hawaii Island |
Oahu
ISLAND RANK
STATE RANK
AGENT
FIRM
TOTAL SALES
TRANS-
ACTIONS
ISLAND
1
3
Myron N. Kiriu
BHGRE Advantage Realty
123,264,900
122
Oahu
2
4
Sachi Braden
Sachi HI Pacific Century Properties
96,548,888
49
Oahu
3
6
Bryn W. Kaufman
OahuRE.com
82,114,050
123
Oahu
4
7
Jeffrey N. Samuels
Jeffrey Samuels R E Services
79,950,403
142
Oahu
5
8
Charlene Tongg
Keller Williams Honolulu
78,706,250
138
Oahu
6
10
Daniel K. Ihara
Keller Williams Honolulu
69,120,500
113
Oahu
7
11
Tracy Allen
Coldwell Banker Pacific Properties
68,764,000
33
Oahu
8
13
Adrienne W. Lally
Keller Williams Honolulu
66,140,856
122
Oahu
9
15
Derek Kamm
Keller Williams Honolulu
62,404,500
87
Oahu
10
17
Erin B. Evans
Century 21 Island Homes
59,808,249
96
Oahu
11
19
Alesia D. Barnes
Elite Pacific Properties, LLC
58,298,000
60
Oahu
12
22
Richard S. Cricchio
Help-U-Sell Honolulu Properties
50,198,388
74
Oahu
13
25
Leian Harosky
Coldwell Banker Pacific Properties
46,460,900
79
Oahu
14
27
Travis D. Farris
BHGRE Advantage Realty West
45,135,089
81
Oahu
15
29
Tracey Anne Stott Kelley
Stott Real Estate, Inc.
42,903,900
72
Oahu
16
32
Dolores P. Bediones
Locations
39,330,725
23
Oahu
17
33
Mei Pang
BHGRE Advantage Realty
38,770,449
23
Oahu
18
34
Patricia Choi
Choi International
38,364,000
14
Oahu
19
37
Scott Adams
BHGRE Advantage Realty
37,601,100
41
Oahu
20
39
Courtney J. Takai
Vesta Hawaii Real Estate
36,556,169
58
Oahu
21
40
Vincent Lao
Five Star Realty, Inc.
36,497,000
48
Oahu
22
41
Corinda S. Wong
Locations
36,472,800
39
Oahu
23
43
Myra Brandt
List Sotheby's International Realty
36,285,000
16
Oahu
24
46
Jackie Oldbury
Coldwell Banker Pacific Properties
33,947,377
57
Oahu
25
50
Kay M. Mukaigawa
Primary Properties Inc.
32,486,000
46
Oahu
26
58
Cynthia L. Nash
Choi International
30,704,651
25
Oahu
27
60
Ivy N. Kumai
Ivy K Realty, LLC
30,223,500
55
Oahu
28
61
Stephanie L. Chan
Locations
29,969,388
41
Oahu
29
62
Sean S. Takamori
BHGRE Advantage Realty
29,673,500
34
Oahu
30
63
Jaymes K. Song
BHGRE Advantage Realty
29,542,500
42
Oahu
31
65
Gene Neal
Redfin Corporation
29,227,250
39
Oahu
32
68
Celester Thomas
Soldier To Soldier HI Realty
28,746,500
47
Oahu
33
69
Orion R. Barels
Coldwell Banker Pacific Properties
28,576,000
18
Oahu
34
70
Mikiko Terahira
Coldwell Banker Pacific Properties
28,507,300
44
Oahu
35
72
Brandon C. Lau
Locations
27,644,100
37
Oahu
36
74
Ali Ban
Redfin Corporation
27,567,000
46
Oahu
37
75
Ryo Yagai
Seven Signatures International
27,461,000
16
Oahu
38
76
Malia Siu
Berkshire Hathaway HmSvc HI RE
27,368,500
27
Oahu
39
78
Ryan T. Lamb
List Sotheby's International Realty
27,236,725
44
Oahu
40
79
Mathew Ngo
BHGRE Advantage Realty
27,105,888
42
Oahu
41
82
Erik K. Taniguchi
Keller Williams Honolulu
26,041,900
43
Oahu
42
84
Thomas E. Wilson
Elite Pacific Properties, LLC
25,520,000
22
Oahu
43
85
Marshall C. Mower
Locations
25,241,399
23
Oahu
44
87
Corey M. Cazares
Military Home Source
24,847,000
45
Oahu
45
88
Julianna Garris
Choi International
24,759,500
17
Oahu
46
92
Tony Kawaguchi
Hawaii Homes International
24,422,594
26
Oahu
47
96
Vernon K.T. Chock
Vernco Properties, Inc.
23,709,500
33
Oahu
48
97
Susan N. Borochov
Coldwell Banker Pacific Properties
23,482,500
24
Oahu
49
98
Scott R. Carvill
Carvill Sotheby's International Realty
23,370,000
11
Oahu
50
99
John Peterson
Coldwell Banker Pacific Properties
23,054,500
15
Oahu
51
101
Shannon D. Severance
RE/MAX Honolulu
22,852,000
45
Oahu
Maui
ISLAND RANK
STATE RANK
AGENT
FIRM
TOTAL SALES
TRANS-
ACTIONS
ISLAND
1
14
Robert H. Dein
Maui Real Estate Advisors LLC
65,428,857
36
Maui
2
28
Dano Sayles
RE/MAX Lifestyle
43,189,750
32
Maui
3
31
Mark Guagliardo
Hawaii Real Estate Team
40,419,188
84
Maui
4
35
Dave Wagner
Wailea Point Realty, Inc.
38,250,000
9
Maui
5
36
Robert J. Cella
Coldwell Banker Island Properties
37,900,000
3
Maui
6
38
Roger R. Pleski
Wailea Realty Corporation
37,008,089
52
Maui
7
42
Bradley S. MacArthur
Wailea Realty Corporation
36,287,999
16
Maui
8
45
Greg Burns
Elite Pacific Properties, LLC
35,515,934
19
Maui
9
47
Courtney M. Brown
Island Sotheby's International Realty
33,295,200
10
Maui
10
48
Dean A. Otto
KW Island Living
32,887,249
15
Maui
11
49
Greg Mebel
Trinity Properties, LLC
32,839,998
7
Maui
12
52
William B. Moffett
Moffett Properties
32,136,887
28
Maui
13
53
Gary J. Mooers
Coldwell Banker Island Properties
32,135,298
46
Maui
14
57
Tom Tezak
Wailea Realty Corporation
30,817,799
24
Maui
15
64
Mary Anne Fitch
Hawaii Life
29,228,000
14
Maui
16
67
Dennis Rush
Elite Pacific Properties, LLC
28,823,768
20
Maui
17
71
Nancy J. Callahan
The Wailea Group LLC
28,350,000
4
Maui
18
77
Clint Hansen
Maui Luxury Real Estate LLC
27,244,000
24
Maui
19
80
Rhonda Smith-Sanchez
Coldwell Banker Island Properties
26,649,000
12
Maui
20
81
Susan P. Jackson
Susan Jackson Real Estate
26,336,888
19
Maui
21
86
Bob Hansen
Maui Luxury Real Estate LLC
24,960,550
23
Maui
22
89
Wendy R. Peterson
Island Sotheby's International Realty
24,750,000
14
Maui
23
93
Jo-Ann M. Aki
Emerald Club Realty, Inc.
24,358,125
35
Maui
24
94
Geoffrey J. Cook
Coldwell Banker Island Properties
24,348,650
38
Maui
25
100
Lydia D. Pedro
Wailea Realty Corporation
22,965,363
46
Maui
Kauai
ISLAND RANK
STATE RANK
AGENT
FIRM
TOTAL SALES
TRANS-
ACTIONS
ISLAND
1
5
Suzanne M. Harding
Kukuiula Realty Group LLC
94,193,522
39
Kauai
2
18
Neal A. Norman
Hawaii Life
59,055,000
14
Kauai
3
21
Hannah Sirois
Elite Pacific Properties LLC
50,510,307
51
Kauai
4
26
Yvonne Summerfield
RE/MAX Kauai Living
46,383,334
53
Kauai
5
44
Daniel C. Schmidt
Island Paradise Properties, LLC
35,803,960
49
Kauai
6
51
Anne Eliason
Elite Pacific Properties LLC
32,220,500
12
Kauai
7
56
Roni M. Marley
Hawaii Life
30,907,500
7
Kauai
8
83
Sean Ahearn
Elite Pacific Properties LLC
25,649,000
20
Kauai
Past Years' No. 1:
2017: Jeffrey Samuels, Oahu, Maui
2016: Neal Norman, Kauai
2015: Robert Kildow, Hawaii Island
2014: Myron Kiriu, Oahu
2013: Robert Kildow, Hawaii Island
2012: Nancy Callahan, Maui
2011: Patricia Choi, Oahu
2010: Robert Kildow, Hawaii Island
2009, 2008, 2007: Patricia Choi, Oahu