Turning Play into Pay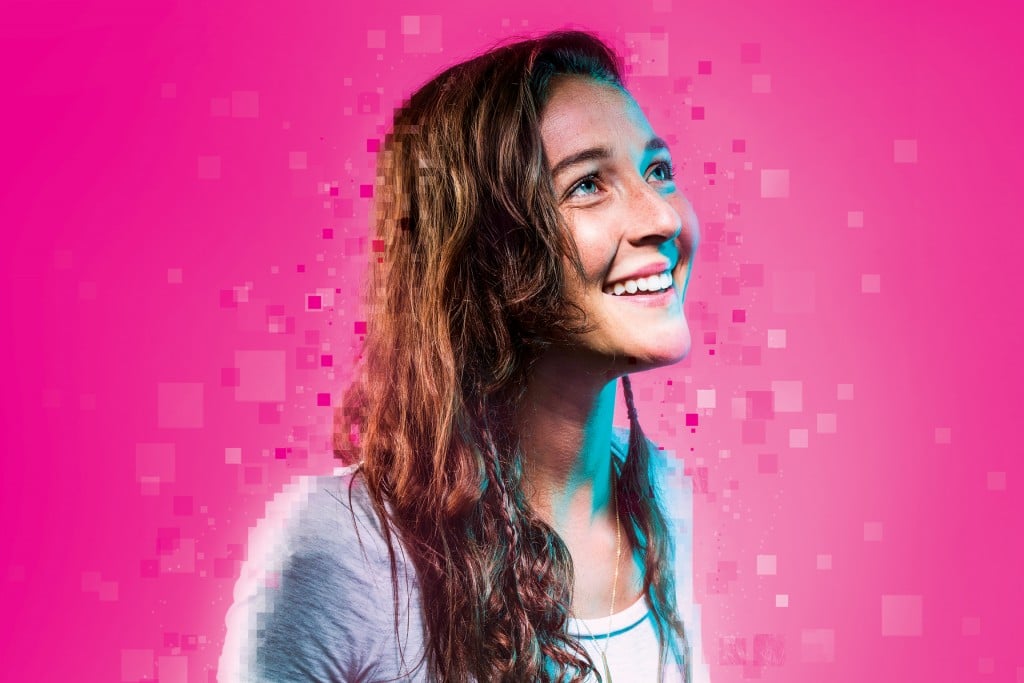 Most of them are Millennials, first-generation digital natives strutting their stuff and chiseling new entry points into a post-recession economy. Those who achieve social-media stardom get labelled as "digital talent," which sounds so Hollywood, but signals their digital charisma and skills are valued.
Vince Soliven, executive creative director at the Honolulu advertising agency MVNP, supports the role social-media stars play in advertising and marketing, and his firm frequently uses digital talent in its local and national campaigns. "We look at their content, what they are providing, and who their followers are. In a way, these individuals are their own media channels," says Soliven, "and this is how we determine the return on investment for our clients."
You may have seen facets of MVNP's Let Hawaii Happen campaign for the Hawaii Visitors & Convention Bureau on TV, print and social media. This campaign's catchiness and success hinges on the authenticity and accessibility of its user-generated content, which disrupts stereotypes about Hawaii.
"The intention for using these guys, for Hawaii in particular, is a lot of our never-beens, people who have never been to Hawaii but think they know Hawaii, only know Hawaii for these cliché postcard moments." These social-media stars are transformed into ambassadors through the campaign, showing underground, off-the-beaten-path moments that increase the exotic equity of Hawaii. A lot of potential visitors may consider Hawaii "too safe," but, once they see unconventional scenic images like those taken by David Chatsuthiphan, blogger for Unreal Hawaii and photographer for #lethawaiihappen, they think, "Wow, I can actually do this."
"My generation started on Xanga or Myspace. I think we grew up learning how to share our lives online."

— Emma Wo
"In advertising, people are used to this glossy world," explains Soliven. "But look at the DIY movement. It's progressed quite a bit, and that's because it makes things approachable. When you have a social-media star who is 'a regular person,' it bridges the gap for the consumer. If this person is having this experience, it's not fabricated, it's not the result of some crazy $50,000 photo shoot. They got that with a GoPro. Maybe I could have that moment, too."
Unlike celebrities touting products they don't use, social-media personalities and bloggers add credibility to what the agency is trying to portray. Most have other professions, "but the frequency with which they are playing in this paradise, adventureland, and swimming with the dolphins, it's just insane," laughs Soliven. "They are just out there playing, and advertising agencies want their shots, want access to their moments."
They were already unofficial ambassadors of aloha, sharing Hawaii life around the globe on social media and blogs. "By featuring these individuals in ads, commercials and what not, we are giving them a platform to be more official ambassadors," says Soliven. "They are the new Dukes."
Here are profiles of a few of the local social media stars:
Former Miss Hawaii USA
Emma Wo (@emma_wo)
13.5k followers on Instagram
You may recognize Emma Wo, who represented Hawaii at the Miss USA pageant in July, but her blogging extends far beyond pageant life. "My generation started on Xanga or Myspace. I think we grew up learning how to share our lives online," she says.
"I use six platforms and each app is a different outlet for my life," says Wo, who spends much of her time online posting pictures of herself modeling outfits or posing in iconic Hawaii places on Instagram or her blog, The Aloha Babe.
Wo is now attending New York University to earn her master's in communication. But before she left for the Big Apple, The Aloha Babe blog was a side gig that synergized with her part-time job as a public relations specialist for Bennet Group. As a PR specialist, she coordinated social media for the Ala Moana Hotel, Embassy Suites and other local accounts. When she became Miss Hawaii, her team brainstormed about all the things they could do with Wo's new role. "If you are going to be a public figure and put yourself out there, people are going to talk," says Wo matter of factly. "So you might as well take stock of it and put your own brand out there, too."
Wo says she spends a couple of hours each day online: writing blog posts and pushing them through social media channels, and replying to comments and direct messages. "I receive criticisms from people who say I should do more for the community, perhaps in response to a picture of my new shoes, but responding to these types of messages is instrumental to pushing my personal brand," says Wo, who served as a model for the agency Wilhelmina Hawaii.
So does all this personal brand building pay off? Yes, almost from the start: Wo used her first blog in college as leverage to secure an internship with Vogue magazine. Today, like many other bloggers, she works directly with designers and companies to promote their products, surpassing intermediary steps of traditional media platforms to build an audience.
Wo uses a few self-described "new-generation" media platforms such as Mode Media, which connects "creators" or digital talent with advertisers looking to increase their social-media touch points. Wo also uses rewardStyle, a suite of digital tools that allow style publishers to monetize their entire digital brand. A tool that is widely gaining traction with Wo and other fashion bloggers is liketoknow.it, an Instagram-based platform (you may recognize the #liketoknowit hashtag) that employs affiliate links to monitor consumer behavior. For example, Wo will use an affiliate link (a unique, trackable link) in her fashion post on Instagram to promote a purse. The embedded link connects to the purse website; if the person following Wo's link buys the purse, she earns a commission.
"Some people don't like affiliate links," Wo admits, "but for bloggers I like, I click through and sometimes buy, because their links supports them and their work." Both Liketoknowit and rewardStyle provide bloggers with analytics on how many clicks and buys their posts are generating, providing quantifiable clout for aspiring bloggers.
Neiman Marcus invited Wo and two other bloggers to compete (a friendly competition, Wo insists) during a spring trends styling event. Wo was asked to tap into her network and encourage family and friends to vote for their favorite look. It was a win-win: She triumphed in the competition and Neiman Marcus earned credibility as a locally focused luxury retailer.
Furla, an Italian handbag retailer, invited Wo to a "blogger brunch," where she and a few others were invited to dine, pick out a bag for keeps and post. What makes this integrated marketing effective, says Wo, is knowing what is right for you and your brand. "The companies I collaborate with, it's real. In the blogosphere, people are too smart; they see right through anything that is too artificial. I make sure it's a company I feel strongly about, both their aesthetic and their business practices."
Although she is successful at it, she questions the longevity of blogging as a career. "I don't know if it is sustainable. Every time I think I have it figured out, some new opportunity appears."
Lindsey Higa (@pineappleice)
18.3k followers on Instagram.
Lindsey Higa's social-media career blossomed within the walls of Chinatown's flagship Fighting Eel shop, where she interned before working there full-time after college. "I didn't want to work in retail, but the economy was horrible and it was impossible to find a job," says Higa.
But something about the locally owned startup got her hooked, and Higa ended up working there for another five years, doing everything from managing their neighboring T-shirt shop, Tee Tee Bar, to merchandizing and styling. Less than a year ago, Higa took the leap and left Fighting Eel to establish herself as a fulltime blogger and freelance stylist.
"It was slow in the beginning, and then I got all these bookings," says Higa, who attributes this rise to word-of-mouth recommendations and her Instagram profile @pineappleice. "I've built a network with local designers and stores, and they gift me a lot of stuff, too. It's nice to know all the local creatives help each other."
One of Higa's clients is Olu Kai, a national slipper and shoe brand sold in mid-luxury to luxury retail stores like Nordstrom. "I've been styling their look books, and travelled to Idaho and New York with them." Styling is how Higa makes money, for now, but change is on the horizon.
The retail giant Bloomingdale's asked Higa and two other bloggers to work with them on their grand opening in November at Ala Moana Center. Higa's social-media presence helped pump authenticity and accessibility into the mega-shop through its #alohabloomies campaign.
"I've built a network with local designers and stores, and they gift me a lot of stuff, too. It's nice to know all the local creatives help each other."

— Lindsey Higa
But working with big players can be a double-edged sword. "I signed a noncompete with Bloomingdales, so my work with other large retailers on the island is limited for now," says Higa. In the meantime, she dreams of starting her own company, a major trend for successful digital talent who often strike book deals or open shops based on their social stardom.
"I hope I do this for the rest of my life," says Higa.
Bree Hannemann (@breehawaiii)
14.5k followers on Instagram.
Bree Hannemann entered the blogosphere with a unique role: an entrepreneurial young mother learning photography. "It started with my son," she says. "I loved fashion and I wanted to buy him nice things, but baby clothes can be so expensive!
"I started taking pictures of him and sending them to companies asking if they would send clothes and shoes so he could model their products. I feel like there was a day when I got 30 emails back from companies in one day!" Hannemann admits she didn't know Instagram was a business outlet. "At the time I cried. My husband and I were just married, we didn't know what we were doing, and these companies were so sweet."
Eventually she began dabbling in set design for her photo shoots, always using her photogenic young beach baby as a model. "My dream was to shoot for Children of the Tribe, a children's clothing company in Byron Bay, Australia. I contacted them and was asked to design their look book using my son and his cousins." Today, Hannemann works with the owner of the company quarterly to market seasonal looks. "My focus is kids, and my goal is to create something with companies that will somehow benefit children in need, even if its just a small percentage or donating the samples."
The challenge for now, especially in Hannemann's North Shore neighborhood, is that a lot of local social-media personalities will do a shoot for free, or perhaps for a new bikini. But Hannemann has found her audience, "On the Mainland, and especially in Australia, people are willing to pay for what we have to offer."
Tara Binek (@ladyslider)
36.4k followers on Instagram.
Tara Binek was building her online brand while working for a jewelry designer, Hinu, when she noticed a trend. "I knew surf fashion was going to hit these large design houses in New York, so I decided to start my blog," says Binek. "I have a really unique lifestyle and I needed a creative outlet."
At the time, she didn't even have a computer. "I would use others' computers – I had no expectations." But her blog gained traction and she eventually moved to New York to work for Surf Bazaar, a high-end surfwear retailer. Since moving back to Hawaii, Binek is constantly working with brands as a freelance creative director or talent – going to the beach all day to capture photos for brands or her own profile, @ladyslider. "My fiancé thinks I'm just playing at the beach all day."
Her "playtime" is more often than not a panache of different campaigns she is working on. Binek, reluctant model and savvy creative director, travels too, recently producing the U.S.-based creative campaign for Teva, a fashionable footwear brand. "I helped with their 'explorers campaign,' on which I spent about a month in Australia shooting."
"I have a really unique lifestyle and I needed a creative outlet."

— Tara Binek
Binek has been in the blogging business the longest, about a decade, and recommends that aspiring bloggers base their fees off the company they work with. "This can be your biggest mess-up financially," says Binek. "Establish what you are worth and stand firm. Social-media people have the perception that everything is free, but they don't understand. Social-media budgets are small, but the reach can be so much greater." Everyone is on their phone, Binek insists, and big companies know this is worth something.
The Ciotti Brothers
(@threeifbysea)
29.5k followers on Instagram.
The Ciotti brothers are Makana, 29, a pilot; Nainoa, 31, a firefighter; and Kapono, 38, principal of Waialae Elementary School. Together they've established an Instagram account, @threeifbysea, a collection of outdoor Hawaii shots that should persuade any advertising agency to break out its wallets. But surprisingly, no one has. Instead, the brothers have been paid in trade, with everything from socks to hammocks to 15,000 miles on Iceland Air. Unlike the women featured here, the brothers consider their blog a simple side gig. "There's no pressure," says Makana, "It's just the stuff we want to do." This "stuff" includes surreal hikes with playful accents: a girlfriend atop a giant fruit float in a waterfall pool or a brother leaping above a cliff holding a quartet of balloons.
"We want to show beautiful places that are really hard to get to, but we frame the photos in a way that maintains the place's secretness."

— Nainoa Ciotti
Last summer, Buzzfeed caught wind of the brothers, featuring them in the listicle "16 Instagram Accounts That Will Make You Want To Move To Hawaii," and the number of their followers jumped overnight. Celebrities have caught wind too: The rapper Jermaine Dupri reposted one of the brothers' photos on his own Instagram, but sadly without the photo credit. "Anyone can take it," says Makana, "I mean, it's a sharing platform yeah? Some people (bloggers) get too into it."
"I love this because I'm doing it with my brothers," says Nainoa. "These guys are my best friends, and I feel like it's a continuation of our childhood." Everyone seems to be a fan of this family-oriented account – except for a few locals who feel the brothers' adventures are exposing their "secret spots" on the Neighbor Islands. "We never disclose locations," says Makana, "some people have left some pretty heated comments."
"We want to show beautiful places that are really hard to get to," Nainoa chimes in, "but we frame the photos in a way that maintains the place's secretness."
The brothers plan to stick to their respective professions. Nainoa and Makana are grateful for their flexible schedules, but it's hard to ignore the lucrative opportunities created by their Instagram account. "Iceland Air used my photo on everything," says Nainoa, who was gifted 15,000 miles on the airline, "but now, I think I would take $100 dollars over Iceland miles."
Against All Odds
In an open letter to Millennials, Jonathon Taplin, director of the University of Southern California's Annenberg Innovation Lab, lamented that the digital revolution has devalued the role of creative artists. In the past, artists might not get rich, but they could scrape by, Taplin said. But today, he said, all media revenue pours into the pockets of digital monopolists and digital thieves – that is, Internet platform providers.
Yet, despite the odds, some digital creatives are beginning to earn a living through social media in the new economy. Soliven says social-media stars cultivate their own media channels within these platforms, and attract the attention of national brands and advertising agencies, who are willing to pay for authentic "moments."
Digital talent agencies, like modeling agencies, have cropped up in cities like Los Angeles and New York, connecting social-media personalities with big followings to companies eager to tap into their fan base. This hasn't quite strongly taken hold locally, but there are signs it might be a new career path for creative people. Maybe the future will recognize them as pioneers who found a new way to make a living.