My Company's Bennies Only Cater to Old Folks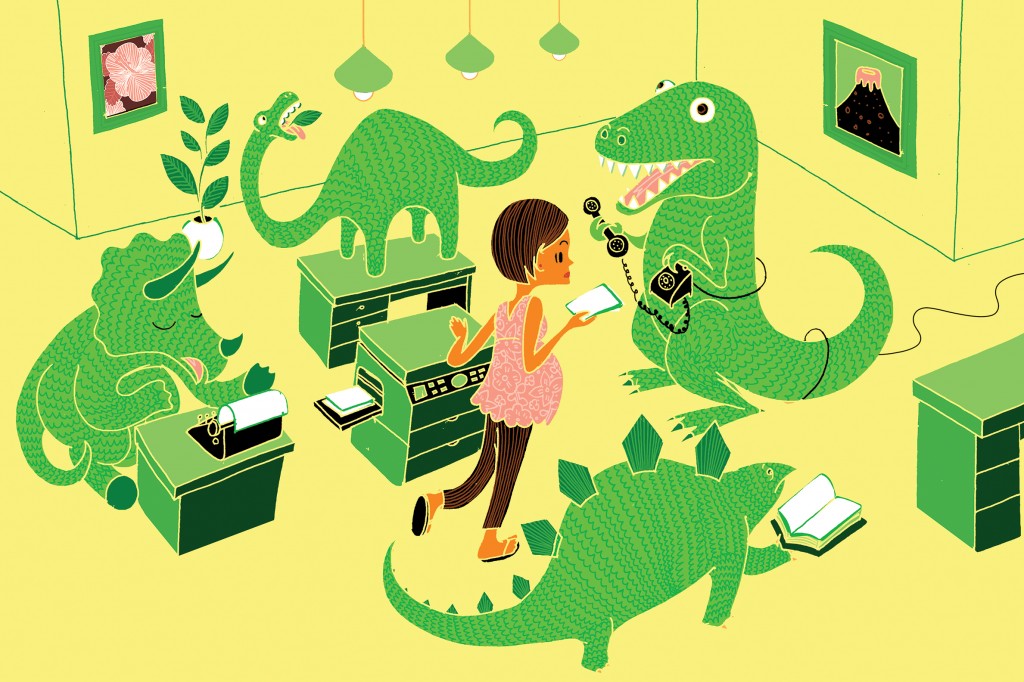 Reader asks why local companies don't offer the 21st century benefits offered by progressive Mainland companies
Q: I'm back from college and grad school on the Mainland and really trying to make my way in Hawaii. I turned down better-paying jobs on the Mainland because I wanted to come home. I landed a good job with a midsize firm here, and I like my work. But here's the rub: Most of my colleagues are older (closer to my parents' and grandparents' age than mine), and while the firm's benefits and perks might be great for them, they don't offer much for me. I'm now expecting my first child, and I'm jealous of all my friends working for firms with benefits that target young families and new mothers. Do I have to move back to the frozen tundra to find an employer that offers a decent space for pumping?  
A: Congratulations! First on the joyous news of your pregnancy, and second on the herculean feat of getting a Mainland education and coming home to find a good job. Well done!
Now for the realities. Yeah, you're swimming in waters that might still be catching up with the Millennial fish overtaking them. While the Affordable Care Act of 2010 requires employers with more than 50 employees to accommodate pumping mothers, the quality of those rooms varies significantly. Then there's paid parental leave – still an issue for businesses across the country. The United Nations reports what most of us already know: The U.S. is the only developed nation that doesn't mandate paid parental leave, leaving families, employers and employees to wrestle with the issue over and over and over again.
But you know from your Mainland friends what folks in Hawaii are catching wind of: Millennials are the gold standard of new employees, and because of their reputation for changing jobs when the benefits don't deliver, companies are moving fast to get onboard.
It's not surprising that when Elle magazine did a piece on the companies with the best lactation centers (think quiet space, comfortable chairs, stocked fridge and extra fridge space and privacy, for example), places like Google, the Intercept, Cisco Systems, Facebook, Ernst & Young and General Mills made the list. Their status as blue-chip employers and/or high-tech firms means they often lead the way in changing the benefit tides.
It's not necessarily because these companies are more socially conscious. It's because they read the data and know what's good for their bottom line. About 64 million Millennials are expected to have kids in the next decade, and a whopping 78 percent of married Millennials live in a two-career reality. When the Jacob Institute of Women's Health reported that 60 percent of new mothers found their workplaces to have inadequate or nonexistent lactation areas, many of these companies' HR managers saw opportunity.
Before you decide Hawaiian waters are no longer for you, take heart. Local employers are now looking at much of the same data and are taking steps to adjust – though perhaps slower than their Mainland peers. A review of several years of this magazine's annual reports on Best Places to Work shows a definite trend, with flexible hours, modest movement in paid leave and even the occasional on-site lactation center (a shoutout to Monsanto, the No. 1 ranked large company last year).
And remember, what brought you home to Hawaii works to your advantage now, too. Hawaii employers care about their ohana; it's the fabric of who we are as a community. Talk to your boss, your HR director and others in the company. If you're the only Millennial, chances are they've not dealt with a pregnant employee in a while. Show them the trends and explain what new mothers need. You might just be the catalyst to propel your employer to the top of the list of forward-thinking companies ready for the Millennial tidal wave. Surely that's worth a promotion – not to mention a quiet lactation room.
---
Q: I've read your column for a long time, and while you may think you've heard it all, I bet you've not heard this one yet. On a recent flight to Kauai with a new client, I settled into my window seat, him on the aisle, and as we taxied out for takeoff, he looked at me and said, "Have you accepted Jesus as your personal savior?" I mumbled an answer and put my headphones on. At lunch, he asked us to hold hands and pray. Don't misunderstand: I respect his religious beliefs, but I'm not comfortable having them forced on me at work. Other than praying myself, do I have any viable options here? 
Oy vey. Thank the goddesses for short Neighbor Island flights.
So here's the thing: Workplace discrimination based on religion is expressly prohibited under the 1964 Civil Rights Act. But your dilemma is not with your employer, it's with your client, and that's a whole different kettle of fish.
First to the legal stuff: Your boss can't make you participate in any religious activities, nor can he discriminate against clients because of their beliefs. Chances are everybody on that flight and at that lunch already knows that. What's more, businesses cannot make it difficult for employees to practice their religion. That's probably how you ended up holding hands and praying before digging into your lunch.
In a March 2016 piece on religious conflict in the workplace, The Harvard Business Review reports EEOC complaints about religious discrimination have risen significantly over the past decade. As the piece's author, Kabrina Krebel Chang, writes, "It's not hard to see why: An increase in immigrants of diverse faiths, greater workforce diversity and the globalization of business all play a role in more workers from different religious backgrounds meeting on the job."
Chang offers pointers for employers and the bottom line is to build mutual respect. "Show employees the code of ethics is not just something that lives on paper," she writes.
For you and your aisle-seat client, that means remembering what your mother taught you: Be respectful of his views and beliefs but don't feel compelled to join him. (Remember mom saying, "Just cuz every other kid jumps off that rock at Waimea doesn't mean you have to!") Perhaps you thank him for the question but let him know that you don't feel comfortable talking about your faith with him. Maybe tell him your beliefs are deeply personal and not something you discuss at work. When it's time to pray at lunch, follow your own best judgment. If you can hold hands and appreciate a moment of quiet, then do it. If not, politely tell your client you're not comfortable with open prayer and excuse yourself.
The marker here is respect: yours of his beliefs and his of yours. Because really, couldn't we all use a bit more mutual respect these days?
---
The Careerist: Helping you navigate the turbulent waters of Hawaii's working world
Ask the careerist
Have a question about work, life and that place in the middle where it all gets tangled up? Ask me at: feedback@hawaiibusiness.com