Grandparents Help Hawai'i Parents Get the Job Done
Grandmothers and grandfathers are storytellers, sources of wisdom, keepers of family legacies and teachers. But perhaps their most important role in Hawai'i is to help working parents raise their keiki.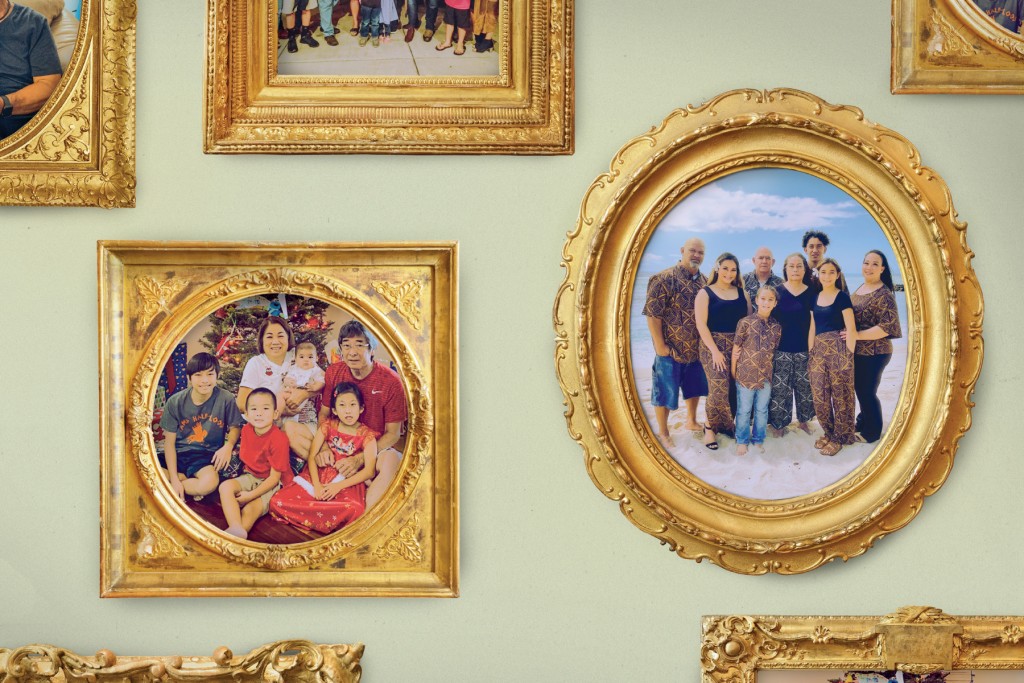 It's often said it takes a village to raise a child. Kauaʻi chef and mother Winnie Littlejohn describes her village as tiny but strong.
The pillars are her mother- and father-in-law, who have watched and cared for her 6-year-old son, Fred, since he was 2 months old.
She says they've made her life so much easier by providing Fred with a consistent schedule so she and her fiancé, who is also a chef, can work afternoons and nights.
On O'ahu, county worker Starla Takahara is assisted by her father and stepmother, who watch her toddler four days a week. And collections manager Leilani Tuitele's parents help get her four children to and from school, review their home-work and drive them to their many sporting events.
For these working moms, the help of parents and in-laws is invaluable. It helps them maintain and build their careers, brings families closer, and saves parents the high cost of child care. Plus, they all witness the strong relationships that form between keiki and kupuna.
"They are superheroes and need to be recognized more," wrote first-time mom Takahara in response to a Hawaii Business Magazine questionnaire asking working parents to describe the ways grandparents help them. "Though they went through their round of raising us, they are willing to help us by watching our keiki while we try to support our 'ohanas."
In a national 2018 AARP study, 38% of grandparents said one role in their grandchildren's lives is as babysitter or day care provider. During the pandemic, some grandparents stepped up even more by watching their grandchildren for longer hours, filling in as teachers and becoming lifeboats so parents could continue to work. We thought it was time to look at the ways local working parents rely on grandparents to help them balance keiki and career.
Mother of Four
Leilani Tuitele, Collections Manager, American Savings Bank
Work Hours: 8 A.M. to 5 P.M.,
Mondays through Fridays
Leilani Tuiteleʻs mother, Nancy Stephenson, retired when Tuitele's third child was born. But even before then, her mother would help wake up the kids and get their backpacks packed and teeth brushed all before going to her own job. Meanwhile, Tuitele would take the bus to her office and her husband would already be at work.
"I didn't expect her to retire at the time," she says. "… My mom said it was her turn because she had family who stepped up and took care of us or helped take care of us growing up. So she just wanted to return the favor."
Tuitele's father, Joe Stephenson, retired in 2020 and helps his wife get the kids – ages 18, 17, 12 and 9 – to three different schools, plus soccer, football and volleyball practices and games. The family lives together in 'Ewa Beach, and Tuitele says she's noticed that her parents, who are now 73 and 74, seem younger than many other similarly aged folks who don't have similar child care responsibilities. Her father continues to walk 10 miles a day, and her mother stays active by getting the kids to where they need to be.
"My mom said it was her turn because she had family who stepped up and took care of us or helped take care of us growing up. So she just wanted to return the favor." – Leilani Tuitele, Collections Manager, American Savings Bank
"I try to justify it to myself and say to myself, 'Well it keeps them young,' " Tuitele says with a laugh.
She also credits her parents with stepping up even more while she and her husband continued to report to work earlier in the pandemic. While not the most technologically savvy people, they helped set up the kids for distance learn-ing, acted as teachers when needed and helped them get their homework done. Both used to be educators.
Their help has enabled Tuitele to have a stable work-life balance and advance in her banking career. If she needs to work a weekend or stay late during the week, her parents are flexible and can watch the kids longer.
"I've seen people where their home lives are not great because they're worried about who's going to watch my child now, who's going to pick them up … and it takes away from being able to really concentrate on doing a great job at work," she says. "And so, I'm so blessed that they take that worry away from me, and I don't have to really stress about that because I trust them completely."
First-time Mom
Starla Takahara, Procurement and Specifications Specialist, City and County of Honolulu
Work Hours: 6:45 A.M. to 3:30 P.M.
Mondays through Fridays
Pearl City Resident Starla Takahara's weekdays begin early. She drops her young son at her parents' home in town between 5:15 and 5:45 a.m. and then heads to the office.
Her father and stepmother are in their early 60s and watch the toddler four days a week for at least eight hours a day. The other weekday is covered by Takahara's husband and his sister.
Her father retired about two months before her son was born. "So my son was, I guess, small kine the reason why he retired," she says, adding that she's grateful for her parents' help because the cost of child care for a child under 2 is so expensive. She's even considered moving to the Mainland because of Hawai'i's high cost of living, but if she did that, she wouldn't have the same support system.
Her parents teach her son about colors and numbers while they watch him. Takahara says she's appreciative of these lessons because she's too exhausted at the end of the workday to play teacher and do household chores. Her parents also send her updates – pictures and videos sometimes included – throughout the day.
Takahara says she's been able to maintain her normal work schedule since becoming a parent, and that she was able to occasionally telecommute earlier in the pandemic while her parents watched her son. The only time she found it hard to juggle work and family was when her father couldn't come to babysit. But if that happened again, she says, she'd take time off from work.
She says staying home with her son full-time is not an option.
"I never gave it any serious thought because I know for sure, without having to even double think it, I know we need both our incomes to support our mortgage and just our lifestyle."
---
Recommended: Grandparents Are Great, But They Can't Solve All of Hawai'i's Child Care Needs, Do's and Don'ts of Using Grandparents for Child Care, My Process Behind Our Story: "Grandparents Help Hawai'i Parents Get the Job Done"
---
A Grateful Daughter-In-Law
Winnie Littlejohn, Chef, Street Burger
Work Hours: 1 P.M. to 10 P.M.
Tuesdays through Saturdays
Winnie Littlejohn's 6-year-old son, Fred has everything she didn't have while growing up on Kaua'i: a stable life, a consistent schedule and lots of quality time with his grandparents.
Those grandparents – Littlejohn's mother- and father-in-law – are part of what kept Littlejohn, her son and fiancé on Kaua'i instead of moving somewhere cheaper. They immediately volunteered to help watch Fred.
"They just assumed that it was going to be their position," she says "They were very excited to have a baby. So that also made my life a lot easier because I don't have my parents around anymore, so my in-laws were just all I had."
Her in-laws were still working then, so all the adults adjusted their schedules to provide Fred with constant care. Her fiancé, Justin Ibanez, worked afternoons and nights, and Littlejohn worked mornings until noon. Her in-laws took the mornings off to watch Fred, until Little-john returned home. Her in-laws also occasionally took days off work to babysit.
And they were always willing to help, Littlejohn says: "They're very big on the family babysitting."
But their parenting styles can differ, and that's a challenge, she says. As grand-parents, her in-laws want to give Fred everything he asks for, but as a mom, Littlejohn says she has to be stricter about such things as screen time and naps.
She says the hardest part about raising her son and balancing her career is the time she doesn't get to spend with him. Fred just started kindergarten, and while Littlejohn can drop him off, she won't see him until the next morning. Nonetheless, she says she's fortunate that her in-laws are retired and can care for him while she works.
"They are very excited to be responsible for him," she says. "I'm going to drop him off in the morning and they'll pick him up in the afternoon – that's our plan so far. They're excited. We got him a little placard with his name on it. And they're very proud to have it sitting right by the door, so whoever needs it takes it with him. They love being involved. It's made my life so much easier since I wouldn't have had any of this without them."
Loving Grandmother
Joanne Niwa, Retired Registered Nurse
Provides Child Care: 7:30 A.M. to 4:30 P.M.
Mondays through Fridays
Oʻahu resident and AARP member Joanne Niwa is one of the first to witness her 1-year-old granddaughter's developmental milestones. She and her husband, Gerald, watch the baby and the baby's 6-year-old brother while Niwa's daughter and son-in-law are at work.
Even earlier in the pandemic, the grandkids spent most weekdays at Grandma and Grandpa's house so Niwa's daughter and son-in-law could work remotely from home. That meant helping their grandson with distance learning. Their job was to make sure he stayed focused on his lessons, which was sometimes challenging, she says.
Grandparents must make trade-offs and skip other activities to provide care, she adds. When her daughter, who is a teacher, was off work for the summer, Niwa was able to get back to sewing.
Sometimes, she can combine babysitting with other activities. For example, she and her husband bowl on Monday mornings. They didn't want to stop, so they started taking their granddaughter with them.
"We're very fortunate to watch them grow from baby time to where they are now and to foster a bigger relationship with my daughter and her husband, and we can help them out," says Niwa, who is 69 and has six grandchildren. "It's not really money, but it's something that's very valuable to have them develop a relationship with us and feel comfortable and safe."
Grandfather with Many Hats
David "Kawika" Mattos
"The grandkids are definitely the center of our lives."
David "Kawika" Mattos has many roles. He's a father of five, a grandfather of six, chair of the Hawai'i State Commission on Fatherhood, and he runs Maui Family Support Services' men's/fatherhood program called Kane Connections and works part-time for a residential addiction treatment center called Aloha House.
Being a grandfather is everything to him. Three of his grandchildren live in the same house (one splits time with his mom), and the rest live in Hana.
Since Mattos and his wife are still working, they don't provide regular child care for any of their grandchildren. But they occasionally adjust their work schedules if needed – and his adult children are grateful for that. "We're also the go-to if the family needs it," he says. "And my kids are respectful of us and all that we do." Their grandchildren's support system involves the entire family, so if they can't babysit, other family members will step up and everyone reciprocates.
"For us, we don't look at helping our children and grandchildren as a burden; it's like a blessing and a privilege to be a part of," he says. "And if they're struggling, we'll help them in whatever way. Mostly financially, physically, like we want the grandkids."
He adds that he looks at life from a Hawaiian culture perspective: A family unit is not just the parents and children but also the grandparents and extended family.
"In the Hawaiian culture … prior to colonization, the grandparents, the kupuna, their main responsibility was to raise the children because they had knowledge and all that," he says. "The parents were in the process to become kupuna and they were doing all the labor work. I like that concept and that's where grandparents should be."
---
Recommended: Grandparents Are Great, But They Can't Solve All of Hawai'i's Child Care Needs, Do's and Don'ts of Using Grandparents for Child Care, My Process Behind Our Story: "Grandparents Help Hawai'i Parents Get the Job Done"
---