SmallBiz Success Awards 2010
A group of Native Hawaiians helping to keep our nation safe. A solar-energy innovator and a sunscreen company, both of them aiming locally and globally. Two Neighbor Island family stores, each almost a century old. And a company whose employees give and give and give some more. They are the 2010 winners of the Hawaii Business SmallBiz Success Awards.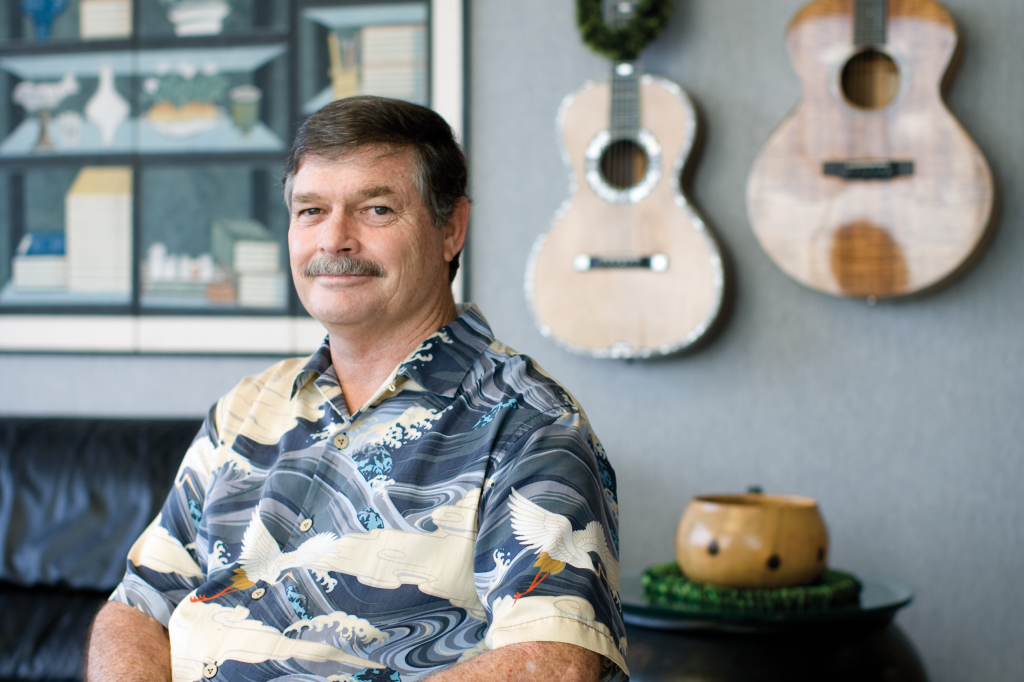 Categories and Judges:
Community Service: Su Au Doyle, executive director, Aloha United Way, and Lisa Maruyama, president and CEO, Hawaii Alliance of Nonprofit Organizations.
Best Family-Owned Business: John Butler, faculty director, Family Business Center of Hawaii at the University of Hawaii Shidler College of Business, and Jim Tollefson, president and CEO, The Chamber of Commerce of Hawaii.
Most Innovative: Eddie Flores, president and CEO, L&L Drive-Inn, and Susan Yamada, executive director, UH's Pacific Asian Center for Entrepreneurship.
Lifetime Achievement: John Butlerand Jim Tollefson
Best New Business: Eddie Flores and Susan Yamada
Most Successful Exporter: John Holman, director, U.S. Commercial Service, Hawaii Export Assistance Center, and Dennis Teranishi, president and CEO, Hawaiian Host.
Community Service Award:
Employees Give Back– Again and Again and Again
As insurance adjusters, the employees at John Mullen & Company see some of their customers' toughest times: workplace injuries, traffic accidents, lost jobs, life-threatening illnesses or harm from criminals. Perhaps that helps explain why these employees devote so much of their free time to others.
They sponsored a birthday party last year for children at the Kakaako Homeless Shelter on Honolulu's Keawe Street. They brought a giant cake and ice cream for everyone, plus presents of toys and clothes, and then read to the children and played games with them. Later, when a call came for school supplies, employees bought bags of pencils, paper and crayons for homeless families who couldn't afford them.
Among what seems like an endless list of charitable acts, the employees of John Mullen & Company:
• Donated an extra $3,500 for the Aloha United Way last year;
• Raised $2,000 for the American Heart Association in the 2008 Oahu Heart Walk;
• Collected $969 for the Muscular Dystrophy Association last year;
• Hit the streets with nets to collect for the Hawaii Food Bank;
• Served meals at Ronald McDonald House;
• Adopted a needy family for a dozen Christmases in a row through the Lokahi Adopt a Family Program;
• Raised money at the 2008 AIDS walk.
"One year, employees of John Mullen & Company did a trash cleanup of the Kakaako area by their offices in the former Gold Bond Building," says James Granata, the company's general manager, who is awed by the generosity of his employees. "Several years ago, the employees caroled and brought presents to the patients at Shriners Hospital." They've also gone caroling at Island Nursing Home and brought presents for the elderly residents, says Granata.
Company founders John P. and Margaret Mullen began the tradition of generosity by launching a foundation to help community projects not long after they opened in Hawaii 50 years ago. The couple also personally assisted both Catholic Charities and Aloha United Way, and their son, Terry Mullen, who now runs the company, has continued that family tradition. In 2007, the company was a finalist for AUW's Small Business Big Heart Company Award, and its intern, Sarita Corn, was named Coordinator of the Year, Spirit of the Community.
"We don't get jaded, that's part of our 101 training," says Terry Mullen. "Our purpose in life is to find the fairness in every situation and get people back on the road to their lives. The people who work here tend to be people who want to help others."
-By Beverly Creamer
Export Award:
Tanning Products Go Global for Maui Company
Maui Babe's sun- and skin-care products – using natural Hawaii ingredients like kukui and macadamia nut oils, aloe vera and Kona coffee extract – have burst into the global marketplace. In the past four years, the company says, retail sales have grown by an explosive 2,400 percent.
Maui Babe products are sold in five foreign countries – Canada, Mexico, Australia, New Zealand and Japan – and the company is negotiating to add South Korea, Greece and three Scandinavian countries.
"They've got a great niche and a cool Hawaii product," says John Holman, Pacific Islands director for the Hawaii Export Assistance Center, an office of the U.S. Department of Commerce.
Holman, a judge for the SmallBiz Success Awards, says, "Hawaii has a great brand name around the world. People feel positively about the name and their product is a perfect fit."
Maui Babe considered international expansion after it landed space in some of America's largest retail chains, including Walmart and ABC Stores. Then, with expansion online, the company discovered its customer base was increasingly global.
"If you have a company that has a market here, I can guarantee there will be a market elsewhere," says Holman.
Maui Babe did some smart marketing by moving into the Australian market to boost seasonal sales, he says. "If you can get into a market in the Southern Hemisphere, you can hedge the seasonality of the domestic market," Holman says.
Joe Rossi launched Maui Babe 13 years ago with a secret family recipe. It's now an eight-person company on a meteoric rise.
Maui Babe's Amazing Browning Lotion gets raves by customers on its Web site. "This product is fantastic for tanning, and that's saying a lot coming from a black woman!" says Sydni Usher.
Omar Velez exclaims, "If you want a brown tan, please use this product … It's worth every penny."
There are no dyes; the product accelerates the natural tanning properties in the skin, according to the company.
In fact, the company says, the ingredients promote skin health and healing. A study at Rutgers University has also shown the potential of caffeine to help prevent skin cancer in laboratory mice. Maui Babe has pounced on that and the claim shows up on its Web site and in its literature.
The company touts itself as the No. 1 seller in the Islands for more than nine years. Now it's shooting to be one of the top five brand names in the worldwide sun and skin-care industry.
-By Beverly Creamer
Family-Business Award:
Fishing Store with a Special Lure
S. Tokunaga is a fishing store with heart, hustle and almost a century of history on the Big Island. Named for its founder, Sumie Tokunaga, it's been part of the Hilo community for 87 years.
Launched in 1920 by a young immigrant plantation worker who left Japan seeking broader horizons, S. Tokunaga Store has survived recessions, tsunamis, earthquakes and changing mores. It retains a strong sense of history – here you can still find traditional Japanese fishing tabis – but has also joined the 21st century's technological revolution.
Along with ageless advice about lures and lines, rods and reels, its Web site offers deft fishing tips from a fourth-generation family member, 9-year-old Mykala Tokunaga, including how to tie a great clinch knot – with helpful pictures.
But there is much more to the Tokunaga story. After tsunamis in 1946 and 1960 destroyed the store at its original bayfront location in downtown Hilo, the family relocated and rebuilt – first to Keawe Street and then Hoku Street, where it is today.
Now concentrating on fishing and diving supplies, it carries everything from wetsuits to a wide variety of lures for local fish. For those days when you can't go fishing, it also sells hunting, dart and archery supplies.
Michael Tokunaga, the third-generation owner, has done much to expand the store's reach since taking over from his mother, Ethel Tokunaga, in 1991. That includes: getting involved in a mono-filament recycling program dedicated to cleaning up waterways; volunteering as an angler with the Division of Aquatic Resources Ulua Tagging Project, which is gathering data to assess the near-shore ulua and papio fishery; and launching the Ulua Challenge, a tournament designed to promote family outings and to educate fishermen on caring for their recreational fisheries. The three-and-a-half-day tournament is the largest casting tournament in the state and incorporates a tagging and barbless hook division to educate fishermen about how to release surplus catch.
"We try to push these projects heavily before our tournaments so that they build up databases," says Mike Tokunaga. "It will also teach the next generation to 'fish smart.'"
Tokunaga says the store's philosophy hasn't changed over the years and today the family still hews to principles set more than 80 years ago by his grandfather, and followed by his mother Ethel when she ran the operation from 1960 to 1991.
"When my grandfather Sumie Tokunaga started the business in 1920, his main philosophy was to give customers the products they want at very reasonable prices," he says. "Treat them well, get to know them on a first name basis and your customers will always come back."
The store is also involved with the high school Delta Epsilon Chi employment partnership, which helps develop leadership skills in young people by providing opportunities to work while earning school credits.
-By Beverly Creamer
Innovation Award:
Being Part of the Solution to Big Global Problems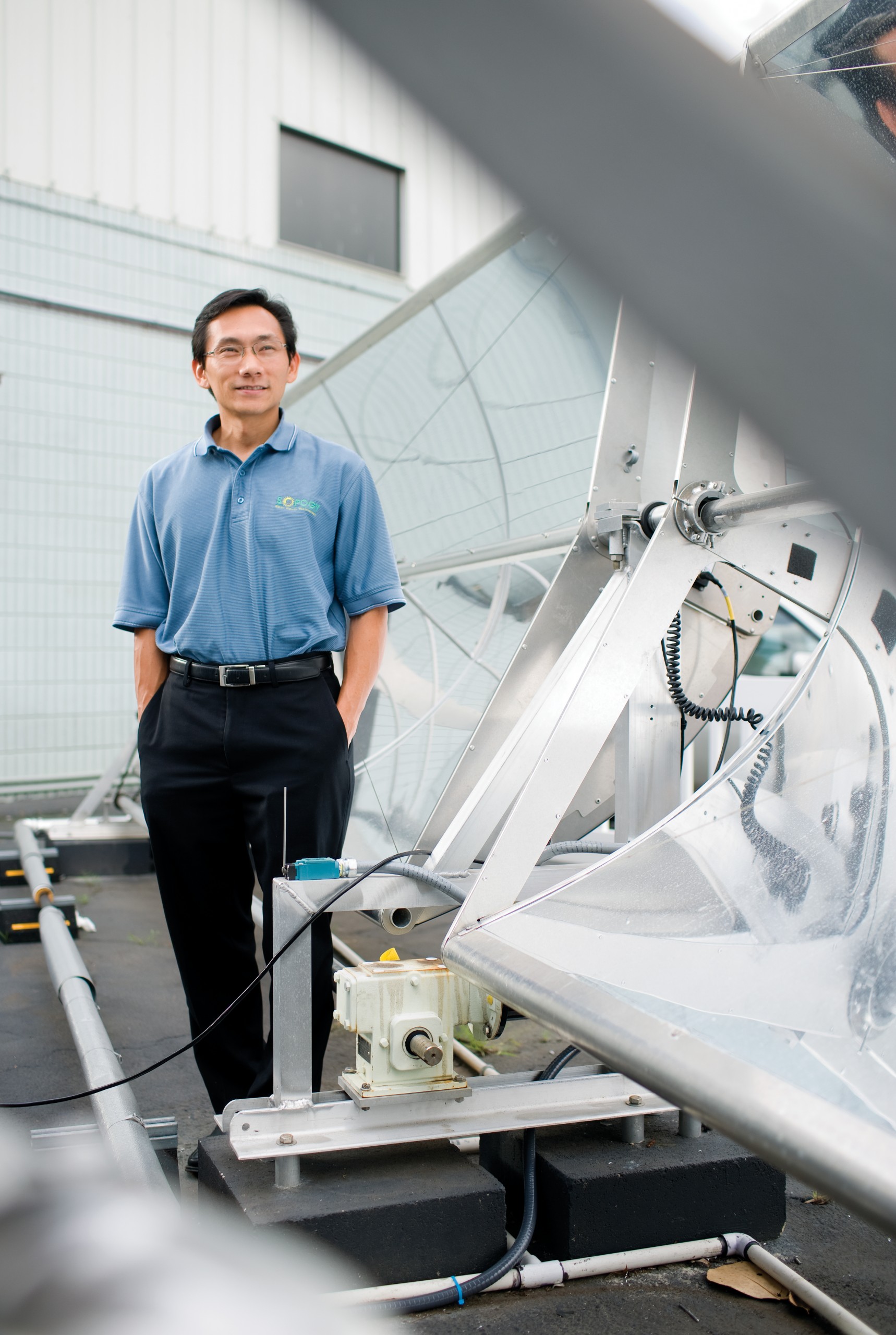 Growing up in Hilo, Darren Kimura saw dock strikes and the closings of sugar plantations and wondered why Hawaii's people could not be part of their own economic solutions. When the University of Hawaii graduate decided to start a solar-energy business, he chose the much-riskier route of creating new technologies rather than distributing and selling existing products and services.
"Hawaii not only imports oil and exports our dollars for our energy, but we also import technology for renewable energy and export dollars for that, too," he says. "Renewable energy is the new agriculture and technologies can be designed, developed and deployed here, bringing clean green power to the Islands, but also sold around the world from Hawaii."
As proof, Sopogy's invention and manufacture of a unique solar concentrating panel has evolved a new technology called "MicroCSP" (Micro-Concentrating Solar Power), a miniaturized version of larger, decades-old CSP technologies operating in the world's hot deserts. Reducing the size and improving the durability for a proven solar-energy technology means places like Hawaii – with an ocean salt and volcanic atmosphere, limited land space and tropical-storm weather – can harness sunlight on a large scale for energy.
In December, Sopogy unveiled the world's first and largest MicroCSP facility, a 4-acre, 500-kilowatt-capacity solar farm in Kona on the Big Island, which can power more than 250 homes and cut oil imports by 2,000 barrels annually. The company says its scalable and modular MicroCSP solar-power collectors, together with its proprietary technologies, have caught international attention and a project is now proposed for Spain. From 2007 to 2008, revenues for the Honolulu-based company of 30 employees soared 680 percent.
However, Kimura says, it wasn't an overnight success for Sopogy, which is an abbreviation of the words solar-power technology. He started the company in 2002 with his own money and spent the first five years without a profit, while focusing on the development of CSP intellectual properties.
New uses being explored for Sopogy's technology include creating clean drinking water from sea water and manufacturing portable refrigeration units for farms. These uses are all part of the small company's big ambition to be part of the solution to the global problems of climate change, energy security and sustainability.
"The culture of innovation has been, and remains, the key to Sopogy's growth," says Kimura. "We have the intelligence here in Hawaii to make us the beacon for the rest of the world when it comes to clean and green power.
-By Gail Miyasaki
Lifetime Achievement Award:
The Heart of Old Makawao, Then and Now
Blink and you could miss the drab beige building in upcountry Maui's old Makawao town. But in online reviews and almost a century of happy customers, Komoda Store & Bakery gets raves for its doughnuts on a stick, cream puffs and great family service.
"Go here!!!" says Kimi C. from Los Angeles in one of many Internet rhapsodies. "It doesn't look like much, but aren't those places the best?"
The Komoda store was established in 1916 by Takezo and Shigeri Komoda soon after the birth of their eldest son, Takeo, and has survived the Depression, recessions, wars and almost a century of changing lifestyles. Four generations later, it is a landmark Hawaii mom-and-pop store still run by the Komoda family – now with son-in-law Calvin Shibuya as manager and in charge of operations.
From the beginning, the Komodas saw serving their community as a primary responsibility. It meant selling sandwiches and saimin in the early days, then adding dry goods, groceries and, finally, bakery items. During the Depression, Takeo would fill the family truck with dry goods to sell in outlying areas of Maui. During World War II, the family sold bread, guava jelly and hamburgers to soldiers. After the war, the family expanded the bakery when son Ikuo finished his Army service and returned from baking school in Minnesota.
The expanded bakery menu gave the store the niche it still maintains. Even with supermarkets and big-box stores opening in competition, Komoda Store & Bakery has held its place with an extraordinary selection of baked goods – including items that head the list of omiyage for visitors from other islands.
The establishment has 13 employees, seven of whom are family members. Takeo died in 2008, but his widow, Kiyoko, stays involved with the store and his younger brothers, Ikuo and Dan, both in their late 70s, still serve as master bakers.
Shibuya, store manager since the 1990s, is also deeply committed to the community – as an officer and board member of the Makawao Main Street Association and a former member of the Maui County Upcountry Advisory Committee.
"The Komoda family, and the bakery, have won the hearts of many by surviving tough economic times, providing long-term employment and continued dedication to the community," says Lolita Feliciano, of Bank of Hawaii, who nominated the store for this award.
-By Beverly Creamer
New Business Award:
Veteran Consulting
Call it an "Aha!" moment that began with lunch in Waimanalo for three former Vietnam veterans. All three had served in the first-responders and emergency-management fields, were disabled and Native Hawaiian. Army veteran Mike Jones had consulted for small businesses owned by disabled Native Alaskan veterans and asked, "Why can't we do this ourselves?"
"It was our background, relationships and understanding of the federal marketplace that gave us the confidence that we could pull this off," says Army veteran Ray Jardine, now president and CEO of Native Hawaiian Veterans LLC. Taking advantage of Executive Order 13360's mandate of 3 percent of federal contracts set aside for businesses owned by disabled veterans, Jardine, Jones and Army veteran Puni Akana set up NHV in 2005, with four employees and gross revenues of $63,763.
It now has 85 employees and was projected to earn more than $10 million in 2009, with the Department of Defense as its primary client. A Hawaii-based company with projects in nine U.S. states and 18 countries, NHV provides Subject Matter Experts in homeland security, emergency management, public-safety services, information technology, unexploded ordnance, and computer and mobile radio installation. NHV is one of the few minority-owned and disabled-veteran-owned small businesses nationwide, and is one of an even smaller number of such businesses owned by Native Hawaiians.
The speed of NHV's growth was a surprise, with revenue doubling annually, but not the success itself. "We hit every bullet point of our strategic plan," says Jardine, who credits the company's commitment to Native Hawaiian values. "We mix good business sense with our core values." Jones calls it a "hard sell" initially with new clients that has paid off with returning customers.
NHV employs a majority of veterans in its organizational family (ohana). Work is based on collaboration and cooperation (lokahi) with other disabled veterans' small businesses for mutual success. At the company's core is a work ethic of "doing the right thing, the right way, the first time – kinaole," says Jardine.
Generosity (hookipa) spurred the creation of NHV's Kinaole Foundation. Funded by the company's profits, the foundation recognizes Hawaii's top 26 Junior ROTC cadets, provides scholarships for students seeking unexploded ordnance technician certification, and recently funded leadership training through mastery of Native Hawaiian martial arts (lua).
"We started out thinking about doing work only in Hawaii and realized that limited our potential," says Jardine. Future plans include expanding foundation funding and welcoming 2010 – with projected revenue of $15 million and more than 100 employees worldwide – as another banner year for NHV.
-By Gail Miyasaki
Finalists
Community Service
Market City Shopping Center: What began as a vegetable patch in 1948, now serves more than 135,000 customers in the Kaimuki area. Since 1993, Market City's foundation has donated more than $40,000 in scholarships to local high school seniors.
Kam Kasuals: Dorothy and Michael Aach have grown Kam Kasuals so that you can now find their shoes and accessories in Walmart, Longs and ABC stores. And they've donated footwear to organizations like Habitat for Humanity and the Susan G. Komen Breast Cancer Foundation.
Exports
Hawaiian Chip Co.: Makes and sells delicious food products like sweet potato and taro chips, and BBQ sauce. Rachel Ray and CNBC have showcased the products on national TV, and the chips are reputed to be a favorite of President Obama's family.
Hawaiian Island Shine: Makers of quality car and boat care products that are sold nationally and globally. Among the retailers selling the products are Pricesmart, Amazon and Orchard Supply Hardware.
Lifetime Achievement
The Audio Visual Company: Established in 1970, AVCO installs and maintains AV solutions, such as video conferencing equipment, for clients in many fields, including education, health care, government, finance and the military.
PBR Hawaii & Associates: PBR provides professional services in land planning, environmental studies, land-use entitlements, landscape architecture, and graphic design. Its knowledge of local conditions helps it produce projects and places that are functional, sustainable and cost effective – and have aesthetic value.
Family-Owned Business
Cinnamon's Restaurant: Three families over two generations have served local favorites at this popular Kailua eatery for 25 years. It is well known for classics such as cinnamon rolls, French toast and loco moco.
Valley Isle Fencing: Producing and installing chain-link fencing and ornamental iron work on Maui since 1992. Their commit-ment to deliver good service has won them contracts with Maui County and the state.
Innovation
Hawaii Air Ambulance: This company saves the lives of Neighbor Islanders. The innovation of stationing medical teams in Kona, Hilo and Waimea, and on Maui and Kauai, plus having a fleet of medically dedicated aircraft staffed 24/7, are life-saving steps for Hawaii's rural areas.
Hawaii First, Inc.: One of the state's top residential real estate management firms. It handles financial management, long-term budget planning and administrative support for more than 150 projects statewide.
The Parker Group: The project manage- ment and systems engineering firm provides services to military contractors. Owner Valerie Parker has built it from a one-woman startup in 1998 to a 12-employee company grossing more than $2 million.
Best New Business
808 Bounce: Founded in 2007, 808 Bounce specializes in inflatable bouncy-house and slide rentals on Oahu. It also owns and runs the Indoor Fun Centers at Windward Mall and Pearlridge Center.
Cirque Polynesia: This acrobatic show opened in June to critical acclaim and soon moved to a bigger venue at the Hyatt Regency Maui Resort & Spa in Kaanapali, despite a statewide tourism downturn.