SBA Award Winners 2015
Here are the 24 local entrepreneurs, companies and champions honored for the 2015 Small Business Administration Awards.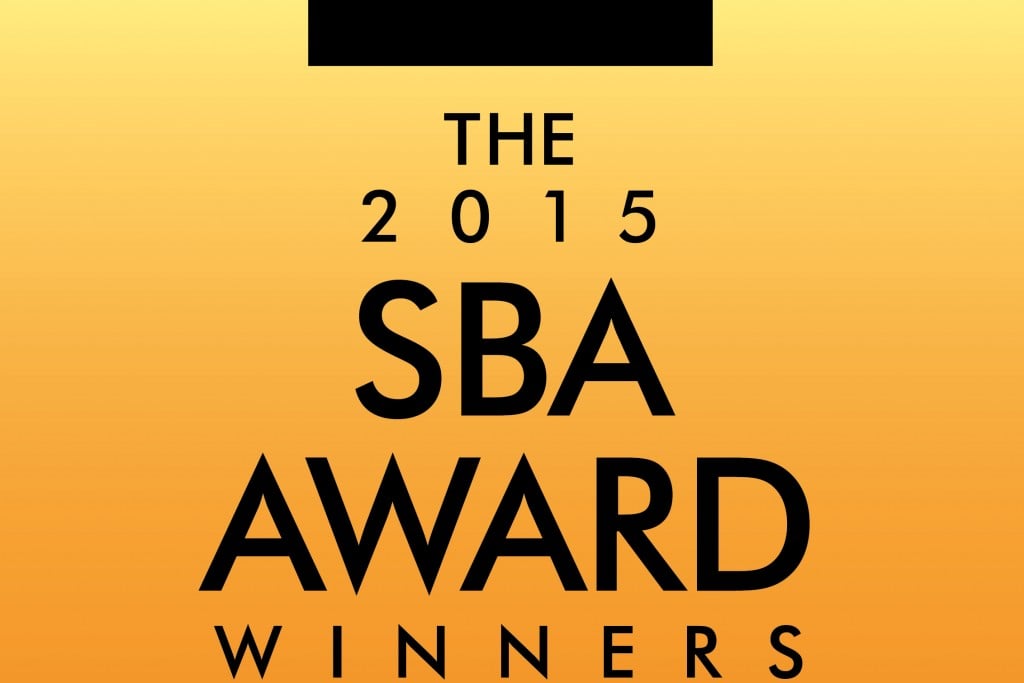 Each year, the Hawaiʻi region of the federal Small Business Administration gives out awards that celebrate some of the state's best small businesses and small-business advocates. Hawaii Business is proud to profile the 2015 winners in the following pages and to honor them at the Hawaii Business Small Business Luncheon on May 8.
To learn about SBA loans for small businesses, go to www.sba.gov or ask your banker.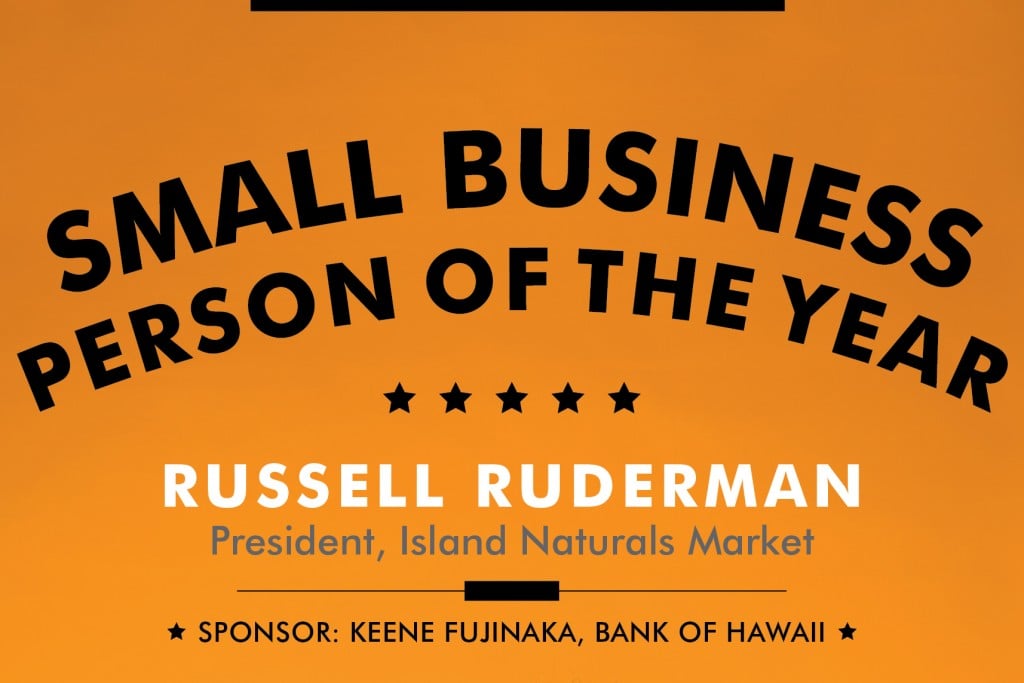 "Getting fired forced me to do my own thing."
Russell Ruderman says one of the best things that could have happened to him was being let go from his job at a natural-foods store in Hawaii in 1985. He spent the next decade on the wholesale side of natural foods, as a broker and sales representative. From that vantage point, he saw how natural-foods stores were evolving on the mainland. Although Oahu and Maui were starting to get their own natural markets, there was still nothing on Hawaii Island.
In 1998, he opened his first Island Naturals Market in Hilo, which was followed by other Hawaii Island stores in Pahoa and Kailua-Kona. While he is careful not to reveal too much, he hints there may be plans to expand to other islands.
"What sets him apart is his willingness to listen to people with different worldviews. He's not afraid to consider things that aren't in his comfort zone," says Keene Fujinaka, VP at Bank of Hawaii in Hilo and Ruderman's banker from the time he started Island Naturals. Fujinaka sponsored Ruderman's entry into the 2015 Small Business Administration's Hawaii regional awards, for which he was picked as Businessperson of the Year.
While committed healthy eaters are an obvious demographic for his store, Ruderman says, he believes strongly in creating an environment for everyone. "I want a place not just for hippies and natural-foods converts. I want someone who may be 65 years old, conservative and local to feel welcome and respected in my stores."
To create that kind of inclusive environment, he encourages his managers to hire locally, not just choose mainland health-food transplants. "I hire some people with natural-foods knowledge and others just with an open mind. It helps when people walk in and they see an ethnic mix, including local folks, friends and neighbors. It makes the experience more personal if they can say, 'Hey, my cousin works there!' "
Supporting locals and local products is Ruderman's mission. He says 60 percent of the products in his produce departments are local and he encourages local businesses, both farmers and value-added producers, by taking a smaller margin on their goods, placing their products in ideal locations and creating special signs.
He also invites local growers and entrepreneurs to do in-store demonstrations. He believes it's critical to tell the story behind the food and connect customers with the farmers and small businesses who create the products.
Ruderman's journey after the unexpected firing did not stop with Island Naturals. In 2013, he won the newly created state Senate seat representing the Puna district. He also serves as chair of the Senate agricultural committee. "Fundamentally, I'm an environmentalist. I was a citizen activist for a while. Getting elected was an extension in the sense that I felt I could do more in office than I could have just being a sign-carrying protester."
Despite the fact that he wears so many hats, he maintains a reputation as both a good boss and a fun one. "When we had our orientation for new employees, he said he always wanted to work at a place where you can have fun," says Sarah Naleimaile, who works in the Hilo store. "And that's the kind of place it is. I'm actually excited to come to work every day,"
There is also his music, which Fujinaka describes as an essential part of Ruderman's identity. He plays guitar in two bands, one that covers Grateful Dead music and another that focuses on kachi-kachi, or local-style Latin music. He also supports other local artists by carrying their CDs and hosting live music in the Island Naturals parking lot in Hilo.
Ruderman may be a state senator, a businessman and a musician, but, says Fujinaka, he is still "very humble and unassuming." According to Naleimaile, it's common to see him bagging groceries or collecting shopping carts in the parking lot.
Ruderman knows he doesn't have to do those things, but looks forward to doing them. "To me, collecting shopping carts is a symbol of the fact that all the other work got done. Everything happened, and didn't need me, and so I'm just a little part of it all. And I truly like bagging groceries. It's just plain people contact. That's one of my favorite parts of a natural-foods store, because it's not just a place to shop. It's also a community and a social center."
-LiAnne Yu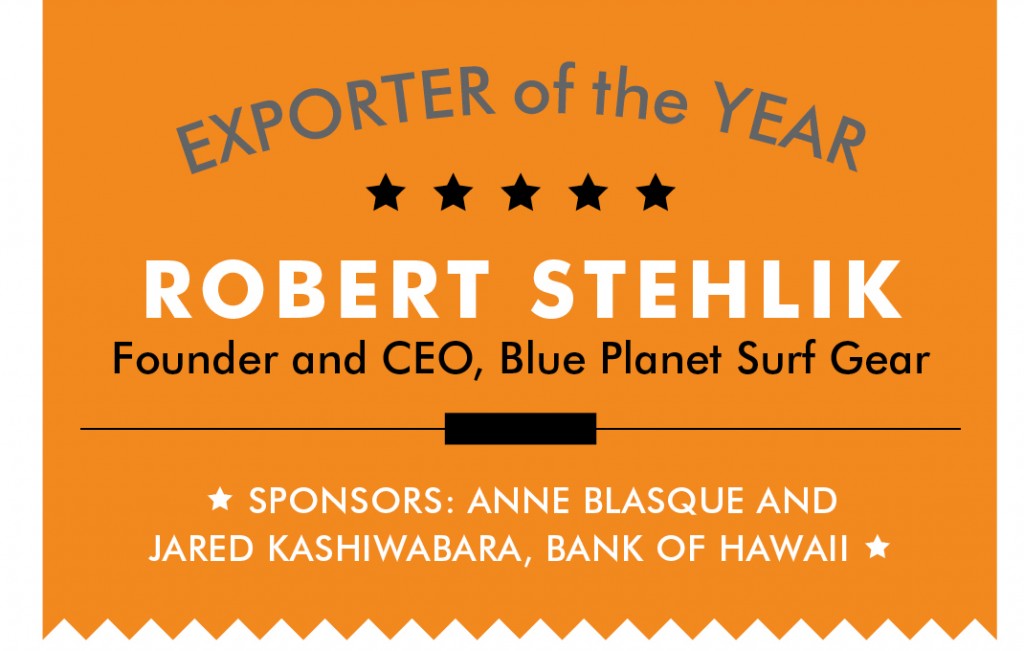 He was a man with a plan. A business plan and a marketing plan, actually, both part of Robert Stehlik's international business project at UH-Manoa. It was 1993, and he was selling surf wear at the Aloha Stadium swap meet. His goal? To create a globally known brand.
As founder and CEO, Stehlik, who grew up in Germany, has molded Blue Planet into a global purveyor of standup paddleboards. "He's positioned himself to be one of the better retailers in Hawaii," says his Bank of Hawaii commercial banking officer, Jared Kashiwabara. "He's a laid-back guy, but also has a business mind."
Stehlik designs the boards himself and has them manufactured in China. "It's one of our biggest assets: having a good relationship with the right manufacturer," he says. "I'm in China twice a year, having meetings, approving samples and doing quality control. I watch every step of the process and try to see where we can improve."
Customer service is another competitive advantage. "Our goal is to provide excellent service, as opposed to some guy selling boards out of his garage or someone buying a board at Costco," he says. Blue Planet has a rental fleet of 50 boards; customers can try them and apply the rental fee toward a purchase.
Bank of Hawaii's Anne Blasque, currently an officer and assistant banking center manager, met Stehlik when helping him with an SBA loan. (She's since bought a standup paddleboard, too.)
"He's so involved in helping other small-business owners flourish," she says. "He shares his ideas and experience with the international Entrepreneurs' OrganizationHawaii Chapter and helps business owners think big, and think beyond the Hawaii market." Stehlik also helps charities associated with environmental and surf-related issues, donating equipment and pitching in for events.
Blue Planet has seven employees, plus distributors in Canada, Australia and on the Mainland. Up next: securing distributors in Europe and Japan. Another big change will happen this summer, when his flagship store on Ward Avenue adds 16 parking spaces and a warehouse. "We had very limited parking, so we leased the lot next to ours and are converting it," he says. Does he feel lucky that this prime, neighboring space opened up? Luck, maybe. "I actually worked on that for several years. Luck comes to those who are ready for it."
– Kathryn Drury Wagner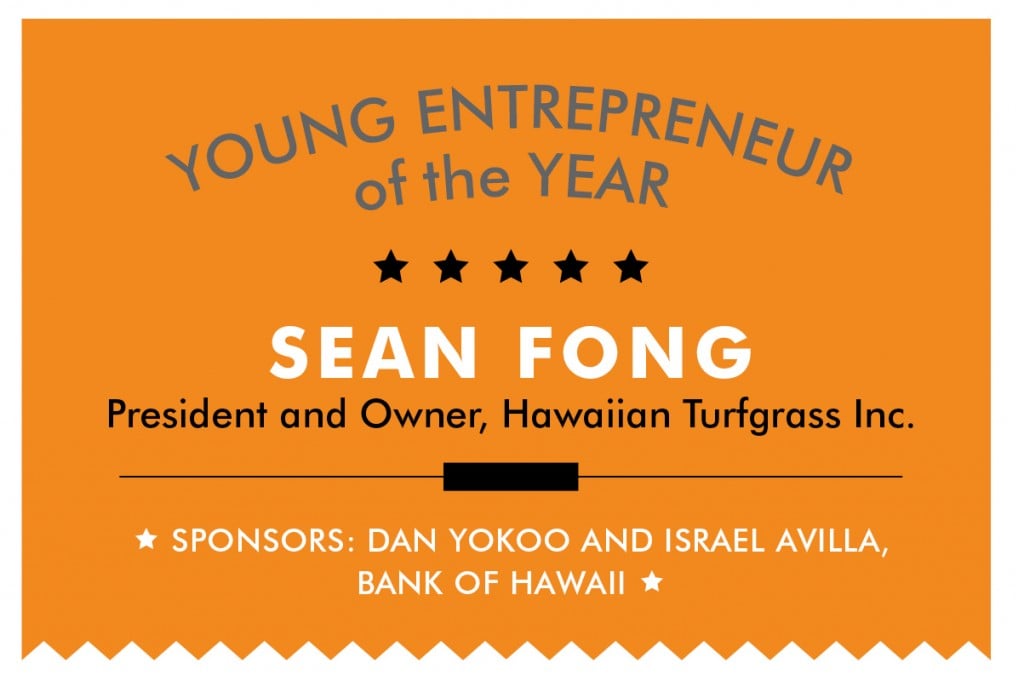 Sean Fong was still in college when he decided to grow a business out of grass.
Agriculture isn't a common choice for young entrepreneurs, but Fong, who hails from Hilo, knew he wanted a career outdoors. A class in turfgrass production at UH-Manoa offered the inspiration he needed.
Fong – now 31 and a new father – has put his profits back into his company since he launched it in 2006, growing a single one-seventh of an acre grass plot cultivated by hand into a 67.5-acre farm in the Mililani Agricultural Park run by eight employees. Hawaiian Turfgrass now grows enough grass to cover football fields at a time and Fong says his company is the only local grower with the equipment to install 4-by-100-foot rolls of sod.
"When we started out, we were just selling grass. We became landscape contractors and started installing lawns and sprinklers," Fong says of the company's evolution. "It's pretty much been my life for this last eight years. It's been my dream and I pretty much just went full blast."
Dan Yokoo is a VP and the banking center manager for Bank of Hawaii in Waikiki and one of the people who sponsored Fong for the SBA Awards. He says he's impressed with the determination and dedication that makes Fong a good role model for young entrepreneurs.
"Sean chose to go into an industry that very few young entrepreneurs ever consider," Yokoo explains. "He had the discipline to sink every penny he earned right back into his business by investing in equipment and technology designed to make the work easier and more efficient."
This spring, Fong will use his high-tech sod-installation equipment to resod the Moanalua High School football field, the biggest job Hawaiian Turfgrass has taken on. Fong credits the company's success to its ability to expand and bring in new equipment and proprietary grasses that require less water and fertilizer and provide more of a "wow factor." Fong says he frequently travels to trade shows and industry conventions to find out what other successful grass growers are up to and belongs to a network of farms that uses the same high-quality grass all over the world.
As Yokoo notes, "These new strains take over three years to quarantine and propagate before they are ready to bring to market. In this fast-paced world of instant gratification, Sean demonstrates the patience and tenacity necessary to grow a successful business."
– Treena Shapiro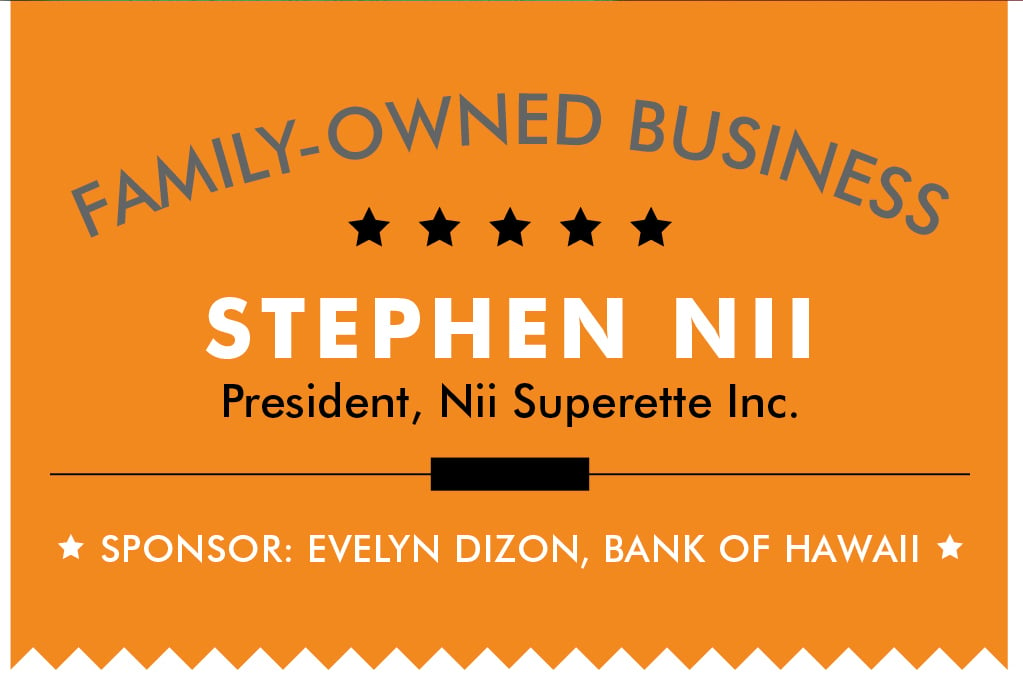 Nii Superette has always found a way to fill the needs of its Waipahu customers – and these days their animals, too.
When the mom-and-pop grocery first opened as Nii Store near the turn of the 20th century, its core customers were workers from the Waipahu sugar mill who needed a place to shop for day-to-day supplies.
"There were barrels of stuff all over the place. We really served the community," says Stephen Nii, 42, who left his career with Progressive Insurance in California to help care for his ailing father four years ago. After helping his uncle halve Nii Superette's health insurance costs through the Affordable Care Act, Nii stepped up as its president.
Like Waipahu itself, the family-run store has had its ups and downs. Big-box stores have pushed out most neighborhood grocers and Nii Superette has adapted by specializing in ice-cold beer and beach snacks.
"My uncle looked at more niche items, more specific to the neighborhood itself. Basically it's the land of the backyard barn. There are more chickens than people," Nii points out. Animal feed now accounts for a quarter of the superette's annual sales.
Nii's latest acquisition is a soft-serve machine and he plans to top sundaes with pineapple jam and apple-banana butter. He's also expanding the store's takeaway offerings to reflect Waipahu's cultural heritage with flavors drawn from Filipino, Samoan, Polynesian and Portuguese cuisine.
Old plantation-style lunches, like sardines over rice, could also find a place on Nii Superette's counter after Nii noticed how frequently he reorders the cans of fish packed in tomato sauce. "I really want to connect back with customers as much as I can, whether it's through the product or through the messaging," he explains.
Evelyn Dizon, an officer at Bank of Hawaii, has been impressed that the business has remained a solid part of the community for more than a century. "Stephen is the fourth generation of leadership for the business. He brought new ideas and vibrancy to the store," she says.
One thing that won't change is the link to the Nii family. "If there was a mission statement, it would be that it takes care of my family: my mother, my father, my uncle, myself. For my brother's kids or my cousin's kids, if they want to step in and grab that same opportunity I was given, I'll keep the door open," Stephen Nii says.
– Treena Shapiro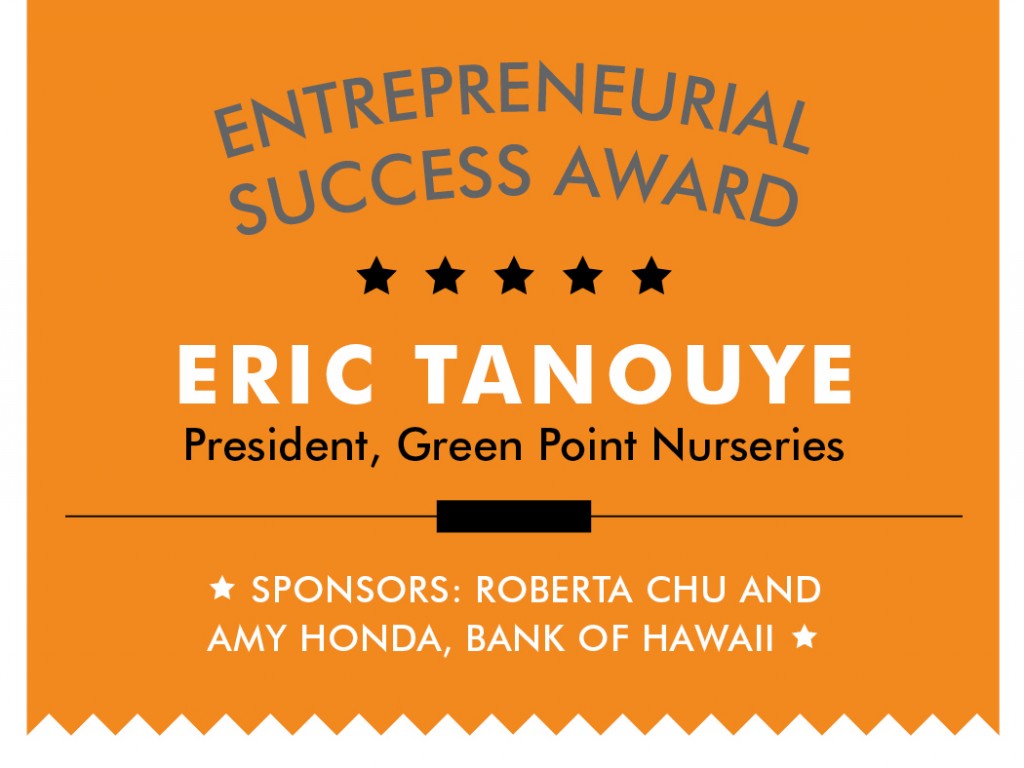 In small-kid time, Eric Tanouye's dad would have him fill a bucket with weeds to keep him occupied. These days, Tanouye oversees a weekly harvest of 40,000 to 50,000 stems of anthurium, tropical flowers and foliage. He's president of Green Point Nurseries in Hilo, which his father, Harold, founded in 1964.
The plants aren't the only things sprouting at GPN, which now has more than 50 employees. "They've had very steady growth, adding about 10 employees every decade," says Amy Honda, VP at the Bank of Hawaii.
Roberta Chu, a senior VP at the bank, knows the Tanouye family and their values well. "Eric and I go back to preschool days. Our families went to the same church," Chu says. "Eric has respectfully and deftly managed the transition after his father passed [in 2013], as well as navigated big changes in the industry from foreign competition and the lingering effects of the 2008 recession."
"We've had to reinvent ourselves," says Tanouye. "We went to the higher-end market, the special-events people and designers. We market ourselves to the American Institute of Floral Designers." GPN's has been promoting the idea of "neo tropicals," showing florists how to use Hawaii's new cultivars as well as fresh and exciting ways to use older ones.
In their SBA Awards nomination, Chu and Honda noted that GPN has been a strong supporter of the USDA Pacific Basin Agricultural Research Center, aiding with studies to reduce the need for chemicals and pesticides. GPN also assists the UH College of Tropical Agriculture and Human Resources as an advance-testing site by contributing its expertise, field space, materials and labor.
"We have been able to introduce one new variety a year," Tanouye says. "The floral industry is fashion related, and customers constantly desire something new."
He has also contributed by serving with the Hawaii Floriculture and Nursery Association, the County of Hawaii mayor's agriculture advisory commission and the Big Island Visitors Bureau's board of directors.
Tanouye's grandfather, Harold Tanouye Sr., was a champion of Hawaii Island floriculture in the 1950s. Now, a fourth generation has blossomed: Eric's son Christopher works in GPN's sales and marketing group in Honolulu, while son Jonathan is a horticulturist at the company's operations in Hilo.
"We're a family business, but we've evolved," says Tanouye. "I'm proud I can depend on this team. We work closely to supply quality and reliability to our customers. We're so fortunate."
– Kathryn Drury Wagner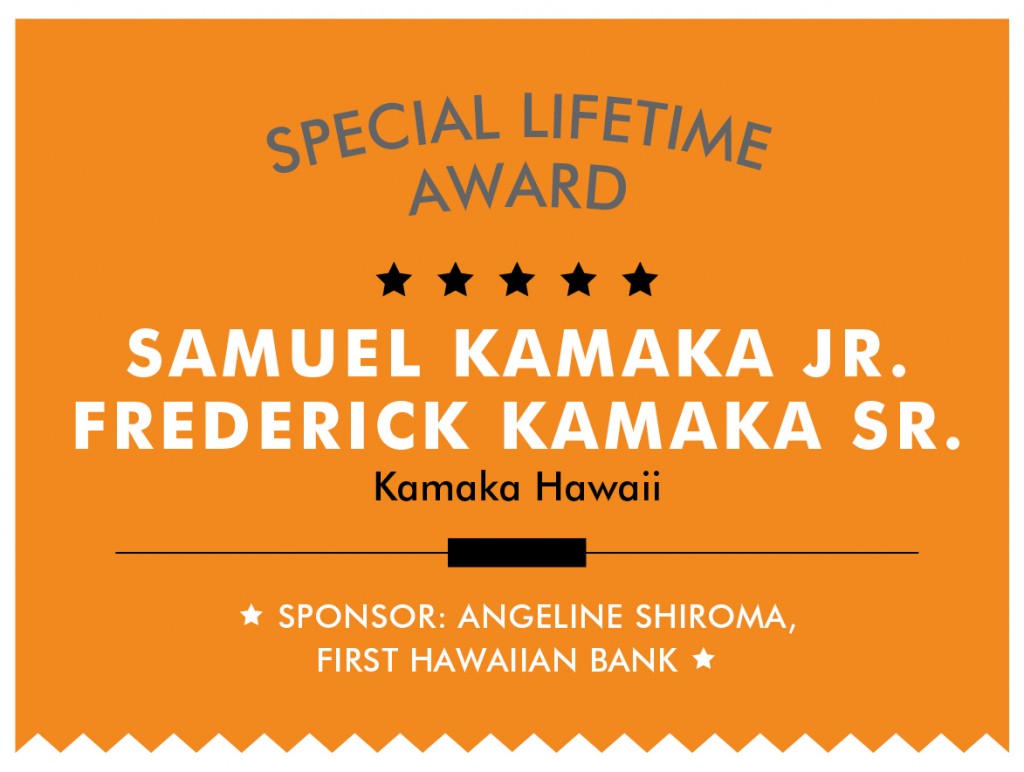 Ukulele have been part of the Kamaka family DNA for nearly 100 years. "It's important to the family as a family legacy," says Fred Kamaka Jr., the business manager.

It all started with his grandfather, Sam Sr., who wanted to make guitars, not ukulele. Before opening Kamaka Ukulele and Guitar Works in 1916, Sam Sr. was a musician. When he traveled to the mainland for a gig, he paid his way back to Hawaii by working on multiple ships that sailed through Europe. Along the way, he studied guitars, but by the time he returned to the Islands, there was a big ukulele boom.

"It wasn't his original plan to go into making ukulele. But he got into ukulele because that was what everybody was buying at the time," Fred Jr. says.

Sam Jr. and Fred Kamaka Sr. got into the business when they were in elementary school, working at the factory after classes. When World War II came around, the brothers were drafted and later received their undergraduate degrees from Washington State University. Sam Jr. then worked to earn a doctorate degree at Oregon State University, while Fred Sr. went into the military.

When their father passed away, Sam Jr. came back to help continue the business. "If he hadn't done that, the family business wouldn't be here any more," Fred Jr. says.
As leaders of Kamaka Hawaii Inc., the brothers split the work: Sam Jr. headed production and Fred Sr. lead the business side.
Although Sam Jr. is semi-retired – he's 92 – Fred Sr. still leads almost daily tours of the Kamaka factory. He's much younger: 90.

Angeline Shiroma, assistant VP and business banking officer for First Hawaiian Bank, says the Kamaka brothers have spent their whole lives reviving and maintaining Hawaii's ukulele industry.
"I hope they will serve as an inspiration for other small businesses," Shiroma says. "When the going gets tough, many people just give up, right? But you know, the going went tough, but they hung on and they're here today."

Now the third Kamaka generation leads the business and there may be a fourth. "Those old ukulele makers, a lot of them went out of business just because no one, none of the family, went into the business," Fred Jr. says. Fortunately for Kamaka Hawaii, two of Fred Jr.'s nephews – Christopher and Dustin Kamaka – have already started working there.
– Noelle Fujii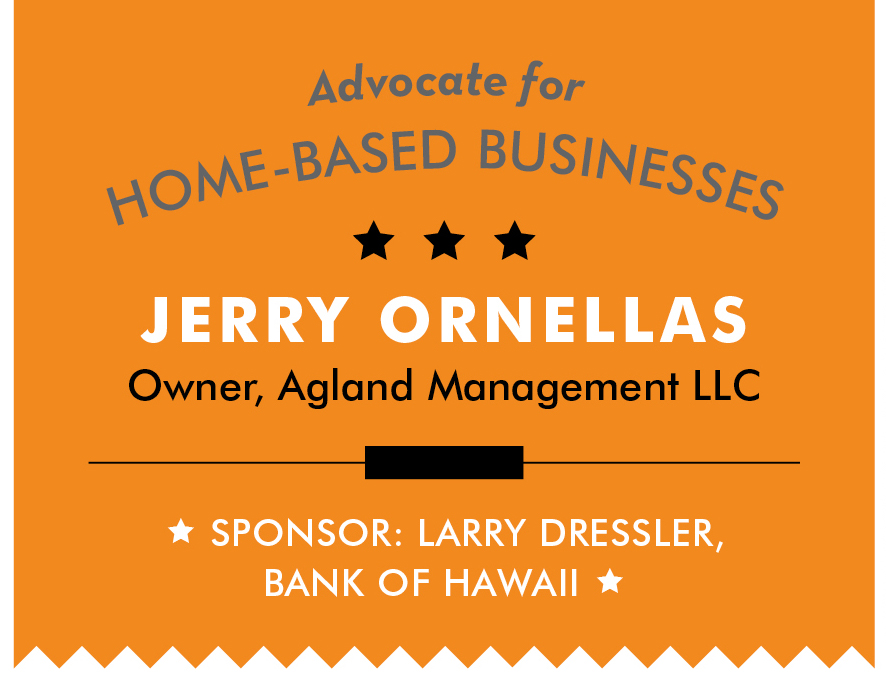 Jerry Ornellas is considered a "go to" guy for advice about farming and agriculture on Kauai. After all, he has been farming on the island for his entire life.
"I was seduced," he says. He came from a farm family and started dairy farming with his father in the 1960s.
About 15 years ago, he started Agland Management LLC, through which he managed properties for ranches and farmland and gave advice to those who sought it. "There was a need," he says. "There were some large-property owners who had come to me seeking advice, and I gave them a hand doing property management and also potential crops that they could raise."
Now, Agland Management consists of his sole farm in Kapaa Homesteads, where he grows longan, breadfruit and taro.
Bank of Hawaii commercial banking officer Larry Dressler remembers going to Ornellas about 20 years ago to utilize his knowledge about agriculture.
"I think Jerry is one of the great resources for our community when you look at the issues of agriculture and trying to make it sustainable in the transition from plantation agriculture, when you look at the issues of land use, when you look at the issues of labor and agriculture," Dressler says.
– Noelle Fujii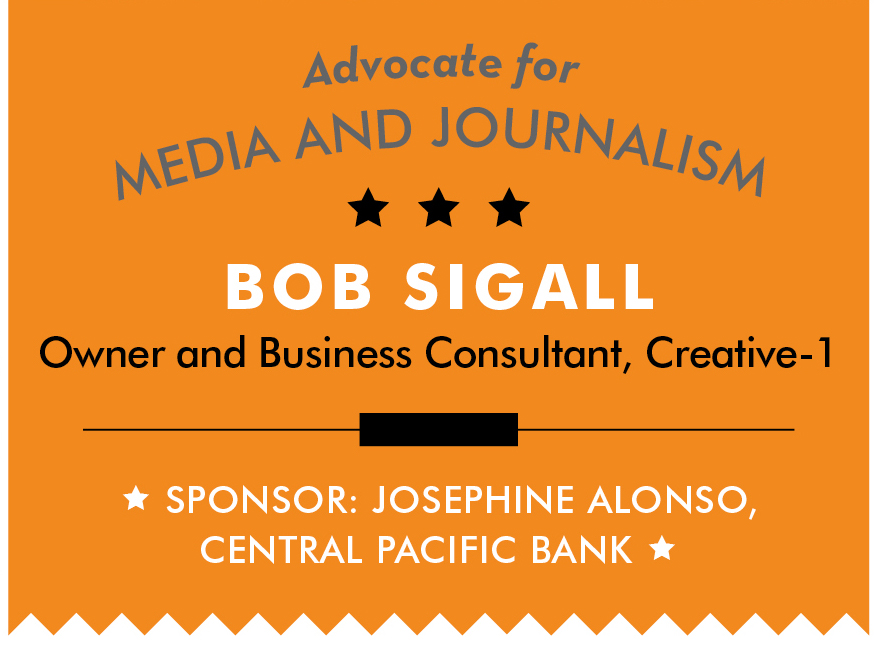 Bob Sigall has been a lifelong businessman. Before he graduated high school, he had started four businesses: reselling golf balls found on a golf course, showing home movies and cartoons in a neighbor's garage, preparing taxes and window washing.
"I think it's just a natural thing on my part. I wanted to make some money, so I started a business," he says.
After studying psychology at San Diego State University and UH, he worked as a therapist in Kailua before being invited to work with a business-consulting firm in 1978. Then, in 1985, he created his company, Creative-1.
"I help people who are really good at their product or service, but they don't necessarily know how to let the business community know about it," he says.
He also taught marketing and management at Hawaii Pacific University for 15 years, where he had his students write marketing plans for local companies and nonprofits. He has written four books in "The Companies We Keep" series, which are about Hawaii people, places and organizations. He also writes a weekly column called "Rearview Mirror" for the Honolulu Star-Advertiser.
Josephine Alonso, business banking officer for Central Pacific Bank, describes Sigall as a genuine advocate for small businesses who deserves to win an SBA advocacy award.
– Noelle Fujii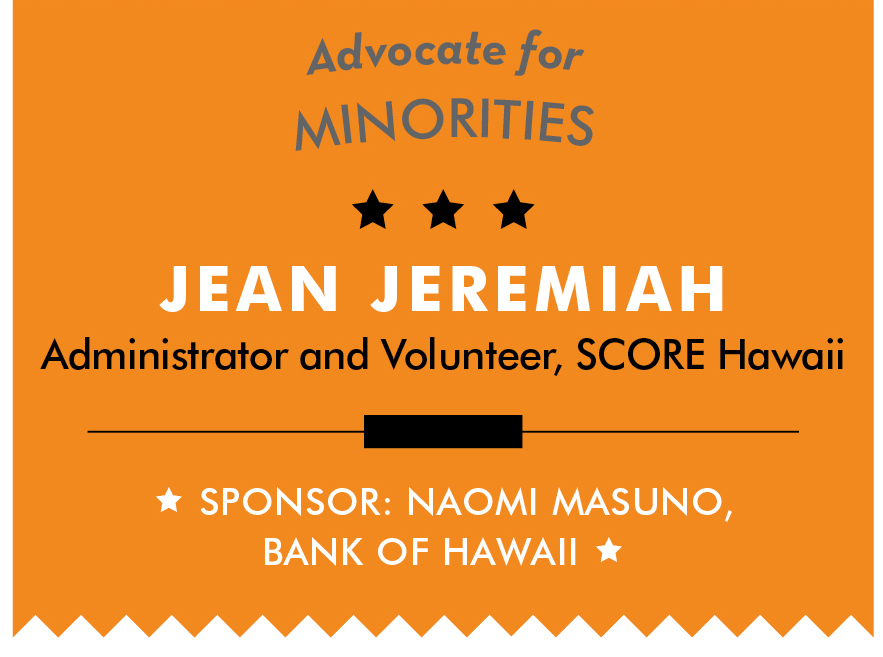 Jean Jeremiah really likes working in the community.
And although she has a day job with the Honolulu Authority for Rapid Transit, she spends late hours at SCORE Hawaii where she has volunteered since 2005 as an administrator.
SCORE Hawaii, a nonprofit resource partner of the Small Business Administration, offers advice and mentoring to small businesses and entrepreneurs, whether the guidance is for those starting a business or those who have an existing one.
What she loves most about her work is seeing small businesses succeed. "That's the rewarding part about it: to see that we're able to give back. We're able to help the small-business owners, and our mission and our goal are to make sure they succeed," she says.
Naomi Masuno, VP for Bank of Hawaii, says Jeremiah has a passion for helping small businesses, adding that Jeremiah has also been successful in reaching out to many owners through SCORE and through individual efforts, such as the Oahu Filipino Community Council, where she served as president.
"She is a perfect advocate because she not only helps them individually, but she could reach out to politicians or other entities to make known some of the needs that the small-business owners have," Masuno says.
– Noelle Fujii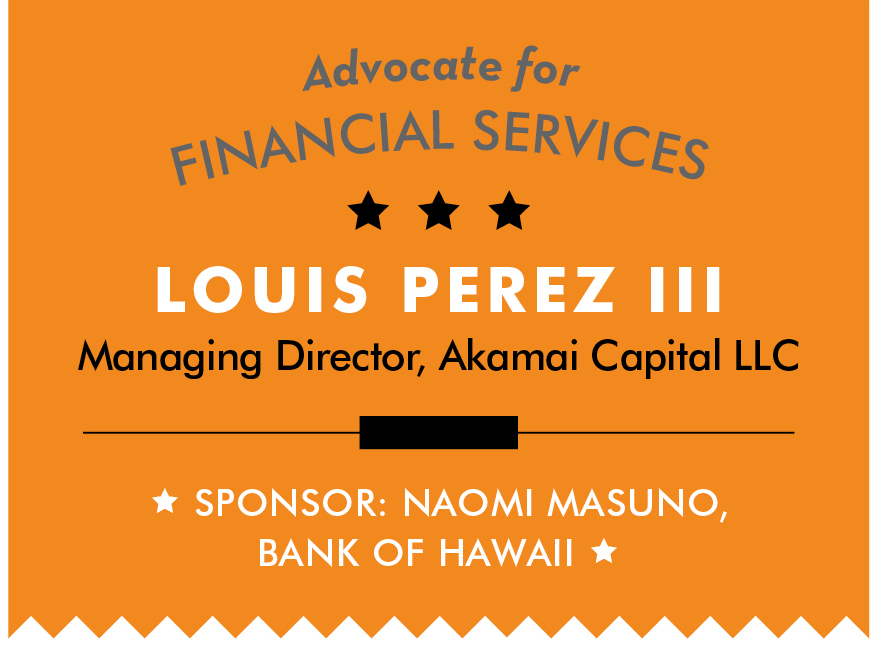 While he was still in graduate school, Louis Perez III launched his nonprofit, Akamai Foundation.
After graduating from Waianae High School, Perez continued his education at UH, studying finance and receiving an executive MBA.
He says he got into finance because it's an interesting field in which he can help small businesses, especially those that know their products and services, but not necessarily how to grow or where to get the capital they need.
He founded the Akamai Foundation – which includes a finance academy where students can train in areas of investment banking, private equity and asset management – as well as Akamai Capital LLC, where students can apply their knowledge. Akamai Capital also provides technical assistance, training and capital for small businesses that are primarily owned by members of minorities or distressed populations or are located in or servicing distressed communities.
Perez is very passionate, always looking to help emerging businesses take off and give them funding, says Naomi Masuno, VP for Bank of Hawaii.
She met him about two years ago as part of a Small Business Administration panel. "I was very impressed with what he said," she says, "the way that he connected with the people in the audience, his knowledge of business, how he works and his ability to relay this information to help small-business owners."
– Noelle Fujii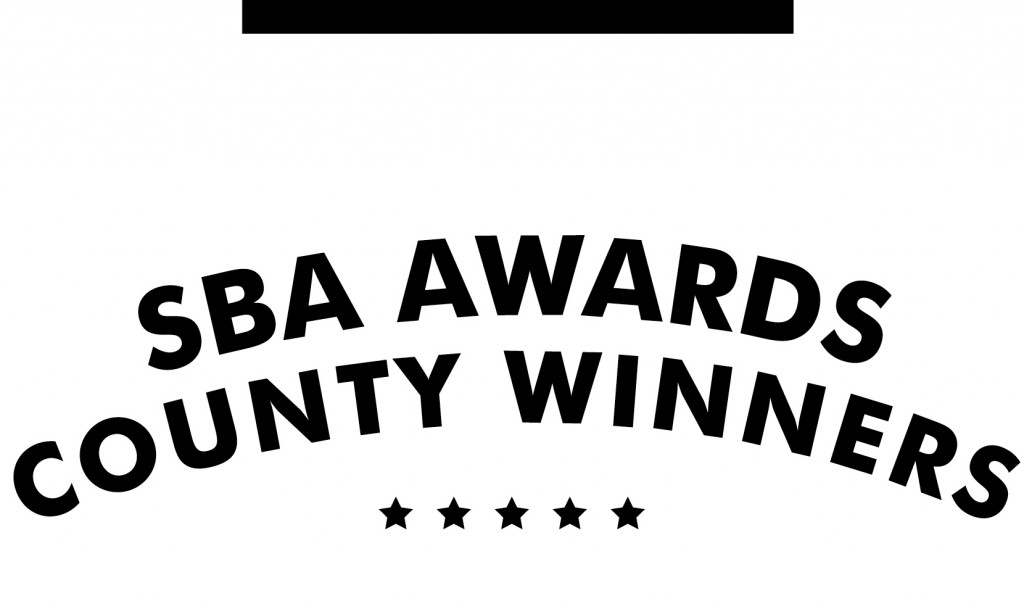 Hawaii County
Persons of the Year
Ray and Shelly Ciriako
Co-owners,
Precision Auto Repair Corp.
Sponsor: Hazel Beck, Small Business Development Center

After 30 years as an automotive technician, Raymond Ciriako and his wife, Shelly, opened Precision Auto Repair in 2010 and later expanded to a location nearly triple the size. The business has won multiple awards and has been featured in national industry magazines.
Young Entrepreneurs
Diandra and Tyler Dickinson
Co-owners, Dickinson General Contracting LLC
Sponsor: Hazel Beck, Hawaii Small Business Development Center

Diandra and Tyler Dickinson, both raised in construction families, have made their own mark by building affordable homes and finishing new construction in only four to six months. The owners also star on their own HGTV show: "Building Hawaii."
Advocate for Financial Services
Maureen and Tane Datta
Co-owners, Adaptations Inc.
Sponsor: RANDY HU,
FIRST HAWAIIAN BANK

Maureen Datta's food hub, Adaptations, provides farmers with a marketplace, crop suggestions, production and packaging supplies at cost. Adaptations received $75,000 through a USDA grant to improve operational efficiency and producer capacity.
Advocate for Minorities
Craig Takamine
President, Takamine
Construction Inc.
Sponsor: Randy Hu,
First Hawaiian Bank

Born and raised in Hilo, Craig Takamine came to minority advocacy naturally, surrounded by Hawaii's natural diversity. His volunteer work on many boards and community groups has reached people in need and benefited Hawaii Island and the whole state.
City & County of Honolulu
Person of the Year
Ichiro Inamura
President and CEO,
Arancino Italian Restaurants
Sponsor: Angeline Shiroma, First Hawaiian Bank

Twenty years ago, Japan native Ichiro Inamura came to Hawaii and saw a shortage of Italian pasta restaurants. He decided to fill the niche, opening his first restaurant in 1998. Now the family-owned company has three Hawaii locations and is eyeing a mainland expansion.
Young Entrepreneurs
Jason and Juliana Sung
Co-owners, Egghead Corp., dba Pancakes & Waffles
Sponsor: Stephanie Chan and Reid Hinaga, Bank of Hawaii

Hawaii's lack of the dish "chicken and waffles" inspired co-owners Jason and Julia Sung to open their first restaurant on Dillingham Boulevard in 2010. In late 2014, they expanded to a second location in Waimalu Plaza, and added dinner hours to keep up with customer demand.
Exporter
Robert Fram
David Marabella
Founder/President and VP
Garden & Valley Isle Seafood Inc.
Sponsor: Curtis Tom, Bank of Hawaii

Robert Fram started his business as a partnership of two in 1981 while still a student at UH. Now the company has 40 employees, provides seafood to Neighbor Island hotels and restaurants, and exports about 50,000 pounds a year to Canada and other markets.
Family Owned
Gregory Kiyan
President Barry Lai,
VP Air Central Inc.
Sponsor: Lisa Tomihama, First Hawaiian Bank

Founded in 1975, cousins Gregory Kiyan and Barry Lai have expanded Air Central from a company specializing in sheet metal to include AC service and AC construction. They cater to the middle market, and credit their family's hard work and customer focus for 40 years' success.
Advocate for Minorities
Byron Goo
Owner, Rainbow Caffe Inc., dba The Tea Chest
Sponsor: Evan Watarida, Central Pacific Bank

As president of the Hawaii Food Manufacturers Association, Byron Goo advocates for all member companies, many of whom are minority staffed or owned. Goo, owner of The Tea Chest, points out that local food manufacturing is the state's largest manufacturing sector that uses local inputs.