SBA Award Winners 2016
These are the 2016 winners of the Small Business Administration Awards in Hawaiʻi.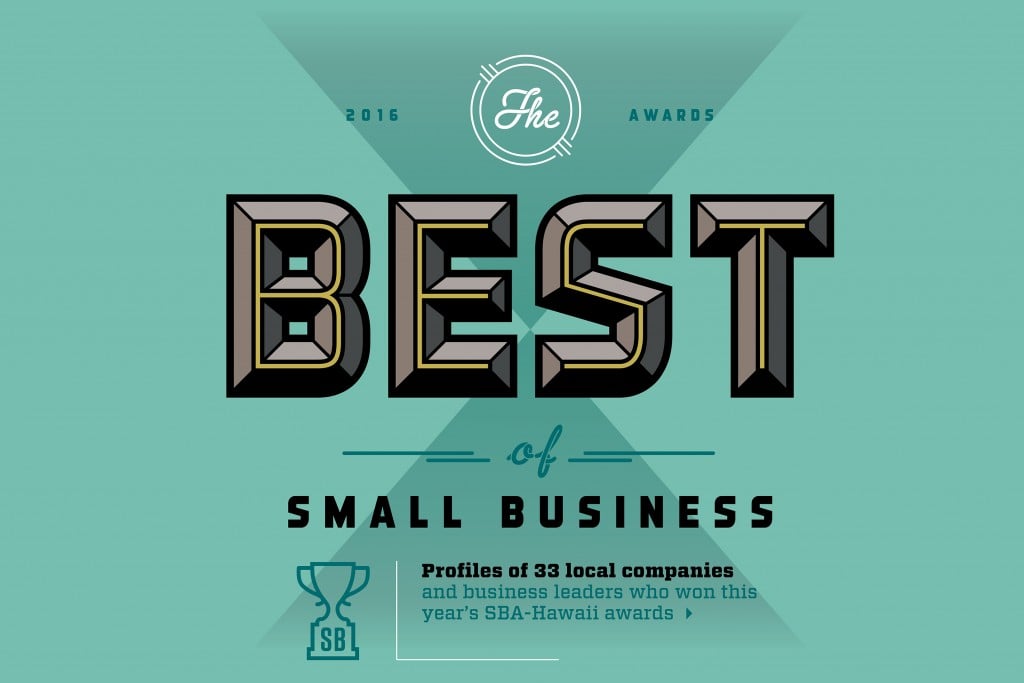 Small Business Person of the Year
Raymond Jardine Jr.
Founder, chairman and CEO of Native Hawaiian Veterans LLC
Sponsor: Puni Akana, Native Hawaiian Veterans LCC
Raymond Jardine was 52 when he retired in 2003 as colonel in the Hawaii Air National Guard. That was after a combined 32 years in the U.S. Army and the Guard. Like many of his peers, he left the military with disabilities, most notably a back that was injured when he jumped out of a helicopter. But Jardine wasn't interested in a leisurely retirement.
"When I was thinking about starting a business, I was trying to figure out the best thing to do," says Jardine. "Do I go commercial or government?"
He answered his own question after learning about a then-new federal executive order that mandated 3 percent of federal contracts be set aside for businesses owned by disabled veterans. The executive order, issued in 2004, was a natural fit for Jardine. On top of that, he had more than three decades of experience in the military.
Jardine talked with Puni Akana and Mike Jones. The three men had a lot in common: They were all veterans, Native Hawaiian and disabled, and each had experience in emergency management and first response (while in the Guard, Jardine also worked for the Honolulu Fire Department).
"One day he told me, 'When I pass away, I want people to say I made a difference.' He already has."

—Puni Akana, Co-founder,
Native Hawaiian Veterans
In 2005, the three launched Native Hawaiian Veterans, a company that contracts with the federal government to provide trained experts in homeland security, emergency management, information technology, communication equipment installation and unexploded ordinance.
Native Hawaiian Veterans began in a small office in the Airport Industrial Park off Nimitz Highway, with four employees and less than $64,000 in gross annual revenue. It started as a subcontractor to larger companies that had government contracts, so it could gain experience and exposure. Incrementally, it added employees and placed them in new locations until, 11 years after its founding, it has 220 employees operating in 50 states, four territories and five countries. In 2015, the company earned more than $30 million in revenue and, though it is still headquartered in the Airport Industrial Park, it has moved to a bigger space, which Jardine says it has nearly outgrown. It remains one of the few businesses in the country that is both disabled-veteran owned and minority owned.
Jardine is humble about the company's rapid ascent from unknown small business to international contractor whose biggest clients are the departments of Defense and Homeland Security, and the U.S. Army Corps of Engineers.
"We wouldn't be here without our (employees)," says Jardine, who is now 63, adding that many of those employees are also disabled. "I take the kinaole approach to hiring." In Hawaiian, kinaole means flawlessness. "It's all about hiring the right person, for the right reason, at the right place, at the right time," he says. "That person fits into the hole and complements the entire organization."
Jardine gives credit to his employees, but ask any one of the core Honolulu employees, several of whom have been with him virtually since the beginning, and they all recognize that Jardine is the primary reason for the company's success. "Raymond is what sets (the company) apart from other small businesses," says COO Puni Akana.
The two met in 1975 during their time in the National Guard. "We met on the volleyball court when our units were competing against each other," says Akana, adding that he was also a Honolulu firefighter. The two have remained close since and frequently eat lunch together.
Akana says Jardine often puts in long hours and it's not uncommon to receive an email from him late at night or early in the morning. "I think, 'How does he have the time to do all this?' " Akana says. "But I think his passion to make a difference overrides everything else."
The office wall is a testament to Jardine's work. It is filled with framed press clippings, awards, signed recognitions from the state Legislature and photos with dignitaries. One photo shows Jardine, President Obama and First Lady Michelle Obama, all standing together and beaming. He met the first couple during his time as chair of the Hawaii Chapter of the Veterans for Obama, where he led local fundraising efforts during the 2012 campaign. "It was a lot of work," says Jardine. "But it was great."
He remains as hands on today as when he started his company.
"I travel more than I would like to," he says, smiling. "I'm usually on the road once or twice a month." Jardine primarily flies to Washington, D.C.; it's where the company's biggest clients are headquartered. One sign of his status within the capital: Jardine has top-secret security clearance and 80 percent of his employees have high-level clearance.
In between conference calls in Honolulu and frequent trips to D.C., Jardine carves out time for philanthropy. In 2010, he helped start the Kinaole Foundation, which is dual focused, sponsoring veterans and wounded warriors, and STEM-oriented youth programs. Since its inception, the foundation has participated in Chaminade University's veteran entrepreneur training program, the Na Koa Wounded Warrior canoe regatta, the Governor's Kinaole Awards, which recognize junior ROTC cadets and, last year, sponsored Molokai Middle School's robotics team.
"He's an individual who wants to make a difference and wants to help other people succeed," says Akana.
Paying it forward is important, says Jardine. When he helped launch Native Hawaiian Veterans, Vaughn Vasconcellos, founder of Akimeka, a Native-Hawaiian owned IT service provider, mentored Jardine. "I was given advice and opportunity, so I think it's important that I do the same," Jardine says. Today, he is mentoring the leaders of four young businesses – two based in Hawaii and two on the Mainland – that are run by Native Hawaiians and disabled veterans.
"One day he told me, 'When I pass away, I want people to say I made a difference,' " Akana says, then adds. "He already has."
—Tiffany Hill
---
SBA Exporter of the Year
Toshihisa "Toshi" Aoki
President, Hawaiian Fresh Products Inc.
Sponsor: Gregory Ayau, Bank of Hawaii
Toshi Aoki was born in Japan, but he knows Hawaiian papayas inside and out: where and when to plant the trees, when to pick the fruit so it will ripen after shipping and which sugar level is most desired in each market. He knows how to vapor-heat them so they'll pass agricultural inspection (but don't cook in the process), and how to test otherwise indistinguishable papaya flesh to determine whether it is from a GMO Rainbow papaya or a non-GMO Hawaiian Kapoho Solo.
He started in the business 28 years ago, rising to become manager of Grow USA, a Hilo-based Japanese company focused on exporting the fresh fruit to Japan. He bought its Hawaiian Fresh Products Inc. operation in 2012.
Even though he has some 20 employees, he's involved in every step of the process. "I always check each batch," says Aoki, "for good or bad taste."
He has weathered many challenges over the years. There was the devastation of the ringspot virus, which led to the dominance of the ringspot-resistant Hawaiian Rainbow papaya. He has navigated the global GMO controversy, including the changing and rigorous labeling processes of GMO products in Japan. His company lost 40 percent of its designated papaya crop to Hurricane Iselle in 2014, suffered unseasonably cold weather at times, including this past winter, when production declined more than 50 percent, battled competition from cheaper Philippine and Malaysian papayas, and endured the Puna lava flow, which impeded production and transport for months.
"When I'm facing hard times, I've learned to just smile and stay positive," says Aoki. "I am confident in my brand. If I get more papaya, I can sell them."
He's also done creative problem solving along the way. The company packages under nine labels (five in-house and four third-party), has moved most of its farm operations from Kapoho to Keaau in the wake of the lava flow, now sells most of its papaya to the U.S. Mainland and, through the Hawaii Papaya Industry Association, continues to educate Japanese restaurant and hotel vendors about the hardier and more affordable GMO product. Hawaiian Fresh plans to soon start exporting sweet potatoes and other produce.
"The company has seen a series of unfortunate events," says Greg Ayau, VP at Bank of Hawaii and Aoki's sponsor for the SBA award. "What I found interesting was how he's repeatedly rebounded … Toshi deals with (resilient) farmers every day. He has the heart of a farmer."
—Meghan Miner
---
SBA Young Entrepreneurs of the Year
David Farmer Jr. & Kurt Milne
Owners/Founders, Aloha 2 Go LLC
Sponsor: Jared Kashiwabara, Bank of Hawaii
When Kurt Milne and David Farmer launched their restaurant delivery service in 2010, they were lucky to get two orders a day. But, like turning around a bad first half, the former UH football players stuck with it.
"One of us would answer the phone and the other would deliver," says Farmer. "When we hit 10 orders a day, we thought about getting a third person involved."
Today, Aloha 2 Go averages 300 to 400 deliveries a day with a fleet of 60 "mobile waiters" delivering to houses and offices between the airport and Hawaii Kai from a choice of 90-plus restaurants and caterers.
"We made it simple," says Milne. "No matter how much food you order or where you order from, the delivery rate is the same, $8.99. Under no circumstances do we allow the restaurants to raise their prices for our service."
Customers include office workers, medical facilities, professionals and, increasingly, households. Minimum order is $15.
"We see ourselves as a lifestyle choice for consumers, including busy families," said Farmer. "You can outsource the whole thing to us for the price of an appetizer. The bottom line is you don't have to worry about food."
The pair came across the idea on Hawaii Island and knew it would work in Honolulu. "Honolulu traffic is so bad it actually helped business," says Milne. "It makes going out to get food equally miserable."
After research and plenty of legwork, they launched Aloha 2 Go, and found that marketing "convenience" was the key.
"Kurt and David were able to take a simple food-delivery concept and build what is now Hawaii's largest online restaurant marketplace," says Jared Kashiwabara, Bank of Hawaii commercial banking officer. "Their success also helped springboard Aloha 2 Go into a marketing and technology company."
The company constantly seeks new restaurant partners. A user-friendly website, free app and glossy Aloha2Go menu guide allow smaller eateries to market themselves alongside the big established restaurants.
"When we partner with a new restaurant, we're offering them a 25,000-potential customer base," says Farmer. "It's great exposure for the restaurants and we grow our business. Aloha 2 Go is a food concierge for Honolulu."
Corporate events, backyard weddings and parties (the company holds a liquor license) are a growing side of the business. For the recent opening of a business, A2G provided bartenders, waiters, music, drinks, set-up service and a mini Eat the Street showcasing six restaurants.
—Chris Oliver
---
Small Business Advocate for Veterans
Jayna Uyehara
Manager, Business Action Center, State Department of Commerce and Consumer Affairs
Sponsor: Naomi Masuno, Bank of Hawaii
Jayna Uyehara learned how hard it is to run a business from her family.
"I witnessed first-hand how hard business owners have to struggle with long hours, lugging the kids around at night to the office to finish paperwork, then getting up early the next morning to do it all over again," Uyehara explains.
Years later, she mentors hopeful business owners who are leaving military service. "It's ironic that I ultimately ended up following in my educator-mother's footsteps despite all my attempts to avoid it," says the UH law school graduate
She's the manager of the Business Action Center at the state Department of Consumer Affairs, where she helps entrepreneurs, especially veterans, start their own businesses. "I was raised to have a deep respect for military personnel," Uyehara says, noting that three of her uncles served in World War II, and she's grateful to be able to give back.
She says more business people should volunteer to provide opportunities for new owners. Without help, it's hard to succeed, she says.
—Marina Riker
---
Small Business Advocate for Media and Journalism
Barbara Bennett
Owner/Publisher, For Kauai Magazine
Sponsor: Paul Endo, VP/Team Leader, First Hawaiian Bank
Barbara Bennett wants to keep community journalism local and independent.
For six years, she's been, the owner and publisher of For Kauai, a monthly newspaper in print and online that spotlights local businesses and nonprofits. She, her small staff and their team of freelance writers have succeeded in a media landscape that challenges small publications.
"I'm up against corporate over here," Bennett says, adding that there are few independently owned publications left in Hawaii. She attributes the success of her newspaper to its support of local businesses.
"We do it to support the businesses, the nonprofits and the residents," she says.
That commitment to community is evident even in the composition of her newspaper: it's printed on recycled paper with soy-based ink.
She says the newspaper often sheds light on problems that need to be solved – or the people solving them – all with the goal of helping the community. In fact, she says, that's the purpose of a good community newspaper: encourage those who help the community and draw attention to where it's most needed.
"We built our community newspaper on vision," she says. "All community, all local."
—Marina Riker
---
SBA Family-Owned Business
Meg Greenwell, President
Nick GreenwelI, VP
Rhonda Kavanagh, CEO
Kealakekua Ranch Ltd. and ChoiceMart
Sponsor: Christie Crawford, Bank of Hawaii
Turn right after passing through ChoiceMart grocery's main entrance and you'll see neighbors catching up while browsing for local produce. In many places, such encounters could be chalked up to chance, but, in South Kona, they are one realization of a vision 140 years in the making.
Sister and brother team Meg and Nick Greenwell are fourth-generation owners of Kealakekua Ranch Ltd., the company that owns ChoiceMart and the entire two-story Kealakekua Ranch Center shopping plaza, which houses ChoiceMart and 10 independent businesses.
"We grew up in a family where history and lineage were important," says Meg, "and part of that has always been taking care of the community we are a part of."
In the 1870s, her great-grandfather Henry Nicholas (H.N.) Greenwell opened a general store to serve a growing community, but eventually the family transitioned to running their 35,000-acre cattle ranch. Fast-forward to the 1970s, when Meg and Nick's father, Sherwood, felt strongly that the sprawling farming community needed a core.
"Dad saw into the future and knew this was the place to build," says Meg. "At the time we built it, though, nobody wanted to come all the way out here." Kealakekua Ranch built the plaza in 1973 and Sherwood personally convinced businesses to occupy the space. When its largest tenant, the Sure Save grocery closed in 1999, the Greenwell family entered the retail business for the second time with ChoiceMart.
"There are not many businesses in South Kona that have passed from one generation to another," says Christie Crawford of Bank of Hawaii. "Most businesses don't even get past five years. They've been here for over a 100 years … The company is relevant today by the things that they're doing today."
Though the company is called Kealakekua Ranch, much of the ranchland has been sold, donated or transitioned to other uses, including the parcels beneath the Amy B.H. Greenwell Ethnobotanical Gardens, the Kona Historical Society and Greenwell Farms' coffee plantation, a company operated today by a different branch of the large family.
ChoiceMart says 50 percent of its produce by volume is locally sourced, which supports hundreds of local farmers and fishermen. The center boasts 100 percent retail occupancy and draws residents with regular free events, family-friendly fairs and fitness classes.
"It's how you take care of it that will make it a success. Have a part of yourself in it so it will be done respectfully and responsibly," says Meg. "This is what our dad planned and foresaw – it is the center of our community. He would be so proud."
—Meghan Miner
---
Entrepreneurial Success
Maui Varieties Ltd. (also known as HouseMart)
Sponsors: Roberta Chu and Amy Honda, Bank of Hawaii
When the Kamitaki siblings and their cousin were young, chores included sweeping out the family store and summer included classes on how to run their parents' business.
"It was strict. We were drilled for answers, just like the employees," laughs Lynn Ushijima, who with brothers Wayne and Guy Kamitaki and cousin Paul Mizoguchi are third-generation (G3) principals in HouseMart, a family business comprising 31 Ben Franklin craft stores and Ace Hardware stores in Hawaii, Nevada and the Pacific Northwest.
More than 60 years ago, their grandmother started the company with a small dry goods store in Kahului, Maui. The family acquired the Hawaii franchise rights to Ben Franklin stores in 1951. The first Ace Hardware store was added in 1984. From humble beginnings, the business thrived, despite the arrival of big box retailers, e-commerce and recessions.
Ushijima says the family's shared business philosophy, strong work ethic, willingness to adapt and entrepreneurial spirit helped the company survive.
"When the big Mainland stores first came in, we changed from being a variety store to a craft store in order to find a niche," she says.
"Our product knowledge also helped us continue business," adds Guy Kamitaki.
Their sponsors for the SBA award, Roberta Chu, and Amy Honda at Bank of Hawaii, cite the family's "perseverance and tenacity" in carrying them through adversity. "They have survived by understanding, then targeting, their niche markets while challenging the business model as appropriate."
Add humanity to their many qualities. When a major earthquake and tsunami ravaged Japan in 2011, the company held a fundraiser and took $50,000 in relief supplies and donations directly to the people to rebuild homes. It was the first of several relief missions.
As G3 navigates the challenge of being both family and business partners, G4 is in training (with those same summer classes). The first member of G5 arrived recently.
The Kamitakis pay tribute to their father, Tadami Kamitaki, whose profit -sharing program for employees laid the groundwork for the culture of the company.
"We work for the greater good of the family, not for any one individual," says Guy. "When the business is all, you risk everything if it fails. That's a strong incentive to work hard and to get along. We are really fortunate and very happy to have survived."
—Chris Oliver
---
Special Lifetime Award
Makana Hooko no Ke Ola
Mabel Hashisaka – Founder, Kauai Kookie
Sponsor: Randall Francisco, Creative Industries & Small Business Coordinator, County of Kauai
Fifty-one years ago, public school teacher Mabel Hashisaka decided Kauai needed omiyage.
"At that time, places, Maui especially, were coming out with so many omiyage like manju and mochi, and I thought Kauai should have something," Hashisaka says.
She borrowed a fellow teacher's recipe for chocolate macadamia-nut shortbread that was served as a lunchtime dessert in Kauai public schools.
At first, Hashisaka served her version as a side to plate lunches at the Big Save grocery store and it sold well, often to people taking the cookies as gifts to Honolulu. In fact, Hashisaka says, the line was once so long that people thought they must be giving the cookies away.
With an initial investment of $100, she bought a used stove and oven from another business in Hanapepe and surrounded herself with hardworking employees. "Really, I'm not that much of a baker. My philosophy is to find somebody smarter than me," she says.
"Kauai Kookie became its own cookie marquee," says Randall Francisco, Hashisaka's sponsor for Makana Hooko no Ke Ola, the SBA's special lifetime award. "It was one of the early ones … Its cookie is such an iconic cookie."
Since that start, the company has added cookie flavors like guava macadamia and cornflake krunch plus dressings and marinades. At first, the dressings were oil and vinegar-based and often separated while sitting on the store shelf. "My brother suggested, 'How about calling it Hawaiian Hula Dressing: Shake Me?' " she says. The name stuck and the dressings have been shaking for over 20 years.
Hashisaka is now 88 and all but retired from Kauai Kookie, while her daughters, Ann and Ruth, have taken the helm of the 40-employee company. It runs two locations, the Kauai Kookie Kalaheo Marketplace, a bakery and cafe, and the flagship Kauai Kookie Factory in Hanapepe, which produces more than 50,000 cookies, manju, toast minis and other baked goods daily.
"She doesn't have to worry because her daughters have far exceeded in the technology and all of the extra things that they're doing," says Francisco. "It's the kind of place where people come to get their things, but also just know that it's consistent, like it's always been. They are willing to change to meet the customer's needs, but never forget their roots."
—Meghan Miner
---
Advocate for Minorities
Julie Percell
Sponsor: Winfred Cameron, American Savings Bank
Julie Percell fell in love with Hawaii nearly 40 years ago.
Originally from Portland, Oregon, she visited college friends on Oahu and, three months later, moved to the Islands.
She worked in advertising and publishing until she found her "calling" – helping prospective business owners get on their feet and accomplish their dreams. She has taught best practices and how to avoid costly startup mistakes.
She is a mentor in a free program run by the Small Business Administration called Emerging Leaders. The program is aimed at leaders of small businesses poised for growth in communities that have traditionally faced challenges.
"This is really the thing that feeds my soul," Percell says. Over 600 students have graduated from her program, and she says she's stayed in touch with hundreds of them. She's usually the first call they make when they have a question or problem with their businesses.
Many are now successful small-business owners because they don't take "no" for an answer, she says. Their accomplishments inspire her every day.
"I didn't do anything. I helped people do this," she says.
—Marina Riker
---
Advocate for Financial Services
Arthur Taniguchi
Senior VP and regional manager, Bank of Hawaii
Sponsor: Malcom Lau, Bank of Hawaii
Art Taniguchi is a "go-to" guy if you live on the Big Island.
Born and raised in Hilo, Taniguchi is Bank of Hawaii's regional manager for Hawaii Island. He oversees 75 bank employees, but on and off the job, he mainly helps the people he grew up with succeed in business.
"It's changed a little, but you still see a lot of familiar faces," Taniguchi says. "It's a lot of fun, because, especially growing up, you get to know everybody."
He now works with the children and grandchildren of the businesspeople he patronized as a child. Some of their businesses have been open for over 100 years, he says, and his goal is to keep them open so his generation's grandchildren can enjoy them as he did.
"You see the next generations taking over businesses that you've known. It's a really refreshing thing," he says.
Hawaii Island has a small-town feel, and Taniguchi is involved in so much while seeing himself as more than just a businessperson. For instance, among the many things he works on in his free time is collaborating with organizations to bring international businesses to the Big Island, and advocating for local business at the state Legislature.
"In a small community, you've got to do everything," he says.
—Marina Riker
---
Advocate for Business & Industry
Pamela Tumpap
President, Maui Chamber of Commerce
Sponsor: Lester Nakamoto, Bank of Hawaii
Pamela Tumpap remembers when one of her mentors asked how she would give back to the community where she grew up.
"It's not a sprint, it's a marathon," Tumpap says, adding that it takes time and patience to help improve communities.
After years at both private companies and nonprofits on Maui, she's now the president of the island's Chamber of Commerce. She says promoting small businesses is one of the best things she can do to help Maui residents.
Many small business owners in Hawaii struggle to make ends meet, but they also look out for their neighbors.
Even in her spare time, Tumpap gives back. A graduate of Baldwin High School, she stayed on the Valley Isle to raise her two children. Now that her children are grown, she spends her free time working to open a sustainable garden in Kula.
She's hoping to open the Aloha Garden of Maui next year, where residents and visitors can purchase local products, raise crops and take classes in gardening and sustainability. So far, she's planted over a hundred coffee and citrus trees, and plans to teach Maui residents how to grow their own food.
"It's a work in progress. We've been bootstrapping it along the way."
—Marina Riker
---
Advocate for Women
Elsa Talavera
President and CEO, All Island Case Management Corp.
Sponsor: Angeline Shiroma, First Hawaiian Bank
Elsa Talavera always wanted to take care of people.
But she realized that, if she owned a business, she could help so many more people than she could on her own.
Talavera, the eldest of five daughters, moved here from the Philippines in the 1980s. She was the first in her family to graduate from college, and worked as a registered nurse at Oahu hospitals for more than two decades. Despite many challenges, she opened Talavera Case Management in 2003, which was later renamed All Island Case Management.
"Twelve years ago, I would never have imagined myself as an entrepreneur and a businesswoman," she says.
Talavera, her business partners, Charmen Valdez and Evangeline Abellada, and their employees coordinate care services for seniors who need intermediate care. It's a less costly alternative to nursing homes, and Talavera says it is one way for her to give back to the community.
Another perk of owning her own business is encouraging her employees – over 85 percent of which are women – to grow themselves professionally in her business, or by starting their own.
"Owning a business as a woman gives me a lot of pride and confidence that somehow I make a difference in other people's lives, especially women," she says.
—Marina Riker
---