Best Places to Work 2018
Creating a great workplace is not rocket science. But it's more about applying the rules you learned in kindergarten than those you learned in the school of hard knocks.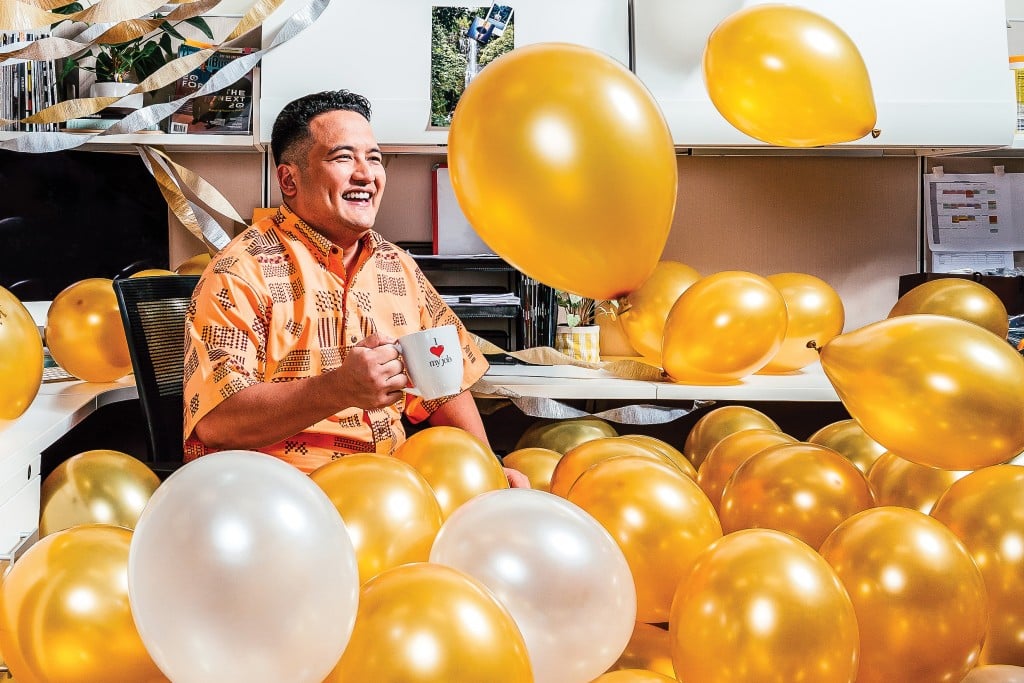 Small
Companies –
15-49 Hawaii Employees
No. 1
Aerotek
Headquarters:
Hanover, Md.
Employees:
17 HI / 5,000 US
www.aerotek.com
The staffing company provides financial assistance for child care and offers lactation facilities for new mothers. Employee retirement contributions are matched by the company and mileage reimbursement is available for work-related trips. Office competitions build team spirit and awards are presented at regional and national meetings.
No. 2
Express Employment Professionals
Headquarters: Oklahoma City
Employees: 16
www.expresspros.com/honoluluhi
An annual recruiting contest and team competitions come with cash prizes, spa days or paid time off. Birthday celebrations include a paid lunch for the entire team and pets are welcomed at the office. Paid time off increases with each year at the company and telecommuting options are available.
No. 3
Servpac Inc.
Headquarters: Honolulu
Employees: 15
www.servpac.com
Employee medical, dental and vision insurance premiums are fully covered by the company. Employees of the telecommunications company can earn recruitment and midyear bonuses and receive $200 Amazon gift cards on the anniversary of their hire. Daily breakfast, game nights and FitBit challenges contribute to employee wellness.
---
Other small companies listed alphabetically
Brett Hill Construction, Inc.
Headquarters: Honolulu
Employees: 25
www.bretthillcompanies.com
The company covers 100 percent of employee premiums on medical, prescription and dental insurance. Wellness is encouraged with on-site showers, storage for surfing and paddling equipment and fresh fruits and vegetables. Employees can earn performance and wage bonuses and enjoy midday yoga classes and lunch-hour movies.
Castle & Cooke Mortgage LLC


Best Places to Work Rookie of the Year
Headquarters: Draper, UT
Employees: 16 HI / 378 US
www.castlecookemortgage.com
Employees receive a 100 percent match of the first 3 percent of their 401(k) contributions and 50 percent of the next 2 percent. The company fully covers premiums on long-term care and life insurance and makes annual contributions to an employee health savings account. Incentives are awarded for funded loans and employee of the month.
Ceramic Tile Plus and Exclusively Yours Design
Headquarters: Kahului
Employees: 36
www.ceramictileplus.com
Employees receive a bonus equivalent to one day's salary on their birthdays. The company fully covers premiums on medical, prescription, dental and vision insurance for employees and dependents. Outstanding performance is acknowledged with employee-of-the-quarter awards and all employees are recognized at an annual appreciation event.
CW Associates, CPAs
Headquarters: Honolulu
Employees: 45
www.cwassociatescpas.com
Fitness is encouraged during work hours and the firm sponsors participation in the Great Aloha Run. Unused paid time off can be paid out at year's end and employees are offered a flexible spending account. The company also throws an annual holiday party for employees, with dinner, games and a photo booth.
EnviroServices & Training Center LLC
Headquarters: Honolulu
Employees: 42
www.gotoetc.com
The company contributes to employee 401(k)s including profit sharing and sponsors membership to professional organizations and registration to seminars. Employees focus on wellness with yoga mats, massage chairs and a fitness reimbursement. Team bonds are fostered with ping pong competitions, monthly popcorn snacks and annual Halloween costume contests.
Grove Farm Co.
Headquarters: Lihue
Employees: 15
www.grovefarm.com
Sponsored lunches are provided once a week and fresh produce is regularly delivered to the office. A yoga garden and facility showers promote fitness. Employees are encouraged to participate in community service and celebrate the holidays with an annual decorating contest. Paid sabbaticals are offered to balance a healthy work life.
Hawaii Energy
Headquarters: Reston, Va. (parent company Leidos)
Employees: 25 HI / 17,000 US / 32,000 worldwide
www.hawaiienergy.com
Physical and mental health are emphasized in office wellness competitions and an employee assistance program. Employees are recognized with supervisor and peer-to-peer awards and receive corporate discounts for services. The company makes annual contributions to employee health savings accounts and pet insurance and emergency child care is available.
Hawaii Information Service
Headquarters: Honolulu
Employees: 17
www.hawaiiinformation.com
Employees receive paid lunch hours and performance-based bonuses. Unused sick leave is paid out annually and projects are often accompanied by prizes for efficient completion and creativity. Employees enjoy daily fresh fruits, themed birthday celebrations and catered potluck lunches during holidays.
Hawaii Mortgage Experts
Headquarters: Honolulu
Employees: 37
www.hawaiimortgageexperts.com
The company fully covers employee premiums for medical, vision, dental and life insurance. Team bonds are built through office contests and doughnuts and an annual end-of-year holiday party. Employees enjoy discounted tickets to local sporting events and top loan officers can earn award trips with expense-paid vacations.
Honolulu HomeLoans
Headquarters: Honolulu
Employees: 44
www.honhl.com
Employees' children are allowed at the offices and families are invited to the annual company picnic. The company fully covers medical and dental insurance premiums and telecommuting options are available. Company-sponsored luncheons are held monthly and include award recognitions based on performance.
Imua Family Services
Headquarters: Kahului
Employees: 48
www.imuafamilyservices.org
Employees receive 19 paid holidays and are recognized for each year of service with gift cards. Wellness classes are offered focusing on nutrition, weight loss and stress reduction. The company hosts national speakers to promote professional development. Paternity leave and flexible scheduling are available.
Integration Technologies Inc.
Headquarters: Honolulu
Employees: 23
www.intech-hawaii.com
Employees are treated to massages and bacon breakfasts and receive time off to volunteer. The company offers adoption assistance and paternity leave and employees can participate in financial education workshops and seminars. Bonuses are awarded quarterly and employee premiums on medical and life insurance are fully covered.
Integrated Security Technologies Inc.
Headquarters: Waipahu
Employees: 23
www.istechs.net
The company sponsors a breakfast every quarter with games and gifts, and frequently hosts office lunches. Employees participate in bring your child or pet to work day and each employee of the month earns a paid day off. If the company reaches its yearly goal, employees receive paid time off between Christmas and New Year's.
Maui Resort Rentals
Headquarters: Lahaina
Employees: 25
www.mauiresortrentals.com
Full and part-time employees and dependents receive full coverage on medical, dental and vision insurance premiums. Wellness is boosted with on-site exercise equipment and group exercise. The company owner blends fresh coconut smoothies for employees and acai bowls are a frequent treat.
Na Alii Consulting and Sales LLC
Headquarters: Honolulu
Employees: 22 HI / 163 US
www.na-alii.com
All employees are eligible for end-of-year bonuses based on company performance. Medical and dental insurance premiums are fully covered and the company offers assistance for those earning advanced or postgraduate degrees. Employees receive 20 days of paid time off and are recognized on their birthdays and hiring anniversaries.
Okahara and Associates Inc.
Headquarters: Hilo
Employees: 28
www.okahara.com
The engineering and landscape architecture company pays for seminar and workshop attendance and all employees are eligible for year-end bonuses determined by company performance. Employees with over 1,000 work hours in a profitable year are eligible for employer 401(k) contributions. The holidays are celebrated with a party and three-day weekend, and emergency child care and elder care are provided.
Pacific Administrators Inc.
Headquarters: Honolulu
Employees: 45
www.pacadmin.com
Employees receive two-and-a-half days off during the holidays and participate in Halloween pumpkin carving and dessert decorating. The company sponsors an annual appreciation lunch and awards cash incentives for attendance. Employees enjoy half-day movie days and compete for prizes in a yearly weight loss contest.
Ronald N.S. Ho & Associates Inc.
Headquarters: Honolulu
Employees: 39
www.rnsha.com
Bonuses are awarded based on employee performance. The electrical engineering company fully covers employee premiums on medical insurance and offers time management workshops and classes. Employees are offered paid gym memberships, enjoy company-sponsored activities and participate in annual community service events.
Simply Organized LLC
Headquarters: Honolulu
Employees: 15
www.simplyorganizedHI.com
Employees receive a discount on merchandise and can earn cash for safety awareness and employee referrals. The retailer fully covers premiums on life and long-term disability insurance and offers free or discounted tickets to local entertainment. Halloween is celebrated with a costume contest and families are invited to an end-of-year event.
Starn O'Toole Marcus & Fisher
Headquarters: Honolulu
Employees: 38
www.starnlaw.com
The law firm sponsors attendance at local and Mainland seminars and summer training programs and provides reimbursement for bar exam preparatory courses. Flexible work schedules are available and associates are eligible for annual bonuses ranging from $10,000-$30,000. Associates enjoy formal holiday dinners and annual picnics are open to family.
The Wedding Ring Shop
Headquarters: Honolulu
Employees: 20
www.weddingringshop.com
Employees celebrate Thanksgiving and Christmas with company-sponsored buffets and can earn cash incentives for meeting store goals and exemplifying core values. The company offers profit sharing opportunities and covers employee premiums for medical, prescription and dental insurance.
Vivial Media LLC
Headquarters: Honolulu
Employees: 41 HI / 987 US
www.vivial.net
Employees who meet their individual goals for the day go home early and this marketing technology company hosts beach days and movie events to celebrate achievement of quarterly goals. Incentives are earned through commissions and employee of the month awards and employees can receive discounted tickets to local sporting events.
WATG
Headquarters: Honolulu
Employees: 24 HI / 188 US / 335 worldwide
www.watg.com
Employees with two years at the architectural design firm can benefit from profit sharing and a say in company direction. Staff members pitch ideas for conferences and individuals can be nominated for a leadership program that includes lectures and travel money. Fun events include ice cream parties, Oktoberfest and pie days.
Wealth Strategy Partners
Headquarters: La Jolla, Calif.
Employees: 36 HI / 167 US
www.thewsp.com
Monthly birthday potlucks and quarterly celebrations build camaraderie. Employees at this financial services company can earn incentives for recruiting candidates or recognition as employee of the month. A yearly retreat for meeting company goals takes place in Hawaii, Nevada or Portland, Oregon and provides relaxation and fun team bonding activities.