CHANGE: Community & Economy 2020
Half of Hawaiʻi barely gets by. Our panel discussed what is being done to help low-income working families.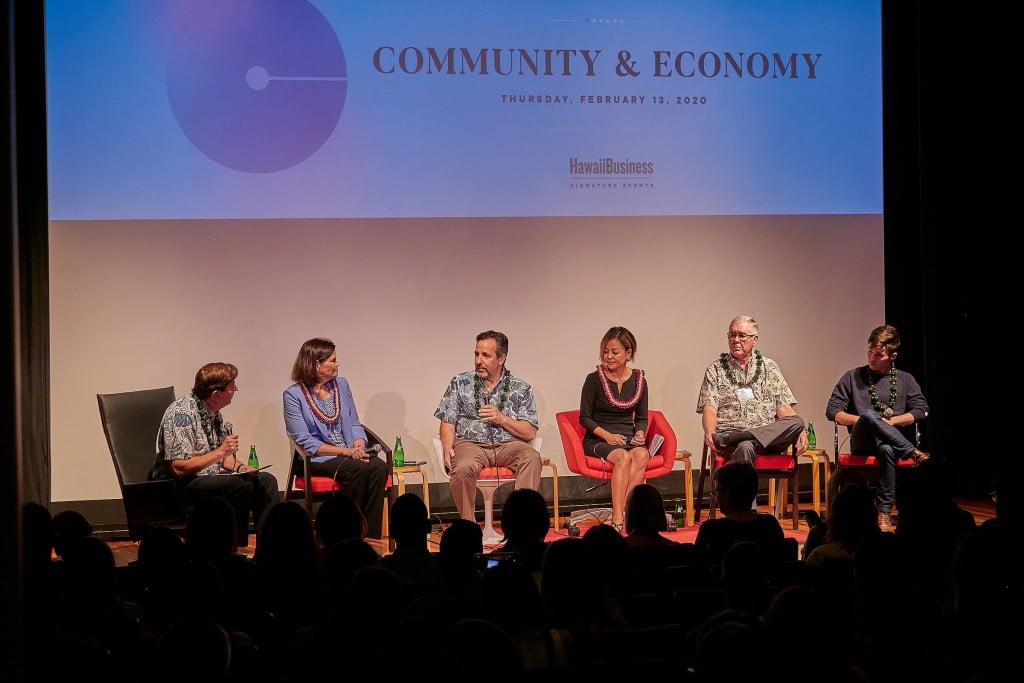 Other topics discussed include:
Grow and strengthen the local economy through innovation and diversification.
Help families get onto a sustainable footing.
Increase Hawai'i's supply of affordable housing.
Listen to the entire discussion with the Hawaii Business Podcast!
Episode 1 – Community & Economy, Part 2, CHANGE Event Series



In part one, panelists Rich Wacker, Karen Tan, Christine Camp, Norm Baker, and Sterling Higa discuss the equity in housing and employment, ALICE families and their access to resources, and how to create economic diversity in Hawaiʻi.
Episode 2 – Community & Economy, Part 2, CHANGE Event Series
This episode features Rich Wacker, Karen Tan, Christine Camp, Norm Baker, and Sterling Higa as they continue their conversation on Hawaiʻi's community and economy. Each of the panelists share the innovative ways their company and partners support the local community, address questions from the audience (including student questions), and parting thoughts on how businesses can build impactful partnerships to move the needle.
Click here to see the entire CHANGE Event Series >>

Panelists:
Rich Wacker,
President & CEO, American Savings Bank
Rich Wacker is the President and Chief Executive Officer of American Savings Bank (ASB). Rich joined ASB in 2010 and he is a member of the ASB Board of Directors. ASB serves consumer, business, and corporate customers across the state of Hawaii, working to make their dreams possible.
Active in the community, Rich serves and holds leadership positions on the Boards of several prominent organizations including the University of Hawaii Foundation (Chair); Hawaii Business Roundtable (Innovation Chair; Former Chair); Hawaii Executive Conference (CHANGE Innovation Economy Chair); University of Hawaii—Pacific Asian Center for Entrepreneurship (Chair); Hawaii Pacific Health (Vice Chair); Chaminade University (Board of Regents); Child & Family Service (Past Chair); the University of Hawaii—XLR8UH accelerator program and Hawaii Bankers Association (President). He is a founder of the Hawaii Curling Club. He has served on the boards of the Hawaii Chapter of the American Red Cross, Junior Achievement Korea, and was a member of the Board of Governors of the American Chamber of Commerce in Korea.
Christine Camp, President & CEO, Avalon Development Group
Christine Camp is president and CEO of Avalon Group, a consortium of real estate management, development and brokerage companies that she founded in 1999. Avalon has actively been developing projects that fill the gap needs in the marketplace such as affordable housing and places of employment in Hawaii. Previous to Avalon she was Vice President of Development for A&B Properties and a part of the development team at Castle & Cooke Hawaii. Christine has earned many accolades for her leadership, including being named Developer of the year by the general Contractors Association and The National Association of Industrial and Office Properties, and was named PBN's Bank of Hawaii's 40-under 40 Community Leader of the year. She previously served as Chairwoman of the Hawaii Chamber of Commerce, Chair of the Small Business Council, Chair of the Honolulu Police Commission, board member on the HCDA, chair of Hawaii Urban Land Institute, and President of Hawaii Developers' Council. Currently Christine is on the the board of Federal Home Loan Bank that is mandated to provide grants that equal 10 percent of its annual earnings towards affordable housing. She is also a member on the boards of Central Pacific Bank, Blue Planet Foundation, and Kahala Nui.
Karen Tan, President & CEO, Child & Family Service
As the CEO of Child & Family Service since 2017, Karen Tan's bold, collaborative and refreshingly transparent style of leadership naturally brings people to the table. Through her efforts, CFS is introducing national models for success to the Hawaii market and sharing them with other community-based organizations.
Karen Tan is a Licensed Clinical Social Worker, a Omidyar Fellow (Cohort VI), and an expert on trauma-informed care. Her latest initiative, "Stomping in Puddles" invites community stakeholders to join CFS in addressing generational poverty in Hawaii.
Norm Baker, COO & Interim CEO, Aloha United Way
Norm Baker is the Interim President & CEO and Chief Operating Officer of Aloha United Way. As the Interim President and CEO provides leadership for the Aloha United Way mission, strategy and operations. This includes the administration of day-to-day office duties, supervising staff, coordinating annual fundraising campaigns, stewarding leadership donors, overseeing the allocations processes, and monitoring the Community Impact investments.
Sterling Higa,
Lecturer, Hawai'i Pacific University
Sterling is often wrong, but always seeks truth. He was raised in Nu'uanu. After graduating from Roosevelt High School, he attended Honolulu Community College and the University of Hawai'i at Mānoa. Then, he earned a master's degree in education at Harvard University. Sterling now works as a debate coach and lecturer in the Department of Communication at Hawai'i Pacific University. He also writes a column for Honolulu Civil Beat. At night, he is finishing a Ph.D. in education at the University of Hawai'i at Mānoa.
Moderator:

Steve Petranik, Editor, Hawaii Business Magazine
---
Presenting Sponsors
Y. HATA
HMSA
Community Sponsors
AMERICAN SAVINGS BANK
UHA HEALTH INSURANCE
CENTRAL PACIFIC BANK
FIRST INSURANCE COMPANY OF HAWAII
Student Sponsor:
DAMIEN MEMORIAL SCHOOL
Venue Partner:
HOMA (HONOLULU MUSEUM OF ART)
Click here to see the entire CHANGE Event Series >>
Honolulu Museum of Art, South Beretania Street, Honolulu, HI, USA