Decrease in Home Prices Varies by Area on O'ahu
Kailua-Waimānalo's median price fell only 3% in January, but Pearl City-ʻAiea's was down 24%.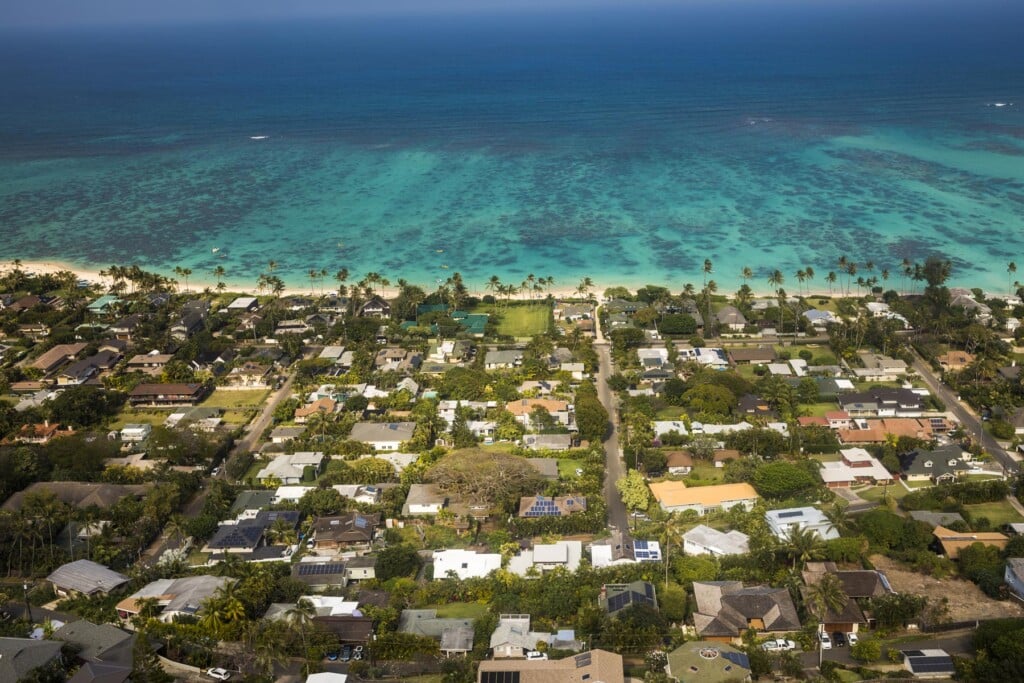 January statistics for Oʻahu's residential real estate market paint a stark picture of a market in transition: Sales of single-family homes and condominiums dropped by more than 50% from January 2022 and median prices slid back too.
The median price of a single-family home, which crossed the $1 million threshold in August 2021 and remained there through all of 2022, dropped last month to $970,000, while the median condo price dropped to $495,000, according to the Honolulu Board of Realtors.
But all real estate is local, and a closer look at a handful of Oʻahu's 21 markets shows that despite the islandwide decline in January, most neighborhood median prices still reflect huge gains from the past three years.
Some areas that saw the highest increases in prices since January 2020 posted some of the smallest decreases from their 2022 medians. For Kailua-Waimānalo, January's median price of $1.48 million for a single-family home – though down 3% from a year ago – was up 45% from January 2020's median price of $1.02 million.
On the flip side is Pearl City-ʻAiea, where the median single-family home price of $850,000 in January 2023 was down 24% from January of last year. But the median price this January was still 12.4% higher than in January 2020. Condos in that area had a median price of $497,000 in January, an 8% increase from a year ago and up 27.4% from 2020.
Areas with less fluctuation include the ʻEwa Plain, which includes ʻEwa Beach and Kapolei, where the median single-family home price in January was $810,000, a 12% decline from last year but up 20% from 2020. The median condo price for that region dropped 21% to $546,000 in January but was still up 6.8% from January 2020.
This data suggests that buyers in many areas on O'ahu will see lower prices in coming months than they would have seen in 2022.
"It's no longer where every neighborhood, the next house that comes on is listed higher than the last sale," says Chad Takesue, partner and COO of Honolulu real estate firm Locations. "That was occurring back in 2020, 2021. Now you have some neighborhoods where the next house that comes on is listed lower than the last sale, so sellers are starting to adjust down."
Reduced Asking Prices
Sellers whose homes have been on the market for a couple of weeks, or months, are also adjusting their expectations.
"We're also seeing a higher increase in price reductions," says Takesue, who was president of the Honolulu Board of Realtors in 2022.
"It's still not crazy," he says about price reductions, "but it's more than what it was before."
The real estate market at any point is relative to the same point the previous year – and the beginning of last year was still at or close to the peak for sales and prices, when interest rates were still around 3%. The national average rate for a 30-year fixed-rate mortgage last week was 6.32%, according to Freddie Mac.
Another factor in the real estate market is inventory: Despite a slowdown in sales and an uptick in new listings, there are still not that many homes or condos for buyers to choose from.
"Right now, our months of remaining inventory is still under three months," says Takesue.
The Honolulu Board of Realtors calculated that figure – the length of time it would take to sell every property if no new listings came on – at two months for single-family homes and 2.4 months for condos.
"The normal market is generally five to six months of remaining inventory," Takesue says. "So we're still in a seller's market overall. It's just that some neighborhoods are exhibiting different qualities."