The Gender Pay Gap Had Narrowed in Hawai'i. Then the Pandemic Arrived.
In 2019, women earned almost 90% of what men did. But recent hits to women's earnings may have set back that progress.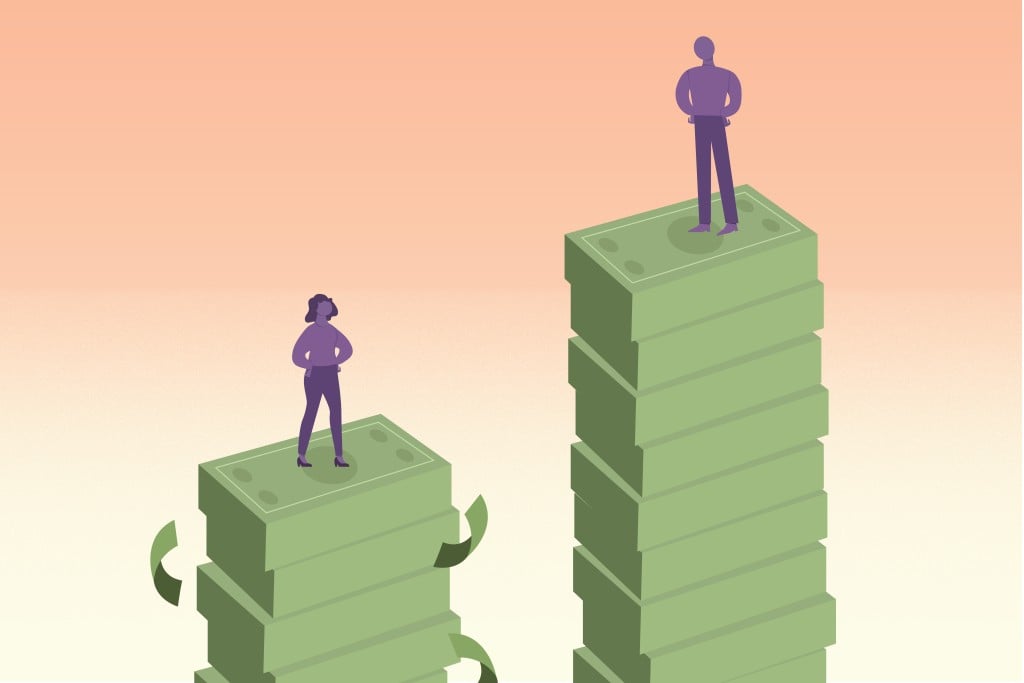 Women's pay gap with men has shrunk: The latest U.S. Census Bureau data shows that Hawai'i women made 89.4 cents for every dollar that men made in 2019. Only Vermont at 91 cents per dollar had a smaller disparity.
Ten years ago, Hawai'i women only made 78.4 cents for every male dollar.
Younghee Overly, public policy chair for the American Association of University Women of Hawai'i, says a couple of factors could explain the narrowed gap, including a shortage of workers in fields dominated by women, such as nursing and child care, and the fact that more women are earning college degrees, which usually leads to better starting pay.
However, the pandemic may have reversed some of the improvements for women, who make up half of Hawai'i's civilian labor force.
Because of the pandemic, the Census Bureau has released only "experimental estimates" for 2020 and does not recommend comparing the estimates with previous yearly data. Those estimates show Hawai'i women earning 78.9 cents for every dollar men made in 2020.
The financial planning website SmartAsset compared employment and pay in the 50 states and the District of Columbia. Its 2021 study found that Hawai'i ranked third-worst for women's pay and fourth-worst for women's employment during the pandemic. The state saw an 11.55% decrease in female employment between 2019 and 2020 and a 9.6 percentage point increase in its female unemployment rate.
"We've been hit hard, and Hawai'i's women have been hit hard by the pandemic," says Meda Chesney-Lind, professor emeritus in UH Mānoa's Department of Women, Gender and Sexuality Studies. "And then you have the added responsibilities at home that, again, are going to impact women more than men because they tend to be the caregivers."
Why the Pay Gap Exists
Occupational segregation is one driver of the gender pay gap, says Chesney-Lind. Lots of women work in service jobs such as maids and housekeepers, which tend to pay lower wages.
That's changing a bit, she says, as more men are working in positions traditionally occupied by women, such as teachers and bank tellers.
But she and Overly agree that Hawai'i has a culture in which women are expected to care for children and other family members, and that can penalize their earnings.
"After say 10 or 20 years, that's where you begin to pick up another kind of corrosive difference, and that is women and men enter the workforce kind of earning the same amount or close to it, but 20 years out, there's often a large gap in pay," Chesney-Lind says. "And this is clearly driven in part by motherhood and also by differences in responsibilities in family with women having to shoulder more of those burdens whereas men can continue to build their careers. So it's good for men to be married and it's bad for women to be married, and that's especially true if they have children."
Policies like paid family leave can help, she says, but Hawai'i and the federal government have yet to create such programs.
"It's frustrating at the federal and state level that things like that keep getting left off the agenda, and I think part of it is that these are women-centric bills, and that's the institutional sexism at work," Chesney-Lind says. "We just don't care about it; if it's about women, we're not as passionate."
---
Hawaiʻi County has the Smallest Wage Gap
Earnings ratios vary by county in Hawai'i. Here are the 2019 median earnings for full-time, year-round working women over the age of 16, and as a percentage of men's earnings.
90.4%
$42,803
Hawaiʻi County
89.7%
$49,031
Honolulu County
84.4%
$42,364
Maui County
83.7%
$42,444
Kauaʻi County
Source: U.S. Census Bureau
---
Equal Pay Policies
Overly says Hawai'i has only moderate equal pay policies. Nine other states have stronger laws.
For example, California, Maryland and Washington have laws requiring employers to disclose salary ranges when job applicants request them. Colorado employers must automatically provide that information. The four states also prohibit employers from asking about an applicant's pay history.
In 2018, Hawai'i passed its own equal pay law, called Act 108, which bars employers from requesting or considering a job applicant's past salary. It also forbids retaliating against employees who talk about pay. The law took effect in 2019, so it's hard to measure whether it's had an impact on the state's gender pay gap, Overly says.
She adds that the American Association of University Women Hawai'i fought for that legislation for several years. It's also tried unsuccessfully to push for a pay transparency bill. But she says the equal pay law is significant because it can help break the cycle of undervaluing and underpaying women.
Overly recalls inheriting a department at IBM, where she worked for 30 years. She had two employees, one man and one woman, with the same responsibilities, but the woman earned 60% of the man's salary. She says the main reason was their salary histories. The male employee earned six figures at his last job in Washington, D.C., and the female employee had been a middle school teacher in Texas.
"That's why I really believe that you shouldn't ask (about) salary history," she says. "A lot of women just take their first job out of college as to whatever they can find, without really negotiating or doing research for better pay, and their second one is based on past pay."
---
The Job Matters: Women's Pay vs. Men's Pay, by Occupation
Here are 2019 median earnings for the local civilian employed population age 16 and older.
---
Fight for Equal Pay
The American Association of University Women Hawai'i, a volunteer organization, is focusing on Title IX this legislative session but hopes to return to its fight for equal pay once it has more bandwidth, Overly says. In the meantime, she says, employers and individuals can help Hawai'i reach pay equity.
Local companies, for example, can track how much they pay women versus men. California law requires employers with 100 or more employees to report pay and hours worked by organization, job category, sex, race and ethnicity. The hope is that employers will self-assess and address pay disparities among genders and racial and ethnic groups.
"Whether the state requires it or not, they can do some data tracking themselves," Overly says. "If they collected the data and looked at it from a department level, a business level, and have a really honest discussion as to what are we doing here, No. 1, are we being fair or not, and, No. 2, is this going to cause a retainment problem?"
"Hawai'i's women have been hit hard by the pandemic, and then you have the added responsibilities at home that, again, are going to impact women more than men because they tend to be the caregivers."

– Chesney-Lind, professor emeritus in UH Mānoa's Department of Women, Gender and Sexuality Studies.
Employers can also help working parents with child care. While she recognizes that not every employer can and should have an in-office child care center, they can partner with nearby companies to offer one jointly.
Chesney-Lind adds that women also need to advocate for themselves more strongly.
"We accept salaries that men wouldn't accept," she says. "We aren't aggressive in terms of both pay at the point of entry and then getting pay raises. We need women to value themselves and to do some research before they get into that negotiation and have it be a real negotiation."
---
Women Gain in Education
Women now comprise nearly 60% of enrollment in universities and colleges nationwide and men 40%, a reversal over the past 50 years, according to the National Student Clearinghouse Research Center. UH Mānoa reflects that trend: Women made up nearly 59% of all students in fall 2021. Female students also outnumbered male students in both the schools of medicine and law. Of the 3,200 bachelor's degrees awarded at UH Mānoa in 2020-21, 57% went to women. Women received 63% of the master's and doctoral degrees. Nonetheless, women still face pay gaps at all educational levels, based on 2019 median earnings for those aged 25 and older in Hawai'i.
---
Related Stories
The Pandemic is Not Gender Neutral
Inside Hawaiʻi's Wage Gap Between Men and Women
Data on Women and Money in Hawaiʻi and Nationally
Child Care: Unaffordable and Unavailable