Green Hawaii 2019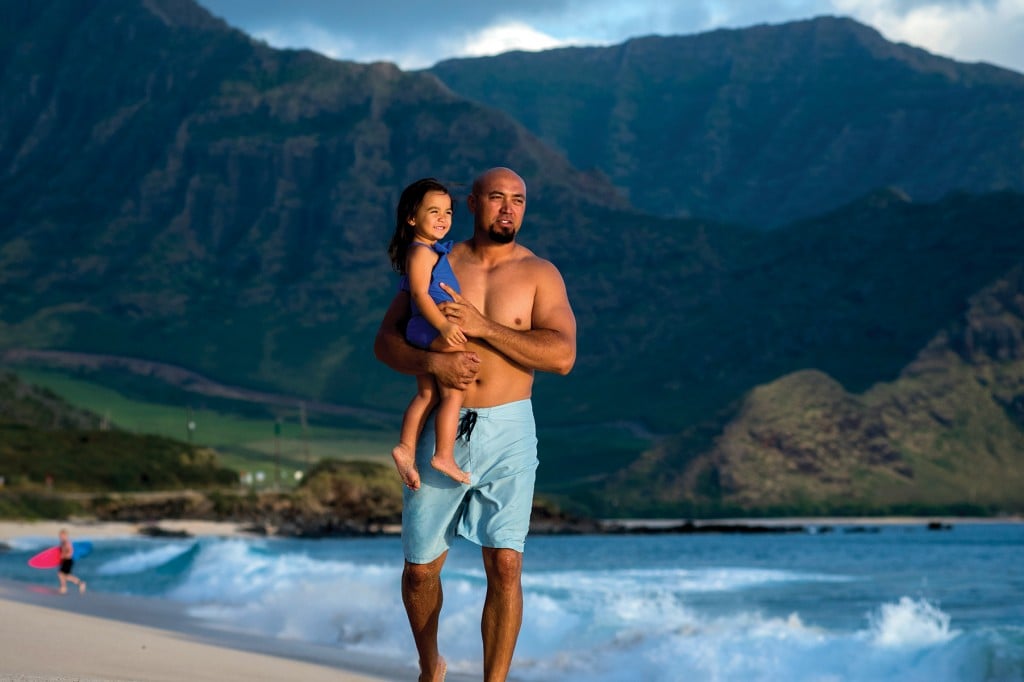 Energy
Solar-plus-Storage Projects to Power More Homes
Record-low energy costs are an added benefit for residents.
By Kathryn Mykleseth
At the beginning of the new year, Hawaiian Electric, which includes Maui Electric and Hawaii Electric Light, revealed plans for eight large-scale solar and battery projects — making substantial headway toward the state's goal of 100 percent renewable energy by 2045.
"We are on schedule to be ahead of the legislative mandate for 70 percent in 2040," said Rebecca Dayhuff Matsushima, Hawaiian Electric renewable acquisition director.
The eight solar-plus-storage projects across Maui, Oahu and Hawaii islands will add more than 270 megawatts of solar energy with about 1,100 megawatt-hours of storage to Hawaiian Electric's grids. Combined, these facilities are capable of generating power equivalent to that used by more than 80,000 homes.
Through the storage technology, the projects will provide up to four hours of electricity for customers during peak demand or at other times when the sun isn't shining.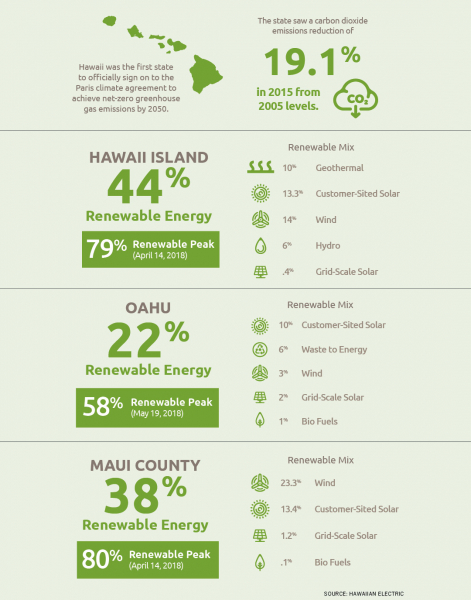 The projects have garnered national attention, as this procurement of energy storage is the second largest of its kind in the country.
"There has been a lot of interest in our new Renewable Dispatchable Generation contracting structure," said Matsushima. "This new contracting structure provides the flexibility for the utility to use these projects to benefit the system as a whole, in real time, based on current conditions, available resources and immediate needs. This is increasingly important as we integrate more renewables onto our electric grids. Hawaii is again at the leading edge, addressing issues ahead of the Mainland."
Many have noted the record-low prices of the projects for Hawaii — from 8 to 12 cents per kilowatt-hour. By comparison, fossil fuel prices are about 15 cents per kilowatt-hour. So, these projects not only move the state closer to its renewable goals, they will also stabilize and eventually reduce energy costs for Hawaii residents.
"The pricing is pretty incredible," says Melissa Miyashiro of Blue Planet Foundation. "When you see those record low prices and compare those to fossil fuels, it's renewable energy ending up being the winner."
"We're arriving faster and at a lower cost than anyone expected," Miyashiro says. "These projects are a big step in helping Hawaii accelerate to its goal of 100 percent renewable energy."
The projects are expected to come online by the end of 2022. But the road to a clean energy future stretches on: Matsushima says collaboration is essential in order to reach the state's goal.
"Successfully bringing projects like these into service takes the coordination of many stakeholders, so the key is that we are able to all work together to reach our shared goal of increased renewables and reduced dependence on imported fossil fuels," she says. "We are all in this together."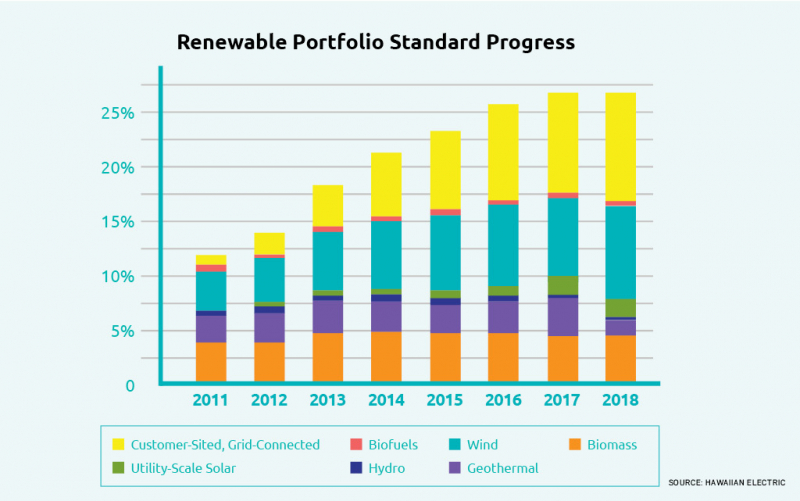 ---
GEM$: On-Bill Financing
Program makes clean energy improvements accessible to homeowners, renters and nonprofits.
By Lennie Omalza
It's a common misconception that solar and pv systems are too costly or are only for homeowners. The Green Energy Money $aver (GEM$) On-Bill Program is an innovative financing program that makes clean energy improvements — including solar PV systems, solar water heaters and heat pump water heaters — accessible to both homeowners and renters. This new on-bill repayment mechanism was approved by the Hawaii Public Utilities Commission in December 2018.
"GEM$ democratizes clean energy," says Gwen Yamamoto Lau, executive director of the Hawaii Green Infrastructure Authority, which administers this program for eligible participants. "It eliminates barriers like traditional credit underwriting metrics and provides up to 100 percent financing to broaden the eligibility for low-income families, including renters and nonprofits. When a renter leaves, GEM$ benefits the subsequent renter."
There are two criteria to qualify for GEM$: residents must be Hawaiian Electric, Maui Electric or Hawaii Electric Light customers who have not received a utility disconnection notice within the last 12 months; and, after installation, the energy improvement must provide an immediate, minimum estimated 10 percent utility bill savings (including the repayment of the installation cost). In some cases, approval can be determined in just one week.
For more information about GEM$, visit gems.hawaii.gov/participate-now/for-homeowners/.
---
Energy Efficiency in the Islands
The latest scoop on preserving energy in Hawaii – and how you can help.
By Lennie Omalza
We all know that energy efficiency is important, but do we know why? With the effects of climate change becoming more pronounced, finding ways to incorporate clean energy practices into our homes and everyday living is not an option, but a necessity. For the past 10 years, Hawaii Energy has been providing Island residents and businesses with new and innovative ways to save money by reducing energy use.
On a larger, state-wide scale, there is already a lot being done in the energy efficiency space to make sure everyone in our communities can benefit where they need it most. Within the past year, Hawaii Energy has significantly increased rebates for Big Island customers who were affected by the Kilauea eruption; this helps to offset the costs of purchasing items like air purifiers and other appliances. Hawaii Energy also launched a new program called the EmPOWER Hawaii Project, which offers local nonprofits deeply discounted rates on new LED lighting, as well as facility manager training.
And, tailoring to the more than 40 percent of Oahu residents who are apartment dwellers or condo owners, Hawaii Energy offers the Energy Smart 4 Homes program, which provides items such as high-efficiency shower heads, smart power strips and LED lightbulbs for every resident in a building — all free of charge. Most recently, Hawaii Energy also offers a $5,000 incentive for building owners to install electric vehicle charging stations on-site.
Though much of the recent environmental news has been negative — making it easy for homeowners and renters to feel overwhelmed — it's important to remember that there's power in small changes. Electric cars and PV systems may not be affordable for everyone, but there are ways for every person on our Islands to do their share of energy saving. Shorten your showers, use fans instead of air conditioning, or unplug your laptop when not in use. Every little bit counts!
Energy Smart 4 Homes
Any multifamily ohana
in Hawaii, Honolulu or Maui County can participate in Energy Smart 4 Homes. Interested families should call (808) 537-5577
or (877) 231-8222 for more information.
---
New Solar Programs Provide Customers with Options to Fit Lifestyle
Hawaiian Electric offers residents incentives to install rooftop solar and energy storage systems to cover additional energy usage.
By Kathryn Mykleseth
Hawaiian electric is adding a specialized solar energy program for residents who helped propel the number of solar energy systems in the state to a record level.
Through its various programs, the state's largest electric utility offers incentives for residents to install rooftop solar and energy storage systems at home.
Hawaiian Electric's most popular program, Net Energy Metering, offered participants the full retail rate for the excess energy their systems produced. During its time, the program led to the installation of nearly 60,000 solar energy systems. Those systems make up the majority of the roughly 80,000 solar energy systems installed across the electric utility's territories.
This solar boom occurred before energy storage technology was popular, leading to a substantial amount of solar energy on the islands' grids during daylight hours.
The newest, Net Energy Metering Plus, is available only to the customers currently enrolled in NEM.
"NEM was a very popular program for us but it closed in 2015," says Kaiulani "Lani" Shinsato, distributed energy resources director at Hawaiian Electric. "We heard from many of the solar industry folks that there was a lot of demand for NEM customers to add to their systems and we worked with the industry over many months to develop requirements for the new program."
NEM Plus allows NEM customers to install new panels, battery storage or a combination of both to cover additional load such as electric vehicles or central air conditioning. Their NEM agreement remains in place; however, the additional equipment is not allowed to export to the grid.
"Customers wanted to add to their system so this was to help balance it out," Shinsato says. "This was a fair way to allow them to add on."
Another program, Customer Grid-Supply Plus, offers residents annual credits for the energy their solar systems export to the electric grid throughout the day, but the program requires solar owners to use equipment that allows the utility to manage the system's output in the event of a major grid event/emergency.